The 10 Coolest Jobs in Houston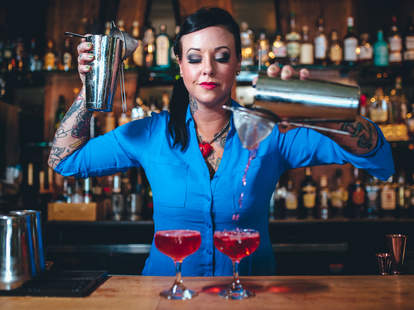 Courtesy of Julian Bajsel
Sure, your job is kinda cool because you get things like a salary, benefits, and a lunch break... if you're not super busy. But believe it or not, there are some people in Houston whose jobs are even cooler! Crazy, right? So we found 10 of them, not to make you question your life choices thus far, maybe just to give you hope for your future career path.
Leslie Ross, bar director for the Treadsack Group, HBIC at Canard in the Heights
Houston
How she got the job:
"I started working with Treadsack a little over a year ago, after 14 years of working as everything from a dive bar cocktail waitress, a hostess at a wine bar, at Texas' oldest and largest craft brewery, to hand-selling a portfolio of boutique spirits. I worked in few of Houston's best cocktail bars and restaurants, and am now overseeing six unique concepts, including my own bar Canard."
What she does: "My first project with Treadsack was helping to develop the program that is now Johnny's Gold Brick. I wrote the bar program, and handed it off to one of the best bar teams in Houston! A few months later, we rolled out three restaurants with bar programs in three months. I wrote all of those menus and programs as well, and helped to build the talented teams of bartenders that are now behind those bars. Finally, after 15 years in the industry, I am getting ready to open a bar of my very own! Behind the stick is where I feel most at home. I love hosting guests and helping to create incredible experiences. I love showing people the liquid history from the shelves behind me by telling stories inside a glass. I have seen and done some incredible things, I have traveled all over, and I have met the most amazing people, all for the love of the cocktail. It's amazing to look up at a wall of spirits, and to see more than a brand or a label, but to be taken back to a wheat field in Picardy, or an ancient monastery in the Chartreuse Mountains, or even just an old rickhouse in Kentucky. When I make you a drink, I'm doing more than just mixing. I'm sharing an adventure, and I think that's pretty neat. I am so fortunate to be in such an incredible industry with so many wonderful people!"
Courtesy of Stevie Alexander
Adria LeCrone and Anthony Gassnola, badass T-shirt designers and co-owners of FYHA Clothing Co.
Warehouse District
How they got the job:
"I grew up in Houston doodling all over my school books, newspapers, notepads, and anything that would take pencil and ink. After high school I signed up for a couple of Illustrator and Photoshop classes and now use them just about every day. I've always wanted to design T-shirts for as long as I can remember, so when my good friend and now business partner, Anthony, asked me to join FYHA Clothing Co. with him, I couldn't say no!" -- Adria
"I've always been into clothes, hats, and shoes since I can remember and have always wanted to start my own clothing line/streetwear brand. I learned how to screen print about six or seven years ago and was hooked. I made shirts, posters, stickers, and just about anything I could. In 2010 I made a shirt that read 'Fuck You, Houston's Awesome' because I was annoyed with the lack of Houston love and all the shit people talked about the city. I printed on postage stickers from the post office and stuck them all over Houston. I guess people shared the same feeling and wanted to buy shirts and stickers so then FYHA Clothing Co. was born." -- Anthony
What they do: "My day consists of running our online and physical store, planning and working events, marketing and designing new material." -- Adria
"I have a full-time job working in a control room for Kinder Morgan. When I'm not there I'm at our shop, shipping orders, answering emails, promoting and brainstorming ideas with my partner, Adria. She pretty much handles the day-to-day workings of the company. We do pop-up shops and events too. I push or talk FYHA as much as I can with anyone who will listen!" -- Anthony
Courtesy of Steve Strickland of Strictly Photography
Galveston
How he got the job:
"The way I got into this was after my father passed. At 7 years old I was interested in knowing where he was and my historical surroundings. So I began to explore the afterlife as I was learning history about the area. Then in 1997 a light went off when I saw Galveston 'with new eyes.' My heart was already there so I wanted to tell people about it!"
What he does: "I am now owner/creator of Ghost Tours of Galveston (started in 1998) which actually consists of four ghost/mystery tours, ghost hunts, and events throughout the year!" Those events include an annual Wake the Dead Horror Paracon, a kind of paranormal Comic-Con featuring a lineup of celebrities and experts in the field.
Courtesy of Marlaina Smith
Antoine Culbreath, improv and sketch comedian
Houston
How he got the job:
"The year was 2007. I was a 20-year-old college student with aspirations of becoming an actor. I had gone to an audition at Stages Repertory Theatre with 30 copies of some fresh headshots, my high school resume, and two killer pieces. Long story short, I bombed, HORRIBLY. After about a week of sulking I got a call back from what was then Massive Improv, a local collection of troupes that performed in the back room of the Mink (now the Alley Kat Bar & Lounge). The first audition with them was weird, but they invited us to the show they were having that night and I fell in love. After making the cut in two rounds of callbacks, I was placed on a troupe with two African-American women and a white guy. We chose the name Vitiligo. It actually worked out perfectly as my girlfriend at the time broke up with me about a week later, so I had a lot of free time to learn my newfound craft."
What he does: "I make things funny sometimes. At the base level, what I do is interpret the world around me. Looking at the social climate of things and cultural trends. Seeing the action of day-to-day life and finding the things that I think are the most interesting. Pondering on the woes of the universe to find the silver lining. Laying awake at night wrestling with despair and hateful words from the void. Gazing stoically through the darkness of my own soul to plant the seed of hope and infallible beauty firmly into yours... and find a way to slide in a dick joke while I'm at it. I perform weekly with my improv troupe MAX at Beta Theater every Thursday. I write sketch comedy, host, and perform all over town. Most importantly I have fun being creative in a community of likeminded people. I love making people laugh. I love my job."
Courtesy of Rose Matchmaking
Jamie Rose, professional matchmaker and owner of Rose Matchmaking
Galleria/Uptown
How she got the job:
"I started with a smaller dating company, then a larger matchmaking firm. I didn't like how they treated their clients like they were just a number, so I started my own company to genuinely help others find the one. Helping others into a meaningful relationship is the best part."
What she does: "I interview and match my clients for long-term relationships. We have to interview each client one on one, run a digital criminal background check prior to taking them on. Then they meet with my photo and styling team for photos and we attach those photos to a personalized handwritten bio. Once that is complete we start setting them up with handpicked matches until we hopefully find the one. Over 84% of the time we do, which is why we are so picky with who we take on. We need to be fairly certain we can match them prior to an agreement."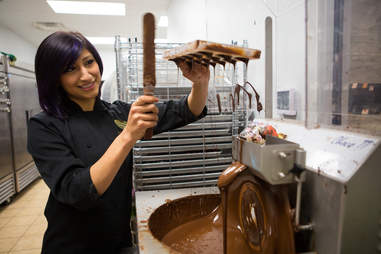 Courtesy of Shannon O'Hara
Annie Rupani, chocolatier and owner at Cacao & Cardamom
Galleria/Uptown
How she got the job:
"After graduating from college, I began studying for the LSATs and found artisan chocolate-making books to be a nice break from all the stress of studying. Playing with chocolate became more serious when I decided I didn't want to continue with my hope of becoming a lawyer, and I ended up getting an internship at a private club solely making chocolates all day, and then I'd go home and I'd make more chocolates. I got an opportunity to showcase my chocolates at a charity event, which led to me being on the news a couple of weeks later. I slowly realized there was a market in Houston for chocolate, and even a need for fine chocolate, so I started an online business which eventually turned into a brick-and-mortar two years later!"
What she does: "I play with chocolate all day! I love testing new flavor combinations and coming across savory spices and ingredients that meld well with chocolate. Chocolate is an incredible medium for spices and fruits, and although chocolate and hazelnuts will always be a natural combination, chocolate has more potential than that. It's also pretty labor intensive, from hand-painting the molds, shelling, ganache-making, piping, capping, and then de-molding, about a three-day process for a batch of chocolates. And then there's also the less glamorous side of running a business which includes the accounting, marketing, PR, etc."
Courtesy of Blood Bros. BBQ
Quy Hoang, chief smoker and co-owner of pop-up BBQ spot Blood Bros. BBQ
Houston
How he got the job:
"I actually own an aquarium shop with my uncle but have always been a backyard griller. About four years ago I got with Terry and Robin Wong to start a steak night at
Glitter Karaoke
. About two years after starting steak night I bought a small smoker and started experimenting with slow-smoking meats. The more I experimented, the more people started enjoying the food, so Terry, Robin, and I decided to start Blood Bros. BBQ."
What he does: "At Blood Bros. BBQ, I'm in charge of smoking all the meats. A typical day involves prepping, seasoning, then smoking the meats. For a pop-up that involves cooking about 200-250lb of meat." You can catch Blood Bros. BBQ's killer 44 Farms brontosaurus ribs and smoked brisket at pop-ups all over town (follow them on Twitter or Facebook to see where they'll be next) and at the Houston BBQ Festival this May.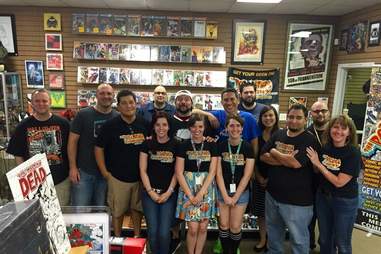 Courtesy of Ashley D'Annunzio/The Pop Culture Company
Ashley D'Annunzio, comic book aficionado and store manager at The Pop Culture Company
Memorial
How she got the job: "
I was a subscriber here for about three and a half years when I was in one day talking to Rober, the owner, about my upcoming change in careers. I had been a nanny up until then and I wasn't sure where I was going, I just knew I couldn't stay where I was. Rober mentioned that they needed some help around the store and asked if I'd like to join the PCC family. I was so excited I actually didn't believe him! After about a year and a half, after expanding our store and our staff, I was promoted to manager."
What she does: "I am the store manager here at The Pop Culture Company. I work the sales floor five days a week selling comic books, vintage and new toys, statues, and other pop-culture merchandise. I am considered the 'all-ages' specialist around here, since I love kids and read the most all-ages titles. I also do the typical management tasks like answering emails, putting together the employee schedule, and customer service issues. I also maintain relationships with vendors we buy from and other companies we do events with. I also schedule and plan the store's events like sales, comic book conventions, and Free Comic Book Day amongst other things. Also, cleaning. I do A LOT of cleaning. Who knew books and toys collect so much dust?!"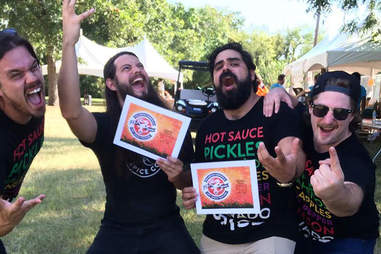 Courtesy of Bravado Spice Co.
James Nelson and Jeremiah Tallerine, hot sauce honchos and co-owners of Bravado Spice Co.
Houston
How they got the job:
"Bravado Spice started as a hobby between Jeremiah and myself. Spicy food and cooking has always been something we loved, so it was destiny for the two to become one. We started out small: farmers' markets, mom-and-pop shops, etc. The next thing you know we're traveling the country hitting every trade show and selling our product in 30+ states!" -- James
What they do: "I'm the director of sales & marketing for Bravado Spice. I handle all of our sales channel, spreading the good Bravado word and putting our products in as many people's hands as I can." -- James
"My title, though loosely defined, is director of operations. I handle the production of our products, sourcing of our ingredients, and I manage the company's books. Picture me diving into a huge pile of peppers and paperwork Scrooge McDuck-style." -- Jeremiah
Courtesy of Andrew Broadfoot
Mario Enrique Figueroa, Jr., aka GONZO247, urban artist and founder of Aerosol Warfare
Houston
How he got the job: "
I grew up always artistically inclined. I'd always draw in class and take part in some social and creative production-type projects in high school. However, it was hip-hop that led me to graffiti art. Graffiti art would be highlighted on hip-hop album covers and magazines, which led me to research more about the art form and led to an outlet for artistic expression for me. The more I learned about the art and hip-hop coming out of cities like New York and Los Angeles, the more I wanted that same scene here in Houston. That's what drove my mission of creating, educating, and promoting graffiti and street art here in Houston. I hustled for years building relationships, volunteering, creating, and promoting my art and the art form here in Houston which now has resulted in, instead of calling it a job, I'd call a way of life and role of being a full-time graffiti artist."
What he does: "Every day is different for me. You might find me creating artwork in my studio, painting a public or private mural, curating art for an art show of likeminded peers, meeting with collaborators for future projects, teaching my art form to folks ranging in age from 7-70, public speaking about my journey." He's created art on a local, national, and international level, a lot of which you'd recognize. That super-cool "Houston Is..." mural by Market Square Park? Yep, that's his.
Sign up here for our daily Houston email and be the first to get all the food/drink/fun in town.
Brooke Viggiano is a Houston writer who #lovesherjob but would also love to #switchherjob for any of the above. Chat with her at @BrookeViggiano during your lunch break.