We'd be lying if we said Houston was the prettiest city around. But that's mostly due to our lack of natural splendor. Take the bayous, which, like the butt chin your grandma always told you was adorable, are more like the kind of beauty you learn to love with time. However, thanks to good ol' American ingenuity, there are some truly incredible structures out there in the Bayou City. From the city's most iconic buildings, to lesser-known treasures, these are the seven man-made wonders of Houston.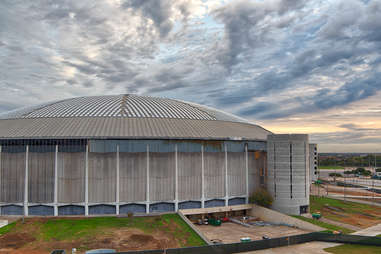 Built in: 1964
Built by: H. A. Lott, Inc. Designed by architects Hermon Lloyd & W. B. Morgan, and Wilson, Morris, Crain and Anderson of Morris Architects and structural engineers Walter P Moore Engineers and Consultants
Why it's one of the seven wonders: This legendary structure is technically the 8th Wonder... of the World! While Houstonians may be the only ones who actually feel that way, the Astrodome does lay claim to being the world's first ever domed stadium. Side note: it was also the first stadium to utilize artificial turf, known as AstroTurf; and the first to have an electronic scoreboard, known as AstroLite (you're welcome, World). When the MLB expanded in 1960, former mayor Roy Hofheinz was granted a franchise on the promise that he'd build a covered stadium, which would help with Houston's subtropical climate. Hofheinz claimed to be inspired to build it after visiting Rome, where he discovered the ancient Colosseum had giant curtain-like awning structures to shield spectators from the Roman sun. After getting all types of structural engineers and architects on board, the 18 story-tall, 9.5-acre dome was erected. It has seen many iterations, including, at one point, an opulent apartment for Hofheinz that was removed after a remodel in 1988, but sadly, the dome's time has past. It closed down in 2008, and though many million dollar renovation plans have been proposed, today it sits vacant, taking up a decidedly ugly looking but still pretty cool hunk of space at NRG Park.
Built in: 1927
Built by: The City of Houston
Why it's one of the seven wonders: We're willing to bet most Houstonians don't even know this place even exists, mainly because it's entirely underground. In fact, the 87,500sqft, 25ft-tall cistern -- which is only accessible via hatches that open to 14ft ladders not open to the public -- was mostly forgotten after it sprang a leak that couldn't be located or contained. That is, until the Buffalo Bayou Partnership discovered the cathedral-like magnificence after beginning the Shepherd to Sabine project in 2010. They've since acquired the truly dope cavern, and with 3D projections from the Houston-based SmartGeoMetrics and a $1.2 million grant from The Brown Foundation, they plan to transform the highly unusual spot into a public art space in the future. Until then, you'll have to live vicariously through this sick 3D fly through.
Built in: 1968
Built by: John Milkovisch
Why it's one of the seven wonders: Because it's a house, absolutely plastered in CANS OF BEER. In 1968, retired Southern Pacific Railroad upholsterer John Milkovisch "got sick of mowing the grass" and began playing around with thousands of pieces of marble, rocks, and metal, embedding them into concrete and redwood to form unique landscape structures. When he basically covered the entire front and back yard, Milkovisch moved to the house, adding aluminum siding comprised of beer cans. Fast forward 18 years and the house was a work of art, beer art to be exact. Ripley's Believe It or Not estimates over 50,000 cans adorn the home, which believe it or not, ol' Johnny boy -- with help from his neighbors and wife, Mary -- drank the cans himself.
Built in: 1936-39
Built by: WS Bellows Construction
Why it's one of the seven wonders: Topped by a glorious 220 ton star, this towering monument commemorates the Battle of San Jacinto. If that means nothing to you, here's a little history: that battle is widely known as the decisive battle of the Texas Revolution. Since we realize that may also mean nothing to you, here's some more: Texas was once a Mexican province, and in 1835, American colonists in that province -- known as Texans -- rebelled against the increasingly centralist Mexican government in a year long revolution that ended with the Republic of Texas being an independent country and eventually becoming a part of the US. We may have skipped a few things here and there, but you get the point. This monument is cool as hell. In 1897, after a survey painstakingly determined the boundaries of the original battle site, land was purchased for the San Jacinto Battleground State Historic Site. But it wasn't until 1936 that ground was broken to construct the monument. Three years and $1.5 million later, the octagonal tower, its exterior faced with limestone from a quarry near the Texas State Capitol, was complete. At 567.31ft, it stands as the tallest monument column in the world.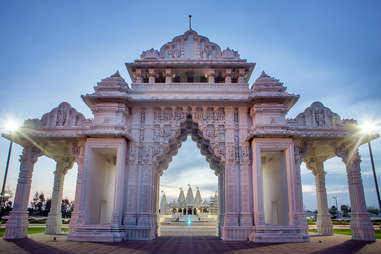 Built in: 2004
Built by: Volunteers
Why it's one of the seven wonders: This traditional Hindu temple in Stafford was assembled like a jigsaw puzzle using 33,000 pieces of hand-carved Italian marble and Turkish limestone, making it wayyyyy cooler than that "Rows and Rows of Sailboats" puzzle you finished with your grandpa last summer. Even cooler, it was built in just 16 months by -- wait for it even though we already said it above – volunteers! Yes, there are good people in this world who believe in the true spirit of seva (selfless volunteering), the beauty of which shines through every meticulously placed hand-crafted piece of art. But it's not just sweet on the outside. Step inside and you'll find the ancient wisdom of Hinduism represented through a brilliant array of paintings, tableaux and traditional craftwork.
Built in: 1994
Built by: Wu-Wei Tien Tao Association
Why it's one of the seven wonders: Looking like something out of an Austin Powers film where Dr. Evil takes Epcot, this fortress crowned by a 40ft gold dome sits right smack in the middle of a neighborhood on the westside. It's one of the oddest structures in Houston, a fun outcome of our totally bonkers zoning laws. Dubbed the "Palace of the Golden Orbs," the $6 million Chong Hua Sheng Mu Holy Palace was built by members of the Wu-Wei Tien Tao Association back in the '90s. According to the Houston Press, the East Asian universalist religious organization had grand plans to make the temple complex the epicenter of their 11-acre site, but things fell apart after the sect's leader pulled an oopsie and got herself deported in 1999. Today, it sits unfinished and unused, but at least it makes good eye candy when you're walking your dog.
Built in: 1971
Built by: John and Dominique de Menil, Mark Rothko, Philip Johnson, Howard Barnstone, Eugene Aubry
Why it's one of the seven wonders: This totally zen chapel -- largely designed by celebrated American artist Mark Rothko -- is considered one of the most holy spots on the planet, even earning a spot on National Geographic's "Sacred Places of a Lifetime: 500 of the World's Most Peaceful and Powerful Destinations." The building itself is an octagonal brick structure inscribed in a Greek cross, with a stark interior and eight movable benches at which people of all religions are encouraged to get their meditation on. The contemplative space is lined by fourteen massive, dark canvases Rothko created specially for the place, and across the plaza, Barnett Newman's beautiful Broken Obelisk sits on a reflective pool in memory of Dr. Martin Luther King, Jr. All in all, the spiritual landmark is pretty impressive, so much so that around 80,000 people per year come from all over the world to take in its majesty.
Sign up here for our daily Thrillist email, and get your fix of the best in food/drink/fun.
Brooke Viggiano is a Houston writer who considers breakfast tacos to be the eighth wonder of Houston. Find her exploring all of Houston's marvels @BrookeViggiano.