It's been a few weeks since the city of Houston put its "Stay Home, Work Safe" protective order in place. As we all make the necessary sacrifices to #FlattenTheCurve, many of our lives have been turned upside down -- including the lives of you and your new best friend, your couch. It may be time to practice a little social distancing with that guy. Fortunately, local fitness studios are here to help with that. Houston fitness gurus have opened up their studio doors and their Zoom accounts, offering a variety of virtual workout classes from pilates to HIIT. Here's how you can put in work on your body (and not on your couch) and work out with your fellow Houstonians at home:
Get killer abs and work muscles you didn't even know existed by taking a virtual class from this popular pilates studio. All classes -- from the "Full Body Mat Class" to "Adore Your Core" and "Sculpt+Stretch" -- are being live streamed via Zoom until further notice, and while the workout may not be super easy, the process to sign up is. Choose your class and you'll receive a link to it along with a funky, motivating Spotify playlist that you can jam to in sync with the entire class and instructor. No special pilates equipment is required, though if you have weights, bands, and sliders, you can incorporate those.
Cost: Each live stream is $12 (or you can buy 2 weeks unlimited for $75)
All you have to do to take one of Empower's hardcore HIIT and rejuvenating Yoga classes is setup yourself up on Zoom and donate. You'll get access to a live-streamed Arms & Abs, Cardio & Conditioning, and Functional Flow workouts that'll have you drenched in sweat in the comfort of your own home; and if you can't find a live class that fits your schedule, all workouts are being archived on online streaming service Patreon.
Cost: All workouts are donation based ($5 and up for one class); access the Patreon archive for a $30-$50 monthly donation
This Houston fitness beast is offering free Facebook Live workouts for all to enjoy. Get seriously pumped up with an energetic HIIT and Core class; feel the blood flowin' with a Fit Body Hustle; then zen TFO with a yoga Slow Flow. You can take the classes live or scroll through the Facebook page to find the recordings.
Cost: Free, with donations welcome
You'll get in a workout for the mind, body and soul at this whole body fitness boutique, which has taken its barre, dance cardio, yoga, mini trampoline, and indoor cycling classes and launched them as live-streams on Zoom. The studio has even taken its approach to overall wellness one step further, offering family workout sessions and two free weeks of live stream classes to all healthcare professionals who are actively treating COVID-19 on the front lines.
Cost: $12 for drop-ins and free for all auto-renew members
This accessible spot is always donation based, sharing mindfulness and body nourishment with anyone who needs it. While you probably aren't turning the heat in your apartment up to 90 degrees, you can still get the feel of this community-driven hot yoga studio at home by taking one of its live Zoom classes. For a super-reasonable monthly fee, you can also access the BSY.tv online yoga portal, featuring video classes from its favorite teachers.
Cost: Classes are available by donation, and BSY.tv access is $8/month (with a free 7-day trial)
With locales in Midtown, Oak Forest, EaDo, and counting, this high intensity functional training studio has officially begun its Houston takeover. Even with the social distancing regulations, F45 is here to get you PUMPED to put those muscles to work, hosting at-home workouts that mash cardio and resistance training. Need more inspiration? Even Mark Walhberg is on board with these workouts.
Cost: Become a member at your nearest location to access its live and on demand workout content (there's a free 7-day trial), or check out the free Instagram Live sessions (one of which Walhberg hosted!)
Float like a butterfly, sting like Muhammad Ali by hitting up the boxing-inspired cardio and restistance training courses from HTX FightCamp. The studio is still fighting the good fight by providing online courses to its members (that you can currently access at a special rate). No prior boxing experience or equipment is required and the instructors promise a solid full body sweat sesh.
Cost: Sign up for $49.99 or drop-in on a class for $25
This pilates studio is ditching the custom-made reformers for the time being, moving its core-killing workouts to the mat. Sign up for a live-streamed Zoom class for a lengthening, strengthening, and toning full body workout at-home. The classes are led by senior trainer Sara Dane, who got her start as a ballet dancer at the Academy of Movement and Music and Momenta dance company.
Cost: Optional donations ($5-10 suggested) welcome if you're able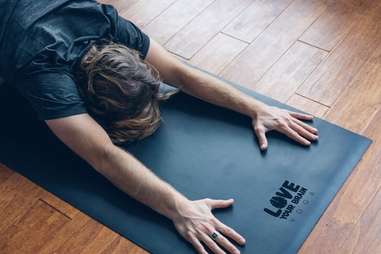 Whether you're easing into a slow and steady Restorative + Meditation class or building strength and spirit with a fluid Vinyasa Flow dating back to the roots of yoga, you can unlock your inner yogi with Atrium's online live streaming classes, available via Zoom. Each promises creative sequencing and intentional music to keep you mindful.
Cost: As long as the studio doors are closed, you can sign up for 10 classes for $100, or drop in to a single class for $20
These cardio workouts get the blood flowing and the sweat dripping, with a focus on muscle group isolation for maximum effectiveness. The Houston-based studio is currently offering online Live and On-Demand training to anyone that signs up. You can also access community support from its private Facebook group and sign up for its 30-day "Bet on Sweat" challenge featuring a weekly updated personalized diet plan, unlimited live and on demand workouts, and accountability checks.
Cost: Drop in to a Live Stream class for $15, get unlimited access for $49, or sign up for the 30-day challenge for $99
While rowing is usually Crew's main jam, the studio has pivoted the business for the time being, taking its signature class live each day, and posting its daily workouts on Facebook and Instagram stories. You won't need a rower to complete the classes, as the "crew" will provide suggestions like walking, jogging, and plyometrics in place of rowing intervals. They'll also be adding yoga, strength training, barre, and more to the agenda with their Crew Fitness Beyond classes.
Cost: Members have unlimited access, and non-members can buy single Live classes for $10 and Beyond classes for $5
This powerful yoga studio subscribes to the "sweaty, challenging, empowering" practice of Baptiste yoga. Never heard of it? Think of it like high-intensity yoga, and consider learning more from the safety of your living room. Online Zoom classes allow you to connect to the local BPY community, with live streams of Powerful Flow practices, plus free guided meditations and community chats.
Cost: Pay a $10 drop in for each class or get the online intro month for $50
Sign up here for our daily Houston email and be the first to get all the food/drink/fun in town.
Brooke Viggiano is a Houston-based writer who only wrote a portion of this from her couch and is getting up for a walk right now, she swears. Say "hey" to her from a social distance at IG @brookiefafa or on Twitter @brookeviggiano.