Paid Content For

How to Go Back to the Office
It's been swell, sweatpants — here, experts weigh in on how to make the transition back to work.
Paid Content For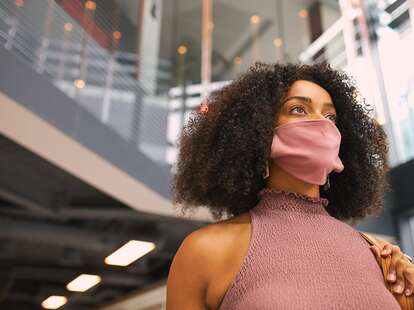 By Southworks / Shutterstock
Human resources called — and you're wanted back in the office. Hopefully this doesn't come as too big of a shock (ahem, you didn't end your lease and move to a tropical island somewhere because you thought remote work was here to stay, right?).
The surging Delta variant is stalling a full-on return to normalcy, however many offices have begun reopening, or have plans to do so in the near future. But there are protocols in place, and cubicle life has changed since you got sent home in mid-March 2020 unsure of when you'd come back. Major employers from Google to Walmart to Morgan Stanley are requiring workers to be vaccinated and some workplace rituals (huddling around a whiteboard, for instance) are not recommended for the time being.
Oh, and coming into the office with a sniffly nose because you didn't want to use up your PTO, or you had a project you had to get out the door, no matter how terrible you felt? That definitely should not be happening anymore.
"The biggest custom to ditch would be coming to work if you're not feeling well," says Dr. Will Kimbrough, MD, who is with the virtual care team at One Medical, which is a healthcare company with locations in 18 U.S. cities. "Can you imagine how often we all would come into the workplace with a cold pre-COVID? Hopefully, changing our custom of exposing coworkers to common viruses can be a lasting change from this pandemic."
Here's what else the experts say you should know about returning to office life after a year and a half or so of working from home.
Meeting sizes should be smaller (and maybe outside)
In addition to the usual health and safety tips from the pandemic playbook (wear masks indoors if you're in a Covid-19 hotspot — which is most of the country right now — even if you're vaccinated, get vaccinated, wash your hands frequently…), Kimbrough says he recommends that in-office meetings be limited to just those who are high priority for being there in the flesh. No more huddling around whiteboards or sitting elbow-to-elbow at conference tables.
While a few people who are all wearing masks meeting in a very large room doesn't carry excessive risk, cramming 25 people into a small space is, well, risky business, explains Jan K. Carney, MD, MPH, the associate dean for public health and health policy and a professor of medicine at Larner College of Medicine at the University of Vermont. "If the weather is nice, can you hold a meeting outdoors?" Carney says.
Have folks tuning in from afar? As you get accustomed to having some attendees join remotely, a bevy of remote work tools can help facilitate hybrid meetings, like Freehand, a virtual whiteboard from InVision and Asana, an app that helps teams track and manage work.
Workplace customs are changing
Hold the handshakes and high fives for now.
"A friendly wave may be preferable for the short term," Carney says. "Good hand hygiene is part of our prevention efforts, and while most concern about Covid-19 spread is person-to-person from respiratory droplets, it makes sense to ensure your hands are clean."
Also, those catered lunch meetings or gatherings with a big group of coworkers in the break room should be put on pause. Eating and drinking with several people in an enclosed space, Carney says, can come with higher risks of spreading Covid-19.
In The Before Times, you may have popped into a colleague's cubicle to ask a quick question. But Nate Tsang, the founder and CEO of WallStreetZen, a stock research company, recommends carrying over some remote work communication strategies into the office.
"Some people aren't comfortable with the shoulder tap or having someone show up at their desk unannounced, even for a quick check-in," Tsang says. "A Slack message or email asking 'Are you busy? Are you comfortable if I come by and talk for a few minutes about X?' can ensure you're not violating someone's new space and hygiene expectations."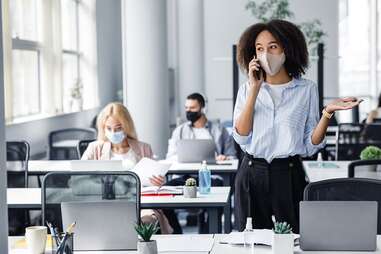 Ask HR questions about your workplace safety and wellbeing
It's completely understandable to have some concerns as you re-enter the workplace, and physicians and therapists recommend asking your company's HR team some direct questions.
Below, some questions that Carney recommends you ask your company's HR team, if they haven't already conveyed the information.
How will the company be reminding people not to come to work if they are sick?
Does the company have a policy about vaccination and indoor masking?
What support is available for employees if they are feeling uncomfortable or stressed when returning to work?
While you may not be able to set company-wide policies, you can focus on aspects of returning to work that you can control to decrease anxiety or apprehension.
For example, if your company isn't doing a good job enforcing an indoor mask policy despite CDC recommendations, you can request people that enter your work space wear masks, advises Keischa Pruden, owner and therapist with Pruden Counseling Concepts based in Ahoskie, North Carolina. "If they are not agreeable to this boundary, they can communicate with you via email or phone.
You may find some little annoyances when you return to the office, whether it's the hum of the air conditioner, the glow of the fluorescent lights, or that the shared microwave needs to be cleaned more often, Tsang says.
"Don't be afraid to bring up new ideas or changes with management — they'll be receptive in ways they likely weren't before," he says.
Be extra mindful of your mental health
Not only does returning to work prompt some concerns about your physical health, it's also a significant mental transition, says Cassandra Aasmundsen-Fry, Psy.D, a licensed clinical psychologist who offers remote counseling. We all have different levels of excitement and anxiety, she says.
Aasmundsen-Fry recommends taking some time to yourself to check in with your thoughts and emotions. Are you having physical symptoms like stomach aches, headaches, or muscle tension? Are you feeling a vague, but low-level anxiety around the clock?
Now, think of what you can do to make these worries more manageable. You could set up a meeting with your supervisor, for example, to speak about ways you can ease the transition into the workplace. You could also establish support for returning to the office. Maybe this will look like ordering a meal delivery service to take some pressure off your first month back, Aasmundsen-Fry says. Or, perhaps it's hiring a house cleaner.
Negotiate more work from home days
You may be eager to return to the office, but perhaps not excited about making the commute five days a week. You've gotten into a good WFH groove.
The best way to negotiate more work-from-home days is to make a polite direct request, says Christina Steinorth-Powell, LMFT, a licensed psychotherapist based in Nashville, Tennessee. Be honest about why you are asking for more at-home work days.
Steinorth-Powell provides this script that you can adapt when making this request with your supervisor:
"Would it be possible to come up with a schedule that included more work-from-home days for me? I found I was much more effective and less distracted because I didn't have to worry about (insert your own reason here). Is there some type of compromise we could work out?"
Many people are reluctant to ask their supervisors for assistance, but keep in mind that no one can help you if they don't know what you need, Steinorth-Powell says. Plus, good employers know that happy employees tend to be more productive.
Now, after a year-and-a-half of wearing sweatpants, do you remember where you put those pants — the ones with the zipper?
Clorox wants to help give you confidence to get back out there. That's why they've partnered with the Cleveland Clinic and CDC Foundation to form the
Clorox Safer Today Alliance™
, helping brands like United Airlines, Enterprise, and AMC Theaters create healthier public spaces for us all.
Clorox® Disinfecting Wipes
also come in convenient on-the-go sizes, so you're covered wherever you go.