Dating in Indianapolis can be an excuse to go out and do things you've always been curious about, which is why it's fun to be single in Naptown. Hoosiers are known for tearing off our pant legs and sleeves the moment the frost is off the grass, so it's no surprise that some of our favorite ways to date involve sitting on blankets and dining out of a picnic basket. Regardless of the season we've got a batch of rock solid date itineraries, so you can focus on not blurting out embarrassing childhood stories to someone you barely know.
Subject yourself to a healthy dose of public humiliation at Let's Make a Date
This comedy/dating "show" is a chance to have a laugh at each other and be the butt of some jabs from the hosts. Though the matchmaking portion of the show is just for fun, taking your date up on stage for a little public scrutiny and silly playtime is a nice way to cut right to the thoroughly broken ice.
Max out all the fun of Mass Ave
If you're stumped for ideas but adventurous, make it easy on yourself and simply walk the last lower length of Massachusetts Ave. You can eat everything from pizza to liquid nitrogen "custom" ice cream, have a few pints, or treat yourself to a classy cocktail. You could listen to jazz at the Chatterbox or see a show at Theater on the Square. Keep walking and something is guaranteed to pique your interest or make your date hungry. If not, ghost 'em. This one's a dud.
Live your Pretty Woman fantasy (minus the whole sex worker thing) at the Hickory Hall Polo Club
Despite its reputation as a Kennedy-style sport, the Indy version of polo has a much more casual and local feel: wear jeans and pay $20 for however many you can fit in your car. Grab a bottle of wine, stop by Patrick's Kitchen, and let them take care of the sandwiches for your pre-pony tailgate, and wear shoes you won't mind stomping the divots in -- yes that is a real thing.
Maybe you and your beloved are adventurous eaters in the sense that the adventure is about the challenge of consumption. In that case, you might love taking on the Cuban CrocTail, which is a 2ft, 3lb sandwich that you win exactly nothing for finishing except the owners' respect. It also happens to be delicious if you need to both feed your date and show off your gastrointestinal fortitude at the same time.
Indy is one of the last remaining cities in the US with a full-time symphony, so we like to hang out with them as much as we can. SOTP is basically our Shakespeare in the Park, and everyone from young couples to families packs a picnic and heads out to enjoy this jeans-and-t-shirt summer edition of our beloved ISO. The summer shows also feature fun themes like tributes to Led Zeppelin and a special 4th of July performance featuring live cannons.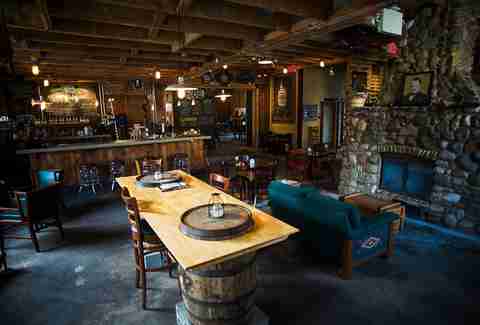 Snuggle up by Hotel Tango's massive fireplace
You could keep your date at home where it's cozy, but does your home have a gigantic stone fireplace surrounded by couches and a bartender slinging tasty cocktails? Probably not. Get both of those things in your date by grabbing an Uber to Hotel Tango and getting toasty warm inside and out. The bar side of the distillery feels as homey and inviting as your own living room, plus you don't have to wash the glasses when the damage is done.
Work up an adventurous appetite with a hike to Fort Harrison
One of the most beautiful state parks in Indiana is right here in the city. Fort Harrison Park includes a few fairly easy trails through meadows, old and new growth forest and beside gorgeous shallow parts of Fall Creek. Take a dip (but wear tight shoes) if the current is nice and slow in mid-summer, or take your beloved on a walk through the changing forest colors in October. Afterward, expand your palate in one of Pendleton Pike's dozens of hole-in-the-wall ethnic restaurants, like MaMa's Korean or Honduran food at El Sabor Catracho.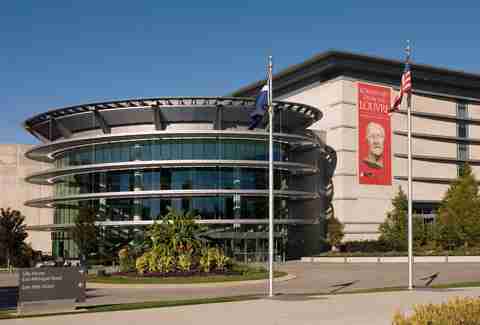 Have a luxe movie night at the IMA
You probably don't have "buy Volkswagen-size beanbag chair" or "build massive outdoor grass amphitheater" on your list of home improvement items, but you'll find that they definitely take the movie viewing experience up a notch. The IMA puts on classic and "new classic" movies all year -- think everything from Casablanca to Heathers -- in the indoor Toby or the outdoor amphitheater. Get there early to score the beast 'bag or stake out the best picnic spot.
Go old school with The Eagle's Nest and a carriage ride
Remember when you were sixteen and girls unapologetically loved the cheesy romance of dazzling skylines and horse-drawn carriages? You can relive that with a carriage ride around the Mile Square followed or preceded by dinner at the Hyatt's rotating rooftop restaurant. They might be the two oldest plays in the Naptown date book, but they're nonetheless guaranteed to set a romantic mood. Insider tip: there is one (1) carriage on the circle that is a Cinderella replica.
Learn to make something much cooler than an ashtray at the Indianapolis Art Center
Pop-up art classes are a great way to learn something or, at the very least, hilariously fail at a new skill together -- and these one-offs require about as much commitment as a first date. You can take a class together in anything from welding to jewelry to blown glass, and you get a nice keepsake or gift at the end of it.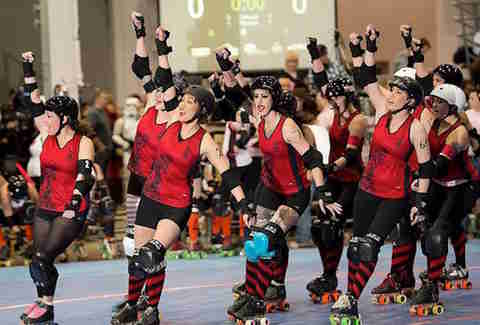 Get into the bruises and groove with a Naptown Roller Girls bout
Indianapolis is known for our love of conventional sports. Let the Naptown Roller Girls inject your bloodlust for contact sports with the added athleticism it takes to do it on four wheels. There's great local beer, hilarious color commentary and excellent tunes being spun by local DJs. To play along with the unofficial drinking game, take a sip when Dill or Brownie says "Right you are" during the play-by-play.
Hang loose at Butler's high ropes course
Maybe you and your date are the thrill-seeking types who like your dates adrenaline-fueled, and for that there is a regular open ropes course at Butler. Best of all, unlike the rest Go Ape and other high ropes courses around town, this one is free on open days. Save that money for a slice of Byrne's grilled pizza just down the street on 56th.
Get into a romcom-ready berry fight at Spencer Farm
Aren't you guys so cute with your baskets and stained fingers? Berry picking is always the way to go when it comes to, ahem, farming out your date ideas. It takes more time than apple or pumpkin picking so you have lots of time to chat, and you can screen out those not dextrous enough to tickle the delicate fruit off the vine. While you're there, buy one of Spencer's transcendent, freshly made pies and see how long it takes for the conversation to devolve into a lot of extended "pie" metaphors.
Do lunch and a view Leslie Knope-style in the City-County building
Usually, City-County is where people go to suffocate the last scraps of joy in their soul, but you can take advantage of the building's singular bright spot: the 28th floor observation deck. If you're looking for an unexpected daytime date, grab lunch at City Market and head up to the 28th floor to enjoy an incredible view of downtown for free. Leslie Knope, Indiana's favorite fictional daughter, would be so proud.
Turn the downtown canal into your personal tunnel of love
Head downtown to the canal and rent yourself either a tandem kayak or a paddleboat for an hour or two and splash around one of Indy's prettiest little corners. Once you've played and paddled all you want, stop by the JW Marriott for a drink at the lobby bar or sit on the Burgerhaus patio to get the breeze and sun of a picnic with none of the cleanup.
Sign up here for our daily Indianapolis email and be the first to get all the food/drink/fun in town.
Sarah Murrell contributes to Thrillist Indianapolis and Thrillist Sex & Dating, and is the owner and editor of The Sensualist. She will tell you one hilarious story that has happened to her on at least half of these dates if you follow her on Twitter.