24 Actually Great Winter Date Ideas in Indianapolis
Indianapolis will likely never shake the notion that it's "flyover country," and all the better for the adventurous singles among us -- shorter lines at the bathroom and the bar. Those of us who have lived in this city for a while know that it is full of unexpected, funky fun, and taking your beloved on a date, whether it's the first or 40th, is a great excuse to explore some of the more obscure options. From medical history to patisserie, from city park walks to wok-fried pork, the only nap in Naptown is the one you'll need to get ready for your next great date.
Feast on fancy desserts at Gallery Pastry Shop
SoBro
Gallery Pastry Shop is a multi-purpose kind of pastry bar where you can meet up for a light lunch, brunch, coffee, or a cocktail. But the main reason to go is to impress your date with a chocolate mousse pillow or an opera cake, and to see if your date is (crucially) the dessert-sharing type.
Hike around Holliday
North Crow's Nest
The term "hike" might be a bit of a stretch, but a walk around Holliday Park is gorgeous whether it's summer green or blanketed in fresh snow. It's not just easy on the eyes but a great place of peace and quiet where quality conversations can flourish.
Mile Square
This base model of this lunch date costs about $10 for an outstanding pulled pork sandwich and drink from Gomez BBQ in City Market, and the best view of the city for free on the observation deck of the City-County tower. You'll have to go through the metal detectors, but it's worth it for the view from the top.
Photosynthesis a deux at the conservatory
Garfield Park
Take your date to the Garfield Gardens Conservancy, a glass greenhouse filled with tropical plants, koi fish, and the year-round warmth we can all rely on. And at $2 per person for admission, it's as close to paradise as you can get for a handful of quarters.
Catch a massive movie and see some history
White River State Park
There's something classic about a movie date with a side of historical artifacts, whether at the attached Indiana State Museum, or the nearby Eiteljorg or NCAA museums. Top it off with a drink overlooking the canal, and you're well on your way to an A+ evening of romance.
Soak up coastal vibes at Rick's Cafe Boatyard
Eagle Creek
The unflappable Rick's is a stalwart restaurant on a prime piece of waterfront real estate, and with low lighting and good food, it's a great date spot even if it's not deck weather. If it's warm, those outdoor tables fill up fast and the breeze off the water is always cool.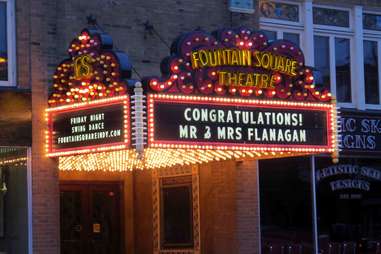 See a one-building wonder
Fountain Square
The Fountain Square Theatre building houses duckpin bowling, a bar, a restaurant, and a rooftop lounge in the summer months, and the theater itself hosts frequent swing-dancing nights starting with a lesson for beginners. It's basically a big box store for date nights, your one-stop shop for a lovely evening.
Take a First Friday free gallery tour
Fountain Square
If you or your date are aesthetically inclined, First Fridays are a perfect opportunity to see some art (and some art in progress) as galleries in and around the Murphy Art Center building open for tours. Make a night of it with tacos and tequila at La Margarita on the ground floor.
Get your date's heart racing
Speedway
As the racing capital of the world, we're expected to have go-karts. Speedway Indoor Karting offers something a little different -- not your ordinary karts, but instead a mega-track made for adrenaline and very adult acceleration.
Learn to listen (to art)
Garfield Park
Listen Hear is a gallery dedicated entirely to the use of sound as an artistic medium, and many events and exhibitions there are free. If your date owns more vinyl records than cooking and eating utensils, this should be high on your list.
Stargaze in high definition
Butler-Tarkington
The Butler Observatory just got a makeover, and it's never produced more beautiful, high-def images of the heavens. It's open to public tours on Fridays and Saturdays, or you can book it for a private event if you're trying to impress at the highest level. You'll both be seeing stars either way.
Relax with the ladies of Luxotica
Fountain Square
You can always count on The White Rabbit to have a regular lineup of burlesque shows worth every penny of the ticket price, and the Luxotica Lounge Cabaret Show is one of the highlights. Nothing warms the blood like this variety-show take on the art of the tease, combining comedy and music with your standard-issue shimmying.
Make a sweaty mess of each other at Real Talk
Fountain Square
Taking a date to Real Talk means two things: you're comfortable enough to have a wild night with them, and you're comfortable sweating on each other. Fountain Square's most legendary dance night is always packed, and always a party. Just note that several of their events have covers (some as cheap as $5), before you head out there.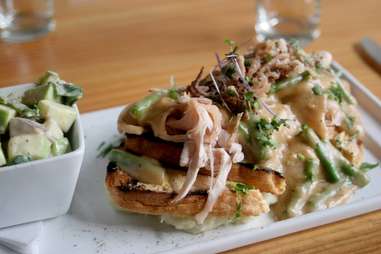 Eat the sexiest food for the sexiest price
Fletcher Place
Dates at Bluebeard are a no-brainer, but you might not know that oysters are a buck each on Sundays. And if we've learned anything from Renaissance painters, we all know oysters are the food that attracts lovers to you like moths to a flame.
Sit and Chatter with a jazz legend or two
Mass Ave
The Chatterbox is a legendary jazz club that has been going strong on Mass Avenue long before that stretch of road was cool. It frequently hosts pick-up sessions between some of Indianapolis's (and the world's) most seasoned musicians, for the low price of walking in the door.
Eat down West 38th
International Marketplace
West 38th street, recently re-dubbed the International Marketplace neighborhood, has some of the very best ethnically diverse dining options in the city. Adventurous eaters and avid travelers will enjoy a progressive dinner across a continent or two of flavors, which you can do in a few hours, and the IM Coalition offers a discount card on their website.
Get schooled in the ways of whiskey
Nora
At The North End BBQ on 86th, you can sign up for a $35 whiskey education class that covers a variety of styles of whiskey -- from American to Japanese. You'll get the full run-down on flavor profiles, ingredients, and taste six different varieties with a tasting notebook you get to take home and fill up on your own whiskey adventures.
Bury the hatchet (in the wall)
Mile Square
Bad Axe Throwing is pretty much as awesome as it sounds: you pay for an hour, then you fling axes at the wall. It's probably not the best look at for a first date, but perhaps after a few solid connections, you can introduce recreational weaponry into your romance.
Let Goose cut your cheese
Fall Creek Place
Do you want to pack a picnic but have no idea what you're doing? Goose the Market sells
grab-and-go packs filled with classy snack foods, or you can have them arrange a few cheeses and some charcuterie in a tray for you and recommend some accompanying bread and wine -- no cooking or baskets required.
Catch some indie theater
Renaissance Place
The Phoenix Theatre has built a dedicated following by continuing to provide electrifying live productions in a world desensitized by Michael Bay explosions. Also, their latest season looks stunning. Put a new spin on dinner and a show and take your date to a great local theatre production.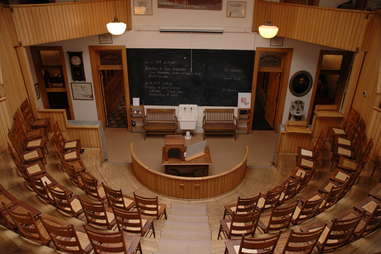 Access your inner Morticia and Gomez
Hawthorne
The Indiana Medical History Museum is the perfect place for those hoping to bond over their shared love of the macabre. Either way, it's one low-cost date that's sure to give you plenty to talk about over post-museum drinks, though the wise will eat beforehand.
Fletcher Place
Hotel Tango has become a runaway hit with their tasting room turned swanky fire-warmed bar for locals. It's got a great rustic vibe, a rotating seasonal lineup of cocktails, and the smokey smell in the air from the whiskey and the crackling logs. There's no better date location for lovers of more more refined liquors.
Broad Ripple
Even if you lack artistic talent, signing up for a pop-up art class is a great way to show your creative date planning side, and the prices start at just $20 a ticket. You get all the paint-nose-dabbing, Ghost-pottery-scene, Nicholas Sparks crap you can handle with none of the commitment.
Make sweet, sweet macarons together
Mile Square
Though this is a much more luxe date than others on the list, you can get authentic, delicious desserts out of it. Learn to make authentic macarons from Circle City Sweets owner and pastry chef Cindy Hawkins. For $150, you'll not only take home new skills, but also about $120 fresh-baked macarons to eat and share with friends -- or just each other.
Sign up here for our daily Indianapolis email and be the first to get all the food/drink/fun in town.
Sarah Murrell contributes to Thrillist Indianapolis. She can give you more free dating advice on Twitter, but you shouldn't take it.