Everything You Think While Riding Behind a Bike in Indianapolis
We know what you're thinking: "Does Indianapolis even have a biking community?" The answer is yes, which is why we're the self-proclaimed racing capital of the world. This city offers miles (and miles!) of two-wheeler-friendly trails, a burgeoning bike-to-work contingent, and even an internationally acclaimed bike- and pedestrian-only corridor that links pretty much every athletic, entertainment, and cultural venue worth visiting. But here are a few other questions that might occur to you as you trail those cyclists in your gas guzzler.
Why the hell does that biker keep looking at me?
Probably because you're too damn close. In Indy, cars must give cyclists a minimum 3ft buffer. And if you drive around in a pickup truck with gigantic mirrors that stick out farther than the width of the lane, consider giving them more. Honestly, riders don't call those things "street sweepers" for nothing.
Why did they blow through that red light?
One of two reasons. First: bikers aren't big enough to trigger the sensors that control the timing of some Indy traffic lights, so they could sit there for a very, very long time. Second: Indiana law says cyclists can punch red lights if they wait for two minutes and see no traffic coming.
How big do your balls have to be to ride on the most heavily traveled Indianapolis streets?
Pretty damn big. Though Indy, with its more than 80 miles of on-street bike lanes, tries to make space for two wheelers, cars still rule. With an iron fist. It's most obvious on busy city streets with yard-wide bike lanes grafted onto their edges (and in some locales they've even been added to massive highway interchanges). Let's just say that cyclists really, really shouldn't drift out of those. When a local bike shop employee was asked about the best way to negotiate them, she replied, "Don't."
 
What's the backup plan if the chain breaks? Walk home?
Not necessarily. If a friend, partner, or roommate won't pick them up, they can always catch a city bus. The buses all have bike racks on their grills, where you can stow your ride for no additional charge.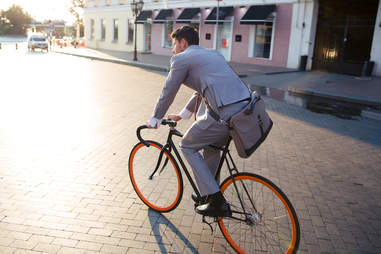 Dean Drobot/Shutterstock
Why is that biker wearing a suit?
Perhaps it's May 20th, which is Bike to Work Day. Thousands of locals will ditch their cars this year and pedal to the office.
 
How does that biker wearing a suit not smell like gym socks by the time they get to work?
Baby wipes. They're a sweaty biker's best friend. Of course, cyclists who really sweat during their commute can always take advantage of the Indy Bike Hub YMCA, located inside the Indianapolis City Market. For $27 a month (no contract) you can buy into the Bike and Shower Program, which snags you indoor bike storage space and a place to hose off and suit up after your morning ride.
Why isn't this guy riding the Indianapolis Cultural Trail?
Good question. The eight-mile, $63 million project connects six of Indianapolis' cultural centers via a wide, impeccably landscaped bike/pedestrian corridor that hits pretty much every sports, entertainment, and artistic venue in the city. Plus it links to a further 40 miles of municipally-owned paths. It's truly one of a kind. So unique, in fact, that city planners from around the world come here to study it. So why isn't he on it? Hell, I don't know. He should be.
 
Is there any place in this town to ride, like, terrain?
Indianapolis (along with most of the northern two-thirds of Indiana) is as flat as a pool table. That's great if you're a commuter seeking the least sweat-intensive route to work, but tough for hardcore cyclists looking for a challenge. One of the best (actually, only) options is Fort Harrison State Park. Located within city limits, it boasts plenty of hills, plus safe, paved paths and roads on which to tackle them. But if "safe" isn't necessarily your thing, there are also more than eight miles of off-road dirt paths.
How about the Monon Trail?
That one's complicated. Indy's other premier bike route is a former rail line that cuts through the entire metro area and continues for miles past its northern city limits. It's hugely popular with walkers, which makes it problematic (at best) for serious cyclists. Imagine doing interval training while surrounded by people pushing road-hogging double strollers or walking dogs that can at any moment dart into your path. And in good weather, the crowds can rival those at a mall on Black Friday.
 
Don't they see that dead raccoon in front of them?
Yeah, they see it. Probably smell it, too. This sort of thing happens to Indy bikers all the time because varmints that get nailed by cars are often tossed onto the shoulder, where they languish in all their maggot-laden glory. Even worse: critters sometimes land on the bike lane itself, necessitating evasive action.
What's with all the yellow bikes?
These are part of the Indiana Pacers Bikeshare program. About 250 rental bikes, all painted gold (actually yellow, but they call it gold because it's the team color of the Indiana Pacers), are available at kiosks around town. You can get access using anything from a day pass to an annual membership.
Seriously, no helmet?
Indiana doesn't make anybody wear helmets for anything. Not for motorcycles and certainly not for bicycles. But you really, really should.
Sign up here for our daily Indianapolis email and be the first to get all the food/drink/fun in town.
Sam Stall is the author of a bunch of books, none of which you've probably heard of. He's also planning to start biking Indianapolis himself. Yup, any day now.