12 Things You Didn't Know About the Indianapolis 500
Chris Graythen/Getty Images
Chris Graythen/Getty Images
They don't call the Indianapolis 500 the "Greatest Spectacle in Racing" for nothing. The event, which runs for the 100th time this coming May 29th, is practically made of superlatives -- as is its home, the Indianapolis Motor Speedway. To that end, here are a dozen things you probably didn't know about the world's most famous race... and also about the IMS, the largest sporting facility in the history of the world. Seriously. (There's one!)
The Indianapolis 500 isn't held in Indianapolis
The race takes place in the tiny town of Speedway, a municipality built to house workers for both the track and local auto factories. It was platted in 1912 by the same group of financiers that built the Indianapolis Motor Speedway in 1909.
The track's first event wasn't a car race
On June 5th, 1909, two months before the IMS's official completion, it served as a launch pad for a balloon race. The event drew 40,000 spectators, with the winner landing 382 miles away in Alabama. Presumably they mailed him his trophy.
The Indianapolis Motor Speedway is the highest-capacity sports venue in the world
The 2.5-mile oval boasts a seating capacity of approximately 250,000, plus infield accommodations that raise its head count to an unparalleled 400,000 (roughly the population of Cleveland). It's been No. 1 for a century and will likely keep its title unless someone installs bleachers onto the sides of the Grand Canyon.
It's also the hardest-to-leave sports facility in the world
It takes a long, long time to empty the place, which means the only cars moving quickly on race day will be the ones on the track. Savvy fans wait at least three hours until after the checkered flag drops before they go anywhere near their vehicles.
It's nicknamed "The Brickyard" for a very good reason
These days the track is surfaced with high-performance asphalt, but back in the old-timey days it was covered by 3.2 million hand-laid bricks. A yard-wide, track-spanning stretch of that original surface (naturally called the Yard of Bricks) serves as the Indy 500's start/finish line. Drivers traditionally kiss it after winning. And yes, it tastes like Victory.
No matter where you sit, you can't see the entire track
This is a big, big place. Some pros swear that sitting high on Turn 1 offers the best perspective, while others say that parking yourself on Turn 3 works best. The most desirable seats are inside the Panasonic Pagoda, a massive structure from which the race is controlled and scored. If you'd like a ticket, well, too bad. You can't buy your way in; you have to be invited.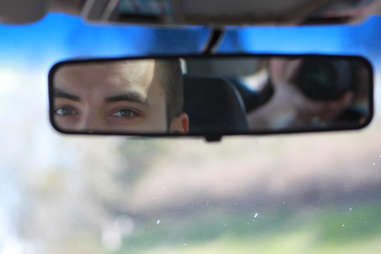 The rear-view mirror made its racing debut here
The first Indy 500 was won by Ray Harroun, who drove solo instead of taking along a "riding mechanic" like pretty much everybody else did back then. Lacking a second set of eyes, he compensated by bolting a rear-view mirror onto his Marmon Wasp.
Car speeds have plateaued at around 220mph, and will likely stay there for a while
In two decades, no one's bested the 237.498 mph posted by Arie Luyendyk during qualifications for the 1996 Indianapolis 500. Don't look for that to change anytime soon, because the track's modestly banked corners make faster speeds highly problematic. Designed back when "racing cars" were lucky to break 100 mph, they now cope with machines that handily exceed the takeoff speeds of jet fighters.
Indy 500 winners smell like rancid milk
Driver Louis Meyer liked buttermilk and was photographed drinking a glass after winning the 1936 race. Someone from the Milk Foundation (apparently a real thing) saw this and made damn sure all future winners also took a swig of moo juice. These days, some pour it on their heads, because why not?
You can watch drivers and crews eat pancakes
When savvy fans want to see IndyCar drivers (and their crews) up close, they hit a trackside dive called Charlie Brown's Pancake and Steak House. Since the '70s, it's been the place to watch drivers and their entourages fork down flapjacks and bitch about how their cars don't get enough downforce in the turns.
The bathrooms get pretty crappy
The track's restrooms get quite a workout from the legions of beer-drinking, bratwurst-eating race fans. So you might want to hold it. If you can't, be prepared to see some messed-up shit. Literally.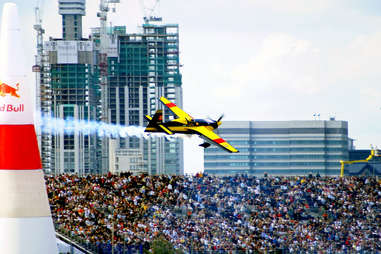 The Indianapolis 500 isn't the only game in town
This year the Indianapolis Motor Speedway also hosts NASCAR's Crown Royal 400 at the Brickyard and the inaugural Red Bull Air Race Indianapolis (yes, this place is big enough to handle airplanes). And did we mention that a Pete Dye-designed golf course snakes right through the infield?
Sign up here for our daily Indianapolis email and be the first to get all the food/drink/fun in town.
Indianapolis-based writer Sam Stall has attended the Indianapolis 500 several times and personally kissed the "yard of bricks" twice. Once because he intended to, and once when he wasn't watching where he was going and tripped.