Fall is Indiana's nicest season, and there are plenty of ways to take advantage of this last bit of fine weather before winter. Because it's Indy, there are tons of racing options, including contests for cars, planes, boats, weiner dogs, and even vampires. There's also a grilled cheese sandwich festival, a music festival featuring bands performing exclusively on front porches, and a salute to pumpkin-flavored beers. Even hardcore croquet fans have something to look forward to. So get out there while you still can, and make those ever-shorter autumn days count.
Recommended Video
Fireball Whiskey Apple Pies: A Dessert Fit for a Frat Party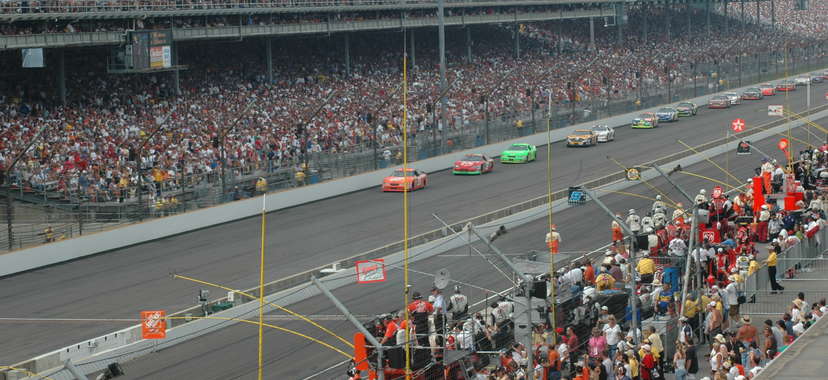 September 7-9
Indianapolis Motor Speedway
The 25th running of the Indianapolis Motor Speedway's annual NASCAR race will see some big changes. Most importantly, it's moved from its traditional August run date (when high temperatures made you feel like a tuna melt in a toaster oven) to the more meteorologically benign first week of September. Enjoy practice on Friday, a preliminary race on Saturday, and the main event on Sunday.
Cost: $30 to $175 for the Brickyard 400; see IMS website for pricing for preliminary events
September 7-12
White River State Park
Granted, it does drag in places, but when it comes to big-screen outer space spectacle, Stanley Kubrick's classic is still the gold standard. Especially when you watch it on a screen that's six stories tall and 84 feet wide.
Cost: $17.50 for adults; $14.50 for kids
September 13-22
Various locations
The Indianapolis Jazz Foundation serves up the 20th edition of this city-wide musical extravaganza, featuring nationally and internationally known acts performing everywhere from the Athenaeum to The Jazz Kitchen. The dozens of acts include Mindi Abair and the Boneshakers, 19-time Grammy nominee Larry Carlton, and 2018 Grammy winner the Billy Childs Quartet Featuring Steve Wilson,
Cost: $75 to $20, depending on the venue
September 15
Fountain Square
Part of the seventh annual Arts Squared (a full day of arts-related activities in the Fountain Square neighborhood) the parade adopts a very laissez-faire approach to participation. Every sort of oddball unit can (and definitely will) march, while guests can either cheer from the sidelines or join in themselves. Other Arts Squared events include Masterpiece in a Day, in which dozens of artists vie for prizes by creating a work during the festival. If you can't wait that long, pick up something readymade at the Art Fair.
Cost: Free admission
September 16
Old Town Carmel
Fans of intimate outdoor concerts won't find them any more intimate than this. Enjoy a long list of musical acts, from acoustic to electric, belting out pretty much every genre known to humanity from approximately 20 front porches around Old Town Carmel. The extremely eclectic lineup includes Dear Lincoln, Fuzzy Bunny Fish Fry, and Turetzky Syndrome, to a name a very, very few. Pets are welcome, as long as they're leashed.
Cost: Free
September 22
Lucas Oil Stadium
Enjoy one of the largest and most popular African-American sporting events in the nation. This year, two historically black schools, Howard University and Bethune-Cookman University, face off on the gridiron at Lucas Oil Stadium. The festivities also include a parade, pep rally, musical performances, celebrities, and a battle of the bands.
Cost: Numerous price points, depending on the events you want to see
September 22-23
Garfield Park
It's the first year for this massive Holler on the Hill Americana Festival, which takes place at Garfield Park. Guest can enjoy Indiana-made beers and ciders, plus food trucks, farmers market vendors, and goods offered by local makers and artisans. And then there's the music. Headliners include critically acclaimed soul band St. Paul & The Broken Bones, indie rock band Moon Taxi, and more than two dozen other national, regional, and local acts performing on three stages. A portion of ticket proceeds go to benefit various community organizations.
Cost: $85 for two-day Weekend Festival Pass; pricing varies for other options
September 29
Broad Ripple Park
Visit Broad Ripple Park for coffee, music, and yeasty, deep-fried treats from some of the area's top donut makers, including The Donut Refinery, Titus Bakery, and Quack Daddy Donuts. For those who really, really love those ring-shaped calorie bombs, there are VIP tickets that allow early entry. Guests can also enjoy live music and try out donut-themed activities -- whatever those might be.
Cost: $30 general admission; $45 VIP; $15 kids
September 29
White River
Raise funds for the White River Alliance while watching 22-member rowing teams power 46-foot-long, Asian-style dragon boats down White River. It's all part of the eighth annual White River Festival, taking place on the waterway's downtown banks. The festival also includes food trucks and live music, because of course it does.
Cost: Free admission, but donations to participating teams are appreciated
October 6
Benjamin Harrison Presidential Site
Ever wondered if you've got what it takes to play the hardcore, take-no-prisoners sport of croquet? Then test your skills at the annual Croquet Roquet event on the grounds (or, more specifically, the south lawn) of the Benjamin Harrison Presidential Site. The event is over 21 only, with food and spirits on-hand. You don't have to wear formal croquet whites, but do you really want to be the guy in cargo shorts who ruins the gentle ambiance?
Cost: First 100 registrants get free admission
October 6
Optimist Park
If you just can't get enough of that ol' pumpkin spice, try out the 50 pumpkin, cider and fall beers at this gathering in Optimist Park. Breweries from around the city and state are slated to participate, and their wares include such imaginatively named beverages as Indiana City Death by Pumpkin, Dogfish Head Punkin, and Southern Tier Pumking. There will be unlimited beer and cider samples during the event. Designated drivers get all the free water and soda they can hold.
Cost: $55 for VIP tickets; $45 for general admission; $5 for designated drivers
October 6-7
The Indianapolis Motor Speedway
The home of the Indianapolis 500 also hosts a stop on the Red Bull Air Race Circuit, in which high-performance planes buzz like hornets above the famed racecourse, striving to complete their runs in the shortest possible time. Practice and qualifying takes place on the 6th, and the race on the 7th.
Cost: Extremely variable, depending on events and seats
October 8
Schrott Center for the Arts
You might know Puddles, aka musician Mike Geier, thanks to his cover version of Lorde's "Royals," which has been watched about 25 million times on YouTube. It's hard not to notice Geier, who stands six-foot-eight and wears full clown makeup during performances. Unless you're pathologically afraid of clowns, all that greasepaint doesn't detract from the fact that he's an outstanding, though decidedly melancholy, cabaret performer -- something you can learn for yourself at the Schrott Center for the Arts.
Cost: Tickets are $34 to $99
October 11-21
Various locations
Indiana's longest-running film festival has, since its 1992 debut, grown from a four-day event to an 11-day extravaganza showcasing more than 200 independent films. You might want to check out the documentaries, because Heartland is an Academy Awards qualifying festival for the Live Action and Documentary short film categories. But that's not the only option, of course. The festival offers everything from slickly produced Hollywood films to student productions.
Cost: Extremely variable, depending on time, location, and show
October 13
Athenaeum
This annual salute to all things German at downtown's Athenaeum isn't for the faint of heart. Of course there's teutonic-themed beer and food, but there's also a strong man competition, and a stein-holding contest. Or you can just watch the annual wiener dog races. Did we mention that there's beer?
Cost: $12 for adults; $5 for children 2-12
October 13-14
The Pavilion at Pan Am
Make sure you grab plenty of napkins for this two-day event, featuring music, drinks, games, and a ridiculous amount of grilled cheese sandwiches supplied by area eateries. It takes place at The Pavilion at Pan Am downtown, and on Saturday is only open to guests 21 or older. On Sunday, however, kids can come. Be sure to cast a vote for Best Grilled Cheese in Indy -- or, if you're really feeling it, tackle the grilled cheese eating contest.
Cost: $25 for adults; $35 for VIP passes (available only on Saturday); $15 for children; kids 5 and under get in free
October 20-27
72nd Historic Irvington Halloween Festival
Nobody does Halloween quite like the residents of this historic neighborhood. Festivities include a street fair, a Zombie Bike Ride, Indy Grimo Coffin Race, and the Pleasant Run Vampire Run -- a 5-mile event that's a bit more fast-paced than the typical zombie crawl. You can carb load the night before at the Carb Fright Night Spaghetti Supper.
Cost: Most events free; $25 registration fee for the Vampire Run
November 2
Children's Museum of Indianapolis
The Children's Museum of Indianapolis is a magical place -- and it's even more magical on this particular evening, when the kids are booted out and its used for an over-21 party. In keeping with the Weird Science theme, guests, drinks in hand, can peruse the STEMLab, the Schaefer Planetarium, and walk around the Dinosphere. Or just hang around the various, strategically placed bars.
Cost: $20 for museum members, $25 for non-members
November 15-20
Hilbert Circle Theatre
Pretty much everyone has seen this movie. Some of us, more times than we care to recall. But this version features the Indianapolis Symphony Orchestra performing the iconic John Williams score live, as the film plays on the big screen at Hilbert Circle Theatre. Better move quickly, because a couple of nights are already sold out.
Cost: $48-$119
November 22
Broad Ripple
You'll feel less guilty about eating half a pecan pie if you turn out for this low-pressure, 4.6- or 2.75-mile run/walk through the Broad Ripple neighborhood. You can actually register to run (the price starts at $30, but escalates as you get closer to the event), or just blend in with the huge crowd on race day. Proceeds from the event benefit the Wheeler Mission homeless shelter.
Cost: Race registration costs $30 until September 3, then slowly escalates to $45 for "day before" and "day of" registrants
Sign up here for our daily Indianapolis email and be the first to get all the food/drink/fun in town.