Winter isn't Indy's strongest suit, but there's still plenty of fun to be had if you're willing to brave the cold. You can wile away the winter by listening to a Klingon impersonator sing pop ballads in Klingonese; buy one-of-a-kind art while poking around the maker's studio; or add a couple of pounds (and maybe subtract a couple of weeks off your life) at a city-wide bacon festival. And if you want to get traditional, there's always the new ice rink at Fountain Square. Here's everything you need to do in Indianapolis this winter.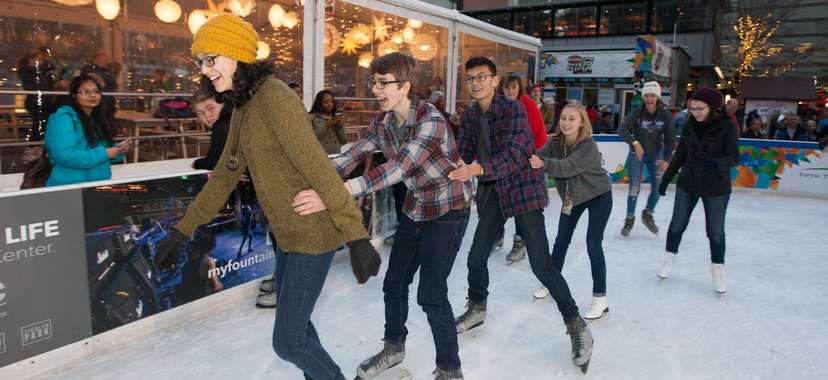 Open until February 18
Fountain Square
Indianapolis's quirkiest downtown enclave now has its own outdoor skating rink, complete with rental skates, a full-service concessions tent, and a nice lineup of beers, ciders and wines. And just because it's not particularly cold outside doesn't mean they aren't open. The refrigerated rink can function even on 60-degree days.
Cost: $6 admission, $4 skate rental
December 7
Stutz Business Center
Back in the day (the 1920s, to be exact) the hulking building hosting this soiree was a factory that produced cars for the Stutz Motor Company. Today it houses around 100 artists studios. During this annual event you not only get a chance to look at the tenants' work, but also talk with bona fide creators and check out their workspaces. Oh, and there's beer.
Cost: Free admission
December 7
Old National Centre Egyptian Room
Randy Rainbow has produced funny YouTube videos for years, but he really took off during the 2016 presidential campaign when he made a particular target of Donald Trump. He's bringing his satirical songs (many of them based on Hollywood show tunes) to the Egyptian Room, along with a truckload of attitude.
Cost: $42.50
December 10-16
Various Locations
This weeklong salute to America's favorite processed pork product features $5 bacon-intensive dishes offered at eateries around the city. Sponsored by NUVO newsweekly, the long, long lineup of participating restaurants includes Clustertruck, Shoefly Public House, Sugarfire Smokehouse, and many more. Visit your favorites sooner rather than later because they're almost guaranteed to run out of their bacon specials. Proceeds benefit Second Helpings.
Cost: All bacon treats are $5 (but a 20 percent tip for servers is humbly suggested)
Advertisement
Between the holidays and finishing out the year at work, your calendar can fill up fast in the colder months. But whether your winter plans involve heading out to a new bar opening, onto the open road, or to the office, Wrangler has new styles and comfortable fits made for wherever life takes you -- so you won't have to think twice about what to wear.
December 14
Bankers Life Fieldhouse
Former boy band frontman and Britney Spears' ex-squeeze brings a decade of solo hits to Bankers Life, including "Summer Love," "Cry Me A River," and "Mirrors."
Cost: $85-$925. Plenty of tickets still available. Just kidding! It's sold out, so you'll have to find something on the secondary market.
December 15
Bankers Life Fieldhouse
What's better than watching two of Indiana's top college hoops program go head to head? Watching four of them. Purdue University and the University of Notre Dame take the court at 1:30pm, followed by Indiana University and Butler University at 3:45pm. Come watch them vie for a year's worth of in-state bragging rights.
Cost: Almost sold out, so try the secondary market.
December 18-23
Clowes Memorial Hall
There's something deliciously naughty about watching a saucy musical that gently mocks a semi-major religion. If you haven't seen it already, make time for this Tony Award-winning, R-rated comedy triumph, masterminded by South Park creators Trey Parker and Matt Stone.
Cost: $57-$150
December 19-20
Unitarian Universalist Church of Indianapolis
Take a moment from your holiday prep to mark the oldest of all December festivals -- the celebration of the shortest day (and longest night) of the year. The bad news is that this is the traditional first day of winter. The good news is that from now on, the days start getting longer. So you take the good with the bad. There will be music and a pitch-in meal, and everybody's welcome, from Wiccans to Presbyterians.
December 31
Georgia Street
If the weather cooperates, you can usher in the New Year outdoors at this street festival next to the Indiana Convention Center. There's food trucks, drinks, and plenty of live music.
Cost: Free
January 5
The Toby
If being somewhere at 10am on a Saturday morning appeals to you, consider taking in an early-morning screening of the anime classic Ponyo at the Indianapolis Museum of Art's Tobias Theatre, AKA "The Toby." Enjoy the movie in surround sound, and partake of a buffet of breakfast cereals and milk. Yes, there's also coffee. The audience should be an interesting mix of anime fans and kids.
Cost: $6
Sign up here for our daily Indianapolis email and be the first to get all the food/drink/fun in town.