9 Indianapolis Secrets You Need to Know About
Indianapolis may not seem like the sort of place with lots to hide, but it does have its secrets. Some are goofy, like America's oldest shoe store, and others downright weird like a medical museum with a world-class collection of brains in jars, all of them Indy secrets (shhh, don't go telling everyone).
 
The gym from Hoosiers is named for the coach who invented the modern basketball
Hinkle Fieldhouse on the Butler University campus holds 9,100 fans and generations of hoops history. Built in 1928, it was used to film the climactic scene from the movie Hoosiers. The 1954 state championship game that inspired the film, in which the microscopic town of Milan won the state high school championship, took place on Hinkle's court. Everyone from Oscar Robertson to Larry Bird played here. And it's the home court of the Butler Bulldogs, who made it all the way to the 2010 and 2011 NCAA championship games. Oh, and the guy it's named after, longtime Butler coach Tony Hinkle, invented the orange leather basketball everybody uses today.
Wikimedia
You can pay your respects to John Dillinger, now on his fourth gravestone
The remains of the world's most notorious bank robber reside in Crown Hill Cemetery, one of the nation's largest private boneyards. Dillinger is on his fourth gravestone, the previous three having been carted off a chip at a time by souvenir hunters.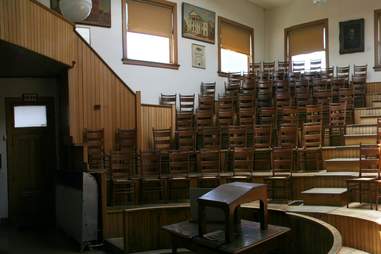 Wikimedia
Our medical history museum looks more like a horror movie set
The Indiana Medical History Museum, located on the former grounds of the Central Indiana Hospital for the Insane (because, of course), features scary old medical instruments, a 19th-century autopsy room and its crown jewel of creepiness, an "anatomical museum" boasting a disturbingly large collection of brains in jars.
 
Indy is home to a weird, nearly extinct form of bowling
During the early 20th century "duckpin bowling," which uses tiny pins and a hole-free, softball-sized ball, was all the rage. Today only a handful of alleys remain, including two inside the Fountain Square Theatre building. The one on the fourth floor, Action Duckpin Bowl, is jammed with early 20th-century bowling artifacts. The one in the basement, Atomic Bowl Duckpin, offers a retro '50s vibe.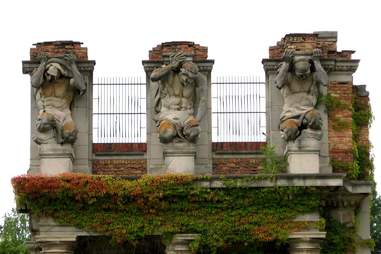 Wikimedia
There are some (pretty much fake) ruins worth strolling in
In his novel The Fault in Our Stars, author and Indy resident John Green describes the odd collection of old building parts at Holliday Park as "this weird rectangle of Roman ruins plopped down in the middle of a field in Indianapolis." Which pretty much nails it. Beginning in the 1950s, statues and other pieces of demolished buildings from as far afield as New York City were trucked in and arranged in a massive "mall" around a reflecting pool. The complex is getting a facelift, so the ruins will look slightly less ruined come spring.
 
Broad Ripple Park was home to the world's biggest swimming pool
Today Broad Ripple Park offers nothing more elaborate than the usual picnic tables and party shelters. But in the early 1900s it was a massive, Coney Island-style amusement park, complete with rollercoasters, a carousel and a 500ft-long, 250ft-wide swimming pool that was the biggest in the US. It's all gone now, save for a massive concrete support post formerly used by the carousel -- which now resides, fully restored and in good working order, at The Children's Museum of Indianapolis.
You'll have to watch out for flying debris at this school bus race
No, not the Indianapolis Motor Speedway, home of the Indianapolis 500. If you like your racing up-close and personal, visit the Indianapolis Speedrome. But this ain't Formula I. Or even NASCAR. It's about good ol' boys racing Mad Max-style junkers around a 1/5-mile oval that's not much bigger than a Denny's parking lot. The racing is mind-blowing -- everything from demolition derbies to figure 8 races. Figure 8 races that sometimes use school buses. Like we said, hardcore.
 
We're home to the oldest shoe store in the US
Stout's Footwear has been selling shoes at its 318 Massachusetts Ave location since 1886, when Grover Cleveland was president. The store still uses an ancient system of wire-suspended baskets to move product from the backroom to the sales area.
 
That canal's Italian gondolas are authentic (and weigh one ton each) 
Indianapolis has a downtown canal, which is kind of odd. But not as odd as the fact that it's plied by authentic, Italian-made gondolas piloted by opera-singing gondoliers. Which makes Indianapolis, for some strange reason, one of the few places outside of Venice where visitors can enjoy this Old World staple.
Sign up here for our daily Indianapolis email and be the first to get all the food/drink/fun in town.
  
Sam Stall has written more than 20 books, including three novels – none of which you've heard of. Visit him on Facebook.