The Most Haunted Places in All of Indiana
Jason Hoffman/Thrillist
Jason Hoffman/Thrillist
Indiana's home to corn, basketball, race cars… and a truly alarming number of haunted houses, cursed wild places, and moldering cemeteries full of unquiet dead. Of course pretty much every state, from Texas to Pennsylvania to Michigan, hosts its share of ghost stories. But there's something deeply disturbing about finding so much of the macabre in a place that's supposedly the epitome of normal. Here are 11 spots that reveal the darkest corners of the Hoosier heartland.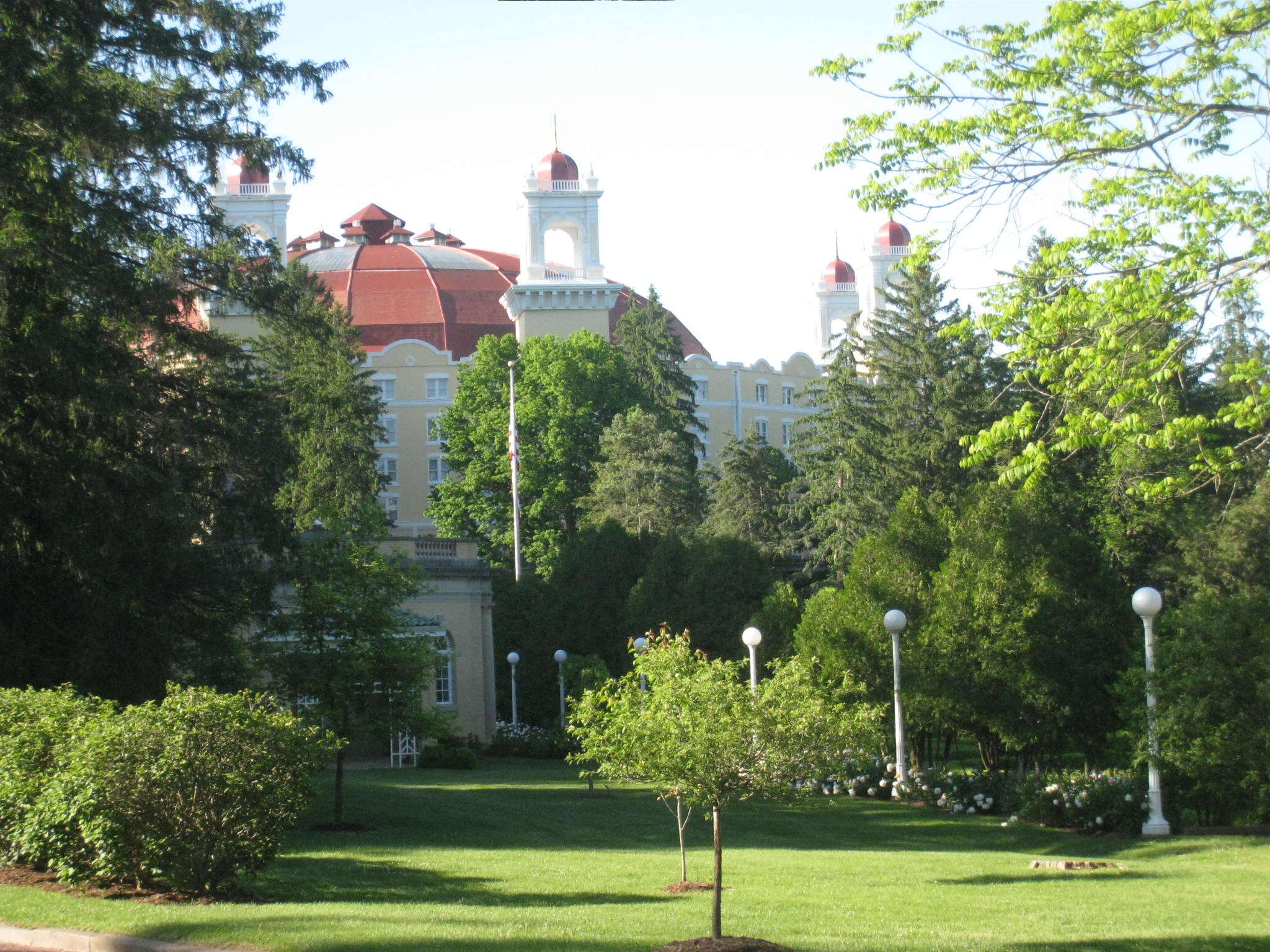 Orange County
If you're going to confront the cosmic unknown, you might as well do it at a world-class resort equipped with two spas, three golf courses, fine dining, and a casino. This historic establishment, part of the much larger French Lick Resort Casino complex, was built in 1901 and hosted bigwigs such as Al Capone, Bob Hope, Franklin D. Roosevelt, and Duke Ellington. According to legend, its former owner, Thomas Taggart, remains there to this day, reeking of tobacco smoke and loitering near the service elevator. He's also turned up in the main ballroom, riding a horse. And apparently he's not alone. Housekeepers occasionally find blood in a bathtub used by a jilted bride to commit suicide, and the sixth floor seems particularly prone to cold spots, prowling shadows, footsteps, and spectral laughter. Also, the front desk reportedly gets phone calls from rooms they know are empty.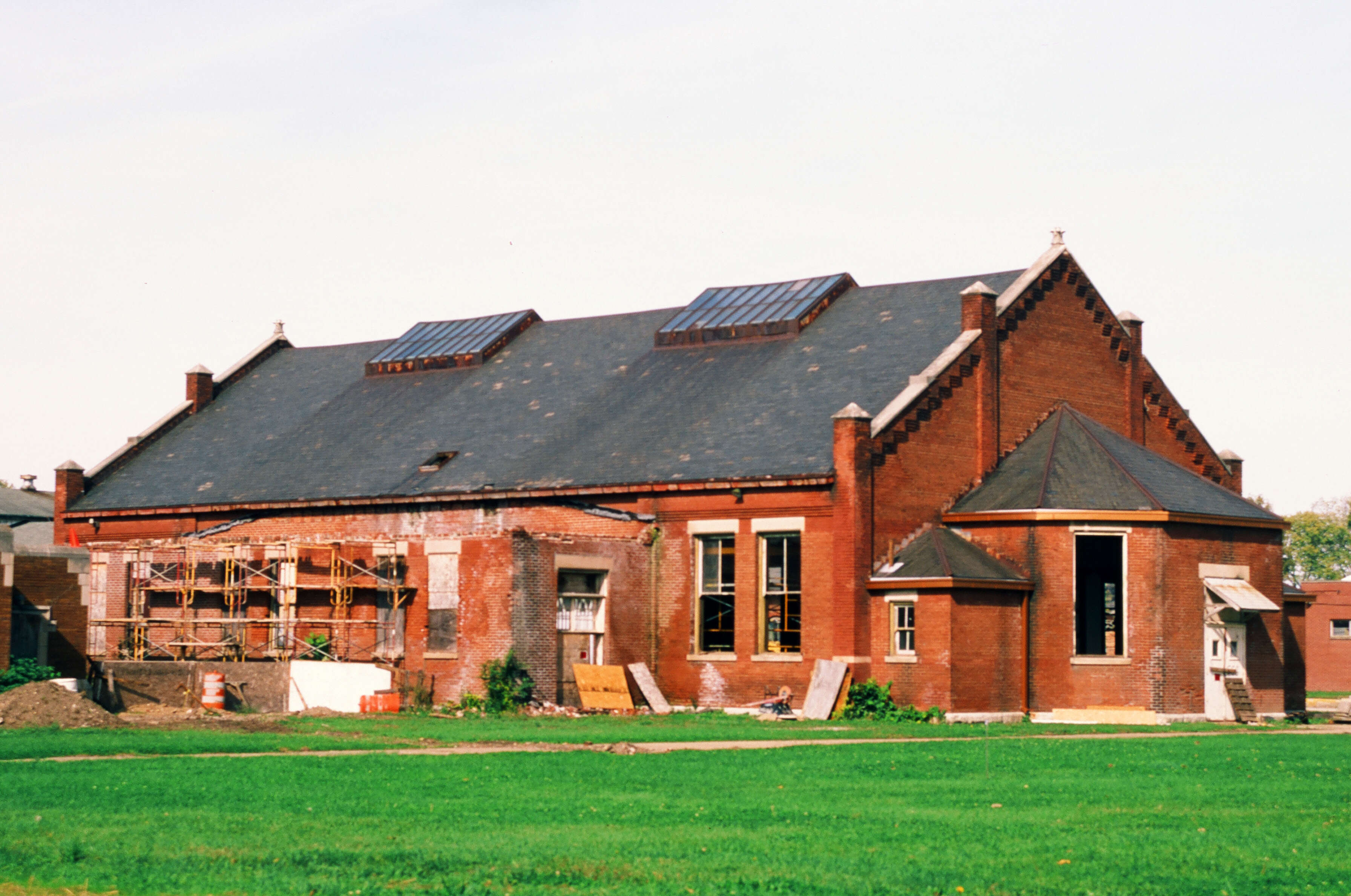 Indianapolis
When it comes in ghosts, this macabre facility deals in volume. Constructed in 1848 and originally called the Central Indiana Hospital for the Insane, it housed tens of thousands of patients in its vast buildings and 160-acre grounds before being closed in 1994. Unfortunately some of its inhabitants refuse to move on. There are reports of screams and moans in the surviving buildings, assaults by invisible hands, and wraiths and glowing orbs floating around the property. What makes it even weirder is that a large portion of the former asylum has been redeveloped into apartments. Word has it that a spiritualist has been called several times to cleanse them.
Avon
The otherwise-innocuous Indianapolis bedroom community of Avon plays host to one of the nation's creepiest-looking haunted bridges. The decrepit-looking concrete railroad span looks as old as the pyramids, and sports an undeniably sinister air -- especially if you drive beneath it at night. If you care to park and poke around, locals say you might encounter the ghost of a weeping woman whose child was killed on the railroad tracks, or a drunken worker who fell into a load of wet construction concrete and was entombed in the bridge itself.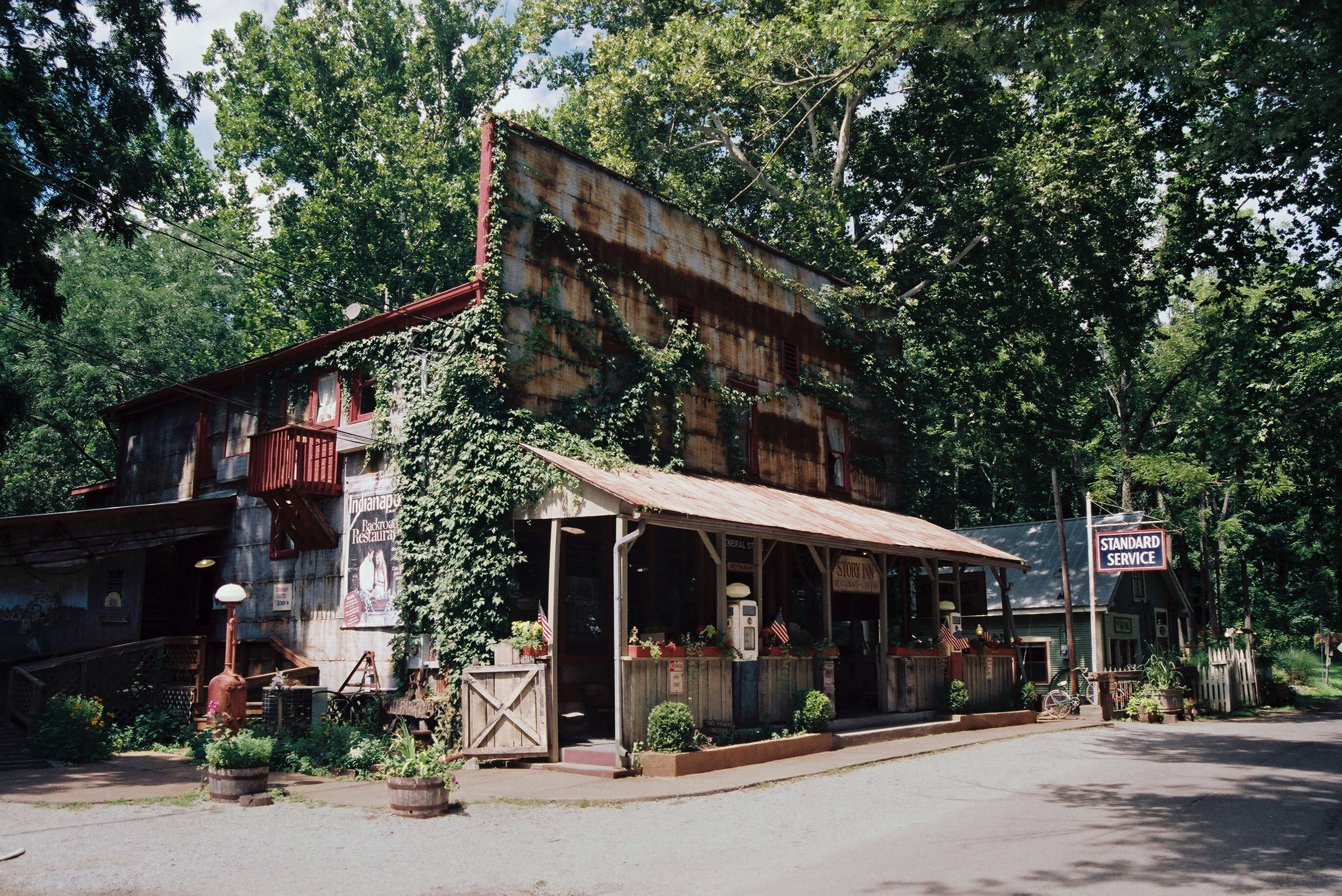 Nashville
During daytime you can follow a meandering Southern Indiana road to this almost-too-picturesque-for-words former general store that's been converted into a restaurant and hostelry. There's wonderful food, relaxing countryside, and plenty of fall foliage. But the ambience changes when the sun drops, and you realize it's black as pitch outside, there's no one for miles, and you're not quite sure how to get home. Oh, and of course there's the ghost. She's called the Blue Lady, and she's been sighted in the general store and in an upstairs sleeping room. If you'd like some me time with the specter you can rent her favorite spot, appropriately called the Blue Lady Room, for slightly less than $200 per night. Or you can enjoy the unique thrill of bunking in one of the handful of cabins scattered across the dark, wooded property. So far no one's reported hearing any clanking chains or moaning in those -- perhaps because at night the ghosts are drowned out by the ceaseless howls of coyotes.
Mitchell
The owners of this 3,700-square-foot Victorian home walk a fine line when describing the place to potential visitors. Casual tourists are told that the house offers a "friendly atmosphere and a place to relax and unwind," while hardcore ghost hunters are enticed with the assertion that it's "one of the few places you can go that the walls actually do talk!" Actually, they apparently do lots more than that. Over the decades, residents and visitors have reported horrific nightmares, earthquake-like tremors, and waking up to the sensation of an invisible entity sitting on their chests. Public tours are available, but you have to sign a waiver. Seriously.
Indianapolis
In operation under various names since 1850, this is the oldest drinking establishment in Indiana. So naturally there are ghost stories. Legend has it that the place is haunted by the spirits of dead prostitutes, from the days back in the mid-20th century when there was an old-school bordello upstairs. It closed abruptly in 1953, after one of its patrons murdered another, and left the weapon -- a bloody knife -- on the bar. Today the ghosts commemorate those more colorful days by harassing guests (especially men) who dare to venture upstairs. Downstairs, the doors open and close by themselves, staffers report seeing apparitions, and patrons are occasionally shouldered aside by unseen forces.
Indianapolis
This 160-year-old mansion would fit right into The Conjuring Universe. Built in 1858 by Alexander Moore Hannah, it allegedly served as a stop on the Underground Railroad. Again allegedly, several fugitive slaves died in a basement fire and were secretly buried there. Which might explain the weird sounds, moving furniture, cold drafts, and the persistent smell of death. In spite of this, the house can be rented for weddings and other functions, and there's a monthly open house for the curious. In spring there's even an Easter egg hunt for kids. One fun activity (if you define the term "fun" rather loosely) is to take lots of interior and exterior pictures, then search them for ghostly faces leering back at you.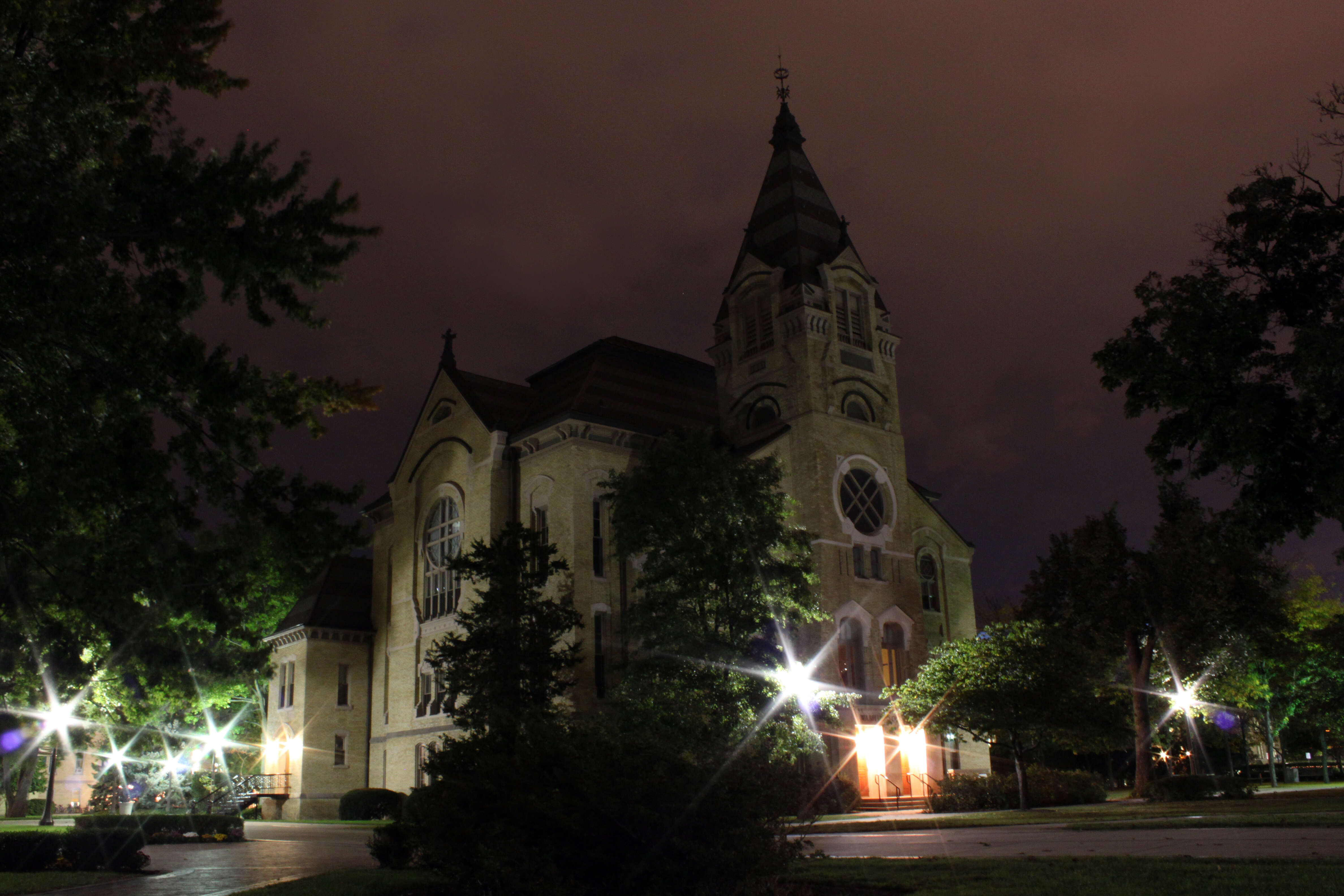 University of Notre Dame
If you'd like to rub shoulders with a celebrity ghost, visit Washington Hall on the Notre Dame campus at South Bend. You might encounter the spirit of George "Win One for the Gipper" Gipp, the legendary Notre Dame football star who died in 1920. Not long after his untimely departure, students started reporting disembodied footsteps, strange music, and doors opening and closing on their own. The former boys' dormitory now houses classrooms, but the Gipper is still reportedly out and about.
Evansville
Opened in 1881, this Gothic Revival edifice holds thousands genealogical records, tens of thousands of books, and at least one ghost. They call her the Grey Lady, and she's reportedly knocked around the place since the 1930s, and been seen by everyone from library patrons to staffers to police. During October the library offers a Grey Lady Ghost Tour. If you'd prefer to keep your distance, you can watch live feeds from the library's battery of 24-hour webcams.
Terre Haute
Opened in 1884, this 139-acre graveyard is chock-full of weeping angels, above-ground family tombs, elaborate gravestones, immaculate landscaping, and everything else that one expects of an old-school cemetery. It's also home to the state's most unusual apparition -- the ghost of a bulldog named Stiffy Green. Back in the early 20th century, Stiffy (so named because of his stiff-legged gait) was the constant companion of an old man named John Heinl. When Heinl passed away in 1920, Stiffy was inconsolable and stayed day and night at the door to Heinl's above-ground tomb. When the dog finally wasted away and died, he was placed inside the tomb with his master. Shortly thereafter (and to this day) visitors reported hearing Stiffy's distinctive bark coming from the direction of his master's grave.
Franklin
Even though its name sounds like the title of a creepypasta, rest assured that this is the real deal. The grave sits right in the middle of E. 400 S, a two-lane blacktop ribbon that bulges outward in order to bracket the final resting place of Nancy Barnett (1793-1831). Her relatives, allegedly at gunpoint, persuaded the folks building the road to leave Barnett's grave alone and build around it. So not only do passersby run the risk of encountering a ghost on E. 400 S, there's also the very real danger of not noticing Barnett's concrete-reinforced sepulcher in time to avoid hitting it. It gets creepier. When the grave was exhumed a couple of years ago during a road-widening project, archaeologists discovered it contained not one set of remains, but at least seven: two women, four children, and a man. All were reinterred, meaning that this eerie spot could now more properly be called The Cemetery in the Middle of the Road.
Sign up here for our daily Indianapolis email and be the first to get all the food/drink/fun in town.
Sam Stall lives in Indianapolis with his son, James. When it comes to writing about ghosts and weird stuff, this definitely isn't his first rodeo.