Having guests in from out of town is a great opportunity to show that "flyover country" is a misnomer. And while Indy certainly lives up to its sports-heavy reputation, there is so much more to discover from the arts scene to our can't-miss dining destinations. This list is an all-ages buffet of fun, from the kid-friendly to the distinctly adult, and it's all going to keep you and your guests more than busy during their stay. Don't worry, most of them won't break the bank and all of them are things you'd actually do yourself. (Don't forget to check out our seasonal events roundups, either.)
Take in the off-track 500 experience
Free-$$$
Indianapolis Motor Speedway
Indianapolis is a motor mecca for good reason; the Indy 500 takes over the city every May, after all. But even during other months of the year, if you want to get a taste of the IndyCar experience, you can live the dream vicariously between the 500 Museum, the Dallara Factory, Speedway Indoor Karting. The museum is a walk through racing history, and Dalara has driving simulators in its lobby. Finally, put all that "training" to use in go-karts fast enough to peel the paint off of the backyard builds you're used to.
$$
Mass Ave/Mile Square/Fletcher Place/Fountain Square
The folks behind the Indianapolis Cultural Trail offers dining tours from short and long walking tours to an extra-long biking tour on weekends. Each tour offers a different mix of dining options, from the nationally-recognized Milktooth to Wildwood Market, Rook and City Market. All the food and gratuity is covered with your ticket price, and proceeds benefit the maintenance of the Cultural Trail.
$
Mile Square
At Rhythm Discovery Center, the curators heartily encourage the hitting of the exhibits -- literally -- and have a variety of drums for visitors to play with, from jembes to snares. They've also got an impressive collection of historic percussion instruments from around the world, and it's all furnished by the Percussive Arts Society. It's an easy walk from just about anywhere downtown, too.
$
Herron-Morton
The folks at Tinker Coffee will take you through the entire growing, sourcing and roasting process, ending with a tasting of multiple varieties they offer. You get a tour of coffee terroir around the globe, and get to spend some time next to the heavenly smells of an in-house roaster. This also doubles as an excellent date idea.
Tour Indy's most historic corpses in picturesque Crown Hill Cemetery
Free
Crown Hill
It's not quite as glamorous as Hollywood's Forest Lawn, but the view from James Whitcomb Riley's tomb atop Crown Hill is still pretty stunning. You can also take tours of the cemetery, which swing by the eternal resting spots of famous playwrights, authors, generals, or criminals, depending on your taste. Just give them a call before you arrive so they can make sure a tour guide is available.
Lose your mind at an Indy Eleven game
$-$$
Lucas Oil Stadium
Yes, Indianapolis may be famous for both the Pacers and the Colts, but there is perhaps nothing more fun to attend than Indy Eleven soccer games thanks to the frenzied style of fan appreciation the Eleven inspires. The team has moved indoors to Lucas Oil Stadium, meaning climate control, more beer lines, and shade from the blazing sun. The first game of the season set attendance records with over 17,000 fans streaming through the doors.
$$-$$$
Downtown/Conner Prairie
Whether you want to wear shorts and bring your dinner in a takeout box or wear your cocktail best, the Indianapolis Symphony Orchestra has a show where you'll feel at home. Performing year-round, the outdoor Symphony on the Prairie concerts often draw record crowds, especially for Fourth of July concerts. Winter concerts at Hilbert Circle Theater are more formal, but they make for a fun date night.
$
Fountain Square
Believe it or not, Indianapolis was ranked the No. 1 most sexually satisfied city in the US a handful of times. Maybe that's the reason we have multiple burlesque troupes, from the Rocket Doll Revue to Angel Burlesque, with the White Rabbit serving as your ground zero of nudie appreciation, where the Rocket Dolls call home for their regular roundup of shows. Race fans and peel aficionados alike will appreciate their racing-themed May show, the Titty 500.
Free-$
Garfield Park
There's no better time to visit Garfield Park than on Saturday mornings. In one fell swoop, you can get coffee, breakfast, and plenty of farm-fresh ingredients to make a bang-up dinner. When you're done shopping, stash your stuff in the trunk and have a walk around the park and the Conservatory.
$
Hawthorne
For those inclined to explore the macabre, the Indiana Medical History Museum is a fascinating (and sometimes disgusting) look at some of medicine's most unusual cases. Nothing will make you more thankful for the weird crinkly paper and bright lights of your doctor's office like seeing an 18th-century amputation. A trip can also double as an effective date for the single and goth of the city.
$$
Fall Creek Place
The folks at Goose the Market can slice up meat tray or sandwich and either take it to go, or have a glass of wine or beer with it in the basement enoteca. If you're looking for a more hands-on experience, Smoking Goose, the parent meat producer for Goose the Market, regularly hosts classes so you can learn how the sausage is made.
Free-$
Fletcher Place
Not only are they pouring some of the best local beers in the region at Tappers, you can bring in noodles from Rook next door or place a super-speedy ClusterTruck order and enjoy it while you game. It's one of the best bars in Indianapolis, and they've got everything from Pong to pinball alongside their arcade games, so you can feel free to lose a few hours in there, and all arcade machine play is free.
$
Maywood
Every movie showing at Tibbs is a double-feature, so you can pull up your car, grab some snacks, and sit back for four straight hours of entertainment for the price of two. And for $13 a person ($6 for kids), there isn't a better value for a carload of moviegoers.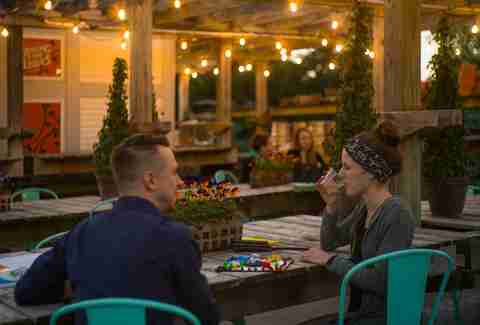 Take in nature and art at Newfields (fka the Indianapolis Museum of Art)
$
Butler-Tarkington
Whether you're an art appreciator or a big fan of John Green's work, you can find a strong connection to both at Newfields, the new name for the campus of the Indianapolis Museum of Art. Take a walk or have a picnic on the picturesque grounds, or take in some painting and sculpture followed by some malt and hops in the beer garden. The Fault in our Stars readers will see a familiar boney sculpture in the gardens.
Free
North Crows Nest
You'll find one of the best parks in Indianapolis nestled in the middle of the city. Full of winding, hilly trails, historic fountains, and lush gardens, Holliday Park is one of the best free adventures you can find in Indy for both people and pups. And keep your eyes peeled for the iconic ruins that anchor the park, as well as the calendar schedule for its must-see summer concert series.
$-$$$
Butler-Tarkington
Butler University puts on some of the best student performances in the state, and they can run the gamut from mind-bending avant-garde theater in the black box series to the full ballet pageantry of The Nutcracker and Romeo & Juliet. Black box tickets are usually less than $20, and ballet ticket prices vary depending on performance times.
Bowl with itty-bitty balls and pins at Duckpin Bowling
$$
Fountain Square
The balls are small. The pins are small. The lanes are adorable. The vibe is distinctly vintage. Duckpin bowling is the constant in an ever-changing Fountain Square, and when you head to the top floor of the Fountain Square Theater building, you'll understand why we love it.
$
Meridian Park
The Children's Museum has something to fascinate kids of all ages, and adults as well. Let your kids go nuts on the highly interactive exhibits, and take a moment to appreciate the experts who can keep your kids interested and playing for three to four consecutive hours. This peaceful car ride is for you, moms and dads.
$-$$
Fountain Square
Right above the duckpin bowling alley is what might be the best view of downtown served with a side of great cocktails. Starting in May, the first-come, first-seated bar opens on the roof of the Fountain Square Theater. Get there early to get the best seats -- they won't take reservations.
Stroll through the Indy City Market before you hit the creepy catacombs
$-$$
Mile Square
Upstairs, it's a bustling variety of food vendors, coffee bars, and beer. Downstairs, it's a creepy collection of brick hallways with a dirt floor as old as the city itself. City Market is one of the Indy's most storied landmarks, and you can walk through time from the roots of Indianapolis through its modern incarnation as a dining destination.
$
Windsor Park
This weird little slice of Indy obscurity is also one of those places you have to see to believe. As the name implies, it is a tiny storefront filled to the brim with Statue of Liberty memorabilia -- located more than 700 miles away from the Statue of Liberty itself in NYC. It's fascinating and only costs a couple bucks to get in the door. You'll be glad you did.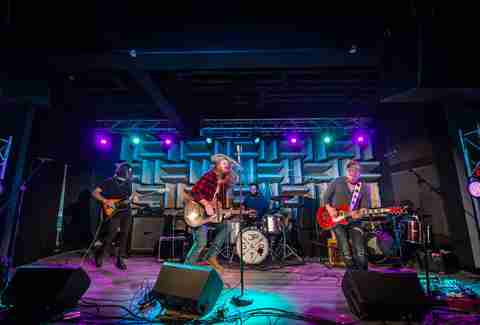 Catch live music at any of Indy's iconic small venues
$-$$
Fountain Square/Broad Ripple
From the Hi-Fi to the Radio Radio, The Vogue, and The White Rabbit, Indy has tons of independent medium-to-small music venues where you can hear your favorite artists and actually see them too. Most shows are cheap, accessible, and offer cross-sections of Indy's vibrant music scene; check the venues' respective websites for schedules.
$
Glenroy Village
If you miss your neighborhood Putt-Putt, the Eastside has the cure for what ails you. Along with a standard-issue driving range, they've also got a miniature golf course gracefully landscaped into the park. Swap your gimmicky windmills for an actual mini sand trap and you'll have a real challenge on your hands.
Take your guests to legendary jazz dive The Chatterbox
$
Mass Avenue
Even if you don't think of yourself as a big jazz fan, you'll probably be transformed by a night of sipping and listening at The Chatterbox. It's like a rehearsal stage for some of Indiana's best jazz performers, but in a low-key dive that has survived even as Mass Ave has blown up around it.
Take a pastry tour of Indianapolis
$-$$
Various locations
Luxe French pastries and baking are having a moment in the 465 loop. From Amelia's in Fletcher Place, Circle City Sweets in City Market, Gallery Pastry Shop in SoBro and Rene's in Broad Ripple, you can get croissants, kouign-amann, entremets, and macarons that rival a Parisian bakery. Take the Cultural Trail to the Monon to access them all by a much-needed bike ride. (And if you're looking for something a little more savory in the morning, try our roundup of Indy's best brunch spots.)
$$
Stringtown
There is so much to see and do at the Indy Zoo, and the fun certainly isn't limited to kids. But when you have everything from a dolphin show to an overhead cable car ride around the orangutan exhibit, it's easy to lose a few hours and maybe even get worn out yourself. Just be aware: it's cheaper to go during the week than the weekend, and a lot less crowded too.
Get a luxe spa experience at the Conrad's Evan Todd Salon
$$$
Mile Square
Out of town guests need a run, a trim, and a swim? You can do it all at Evan Todd Salon and Spa inside the Conrad Hotel, because every haircut includes day access to their pool and gym. They provide a range of salon services, so you can knock out a full day of self-sprucing for the low price of a haircut.
$$
Lawrence
Here's the claim: tiny particles of pink salt in the air are good for you. Here's what we know for sure: this place is a trippy but relaxing spot that you'd likely drive right past if you weren't looking, and time inside the dark, quiet salt cave seems to pass more quickly. Either way, you win.
Dare yourself to eat the St. Elmo's Shrimp Cocktail
$$
Wholesale District
There are a few things that really do live up to the hype, and the St. Elmo's Shrimp Cocktail -- served at a steakhouse more than a century old -- is one of them. Made with fiery hot, fresh-grated horseradish, it will make your eyes and mouth water. Word to the wise: if you don't feel like dressing up, you can also get one at St. E's sister restaurant, Harry & Izzy's, another terrific Indianapolis restaurant.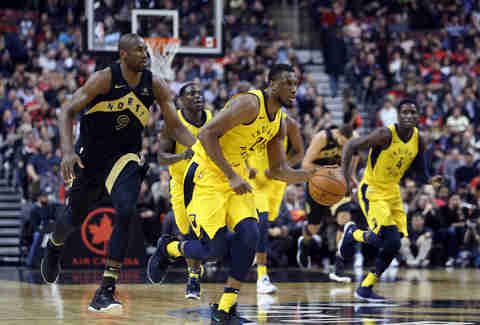 Check out a Pacers game
$$-$$$
Wholesale District
Our hometown team hasn't been this fun to watch since Reggie Miller was sinking threes in the '90s, and weeknight games regularly somehow still have great seats up for grabs. So go grab them -- even if you live here.
Take the Tiki Barge out for a ride
$$$$
Broad Ripple
This elusive but legendary floating tiki bar is decked out from stem to stern with hula girls and seashells is indeed available for charter. Creeping slowly down the White River, it sometimes seems almost like a mirage -- a Bahamian party barge that drifted miraculously upstream and into flyover country. No matter where the night turns, your guests will remember it for a lifetime.
Meet the booze collectors at The Rural Inn
$-$$
Englewood
It doesn't look like much on the outside, but Rural Inn is a hidden gem of obscure labels and collectible spirits. RI is the place every seasoned home bartender should start if you're on the hunt for hibiscus tequila or a rare bottle of Pappy Van Winkle. They've also got some collectible cold beer and bombers.
Free
White River Park
Before you rent a paddleboat or scramble onto a gondola, walk the canal and take in just how much variety lies along both sides. In the daytime, it looks like a far-flung locale, and at night, it transforms into the perfect low-lit spot for a romantic stroll. Joggers in search of a gorgeous path should head here first.
$
Fountain Square
It's incredibly small, and incredibly trippy, and floats in a space all its own between performance art, installation, and gallery. The Museum of Psychphonics is a tiny space that houses weird trinkets, knick-knacks, and vintage memorabilia -- the kind of spot where you're likely to find empty bottles, old CRT-style TVs, and random books on display with little-to-no explanation or discernible method as to why beyond some mythical connection to Indianapolis. Its most notable piece is an original stage prop used by George Clinton's Parliament-Funkadelic and designed by an artist in the city.
Free
Kennedy-King
Robert F. Kennedy announced the assassination of Martin Luther King, Jr in Indianapolis in 1968. This moment in local and national history is commemorated with a park and memorial dedicated to both leaders, and it's one of the most moving monuments in the city. It also hosts a full calendar of cultural events including readings, concerts, talks, and more.
Sign up here for our daily Indianapolis email and be the first to get all the food/drink/fun in town.