Indianapolis Is America's Most Underrated City. Here's Why.
We Hoosiers don't like to brag, but... seriously, we don't like to brag. Yes, we have a hard time showing off, which might play a part in Indy's reputation as an underrated city overall. But you know what they say, 'tis better to be underrated than overrated. Not that we're bragging (we're not), but here are nine reasons why Indy does deserve more of a spotlight.
Thrillist is launching local coverage of Indianapolis starting 12/2! Sign up for the free Indianapolis email below to get on board -- if you're already a subscriber, log in and add Indianapolis to your cities now!

A quarter of a million people come here to get their motor running
It doesn't get any more momentous than Indianapolis Motor Speedway. The Indianapolis 500 over Memorial Day weekend attracts a quarter of a million people and is the largest one-day sporting event in the world. In. The. World.

Adult field trips exist here
And on the topic of record breaking, we have the largest children's museum in the world with more than 120,000 artifacts. Grown-ups like it so much that the special "Adult Swim" evening events regularly sell out.

Eagle Creek Park is sneakily one of the best in the country
This massive northwest side park is one of the top 10 largest city parks in the country with more than 16 miles of trails on 3,900 wooded acres. And there are 1,400 acres of water, including a reservoir where you can rent canoes, kayaks, even sailboats.
There's no navigable river, BUT we've got a great canal Downtown
You can't make mention of boats without talking up the Canal Walk. Not only are there seasonally available pedal boats and kayaks on this three-mile urban waterway in the Canal and White River State Park Cultural District, but in warm weather, there are even Old World gondolas -- complete with gondoliers in those black-and-white striped shirts who won't price gouge you.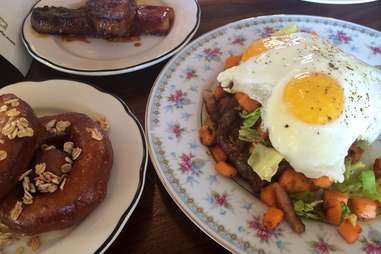 Top-notch chefs keep opening amazing independent restaurants
Indianapolis has a serious restaurant scene with award-winning chefs and restaurants that have hit semifinalist status in the James Beard Awards and have been featured in national magazines. Chef Jonathan Brooks of Milktooth hit the national media this year as one of Food & Wine magazine's best new chefs of 2015 and his restaurant ranked as one of Bon Appetit's Hot 10 new restaurants of 2015 too.

You can get a taste of the farmland in the middle of the city -- year-round
Fresh produce in January? You bet. The city has several winter farmers markets: the Indy Winter Farmers Market, the Broad Ripple Winter Farmers Market, the Farm to Fork Market at Normandy Farms, the JCC Farmers Market, and more.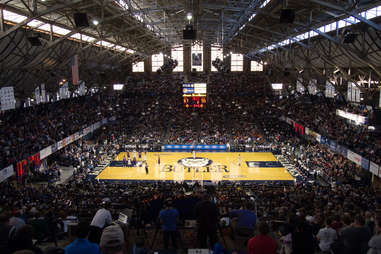 You can experience Hoosier hoops in the same gym that was in the movie
Built in 1927, Butler University's Hinkle Fieldhouse is a college basketball cathedral and was the inspiration for Downtown Indy's Bankers Life Fieldhouse. It was also featured in the movie Hoosiers as the site of the 1954 state basketball championship when tiny Milan High School beat powerhouse Muncie Central.
We've got that cool Funky Bones sculpture from The Fault in Our Stars
This outdoor area adjacent to the Indianapolis Museum of Art has become known as the 100-Acre Woods and is one of the largest museum art parks in the country. It features amazing interactive art installations, such as the Funky Bones skeleton sculpture that was featured in the John Green book and movie The Fault in Our Stars.

And if you don't love John Green, we don't know what to do with you
Speaking of The Fault in Our Stars, best-selling author and YouTube star John Green calls Indianapolis home. We know you've watched his CrashCourse, Mental Floss, and Vlog Brothers videos. You won't find a more adorably helpful host on the interwebs.
Sign up here for our daily Indianapolis email and be the first to get all the food/drink/fun in town.
Jolene Ketzenberger is a freelancer who cover Indianapolis at EatDrinkIndy.com and who is probably out at one of those independent restaurants right now. Follow her @JKetzenberger and order what she's having.