From sniffing flowers at the Bellagio to riding the gondola at the Venetian, there are tons of fun things to do while on a date in Las Vegas. But what's more fun than breaking the rules? It is "Sin City" after all. If you really want what happens in Vegas to stay in Vegas, check out these nine illegal date ideas that we -- in good conscience -- could not ever condone.
Sneak into a hotel pool. Steal the towel. Profit?
How to pull it off even though we clearly advised you against it: Las Vegas is full of awesome hotel pools. But most of the good ones are strictly for guests. So if you're not spending the night, how do you get in? You sneak in. Usually you just need to show the dude at the entrance a room key card. And guess what? Used room key cards are all over the place. So grab one that's tossed in a lobby trash can and head over to the pool. Warning: some pools like the one at the Delano have started electronically scanning the cards to make sure they are "currently active," so scope out the entrance in advance. 
Laws you'd be breaking: Trespassing. Maybe even identity fraud since you're pretending to be someone you're not. Theft if you leave the pool with a towel wrapped around your waist and don't return it.
Have a wholesome drink at church
How to pull it off despite our explicit disapproval: Drinking alcohol on the street is legal on the Strip and in the city of Las Vegas. Just make sure it isn't in a glass container. However, there are a few exceptions. For example, you can't drink within 1,000ft of a church. But that could be a problem if you need some liquid courage before walking down the aisle for a quickie Vegas wedding. So grab your date (and a beer) and take the plunge.   
Laws you'd be breaking: Illegal drinking and possibly public intoxication. The wedding itself, however, will be legal. So choose wisely. 
Take a swim in the Bellagio fountains
How to pull it off even though we in no way recommend it: No romantic getaway to Las Vegas is complete without a visit to the Bellagio fountains. Most couples just stand around and watch the water show, but for some real excitement, hop in and take a swim. You'll almost immediately get arrested... just like this guy. But if you can out swim the security and outrun the police, you'll avoid a night in jail and have a story to laugh about with your date afterwards.  
Laws you'd be breaking: Thou shalt not swim in the Bellagio fountains. Or something like that. 
Indulge in a threesome... by paying for it
How to pull it off even though you really shouldn't: Contrary to popular misconception, prostitution is not legal in Las Vegas. Repeat: not legal in Las Vegas. So you've got two options. Either leave the city limits and get some action at one of Nevada's legal brothels in the middle of nowhere, or break the law and find a lady of the night on the Strip. Try to find a working girl hanging out in one of the hotel lobbies. They're not always easy to spot, but they are around.
Laws you'd be breaking: Illegal prostitution. Yeah, that's a big one.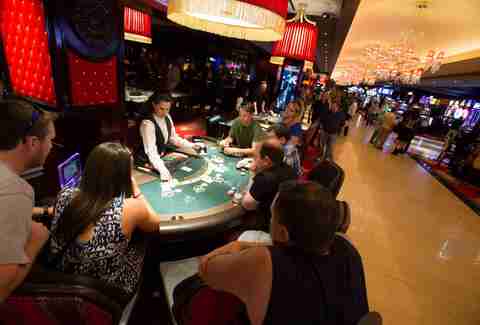 Try your luck at cheating the casinos
How to pull it off despite our obvious signs of disappointment in you: Ben Affleck famously got in trouble for counting cards at the Hard Rock casino, but it's not actually illegal. Keep in mind, a casino can kick you out for just about anything, whether it's fair or not. So if you really want to break the law, have your date blow on your dice and start thinking like a criminal. Try using hidden cameras or work in cahoots with a crooked dealer. If all else fails, just grab the chips and run. It actually works sometimes. 
Laws you'd be breaking: Stealing from a casino can be considered grand larceny. Have fun in jail if you screw this up. Casino security will probably just kick you out and call it trespassing if you're merely caught counting cards.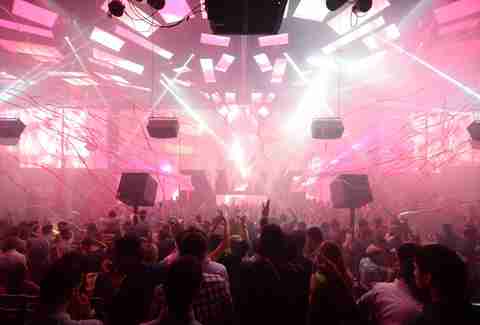 Sneak into a nightclub without paying a cover charge
How to pull it off although we're begging you to not read any further: Life isn't fair. Girls get into the clubs for free all the time but guys usually need to shell out some cash. However, you can work your way around that if you pretend to be a local. So if you're visiting from out of town, falsify some paperwork and sign up for a Nevada driver's license. Most clubs have an industry night each week where anyone with a local ID gets in for free, such as Marquee on Mondays or Surrender on Wednesdays.
Laws you'd be breaking: Unlawful entry.
Get naked at the swimming pool
How to pull it off although we highly recommend that you don't: There is no shortage of topless pools in Las Vegas. So hit 'em up if you and your date are both interested in showing off your nipples for everyone to see. But why stop there? Drop the bottoms as well. Then count how many seconds it takes before security throws both of you out.  
Laws you'd be breaking: Indecent exposure. 
Become street performers
How to pull it off despite our repeated attempts to get you to listen to reason: You don't actually need to have any talent. Just buy some old costumes, stand on the corner and snap a few photos with tourists. You might even make a few bucks. However, all performers on Fremont St must now be registered with the city and assigned specific spaces according to new regulations.
Laws you'd be breaking: If you fail to register and comply with guidelines, you could be given the boot. And the embarrassment of that won't do anything to impress your date.
Pawn dentures to pay for dinner
How to pull it off (we couldn't care less about doing this one): Here's a fun fact. It's illegal to pawn your dentures in Las Vegas. Really. So head down to the world's most famous pawn shop, Gold & Silver Pawn from the Pawn Stars TV show, and see how much old fake teeth are worth. Grandma probably has a set on the nightstand.
Laws you'd be breaking: Pawning your dentures.
Sign up here for our daily Vegas email and be the first to get all the food/drink/fun in town.
     
Rob Kachelriess plans on keeping his dentures and would never sell them. Follow him on Twitter @rkachelriess.