Las Vegas is packed with must-see shows, but Cirque du Soleil is the one production company that rules the Strip with an iron fist. Known for quirky characters, distinctive imagery, and storylines that are more about the journey than the destination, the Montreal-based troupe has redesigned the traditional "circus" format with a totally different kind of experience. And while you won't see any animals, you will see plenty of stunts. Crazy stunts.
The Mirage
This is easily one of the most popular and acclaimed Cirque shows in Vegas, even though the appeal is more about stylish vintage imagery and the classic music of the Beatles than over-the-top stunts. But don't worry, there are still plenty of thrills, including a high-energy trampoline act; a fast-moving roller-skate routine -- tightly choreographed to "Help!" -- traveling up, down, and around two near-90 degree ramps; and a giant bedsheet that somehow gets pulled over the audience. The gift shop is also the only one in the world officially licensed to sell nothing but Beatles merchandise, so definitely pick up a few things while on your way out the door.
Mandalay Bay
Based more on dance routines than circus-style theatrics, this show is probably the closest you can get to seeing a concert by the late Michael Jackson in person, with giant video screens and even a hologram to further drive the point home. Classic videos from the Gloved One are brought to life with familiar costumes and dance routines. The most impressive is the gravity-defying trampoline act set to "Thriller" with, of course, dancers decked out in ghoulish costumes. If you want to see someone bounce between the floor and ceiling, this alone is worth the ticket.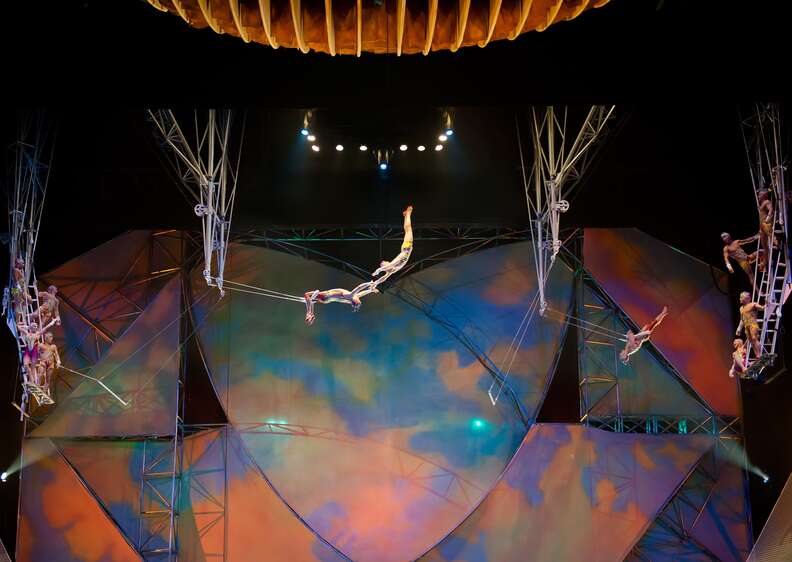 Treasure Island
Around since 1993, the longest-running Cirque show in Las Vegas is heavy on acrobatics and has a little something for everyone, specializing in elements that have been incorporated into other productions over the years, from tumbling gymnasts to comedic magicians and aerial artists. The most breathtaking moment remains an energetic trapeze act, with performers in action for about six straight minutes without a break. To keep things odd and interesting, there's also an adult dressed like a baby and a snail that grows throughout the evening until it's large enough to be controlled by four puppeteers during the finale. Fun fact: Mystère was originally planned for Caesars Palace with a Greek & Roman theme before it was reimagined and relocated to the TI.
New York-New York
The sauciest of Cirque shows is strictly for adults only. Hosted by a drag queen who engages the audience with naughty behavior, Zumanity is the only Cirque show on the Strip with nudity and a simulated orgy near the finale. Bondage, sexuality, and (the lack of) gender-barriers are common themes, and some of the daredevil acts are even more impressive because of the circular yet intimate theater. A spectacular aerial performance with a man swinging from chains will leave you wondering how he pulled it off... and if you're flexible enough to take any of the show's moves into the bedroom (hint: you're probably not).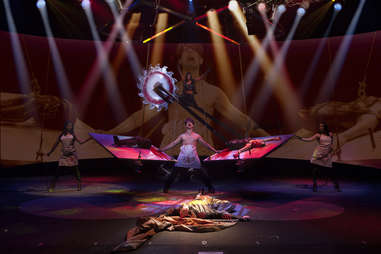 The Luxor
The popular magician got together with the team from Cirque du Soleil years ago for BeLIEve, a show that struggled to overcome notoriously bad early reviews and audiences that were left wondering where the magic went. The show worked out some of the kinks and stuck around for more than seven years, before being replaced by MINDFREAK Live! in 2016. The new production gets it right and is still produced by Cirque, although the on-stage influence has been minimized this time around. Criss Angel fans will get what they paid for, including a nail-biting straight-jacket escape and a new kind of levitation act that will truly freak you out. It all takes place on a stage with explosions, interactive 3D effects, immersive LED worlds, and even a little blood here and there. In true Vegas style, there's also a DJ-fueled laser dance party. It kinda feels like a magic show inside a nightclub.
MGM Grand
Perhaps the most visually impressive of all the Cirque shows on the Strip, KA doesn't even bother with having a main floor in place; the action unfolds on a series of moving platforms that are capable of carrying lavish set pieces while moving in all sorts of angles and directions. They include sand dunes, a forest, and even a shipwreck at sea. The globally inspired theme borrows elements from Asia and South America and offers its most eye-popping moments during a wheel routine, with performers navigating above, below, and around a spinning set piece with giant steel circles at opposite ends.
The Bellagio
The show with the shortest name may have the biggest stunts. O, which is the French word for water, takes place in and above a giant pool, with a team of acrobats, divers, and synchronized swimmers that includes a few former Olympians. Among the spectacular moments is a high dive in which performers -- as a group -- drop 60ft into a minimally exposed body of water below. You'll also see divers propelled in the air, acrobats on giant swings, and a fire act that leaves one brave dude fully engulfed in flames. Definitely a nail-biting show for anyone who gets nervous when people run around a swimming pool. The show is so impressive, the Wynn basically did their own version of it with Le Reve.
Sign up here for our daily Vegas email and be the first to get all the food/drink/fun in town.
Rob Kachelriess has been writing for Thrillist for nearly three years. He once rode a merry-go-round as a kid. Follow him on Twitter @rkachelriess.