The first thing some people do when visiting Las Vegas is immediately leave it—and go see the Grand Canyon. So why is the landmark such a big deal? Well, after six million years of erosion, it's 277 miles long, as much as 18 miles wide, and up to 6,000 feet deep, making it America's largest hole in the ground. The national park section alone is more than 1,900 square miles, or larger than Rhode Island. It's also a lot more beautiful than Rhode Island, with awe-inspiring rock formations, dazzling landscapes, and the Colorado River running through the middle of it.
Despite being a major part of the Las Vegas tourism industry, the Grand Canyon is further away than most people think. You're looking at a drive of more than two hours just to reach the West Rim and there's no direct highway. But you'll probably insist on going anyway, so check out the best options for planning a Grand Canyon detour from Las Vegas. Between planes, trains, and a few other modes of transportation, there's more than one way to play tourist while experiencing one of the most visually stunning places on Earth. Here's how to get there.
Drive in style
The road to the Grand Canyon can be a bumpy one, so unless you're willing to brave the elements, leave the rental car at the hotel. Pink Jeep Tours provides a smooth, reliable drive, thanks to its Tour Trekker, a custom-designed, off-road vehicle that's loaded with an entertainment system, upgraded air conditioning, and reclining leather seats for about ten passengers. Pink Jeep is known for having experienced, seasoned guides—the type who've "been there, done that''—and are well worth the ticket price and tip. Tours to the West Rim include a photo stop at the Hoover Dam and access to the infamous Skywalk—and yes, it costs extra. A longer excursion to the South Rim is also available, but only as a private tour.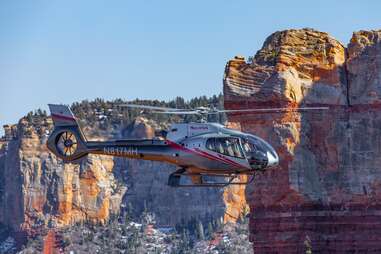 Fly by helicopter
If a drive feels too long, a helicopter can cut your journey to the Grand Canyon down to about 40 minutes from the Las Vegas Strip. Along the way, you'll enjoy sky-high views of the Hoover Dam, Lake Mead, and maybe even a few wild horses roaming the desert sagebrush. Watching planes take off underneath you when passing over Harry Reid International Airport is a trippy experience all by itself. Yet your arrival at the Grand Canyon itself is the most dramatic moment, as the helicopter rises above and over the rock formations of the West Rim and dips into the colorful canyon walls with the muddy Colorado River below.
Maverick Helicopters has a few different options for Grand Canyon tours, with departures from a terminal on the Las Vegas Strip. You'll land on a private bluff more than 3,000 feet below the West Rim and hang out with snacks and champagne. Some tours include a second landing. Papillon has its own exclusive landing area for a champagne picnic too, plus options to add an ATV or jeep excursion. Ask either company about returning to Las Vegas at sunset and circling the Strip for an extra dose of wow-factor before landing. Papillon also has a terminal in Boulder City.
Fly by plane
Cut down your travel time even further on board a Vistaliner from Grand Canyon Scenic Airlines. The aircraft has room for 19 passengers and oversized windows to easily snap awesome photos to bring back home or show off on Instagram. Save time (and money) with a simple flight above the canyon or land in Grand Canyon West to explore the sights on foot. Tours can also be modified to include a helicopter or a boat. Flights to the more remote North Rim feature a visit to the Bar 10 Ranch. You can also venture to Grand Canyon National Park for views from the South Rim. All flights depart from just outside Las Vegas in Boulder City, with coach service provided from your choice of hotel on the Strip.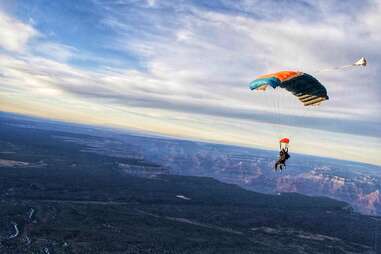 Freefall from the sky above
The Grand Canyon is so large, it only makes sense that thrillseekers would want to parachute into it, right? Well, Paragon Skydive has the next best thing. The company offers tandem jumps from a plane high above the Grand Canyon, and you'll probably feel better being strapped to someone who's done this before. The freefall reaches speeds as high as 135 miles per hour before the parachute opens and you peacefully float down to the ground while soaking in the scenery. You won't actually land inside the Grand Canyon, but you'll be high enough in the air to feel like you might. Flights take off from the Grand Canyon National Park Airport at the South Rim. Paragon will arrange ground transportation via a motorcoach or Mercedes Sprinter for an added fee. You can also splurge on photos and video of your skydive.
Ride an ATV cowboy-style
The Bar 10 Ranch is a remote, family-owned, cowboy-style getaway near the North Rim. It also happens to have its own airstrip, which makes it somewhat convenient for tourists seeking an up-close look at the Grand Canyon. For something really cool, check out the "Air & Ground" tour, which includes a flyover courtesy of Grand Canyon Scenic Airlines, BBQ beef sandwich lunch, and an ATV excursion. You'll have a tour guide, but still feel the freedom that comes with driving yourself through the inner gorge close to the Colorado River. The tour is available between April and November.
Walk over it—and eat afterwards
We've already mentioned the Skywalk. So what's all the fuss about? The 70-foot-long curved pedestrian bridge hangs over the edge of the Grand Canyon with a glass bottom to provide maximum freak-out factor. The view is staggering at around 4,000 feet above the canyon floor or nearly three times the height of the Empire State Building. Generally, you can only reach the Skywalk as part of a tour package and—most people hate this part—you're not allowed to take your own photos. Phones and cameras aren't allowed on the bridge. So if you want a pic, you have to shell out the cash for one taken by a staff photographer. You can also enjoy the view through floor-to-ceiling windows while eating a burger at Skyview Restaurant.
Ride around in a Hummer
Buck Wild Tours takes old military Hummers and custom-designs them into serious pieces of equipment for exploring the Grand Canyon. The tours last around two hours and cover the South Rim, where you might spot an elk if you're lucky. It's worth shelling out a few extra dollars to time your visit around sunset when the colors of the canyon really pop on your camera lens. The Hummers are open-air in the summer, but closed with climate-control functions during the cooler months. Either way, stadium-style seating allows everyone to get a good view. For those who really value privacy, the entire Hummer can be booked for less than $1,250 a tour.
Take a train
Ok, this one requires a little effort on your part—as long as you don't mind a good road trip from Vegas. Drive three hours to Williams, Arizona, and board a vintage train on the Grand Canyon Railway. The ride to the South Rim inside Grand Canyon National Park takes a little more than two hours each way, with shifts in elevation and pine tree forests as your scenery. It's a total throwback experience with entertainment that includes a Wild West shootout before departure, bandits on horseback, and live musicians. There are six different styles of passenger car to choose from, including the posh Luxury Parlor and two-level Luxury Dome, which both have a private cocktail bar. The train leaves at 8:30 or 9:30 am and returns by 6 pm. So book a night at the Grand Canyon Railway Hotel and get familiar with Williams, a charming mountain town that enthusiastically celebrates its history as one of the last enduring stops on Route 66.
Learn to fly in a personal aircraft
Want to be a pilot for a day? All in Aviation teaches people how to fly in small personal aircraft in the skies above Southern Nevada. For as little as $1,200, you can make a day trip out of it and take a round-trip flight lesson to the Grand Canyon on a Cirrus SR22. Bring up to three buddies and stop for lunch before returning home. Just keep your hands on the wheel. Flights begin and end at either Henderson Executive Airport or North Las Vegas Airport.
Glamp right up close
The Grand Canyon Western Ranch offers plenty of Old West charm, plus the convenience of glamping in a choice of pine cabins or furnished tents. Located just ten minutes away from the Western Rim, the ranch will coordinate travel from Las Vegas by road or helicopter and get you set up with plenty of cowboy-worthy activities. Ride horseback through rugged nature trails, chomp down on food from a campfire, and watch buffalo roam wild in their natural environment. Somewhere in the middle of all this, you can pull yourself away from the fun and take a helicopter tour of the Grand Canyon.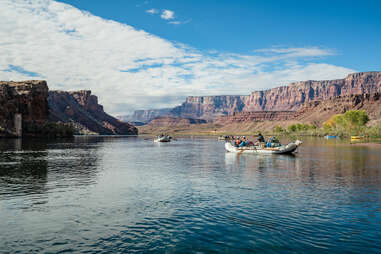 Take a boat
For a totally different way to appreciate the majesty of the Grand Canyon, check out the view way down below from the Colorado River that passes through it. Pontoon boat cruises are part of the Grand Voyager Rim to River Tour with Grand Canyon Scenic Airlines, after being flown in by plane and dropped down 4,000 feet into the canyon by helicopter. The cruise is about 20 minutes, with an overhead canopy to keep the hot sun at bay. Papillon offers a helicopter and boat combo with its Over the Edge package.
Rob Kachelriess has been writing about Las Vegas in Thrillist for more than eight years. His work has also appeared in Travel + Leisure, Trivago Magazine, Sophisticated Living, Modern Luxury, Leafly, Las Vegas Magazine, and other publications. He doesn't look down when on the Skywalk. Follow him on Twitter @rkachelriess.