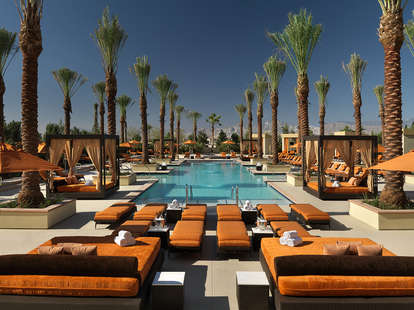 Alicante Casino + Hotel
Alicante Casino + Hotel
While the best pool in Vegas is, necessarily, a topless one, we'll happily beat the heat/party/drink/whatever around any one of these local pools. Truth is, some of these spots offer amenities even the bikini top-free spots don't have, including quality massage services and cocktails that require actual effort. It's goddamn hot, y'all -- if you have to be outside, at least be underwater.
On the Strip
It's a tale of two cities. On one side, you've got the best of times, thanks to a lazy river, poolside massages, a full-service eats menu, etc., and on the other side, you've got... the other best of times at Wet Republic, one of the summer's busiest party spots, with DJs, bikinis, and booze served by some of the best-looking "model employees" you'll find on the Strip.
On the Strip
There's no shortage of "adults-only" pools in Las Vegas, but Azure is among the best of them: an oasis where the squeal of bratty children won't interfere with your ability to chow down on frozen grapes, fruity cocktails, and food by Wolfgang Puck.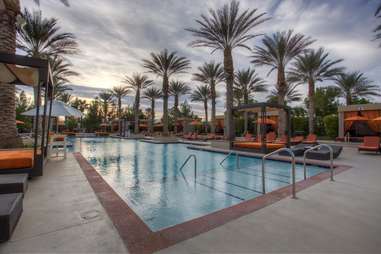 North Las Vegas
Horace Greeley (or was it the Pet Shop Boys?) famously said "Go West, young man," but he really should have said North, if you're looking for a pool with a forest of palm trees, jazz concerts, and deals that cater to locals far, far away from the Strip.
Off the Strip
Palms Pool is actually two pools spread across two acres, and is home to the Ditch Fridays summer party series, plus events like the Midsummer Lingerie Carnival costume bash, where, as everyone knows, you can't go wrong with girls in lingerie and body paint who just happen to be steps away from splashing water.
On the Strip
Sure, the Wynn's got two other pools surrounded by lush gardens, swanky cabanas, etc., but the private Encore Beach Club is your go-to (if you can get in), thanks to things like two levels of cabanas that feel like small apartments; an unbeatable lineup of big-name DJs; food from EBC Grill; and, best of all, a stripper pole in the center of the pool.
On the Strip
The Garden of the Gods Oasis swimming area is just massive: it's got six pools offering a little bit of something for everyone (as long as everyone likes décor heavy on iconic Roman sculptures, columns, etc.), including the secluded Venus pool, which is "adults-only" and "tops optional," so you can escape the crowds, and the kids... wait, did you say "tops optional"?!
On the Strip
For a relaxed-day-club feel with a twist of luxury, Liquid is your spot. It's nestled in the heart of CityCenter, and offers a more intimate experience with a smaller pool area that feels more like a lounge than a day club. Sip on cucumber lemonades and enjoy music that's heavy on the Top 40 and easy on the House and EDM. Or if you get bored... watch some TV on the 40in flat-screen in your cabana.
On the Strip
The resort pool has some of the best scenery on the Strip... with lots of green trees, a waterfall, and an amazing atmosphere when sunset comes around. The only downside is you may have to walk past the Kardashian Khaos clothing boutique before you get inside.
Off the Strip
Artisan has a reputation for its Goth-inspired lobby and for being a go-to after-hours destination. But it's also worth checking out during the day, so that you can lounge around the pool. Not just any pool. Euphemistically entitled "the European Pool" (think of the famously tops-optional beaches that grace the Mediterranean), this spot is nearly as idyllic as its namesake.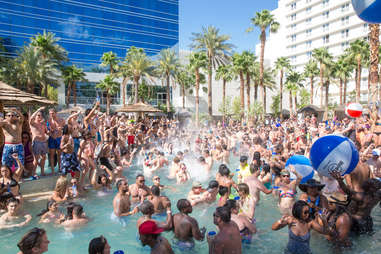 Off the Strip
The Hard Rock created the day-club craze in Las Vegas, and rolled out its famous Rehab pool parties every summer, but it's also worth checking out on those days when you just want to relax, sip on a cocktail, and forget about the night before, instead of getting an early start on the next one.
Sign up here for our daily Vegas email and be the first to get all the food/drink/fun in town.
Rob Kachelriess has been writing for Thrillist for nearly three years and is a news producer for KVVU FOX5 in Las Vegas. Follow him on Twitter @rkachelriess.