Most people come to Las Vegas to drink, party, and gamble… but if slot machines and blackjack aren't your thing, well, that just leaves more time for partying and drinking. Let's take a closer look at some of the cool stuff you can do if you skip the casinos in Sin City.
Recommended Video
This $4M Super Yacht Comes With a Fire Pit and a Jacuzzi
Act like a man (a super-manly man, even)
There's a reason Las Vegas is one of the top destinations in the world for bachelor parties. It's a place where boys can act like men, and men can act like boys. Need a good example? Dig This is a giant sandbox where you can race construction equipment around, while Adventure Combat Ops lets you shoot zombies after being trained by real Navy SEALs and Green Berets. There are also tons of gun ranges, MMA training schools, and even a few paintball courses.
Hit a nightclub
Every big hotel on the Strip has at least one decadent nightclub. It's the perfect place to spend an obscene amount of money on the same drinks that would cost a fraction of the price if you bought 'em at a dive bar instead. It's no big deal... you're saving money anyway by not gambling. So go ahead and order bottle service, and reserve a table as close to the DJ booth as possible.
Take a yoga class on the High Roller
The world's tallest observation wheel is now offering yoga classes inside its cabins. It's about 60 minutes (or two rotations of the wheel) of stretching, bending, and practicing your downward dog while enjoying one of the best views in Vegas. Music -- and the words of your instructor -- are piped in on a set of headphones that are surprisingly comfortable while you bend your body into awkward positions. The only thing that could make this better is if a private bartender was along for the ride.
Stay at a hotel... without a casino
They may not be easy to find, but they do exist. Some of the very best hotels on the Strip don't have a casino, and that usually adds up to being a much less hectic experience (if you're into that sort of thing). The Mandarin Oriental, Trump International, Vdara, and Delano all choose to not have noisy slot machines in their lobbies. It's actually a nice change of pace. Really.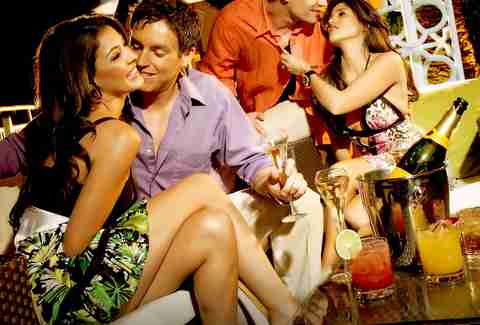 Get lucky
Las Vegas is the hookup capital of the world. Everyone's here to get some action, guys, girls, and everyone else... so make sure your game is strong, and don't be afraid to approach the next beautiful creature who crosses your path. And don't worry if you get shot down; there's plenty of fish in the Las Vegas sea. If you really get desperate, you can always visit a brothel a few miles outside the borders of Clark County.
Enjoy a lap dance at a strip club
Well, if you don't get lucky -- and don't have enough cash for a brothel -- there's always a strip club to show you what a naked lady looks like. There's more than a few of them near Las Vegas Boulevard, and they often have free shuttle buses, so there's no excuse to not tip well. Just make sure you behave yourself.
Hold a photo shoot on top of a parking garage
Wanna know a cool secret? The best photo opportunities on the Strip can be found on the top floor of the hotel parking garages. Some of the best choices are at the Bellagio, Caesars Palace, and The Mirage. These are perfect locations to escape the crowds and quietly soak in the epic neon glow of Vegas.
See a show at the Smith Center
Las Vegas was once considered a soulless society based on greed, crime, and sinful behavior. While that all may be, um, true, the city took a step in a more refined direction with the opening of the Smith Center back in 2012. This is an elegant performing arts center that houses three theaters, featuring entertainment that ranges from jazz and the Philharmonic to traveling Broadway productions like The Book of Mormon and an annual performance of The Nutcracker. A new production, IDAHO! The Comedy Musical, was actually developed locally and is ready to tour the country. It's evidence that Vegas can actually produce art, not just pay for it to come here.
Get behind the wheel and speed
Tom Cruise felt "the need for speed" in Top Gun, and while you can only fly military aircraft in Vegas if you work at Nellis Air Force Base, you can drive as fast as your heart desires behind the wheel of an exotic car with SPEEDVEGAS. Hop inside a Ferrari, Porsche, Lamborghini, or some other cool ride, and hit a professionally designed racetrack that's 1.5 miles long, with elevation shifts, sharp turns, and a straightaway that allows you to floor the gas pedal up to 150 miles per hour.
Visit a weird museum
The museums here are a good example of why Vegas isn't your typical city (as if you needed another reason). Just off the Strip, you'll find the National Atomic Testing Museum, where you can learn anything you would ever want to know about Nevada's long history of setting off nuclear weapons in the desert. There's also the Mob Museum, which focuses on Vegas' love affair with organized crime, and the Neon Museum, aka the Boneyard, which houses the classic colorful signs and marquees from old casinos that have been renamed, renovated, or imploded.
Drink a beer and watch sports
Las Vegas has always been without a major league team, but that's all about to change. Long shunned by pro sports due to the gambling industry, Sin City was recently awarded an NHL expansion franchise. The owners of the Oakland Raiders have also said they want to bring the NFL team to Vegas, and are actively trying to get a new stadium built near the Strip. If you don't want to wait around for those guys to show up, you can always check out a minor league baseball game with the Las Vegas 51s at Cashman Field, or root on the UNLV Rebels. It may be a work in progress, but Vegas is definitely on its way to becoming a sports town.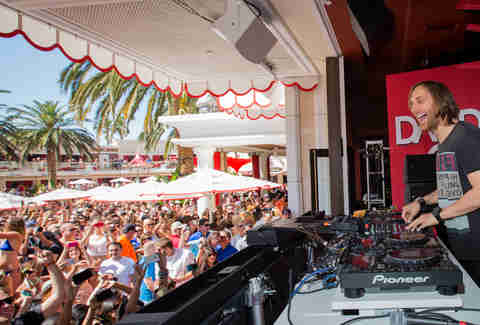 Party at the pool
The summer temperatures can easily crawl into the triple digits in Vegas, so pools get crowded quick. You've got Marquee, Drai's, Encore Beach Club, Daylight, and other dayclubs that combine the atmosphere of a nightclub with sunshine, chlorine, and swimsuits. Otherwise, if a bikini top is too much to bear (or wear), you can visit topless pools like Moorea, Venus, and Bare.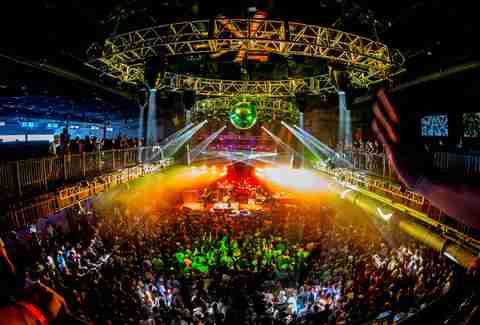 Watch a concert at a bowling alley
It used to be a joke for a national touring band to play a bowling alley. Not anymore. Brooklyn Bowl has been one of the coolest places to check out a show for a couple years now. A diverse army of acts, ranging from Toad the Wet Sprocket, The Roots, and the String Cheese Incident to Jack White, Robert Plant, and Jane's Addiction have played the venue. The stage sits alongside two levels of bowling lanes, where you can order food from Blue Ribbon Fried Chicken.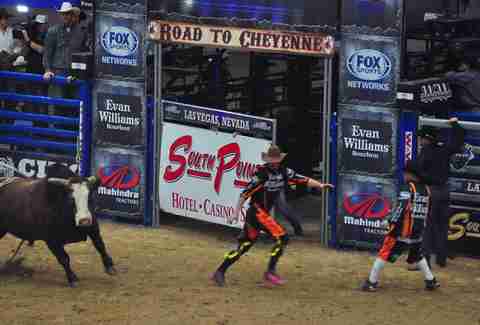 Check out a horse & pony show
The South Point has long been a draw for both locals and tourists south of the Strip, with national music and comedy acts, a busy sports book, an underrated lineup of restaurants, and the only Steak 'n Shake in Las Vegas. It's also home to the only arena and equestrian center of its kind in southern Nevada, which hosts a steady showcase of events throughout the year, including the World Series of Team Roping and the World Gay Rodeo Finals. When the arena isn't used for cowboy stuff, it features cool events like drone demonstrations and BMX competitions.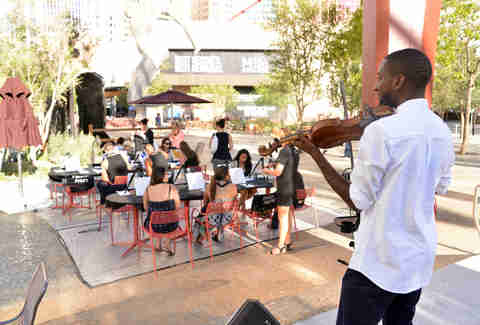 Drink wine and paint
Pinot's Palette offers classes where you can grab a glass of wine and learn to paint on the spot. It also hosts events in cool locations around town, including Crazy Pita in Town Square and The Park on the Strip near the T-Mobile Arena. It makes for a perfect date, and you leave with something cool (or hilariously bad) to hang on your wall. It's amazing how quickly your art skills improve with the addition of alcohol.
Sign up here for our daily Vegas email and be the first to get all the food/drink/fun in town.