Everything You Never Knew About Vegas' Electric Daisy Carnival, Back This Weekend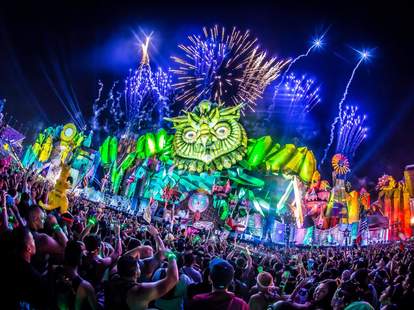 Marc van der Aa/Insomniac
The mammoth electronic dance music festival known as the Electric Daisy Carnival returns to the Las Vegas Motor Speedway for the sixth year in a row from June 17th-19th. But it's more than a dance party with the biggest DJs in the world; it's a neon-soaked spectacle featuring carnival rides, art, girls in skimpy outfits, and all sorts of fun futuristic stuff. But you're probably aware of that already. So let's fill you in on some cool nuggets of info you might not know about the biggest event of the summer in Sin City.
Life After Dusk/Insomniac
EDC draws enough people to fill a major city
More than 134,000 fans walk through the gates of the festival each night. That's more than 400,000 people over the course of three days. How big is that? Larger than the population of Cleveland. And people have a lot more fun at EDC than in Cleveland.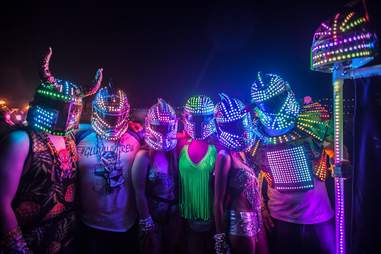 Ashton Boni/Insomniac
You can wear (almost) anything you want
Attendees are encouraged to be themselves and wear whatever makes them happy. That can range from furry boots to string bikinis, colorful wigs, and animal outfits. Girls will often drop the tops altogether and cover their nipples with pasties (or if those aren't available, a little bit of electrical tape). So what's off limits? Large chains, spiked jewelry, gloves with LED lights, pacifiers, and gas masks. Don't ask why. Just follow the rules.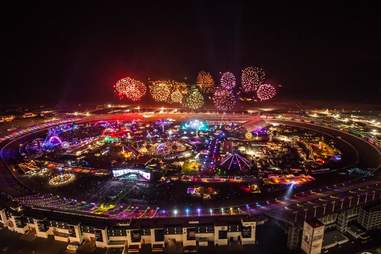 Doug Van Sant/Insomniac
It takes nearly two months to set the whole thing up
It requires 100 forklifts, 70 aerial lifts, 133 light towers, 305 utility and golf carts, and more than 500 motor coaches to get the entire festival in place inside the Las Vegas Motor Speedway. That includes eight stages, 18 carnival rides, four Ferris wheels, and a staff of 5,000 people. If you count the parking lot, the entire festival grounds cover 910 acres.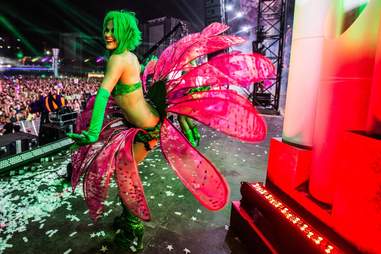 Marc van der Aa/Insomniac
Not everyone paid to get inside and have fun
About 500 theatrical performers are hired to mingle throughout the event. Anyone can apply for the job online through the EDC website but -- and listen carefully -- they're looking for people with legit theater and performance experience.
Doug Van Sant/Insomniac
More than 770 artists have performed at EDC
That's a lot of DJs. Even in Vegas.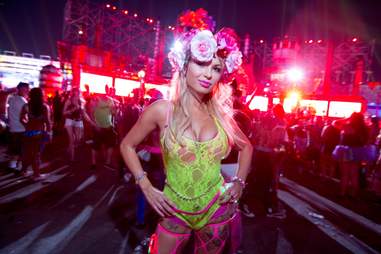 Curious Josh/Insomniac
Most of the guests are from out of town
EDC draws fans from all 50 states and more than 60 countries. Sure there are plenty of Nevada natives (is there really such a thing?), but more than half come from elsewhere -- especially California, Texas, Arizona, and Colorado.
aLIVE/Insomniac
A lot of people get married at EDC, more than you think
It's no secret that EDC has a chapel on the grounds, but you may not realize how many people actually take advantage of it. More than 300 legal weddings have taken place at the festival since it moved to Vegas. It's so popular, there will actually be two chapels this year. The Chapel of Nature is organic and earth-inspired, while The Chapel of Future has a modern-technology theme.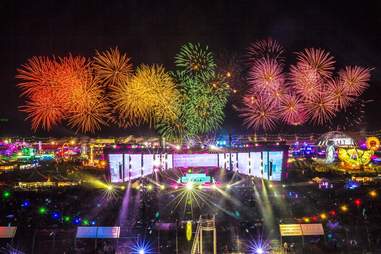 aLIVE/Insomniac
About 15 minutes of fireworks are set off throughout the weekend
If you use the calculator on your Casio digital watch, you'll realize that's about five full minutes of fireworks each night. You'll see them at different times, but EDC has to follow strict guidelines and parameters: the fireworks can only be set off in certain areas, with the size and scope of each show carefully choreographed in advance.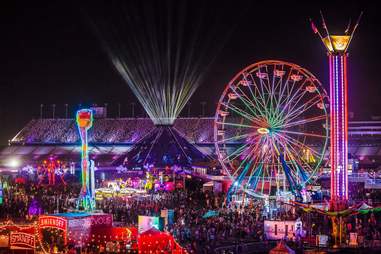 Alive/Insomniac
It takes 22.5 megawatts of energy to power the three-day festival
That's enough energy to power about 14,625 homes... or charge my cellphone twice.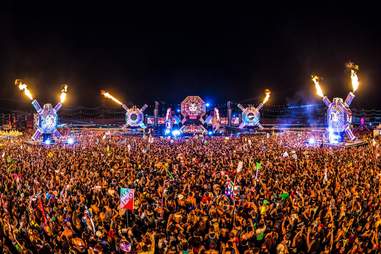 aLIVE/Insomniac
Another festival was supposed to be bigger
Founder and Insomniac Events CEO Pasquale Rotella never thought EDC would be his biggest event. He always thought his first EDM festival, Nocturnal, would have a greater impact. EDC started with 5,000 people at the Shrine Auditorium in Los Angeles back in 1997. By 2010, it was filling up the Los Angeles Coliseum and spreading out with offshoots in places like Colorado and Texas. A year later, the flagship edition would relocate from LA to Las Vegas with attendance growing dramatically each successive year. There are now eight stages, compared to just one back when it all began.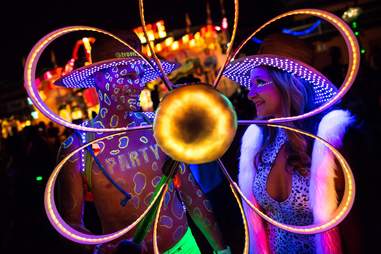 Curious Josh/Insomniac
The post office isn't really a post office
One of the new features this year is a post office, offering fans custom-made postcards with photos of EDC over the years. You can pay for postage and mail them on site. (Just don't ask the post office to mail your tax returns -- like someone did at Coachella.) Other new stuff at EDC includes a saloon with a full bar, and a theater to showcase magic acts, puppet shows, costumed characters, and stand-up comedy.
aLIVE/Insomniac
The Wi-Fi signal is strongest at Carnival Square
Cellphone signals are notoriously awful at EDC. To help solve the problem, the festival is offering free Wi-Fi in Carnival Square this year. It's an area in the center of the Speedway that offers goofy carnival games like Ring-a-Duck and Balloon Popper.
Skyler Greene/Insomniac
Your meeting place might sneak away from you
Anyone who's been to EDC knows that meeting up with a friend can be tricky. Texts can take a while to be received due to those spotty phone signals, so always type the time in the body of your message for reference. If you're trying to figure out a meeting spot, make sure it's not a mobile art piece. A lot of the installations are moving, fire-breathing, crowd-weaving cars, so choose a permanent location. If you're not texting at all, turn your phone on airplane mode to save the battery. (Note: there are charging stations available. Just check the map of the festival grounds.)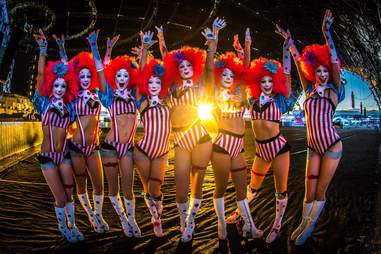 Marc van der Aa/Insomniac
More than half-a-million water bottles are filled for free
It's crazy hot in Las Vegas during the summer and EDC encourages everyone to drink as much water as possible. Stations offering free water filled 520,000 bottles in 2015. And yes, it's filtered.
aLIVE/Insomniac
The best photo op is on the Ferris wheel
We're talking about the one at Carnival Square. It's centrally located and once you reach the top, you'll have a 360-degree view of the festival that's unlike any other on the entire property.
Alive/insomniac
Las Vegas has the only version of EDC that's held from dusk to dawn
You can find the Electric Daisy Carnival in a handful of US cities, as well as the UK, Japan, Mexico, and Brazil. However, the Las Vegas flagship edition is the biggest of them all. The overall economic impact of the event during the first four years has added up to $1.3 billion. That's the daily GDP of New Jersey and enough money to buy more than 10,000 Model S Tesla electric cars. EDC runs June 17th-19th, and general admission tickets are sold out (but you can still buy them through guaranteed-protected second-hand sales here).
Sign up here for our daily Vegas email and be the first to get all the food/drink/fun in town.
Rob Kachelriess has been writing for Thrillist for nearly three years. He always keeps his water bottle full, whether he's at EDC or not. Follow him on Twitter @rkachelriess.