The summer music season in Vegas coincides with pool season, so that means there are a bunch of splashy concerts coming up. There are also a bunch of free concerts on Fremont and big-time festivals on the calendar, so if you want to hear some great music, you don't have to be stuck inside a casino seeing some pop star doing the same gig every night. So with that in mind, we've compiled the master guide to the best outdoor concerts happening in the city this year, from big-name DJs to punk legends to a ton of '90s throwbacks. Get out and enjoy as many as you can!
Get "fired up" with the chart-topping country singer.
This triple bill features REO Speedwagon, Don Felder (formerly of the Eagles), and Martha Davis and the Motels.
This is coming a month before the Fourth of July so the name seems a bit off, but anyway this one-day fest features 3 Doors Down, Pop Evil, HELLYEAH, 10 Years, and others.
One big trend about the 2017 summer concert season is that the '90s are back, baby. This free mini-fest will be held on the First and Third Street stages, with Fuel, Tonic, Marcy Playground, and Dishwalla.
This year's lineup includes Tiesto, Armin van Buuren, Afrojack, Trap Nation, Borgore, Paul Oakenfold, Paul Van Dyk, and many others.
The reggae-leaning lineup also features Nahko and Medicine for the People, Collie Buddz, HIRIE, and DJ Mackle.
If you're into the pre-Drake, pre-Auto-Tune era of badass rap, this is a killer (or, rather, Killah) lineup: Ice-T, KRS-One, Raekwon, Ghostface Killah, Onyx, and Mobb Deep.
It'd be inappropriate to have this show indoors.
The Vans Warped Tour is still kicking 23 years later, and it's still focused on highlighting legends and newcomers alike in the punk, hardcore, and metalcore world. This year catch Sick of It All, Hatebreed, Blessthefall, GWAR, and dozens more.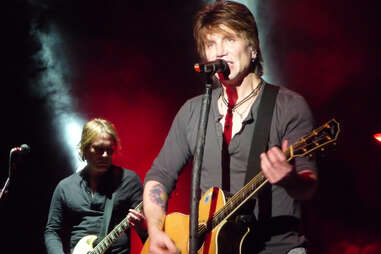 No Nancy, no problem. Ann still kicks ass without her sister.
If any part of you feels a white-hot searing anger at the current political climate of the United States welling up inside of you, don't miss this show.
Because what would summer be without a Goo Goo Dolls tour?
In this installment of "I Love The '90s," there's TLC, Color Me Badd, Biz Markie, and Coolio. "Waterfalls!" "Gangsta's Paradise!" "Just a Friend!" Dear God, yes!
Ah, '90s ska-punk. You weren't the most popular genre, but it's fun that you're still around.
Joel and Benji Madden bring the pop-punk goods to old and new fans alike.
Billed as "America's Premier '80s Concert Tour," this show has Howard Jones, The English Beat, Modern English, and Men Without Hats.
The band that represents that turning point when emo got shouty top a bill with Every Time I Die and Modern Chemistry.
Three of the original members of the group, including singer Ali Campbell, have to go by this name now due to legal reasons, but don't worry -- you'll still hear "Red Red Wine" and "Can't Help Falling in Love." Matisyahu and five-piece Jamaican reggae outfit Raging Fyah open.
Turnpike Troubadours are an American "Red Dirt" group, which means they play Okie honky-tonk bluegrass.
The safest bet in town is that he'll play "Jessie's Girl."
As they'll tell you, they've always been down.
SoCal and Celtic punk on the same bill!
Nostalgia let your light shine down!
Here's the other "I Love the '90s" tour. Salt N Pepa's here with All-4-One, Kid 'n Play, O-Town, and Tone Loc.
It's the "Looking for Summer Tour." Hopefully they'll find it here.
We didn't know these acts were missing, but you'll find Tony Hadley, Missing Persons, Cutting Crew, Dramarama, Wang Chung, and Berlin here.
Las Vegas' answer to Lollapalooza, ACL, and the other big festivals features Chance the Rapper, Muse, Haim, 2 Chainz, Gorillaz, Lorde, Blink-182, Kaskade, Wiz Khalifa, among other acts. It also features comedy, art installations, food, Cirque performances, and, yep, Bill Nye!
Sign up here for our daily Vegas email and be the first to get all the food/drink/fun in town.