The 25 People You'll Definitely See on the Las Vegas Strip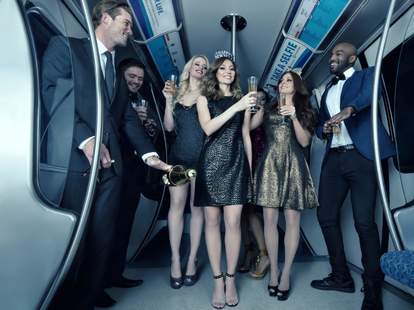 For better or worse, the Strip is the main thing that draws visitors to Las Vegas, and there's no shortage of people to keep things interesting. Whether it's the everyday street performer, or the guy assuring you that you're the one going to hell when he's living in "Sin" City, there are just some people you'll always come across while walking down the busiest stretch of Las Vegas Boulevard.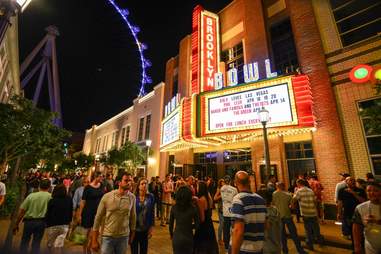 The LINQ
Day-trippers from California
The traffic is so heavy from Southern California that it almost feels like Vegas is sometimes an LA suburb. You can usually spot these Golden State invaders by the wads of cash they're eager to hand over to slot machines, bartenders, and whoever is working the door at a nightclub. But they eventually get theirs: that Sunday drive back on I-15 is a bitch. 
 
The couple who can't keep their hands off each other
Maybe they've only been together for a few hours (or a few minutes), and maybe their public display of affection is going a little too far. But you never know: this new romance could lead to a classic Vegas wedding on the fly.
Locals who swear they never go to the Strip
Never. Ever. Except this one time. 
 
Girl in a tube dress
She bought that dress while planning her Vegas trip months ago. Now it's 3am and she's marching back to her hotel room with heels in hand wishing she had gone one size bigger. 
 
The tourist who can't put the camera away
We get it: Las Vegas is full of cool stuff. But do you really need to take a photo of every chandelier, decoration, and plant in the hotel lobby? These are pictures that will never be seen again, and will just waste valuable megabytes until they're deleted.  
The street performer
Some play music. Others perform magic. But the vast majority just dress up like Iron Man, Spider-Man, Batman, Michael Jackson, Ace Frehley from KISS, Olaf from Frozen, or any other ridiculous-looking character you can think of. The one thing they have in common: they all want a dollar. So be ready to pay up -- especially if you take a photo with them. 
 
The table of co-workers
Their hairlines are thin, but their wallets are fat, and they're having dinner on the company credit card. This group is how the most expensive restaurants on the Strip make a profit, and the check will make a nice company write-off when tax season comes around.
Drai's Beachclub
Dayclub party crowd
These are the people who think a pool party should come with loud music, tons of booze, and as little space as possible for bodies in skimpy bathing suits to move around. 
 
The smut peddlers 
They stand on the corner and refuse to take no for an answer while passing out cards advertising strip clubs, girls who will "come to your room," and other seedy services. The sound of them snapping their cards is a sign to turn in the opposite direction. 
 
The Jesus lover demanding you repent
The only person more annoying than the smut peddlers, this dude thinks you're going to hell, and apparently found the loudest megaphone in the state of Nevada to tell you so.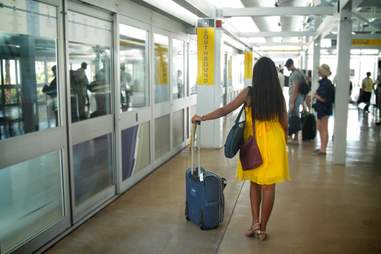 Las Vegas Monorail
People with luggage on the Monorail
Joke's on them. They think this thing goes to the airport.  
 
Baby in stroller
Vegas has a little something for everyone -- even babies. But whether they should be out on the Strip being pushed around in a stroller after 11pm or not is up for debate. 
 
The old lady glued to the slot machine
She's been visiting Vegas for years, and not only has her favorite casino, but also her favorite slot machine. (It's probably the one with the Wheel of Fortune theme. Every old person seems to like that one.) She loves telling you about the time she won a $400 jackpot, but will overlook the $88,371 she's spent gambling in total over the years.
Hakkasan/Al Powers
Guy hitting on every girl in the club
No girl is safe from being his target. He'll do anything to score, and has no shame in buying drink after drink and shot after shot to earn some attention. Warning: these guys tend to travel in packs (of douchebags).  
 
Attendant who says the valet lot is full
Except for hotel guests. Or members of the preferred rewards club. Or somebody with a $5 bill in their palm.
Wynn/Barbara Kraft
The newlywed couple
It's ironic that the city where people seem to struggle the most with monogamy is also known as the wedding capital of the world. There's no shortage of couples on the Strip eager to tie the knot, and, of course, they're going to get a photo taken at the "Welcome to Fabulous Las Vegas" sign.
 
Homeless person using their dog to get sympathy
And it totally works.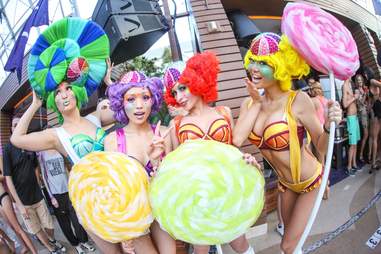 Marquee Dayclub
People in town for the Electric Daisy Carnival
They're marching down the Strip in neon colors, skimpy outfits, and more tassels than a WWE wrestler from the '80s. Whether they actually have tickets to EDC or not, they're going to be spending the whole week leading up to the festival partying. 
 
The family of four having dinner at Outback Steakhouse
... instead of one of these 40 great steak joints, because, well, that Bloomin' Onion is "pretty hard to pass up."
 
Desperate VIP host
He's in the lobby and eager to hand over coupons for two-for-one drinks and free entry to some nightclub around the corner. He's also probably asking himself how he got stuck doing this in the first place.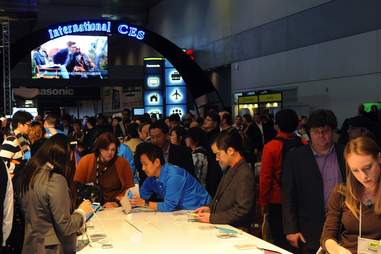 Las Vegas News Bureau
The swarm of humans in town for the same trade show
They all have the same laminated pass hanging around their neck, and there's one woman for every 14 men in attendance. 
 
The person trying gelato for the first time
It's served in every hotel lobby, so it must be good, right? You'll never go back to regular ice cream again.
 
The bachelorette party
After checking out Chippendales or Thunder From Down Under, these girls are ready to hit the Strip and let guys buy 'em drinks. If they're really doing things right, they've rented a long party limo for the night. 
 
Dude selling a bottle of water for a buck out of a cooler
Totally needed. Fair price. No complaints.
 
That guy who doesn't normally spend this much on dinner
... and is calculating the running total in his head every time something is ordered. "How many drinks was that? Do we really have room for dessert?"
Sign up here for our daily Vegas email and be the first to get all the food/drink/fun in town.
Rob Kachelriess who you'll see on the Strip more often than the average local would care to admit. Follow him on Twitter @rkachelriess.