Medicinal marijuana has been legal in Las Vegas for about 15 years, but places to actually buy the stuff have only been allowed more recently. Sounds confusing, right? So, now is the perfect time for an inside look at the current state of legal weed in Nevada and the latest dispensary to open its doors in Las Vegas.  
We'll also examine what's wrong with the current system, reveal what could keep you from getting approved, and why Nevada has better marijuana than Colorado.
Recommended Video
The Most Overlooked Mediterranean Paradise in Europe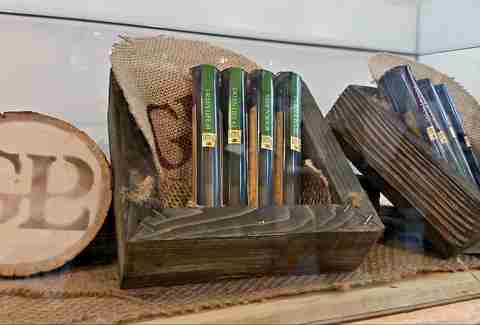 How long has medical marijuana been legal in Nevada?
Nevada was actually one of the early states to approve marijuana for legal medical use. Voters approved it back in 2000. However, due to political resistance, red tape, and other difficulties, dispensaries weren't actually approved by the state legislature until 2013. So for years, medical marijuana card holders were able to use the stuff but not allowed to buy it. The only option was to grow it on their own -- up to 12 plants per person.
"We've had an arcane system where patients had to grow their own medicine in their primary residence," says Andrew Jolley. "That's not an efficient way to do things."
Jolley is the owner and CEO of The+Source, the latest medical marijuana dispensary to open its doors in Las Vegas. The first one set up shop less than a year ago. So far, about ten dispensaries have opened in Southern Nevada, but there are more to come. There have been a total of 66 licenses set aside for the entire state, with about 40 of those in Clark County alone.
For an updated list of open businesses certified to sell marijuana in the state, click here.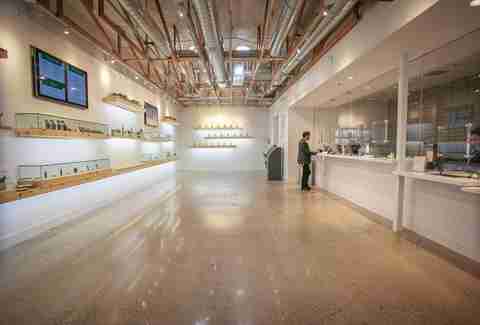 All right, sounds good. How do I sign up?
The process isn't an easy one. While Californians and Coloradoans can apply for a card and receive their medication the same day, that's far from the case in Nevada.
Here's how the time-consuming process works.
1. The patient has to fill out a form to request an application from the state (with a $25 check via snail mail).
2. The Nevada Division of Public and Behavioral Health receives the request and then mails an actual application back to the patient.
3. The patient fills out the application and takes it to a doctor to be approved and signed. It also has to be notarized.
4. The application is then sent back to state health officials.
5. The Division then performs a background check in conjunction with the Department of Public Safety.  
6. If all goes well, an approval letter is sent out to the patient.
7. The patient then has to take the approval letter to the DMV to get the actual medical marijuana card.
8. The DMV mails the card to the patient about ten days later. It will look nearly identical to a Nevada driver's license.
But wait... what about that background check?
The rejection rate is said to be extremely low, but if you have a domestic violence or felony drug charge on your record, you could be out of luck.
The laws that created the background check were drafted long before dispensaries were approved. The idea was to keep drug dealers from having a permit to grow product in their own homes.
"That may have made sense back then but now with dispensaries, the background check is an outdated part of the program," argues Jolley. "You would never give someone a background check to get antibiotics or painkillers. That's just simply not done."
Want someone else to take care of this entire hassle for you?
Services like GettingLegal.com are a one-stop shop for doctor consultations, legal paperwork, and processing for a flat fee of about $300. Representatives say the whole thing takes about five weeks at this point. A few months ago, when the first dispensaries started opening, the backlog added up to about three months.
Jennifer Cherry, who takes marijuana for multiple sclerosis, says she paid a third party $500 to handle the process from beginning to end.
"They did everything for me. I was very pleased with the service. It was worth it... There's lots and lots of paperwork that needs to be done"
Who qualifies for medical marijuana?
Conditions approved by Nevada include AIDS/HIV, cancer, glaucoma, PTSD, cachexia (physical wasting or malnutrition from a chronic disease), muscle spasms (from a condition like multiple sclerosis), seizures, severe nausea, and the one most people use: severe pain.
"There are 23 states that have medical marijuana use... and the most commonly cited condition is severe pain," says Jolley. "That would cover things like headaches, backaches, or a whole host of other physical conditions."
If that doesn't cover enough ground, Nevada also gives consideration to "additional conditions" that are recommended by a doctor and subject to approval by state health officials.
Cherry says users shouldn't feel stigmatized. She had to give up her hairdressing job because her MS was so bad. Prescription pills left her in a hazy cloud more than marijuana did.  After switching to cannabis, she's been able to move from a wheelchair to a walker and then eventually her own two feet with the help of a cane. She now has a new job and is able to manage the pain.
"This isn't a Cheech & Chong movie. This is for real," she laughs. "Cannabis works on my pain, works on my tremors and spasms, and has kept me out of the hospital on a few occasions when I'm about to have an attack. I was told I would never walk again, and I am walking now."
For the record, the dispensary won't know about your health condition unless you choose to share that information.
Cut to the chase. How do I get my weed?
Once you have card in hand, buying marijuana in all its forms is an easy process. The+Source says all you have to do is ring the bell and you'll be buzzed in and greeted by a representative in the lobby. After showing your card, you'll be allowed into a second room where the products are on display. Ask questions, make your selection and pay at the counter. Yes, there's an ATM in the corner if you're short on cash.
"Nevada has the strictest testing requirements in the country," says Jolley. "So we are testing for 22 different pesticides, heavy metals, the presence of mold or bacteria, moisture content and a whole bunch of other things that no one else in the country, including Colorado, is testing for."
Does insurance cover any of this?
Nope.
"I think in the future, it should be." says Cherry. "There's a lot of stigma attached to it. The 'War on Drugs' certainly didn't help. The more people [who] come out and speak positively about it, the better [the future] is going to be."
I've got my card, now what are my options?
- Flower: the stuff you smoke (what you usually think of when someone says "marijuana")
- Edibles: brownies, cookies, chocolate bars, gummy bears, etc.
- Concentrates: shatter, wax, and oil (extracts in which a little bit goes a long way)
- Lotions and balms
- Capsules or tinctures (liquid oral extract)
Jolley says marijuana is a natural plant, and there isn't really a product made from it that's off-limits.
"Anything that originates from the cannabis plant and can pass our strict third party laboratory testing is legal as long as it meets all the rules."
Products vary in strength levels with information clearly listed on each product. Some are higher in THC (tetrahydrocannabinol), which offers a euphoric effect, while others are heavier in CBD (Cannabidiol), which supplies pain relief without the high. The "Charlotte's Web" strain is available for all ages and has been known to help kids manage pain and other medical conditions.
What's keeping me from buying a ton of this stuff and reselling it on the black market?
Check the sign on the wall, fool. Patients may only buy up to 2.5oz of marijuana, or the equivalent amount of edible or infused products, within a 14-day period.
Does that mean you can buy the maximum amount at two or more different dispensaries within 14 days? No. A state computer system keeps track of the amount you buy without violating HIPAA privacy laws.
What's next?
More dispensaries. New locations will be rolled out over the next few months, including a second facility for The+Source in Henderson that's planning to open in March or April. There are also a few other legal issues to sort out. Marijuana "delivery" services have been popping up but Nevada health officials say these services are strictly illegal. Be warned! And starting next year, patients who live within 25 miles of a dispensary won't be able to grow their own plants at home, which underscores the importance of dispensaries in convenient locations. Oh, and what about legalizing marijuana for recreational use? It will be on the ballot for Nevada voters this fall. Considering that it will coincide with the presidential election, expect the initiative to be a major political issue as the campaign season heats up.
Sign up here for our daily Vegas email and be the first to get all the food/drink/fun in town.
Rob Kachelriess stands by caffeine as his drug of choice. Follow him on Twitter @rkachelriess.