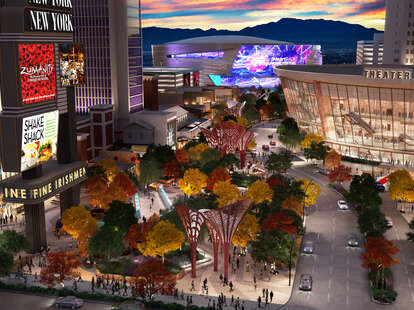 MGM Resorts International
MGM Resorts International
The Vegas Strip is a living, breathing creature that is eternally in a state of flux. And in 2016, it looks to be on the upswing. From new nightclubs to hotel renovations -- and yet another good ol' fashioned casino demolition -- here are a few ways the most famous stretch of Las Vegas Blvd promises to mix things up over the next 12 months.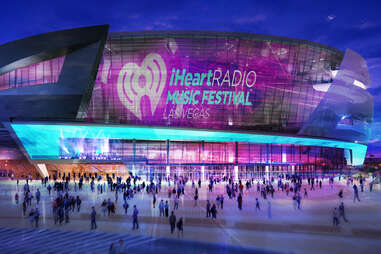 Another Las Vegas arena is being constructed
Las Vegas has three major arenas and zero pro sports teams, but hey, let's go ahead and build another one anyway. The new Las Vegas Arena (which could be given another name when a big money sponsor comes along) has been under construction for the past year or so and is set to open in April (behind the Monte Carlo and New York-New York resorts). Among the first scheduled events is the kickoff bash featuring The Killers (and Wayne Newton!), a string of six shows by Garth Brooks, and the milestone UFC 200 Ultimate Fighting showdown. The venue will hold 20,000 people making it by far the largest indoor arena in Vegas with 50 luxury suites and every other hospitality and technology perk you can think of. The only downside... no parking. MGM Resorts International (one of the main partners behind the project along with AEG) says there are plenty of spaces at its neighboring resorts but haven't yet ruled out charging for parking, which would truly be the biggest change to happen on the Strip in the New Year.
The Monte Carlo Theater & Park (sans Blue Man Group)
In addition to the new arena, MGM Resorts also has a new mid-sized concert venue in the works. It's being constructed at the Monte Carlo in the spot that was recently home to the Blue Man Group (who've since moved across the street to The Luxor), and is designed to compete with the Colosseum at Caesars Palace. No acts (nor an official name) have been announced just yet, but the theater is expected to open near the end of the year. There will also be an outdoor park offering shops and restaurants between the new theater and arena, and somewhere in the middle of all this, the Monte Carlo is expected to be rebranded with a new name (but shhh... you didn't hear that from us).
Say goodbye to the Riviera and watch it implode
The Riviera -- one of the last classic resorts still on the Strip -- officially closed its doors in May. It was bought by the LVCVA (Las Vegas Convention & Visitors Authority) who plan to tear it down so the Convention Center can expand and reach all the way to Las Vegas Blvd. In recent weeks, it's been confirmed that the Riviera will crumble to the ground in a classic Las Vegas implosion. So grab your binoculars and start scoping out the perfect spot to watch the show.
Get fascinated with the Intrigue nightclub
There's a new nightclub coming to the Wynn to replace Tryst, which recently closed its doors for good after 10 years. While not as large as sister party spot XS, Tryst still had a cozy charm and a really amazing waterfall. Well, the new place will be named Intrigue and don't worry, the waterfall is sticking around. There will also be some top-shelf renovations, including sound and lighting upgrades, and a small invitation-only room where social media postings are strongly discouraged, even if your Snapchat story is totally on point.
The construction of Resorts World is starting back up
Once upon a time, a new hotel and casino called Echelon was being built on the site of what had previously been the Stardust. Then the economy came to a screeching halt in 2007 (along with the project), which has since changed ownership. Plans are now underway for an Asian-themed mega-property called Resorts World that's powered by some wealthy foreign investors. The groundbreaking officially got underway last spring but it's hard to see much progress being made. The grand opening is scheduled for 2018, so we'll give the benefit of the doubt on this one... for now.
A beer park by Budweiser? Yep.
Hershey's has its own delicious store on the Strip, so Budweiser might as well have its own bar and grill, right? Right. And while new restaurants are constantly opening (and closing) in Las Vegas, this one will offer a noticeable change to the skyline by taking up residence on the rooftop of the Paris resort next to Chateau nightclub. And despite the name, there will actually be more than 100 beers to choose from, so get ready to start singing "99 Bottles of Beers on the Wall" before being politely asked to leave before you reach 94. Steaks, burgers, and other meat will be cooked outside on a custom-made Beechwood Grill, all complemented by a view that overlooks the Bellagio fountains across the street.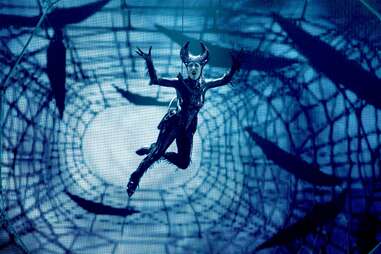 The ARIA Convention Center is getting a whole lot bigger
Say goodbye to Zarkana. Bye Zarkana! The Cirque du Soleil production is closing up shop so the ARIA can expand is convention hall and trade show space. This move makes it pretty, pretty clear exactly where the money lies in Las Vegas.
All hail the Julius Tower
Caesars Palace is celebrating its 50th anniversary in 2016 by pouring $75 million into its original Roman Tower and renaming it the Julius Tower. More than 580 rooms and suites will be decked out with modern furniture, artwork, and flat screen TVs. Also, according to this picture, a LOT of things that glimmer.
The Avengers and Transformers invade Las Vegas
The retail space above the CVS at Treasure Island will be taken up by new interactive exhibits based on your favorite superheroes. Marvel's AVENGERS S.T.A.T.I.O.N will let you do super cool grownup stuff like operate Iron Man's suit, challenge Captain America, and play with Transformers like Bumblebee... no wait, Optimus Prime. Both are scheduled to open in the spring and chances are good you'll find toys in the gift shops.
There will be a renovated Hooters Casino
Did you know there was a Hooters-themed hotel and casino in a prime location just off the Strip near the Tropicana and MGM Grand? Well, it got sold a few months ago -- and while nothing is confirmed -- it would surprise approximately zero people if it was given a new name and makeover. When the "world's largest Hooters" restaurant opened in Las Vegas over the summer, it was at the Palms -- not its own namesake casino, which is kind of weird. Also, nobody goes here, so if there's a casino ready for a complete and total renovation and rebranding, it's this one.
The Jewel Nightclub and their private suites
Haze has been closed for more than a year, and while no one really misses it, there is now a new nightclub taking its place at ARIA that will have a lot more to offer. The multi-level venue will hold nearly 2,000 people and promises cool stuff like dual-sided LED video screens and private suites above the dance floor that come with their own entrances. Think of it as a nightclub experience where you can avoid people as much as possible.
The Lucky Dragon will be on fire (in a good way)
Much like Resorts World, the Lucky Dragon is a new Asian-themed resort under construction (in which progress has recently stalled). The investors were recently turned down by the city of Las Vegas for a money infusion but promise to be back soon to complete the project near the intersection of Sahara and Las Vegas Blvd. Unlike Resorts World however, a big chunk of the work is already done and had been coming along nicely until now. Keep your fingers crossed for this one in 2016.
Holy crap, it's SPEEDVEGAS
Ok. So it's not exactly on the Strip, but if you follow Las Vegas Blvd south towards the M Resort, you'll eventually come across SPEEDVEGAS, a 100-acre driving complex that will include 1.5 mile track with 12 challenging turns, 15 degree banking, 60ft of total elevation and a half-mile straightaway. If you know what any of that stuff means, choose a Lamborghini, Corvette, or another exotic car, and get ready to speed without the fear of getting a ticket. When you're done, check out the cafe and have a drink on the terrace overlooking the track. It's set to open in March.
Sign up here for our daily Vegas email and be the first to get all the food/drink/fun in town.
Rob Kachelriessplans to remain exactly the same in 2016. Follow him on Twitter @rkachelriess.