There's always something to get up to in Las Vegas, from a night at one of Sin City's extravagant clubs to an extravagant meal at one of its best restaurants, but you're not getting in the door at the former, or a table at the later, if you're not ready to take care of the people who really run this town -- the servers, valets, doormen, etc. So regardless of how much you lose at the tables or spend on drinks, make sure you know when to tip and how much, thanks to our handy guide, below.
The valet
Visitors from big cities like New York and Chicago no doubt appreciate all the free and available parking on the Strip. However, most of the parking garages are built behind the casinos and require a bit of a walk to get wherever you are going. So don't forget... Vegas also offers free valet service at most (although not all) of its resorts. Dropping your car off at the front door is a nice perk, especially if you are in a rush to catch a show or dinner reservation. Tip when you pick up the car (not when you drop it off).
So, how much? $2 is pretty standard, but you may want bump it up to $3 or $5, or even more if the valet pulled a favor like helping with directions or keeping your car close by when in a rush.
At dinner
Don't skimp on the tip even if your bill was padded with big ticket bottles of wine. You get what what you pay for... and if you are going to splurge on the vino, tip accordingly or you will look cheap. And no one wants to look (or feel) cheap after trying to impress their date with some expensive grape juice.
So, how much? The general rule for years has been 15%, but that should be considered an absolute minimum these days (unless your service was truly awful). Keep 20% as your standard for any meal and adjust according to service.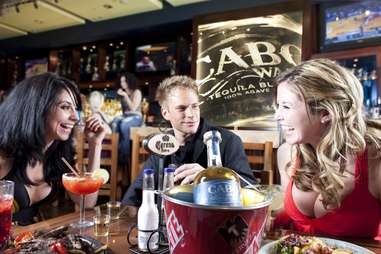 AT THE BAR
Your server
If you are sitting at a table in a lounge or restaurant bar, you need to tip like you do at dinner, especially if you've been hanging around all night long. That table could be valuable real estate.
So, how much? 20%
The bartender
On the other hand, if you're sitting at the bar, the person making your drink(s) should probably get a little more individual attention. Unless you're cool being ignored while the dork down at the other end of the bar keeps getting gin and tonics.
So, how much? A dollar bill for each drink at the bar is fine. But remember, a lot of other people think that's fine, too. So if you want to stand out to your bartender, tip at least $2 per drink.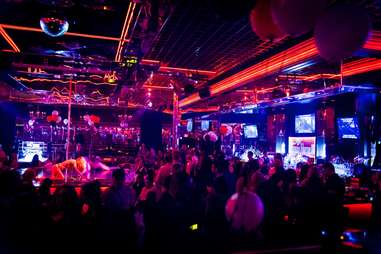 AT THE STRIP CLUB
The dancers
There's no general rule of tipping for lap dances beyond the base price negotiated between you and the performer. But if you want the girl to stick around, be ready to keep the money flowing... even if that simply means buying an additional dance. If a dancer sits down and joins your table, expect to buy her a drink, which could be required depending on the policy of the club.
So, how much? If you are hanging out by the stage, definitely tip at least a dollar per song and offer a steady stream of bills on top of that if you want the girl to pay special attention to you.
Everyone else
It's not required, but when you enter a strip club, it's a good idea to tip the host or bouncer at least $20. That person will look out for you and probably offer a better table while putting in a good word with the best dancers to stop by. Also, while it's not common, it doesn't hurt to tip the DJ who might spread the word on your behalf or play a longer song when it's time for your lap dance.
So, how much? A $20 is just fine.
AT THE HOTEL
The person at the front desk
It may feel awkward, but passing along a few bucks at check-in will usually get your room instantly upgraded at certain resorts on the Strip. Don't worry. You're not the first person to do it. But nothing's guaranteed, so keep that in mind if you're in town on a busy holiday or big fight weekend.
So, how much? $20. If an upgrade truly isn't available, that cash will probably come back to you in the form of other perks.
The bellhop
The bell hop doesn't just help you with your luggage when you check in and out of the hotel, he's also the guy who'll bring anything you may have delivered to the hotel or need from the front desk.
So, how much? $2 a bag, and/or at least $5 a trip to your room.
Housekeeping
You know how messy you are, so you know that whatever the people cleaning your room are getting paid it isn't enough.
So, how much? Make sure to leave at least $5 in the room for housekeeping before you check out. Leave more if your stay was more than two days.
UP IN THE CLUB
The doorman
If you want to beat the long lines at the most popular Vegas nightclubs, be ready to tip. Otherwise, you could be standing outside for a while. Don't assume you'll get in because some so-called VIP host put you on a list. Each club has multiple versions of those lists and the ones geared toward tourists aren't as exclusive as you might think.
So, how much? Be ready with a $20.
Your host
If someone inside the club sets you up with a VIP table, tip generously, especially if you have special requests or get a prime table location.
So, how much? Anywhere from $20 to even $100 per bottle.
Your cocktail waitress
Getting bottle service? Your tip may already be included in the bill, but you'd better make sure, 'cause the last thing you want to do is short change someone who's been walking around in high heels all night.
So, how much? 20% for your server is standard.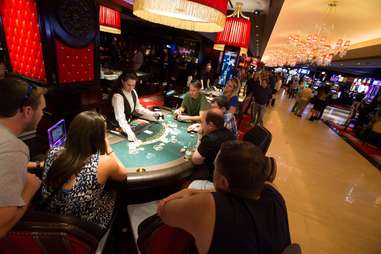 In the casino
If you win big at craps or blackjack, feel free to share the wealth with your dealer. On the other hand, don't tip the girl you meet in the lobby who blew on your dice. It's bad form. She's (hopefully) not a prostitute after all. Instead, offer her a glass of champagne from the casino bar and take it from there. Your lucky night could continue, if you play it cool.
So, how much? 10% is acceptable. And yes, tipping with chips is typical. If you're hanging around for a while, tip $5 here and there. Dealers hate it when people wait until the end to tip because if they're down money, they aren't likely to leave anything at all.
Bathroom attendants (?!)
You'll find them at nightclubs and on occasion, at restaurants during dinner hours. If you're handed a paper towel, leave a dollar, but don't feel guilty about it if you were caught off guard and don't have cash handy, and definitely don't try to sneak past the attendant without washing up at the sink. It just makes you look like a cheap dude with germs on your hands.
So, how much? If you accept a mint or spray of cologne from the attendant's table, absolutely leave a buck or two.
Tour guides
There's lots of good tours to check out in and around Las Vegas, and some of 'em are well worth the expense, especially if you have a good guide.
So, how much? Tip your guide $20 even if you see others coughing up a lot less. Fee free to hand $5 over to the driver as well.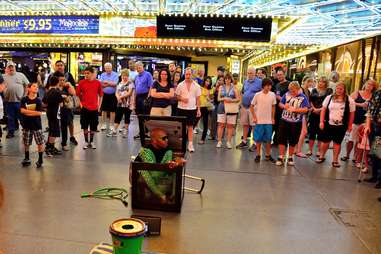 All those damn street performers
Just like Hollywood and Times Square, Las Vegas has been blessed/cursed with street performers. They can range from dancing kids to women in showgirl outfits and weirdos dressed up in shoddy Spiderman costumes. Street performers can be found on the Strip as well as Fremont St. You are under no obligation to tip them unless you take a photo with them or encourage them to perform specifically for you.
So, how much? Pass along a couple bucks. At most.
When in doubt...
If you are on the fence about what to tip, always go with the greater amount. No one ever looks back with regret about overtipping. However, the sting of guilt about undertipping could stick with you on that long plane ride home. The difference in most cases is just a few dollars that you won't miss, but that someone else will truly appreciate.
Sign up here for our daily Vegas email and be the first to get all the food/drink/fun in town.
Rob Kachelriess always feels guilty when asking bartenders to break large bills so he can leave a tip. Follow him on Twitter @rkachelriess.