Katy Perry's Day Off in Las Vegas Is All About 'Anything That's Weird,' Skinny Margaritas, and Circus Circus
The pop star and Strip headliner reveals her top things to do when waking up in Vegas.
Published on 8/29/2023 at 12:00 PM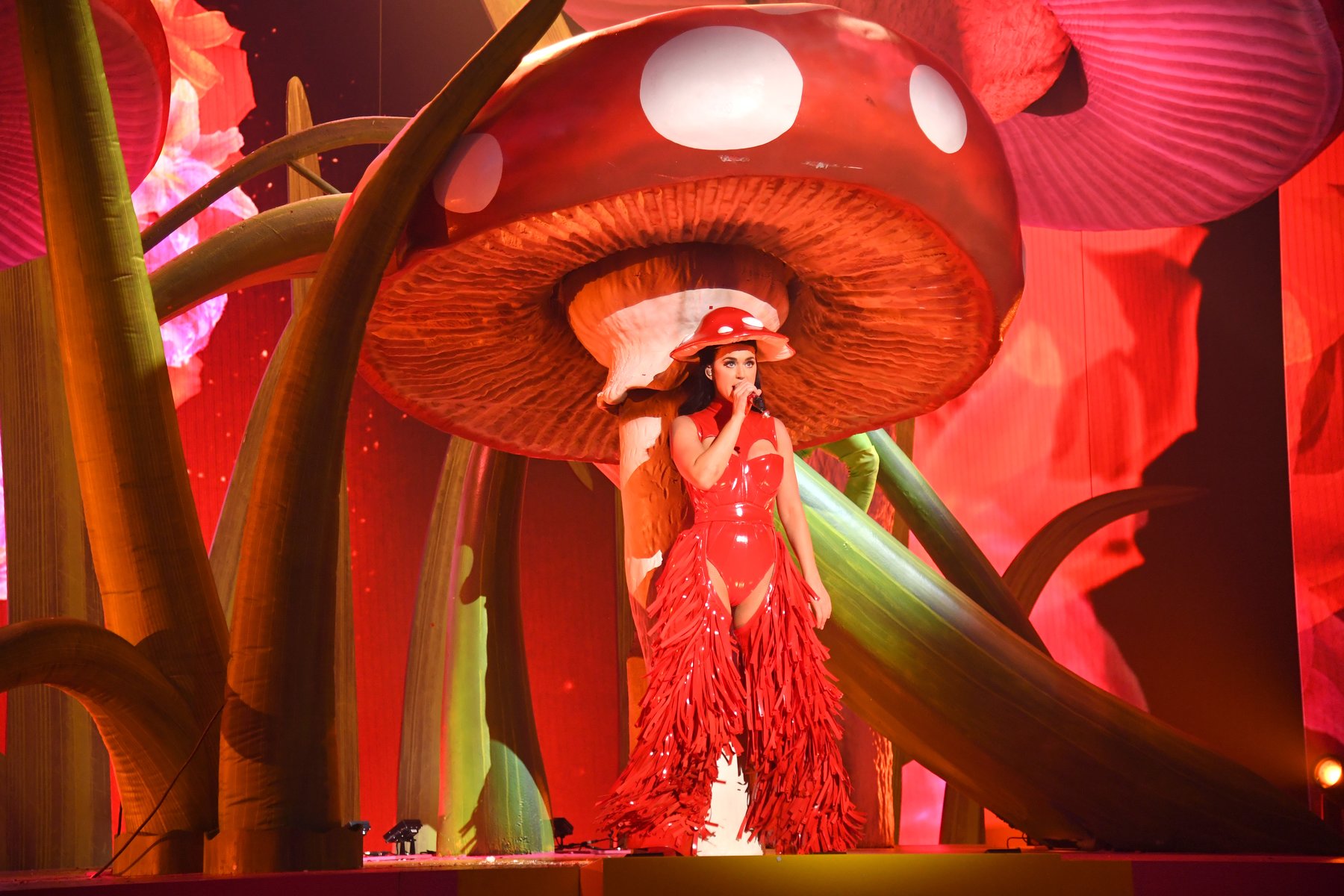 Katy Perry performing at her residency concert – PLAY – in Las Vegas | Photo by John Shearer
Some pop stars show up in Las Vegas, perform in front of a digital screen, and call it a residency. Not Katy Perry. The multi-platinum singer-songwriter has one of the most imaginative, ambitious, and ridiculously fun concerts on the Strip right now with PLAY, which wraps up a run of 80 dates at the Resorts World Theatre on November 4. The production comes to life with 22 truckloads of equipment, 11 oversized set pieces (including a giant bathtub weighing 6,500 lbs), eight costume changes, and plenty of WTF moments from Perry's own creative mind, including a vaping rat and a singing toilet bowl. There's so much going on in PLAY, the singer herself says it would be impossible to bring it on tour—so check it out while you can. As her residency wraps up, Katy Perry looks back on her time in Vegas and what it means to have such an impressionable, long-running presence on the Strip—and how she got to know Sin City a little better during her days off.
I've been coming to Las Vegas ever since I could remember because my grandma lived here. She was a seamstress. My aunt, who I never got to meet, was a topless showgirl at the Stardust, which was the hotel before Resorts World, on the same foundation of sorts. My dad was raised here and my parents got married here.
We didn't come from a lot of money. We were always trying to make ends meet and your dollar can go pretty far in Vegas, especially if you find the deals. My family would drive from California to Las Vegas and stay with my grandma or, when we were splurging, stay at the Excalibur. I have an older sister and younger brother. We would go downstairs to play all the carnival games and it was another world at your fingertips.
When not performing, I love going out. I'm not the type of artist who stays in my hotel room and orders room service. I love to explore.
I just took my daughter Daisy to the Immersive Disney Experience inside the Shops at Crystals. It was so fun because it had not only visuals, but different bubbles. I used smoke bubbles early on in one of my tours as well, so I just love the playfulness of these interactive moments. That was really cute and Daisy loved running around with the smells, visuals, and sing-alongs. We share a common love for Disney. I've been a Club 33 member for years.
I love Omega Mart by Meow Wolf at AREA15 too. It's like this weird grocery store with what you think are prop food items, but you can actually buy them. It's my sense of humor, which is a little off color. I just love the effort that's been put into every little detail. It's creative genius.
Omega Mart by Meow Wolf | Photo by Mikayla Whitmore for Thrillist
"It's everything all in one place.
That's Las Vegas."
I always wanted to zip line over Fremont Street on Slotzilla, so that was fun when debuting my own Viva Vision light show. I haven't been back to Fremont Street since I filmed the "Waking Up in Vegas" video. That was almost 14 years ago and it didn't have Viva Vision, so it was wild to see it revamped and so user-friendly.
Anything that's weird, even slightly weird, I love. I take Daisy to Circus Circus all the time. We love doing that on a Saturday. I remember going there myself when I was little and it's amazing to do it again with my family. You just go in for two hours and it's everything all in one place. That's Las Vegas.
Carversteak is my favorite restaurant at Resorts World. It's elegant and delicious. But I do step out. I love Carbone at Aria because it's got a late-night vibe. One of my favorite restaurants is é by Jose Andrés at the Cosmopolitan. I took some close friends there after the show, so it was really late, but they accommodated us. It's so playful, fun, creative, and still super yummy—and I just like storytelling. If there is an element of storytelling involved and you can take me on a journey with food, I appreciate that.
Katy Perry on Slotzilla | Photo by Black Raven Films
"My residency encapsulates this time in my life, this moment in Vegas where everything is bursting at the seams. There's a lot of creativity in Vegas right now. Everybody's trying it on for size, which is fun."
I also got to have a wonderful dinner at Mizumi inside the Wynn. I would say it's the best sushi in all of Las Vegas. Chef Min Kim is just incredible. There's so much attention to detail. In Vegas you can get a lot of quantity, obviously. I think you have to search out the quality.
Famous Foods Street Eats is such a cool idea. You can taste different varieties of incredible Asian cuisine and go to Here Kitty Kitty Vice Den, this hidden little speakeasy—if you know, you know. I thought it was really cute. I had a lot of fun. My friend Mia Moretti DJ'd when we were there. I'm pretty particular about my go-to drink. Basically, it's a Skinny Margarita with Clase Azul, a touch of agave, a bit of lime, and a salted rim. I like it up in a martini glass, chilled, not on ice. It's kind of like a Cosmo but with tequila.
Pastry Palace | Photo by Mikayla Whitmore for Thrillist
Pastry Palace is an amazing bakery. They're so talented and their turnaround time is incredible. Nothing is ever a challenge. They're always up for it. For instance, it was my manager's 70th birthday and he wears these wrist guards because of a recent surgery. I thought, let's get him a cake of a hand that has a wrist guard on it and says, 'Brace yourself. You're 70 now!' It was so dumb, but they made it so incredible and so lifelike. They made an Optimus Prime Transformer cake in two days. It was an emergency request for my nephew who turned four. My hairdresser's favorite thing to eat is spaghetti Bolognese and a slice of chocolate cake after a show. He's as thin as a rail. We don't know where any of it goes. So Pastry Palace made a lifelike spaghetti Bolognese plate that was actually a chocolate cake for his birthday. It was insane.
I'm just so grateful to provide an evening of joy for such a wide audience in Las Vegas. I don't take myself too seriously in my show. There's no real agenda or message besides love, light, and the community bonding through music. I'm just so grateful to the community. My residency encapsulates this time in my life, this moment in Vegas where everything is bursting at the seams. There's a lot of creativity in Vegas right now. Everybody's trying it on for size, which is fun.