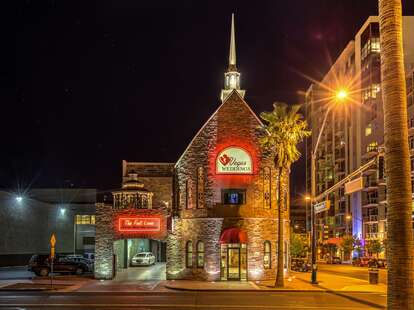 Courtesy of Vegas Weddings
Courtesy of Vegas Weddings
There are more than a few reasons Sin City is one of the top tourist destinations in the country. Whether it's the kitschy gimmicks on the Strip, the endless sea of slot machines (really, they're everywhere), or just the different shows, there's a ton of cool things that make Las Vegas unique. And many of them can't be found anywhere else in the country. But they should be. So let's take a look at how the rest of the nation is missing out.
Drive-thru wedding chapels
Want to get married and skip all that time-consuming relationship building and ceremony planning? Come to Vegas. There's no place easier and more convenient to get hitched. Wedding chapels throughout town make it easy to tie the knot, and if you need to save even more time, some of them (like Vegas Weddings) have drive-thru services. Seriously, why leave the car when you don't have to?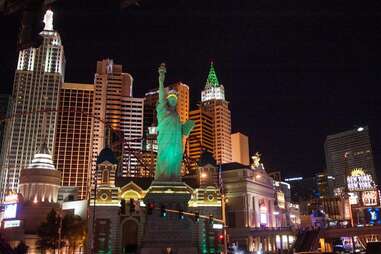 Phony replicas of the world's most famous landmarks
You can travel from country to country and visit the world's greatest marvels, or you can make one single trip to Las Vegas and see the knockoffs all in one place. The Paris casino has a replica of the Eiffel Tower that's a half-size duplicate of the original, the Luxor has its own version of the Sphinx in front of its giant black pyramid, Caesars Palace has a reproduction of Michelangelo's iconic statue of David, and a smaller version of the Statue of Liberty sits at the New York-New York resort. In fact, the latter is so realistic, it actually ended up on an official US postage stamp by mistake.
The snack wagon
Harvest by Roy Ellamar is easily one of the best restaurants to come around in a while on the Strip. In addition to all the regular fare on the menu, there's a snack wagon that's wheeled around the dining room that allows guests to pick a few small bites in between courses. It's an idea that can make almost any dining spot a little bit better. If you decide to swing by, keep your eyes peeled for the croissant and smoked salmon belly dip.
Up-close plane watching
Unlike most cities, Las Vegas has an airport right in the middle of its metropolitan area. One of the main runways runs alongside Sunset Rd, which has a nice little parking lot for watching aircrafts take off and land. It's typically hard to get this close to planes without actually boarding them, but not in Vegas. And lest we forget, this is also a prime make-out spot.
Zip lines between buildings
You can take the elevator up to the top of the Rio hotel and casino for the VooDoo Steakhouse, the VooDoo Nightclub and Lounge, or how about this... the VooDoo ZipLine! The cable runs about 400ft above the ground between the hotel's two towers, giving you some of the best views in Vegas.
Free parking in busy tourist areas
Las Vegas has enjoyed free parking on the Strip for years. That's recently changed, however, thanks to a newly introduced paid parking program from MGM Resorts for its hotels. But you can still park for free if you're a local (at least through the end of the year) or if you decide to pull over at a non-MGM Resorts property instead. Downtown parking lots near Fremont St usually charge but tend to be dirt cheap and offer validation discounts.
Rock shot bingo
Proof that bingo is even more fun with Jell-O shots. Both the Red Rock Resort and Green Valley Ranch hold regular Rock Shot Bingo parties with a DJ playing music and a free shot every time someone at your table wins. It's the most fun you can have playing your grandma's favorite sport.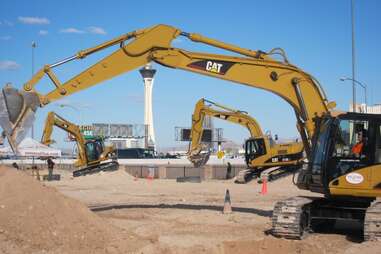 A playground for adults
Did you like to play in the sandbox as a kid? Dig This allows you to hop inside construction equipment like bulldozers and excavators and have fun with them just off the Strip. But make sure to save the drinking for afterwards because you have to pass a breathalyzer before getting on board one of these things.
A medical concierge
A hotel concierge can find tickets to shows and recommend restaurants, but a medical concierge tends to your health needs. While some services merely offer IV drips from part-time nurses, RESORTcierge MD has a board-certified medical doctor on staff who will come to your hotel room and tend to a number of pressing matters, like giving you a vitamin shot for a hangover or to check out that odd rash after a night of partying. Drug prescriptions can even be filled 24/7, and you can get a little VIP treatment if a trip to the emergency room is required.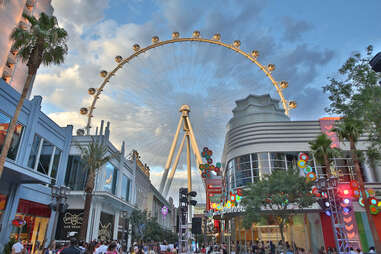 A Ferris wheel with booze
A few other big cities like London and Singapore may also have famous observation wheels, but the High Roller in Las Vegas is (for now) the only one in the US and the tallest one of them all. It towers 550ft above the heart of the Strip and is kind of like a Ferris wheel, but with cabins big enough to walk around inside. It's the best way to check out a 360-degree view of Vegas, especially with your own bartender serving drinks.
A mini-golf course dedicated to KISS
If you want to rock 'n' roll all night and sink putts every day, check out KISS by Monster Mini Golf. Located inside the Rio, this is the only mini-golf course dedicated to the world's most shamelessly merchandised band. Rock out and play a few rounds while surrounded by memorabilia and images of Gene Simmons' wagging tongue.
Slot machines in bars
... and the airport... and gas stations... and grocery stores. It's hard to walk a few steps in Las Vegas without facing the urge to waste money. Honestly, if you're going to spend $3.99 on a gallon of milk, you might as well blow $10 gambling. Right? Right.
A HUGE flashlight
The pyramid at the Luxor hotel shoots a beam of light straight up into the air. It's so bright that you can see it miles away while driving in from California. So at least you'll know if you're going in the right direction if the GPS malfunctions.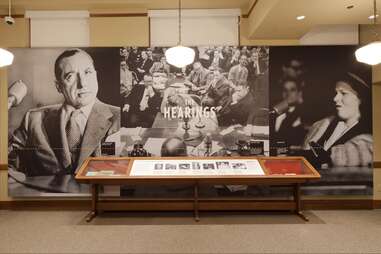 A museum dedicated to crime
It's Las Vegas. We reward bad behavior. And we love the mobsters who ran this town for years. So celebrate crime at the Mob Museum and learn about wiretapping, machine guns, and how to "skim off the top" at casinos.
Celebrity chefs competing with each other
Walk through the casino floor of the MGM Grand and you'll see restaurants from Emeril Lagasse, Joel Robuchon, Wolfgang Puck, Tom Colicchio, and Michael Mina all within a few steps from each other. And that's just in one resort. The top celebrity chefs in the world all make Vegas a priority. Gordon Ramsay has three restaurants in town (with a fourth on the way), and Giada De Laurentiis chose Las Vegas for her very first -- and so far, only -- dining spot.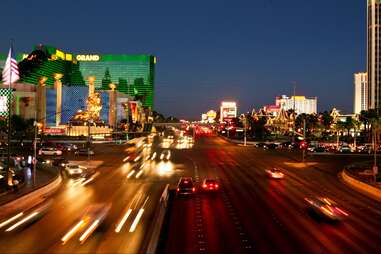 Convenient driving
Las Vegas drivers complain about the traffic, but other cities of this size should only have it so good. The valley is laid out well, with convenient expressways and a grid system for most of the busy streets. Even the Strip moves along pretty well (if you don't count weekends). The only downside is all the new road construction that's quickly popping up and slowing everybody down.
Big-name entertainment residencies
Big-name acts are getting the message: it's easier to stay put in Las Vegas and let the audiences come to you than to go on tour and play in different cities. People like Wayne Newton and Liberace started the trend years ago; today, huge stars such as Jennifer Lopez, Britney Spears, Celine Dion, Mariah Carey, and Rod Stewart are all cashing in. Even Lionel Richie is getting in on the action, with a new residency that sold out shows during its first run at Planet Hollywood.
Convenient sports betting
Sometimes sports books show up in the most unexpected places. One of the coolest is the Umami Burger: Beer Garden & Sports Book at the SLS Las Vegas. Yes, that's the full name of the place. And yes, it describes exactly what you get. This place proves that betting on a ball game is always more fun with a Firestone Walker 805 and a truffle burger.
Topless shows
Topless shows have better production values than a strip club. Plus, you don't have to tip.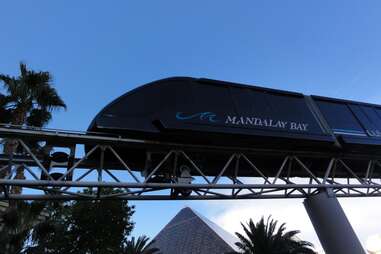 Free shuttle trains
The Las Vegas Monorail isn't free, but there are a few other similar shuttle trains on the Strip that won't cost you a dime. One of them travels alongside Mandalay Bay, the Luxor, and Excalibur, while the other one moves between the Bellagio, Vdara, ARIA, and Monte Carlo. They're all MGM Resorts properties, so even if the parking isn't free anymore, at least the trains still are.
Sign up here for our daily Vegas email and be the first to get all the food/drink/fun in town.
Rob Kachelriess has been writing for Thrillist for nearly three years. He is the 21st thing in Las Vegas that the rest of the country needs. Follow him on Twitter @rkachelriess.