Spring is too windy, summer is too hot, and winter is actually pretty cold here for being in the middle of the desert. Fall easily has the best weather of the year in Las Vegas, so take advantage of those mild temps and check out all the action around town. Between new Strip residencies, beer festivals, celebrity chef dinners, and the return of the Golden Knights, you'll have no problem staying busy.
Recommended Video
The Most Overlooked Mediterranean Paradise in Europe
August 30
Spring Valley
Forte Tapas hosts a six-course dinner featuring Japanese Wagyu beef (yeah, the real stuff), Japanese whiskey, a few creative cocktails and Oscietra caviar. The whole thing is presented by chef Jared Montarbo, who personally got familiar with Japanese Wagyu farms last year. He'll guide guests through every ingredient in every dish from 6-9pm.
Cost: $185 per ticket
September 1
The M Resort
Want to play golf without the whole golf course thing getting in the way? The M Resort debuts its new Topgolf Swing Suite with two temperature-controlled bays. Order pizza and craft beer while playing simulated interactive golf games that may or may not involve zombies on a big screen. It's all about fun and comfort -- no caddie or skill required.
Cost: Hourly prices starts at $30
September 1-22
Park MGM
Queen + Adam Lambert play to stadiums and arenas around the world, but "The Crown Jewels" is an extended run of 10 dates at the Park Theater that gives rock fans a rare chance to see the act in a relatively intimate setting of about 5,000 people. Guitarist Brian May promises a show that's "live and dangerous" with no "clicks" -- a possible reference to the backing tracks and production tricks that others (including a few past and present Strip headliners) rely on. As the name of the residency suggests, the setlist will be heavy on hits, but Lambert -- who does the impossible filling in for late vocalist Freddie Mercury -- says band has an opportunity to "switch things up" from show to show.
Cost: Tickets begin at $79
September 2-29 (select dates)
Planet Hollywood
Nothing last forever in Las Vegas (unless you're Wayne Newton). Jennifer Lopez wraps up her "All I Have" residency at Zappos Theater with 15 dates in September. This is one of those shows that everybody agrees is well worth whatever they're charging for tickets. Chances are pretty good you'll see Alex Rodriguez bobbing his head in the audience.
Cost: Tickets begin at $59
September 6
Spring Valley
595 Craft and Kitchen welcomes guest chef Hemant Kishore for a four-course dinner paired with craft beer at 7pm. The dishes are based on authentic South Indian recipes, including rajah masala, puttu with curry, and smoked jaggery rice. If you don't know what any of that is, don't worry. It's all delicious.
Cost: $65
September 8
Mandalay Bay
The AFAN Black & White Party is getting a new home. This time around, the big event will be poolside at Daylight Beach Club 8:30-11:30pm. The fundraiser helps those with HIV and AIDS in Southern Nevada and is loaded with music, food, drinks, and celebrities. Guests are encouraged to wear whatever they want -- as long as it leans heavily toward black or white. This year's edition follows an "Escape to Paradise" '80s theme.
Cost: Tickets begin at $65    
September 14-16
Spring Valley
How much tzatziki and baklava can you handle? The Las Vegas Greek Food Festival returns to St. John the Baptist Greek Orthodox Church with music, carnival rides and tons and tons of food.
Cost: Admission $7, kids 12 and under free (bring some cash for food and drink)
September 15
Golden Nugget
More than a hundred samples of beer with be available from more than 30 breweries. If those stats work to your advantage, head to the Golden Nugget for the resort's 9th annual Beer Fest. You'll also enjoy live music and find a few snacks to munch on.
Cost: Tickets begin at $69 ($64 in advance)
September 15
Off the Strip
In honor of National Twerking Day, Crazy Horse 3 gentlemen's club is hosting a late-night Twerkathon. Adult film star Juelz Ventura will be the special guest -- and she plans on beating the Guinness World Record for "longest duration twerking," which currently stands at more than two hours. No word on the tipping policy for something like this.
Cost: Cover usually begins at $20 (but you can skip the charge by taking the free limo)
September 16
T-Mobile Arena
In their debut season, the Vegas Golden Knights inspired Las Vegas and made it all the way to the Stanley Cup finals. This year, they're gonna take the whole thing -- calling it now -- so get on board from the first moment the puck drops. The preseason gets underway at 5pm with a home game at T-Mobile Arena against the Arizona Coyotes. Commemorative pucks will be handed out to those in attendance.
Cost: What, you don't have season tickets? Individual game prices begin at $75
September 19
Henderson
Guests at Boteco can enjoy A Taste of Bubbles 6-7pm. Champagne-inspired bites at the globally-influenced tapas restaurant will be paired with Domaine Chandon, Moet & Chandon, and other bubble-filled servings. Seating is limited to just 30 guests, so you know what that means -- get your tickets now.
Cost: $25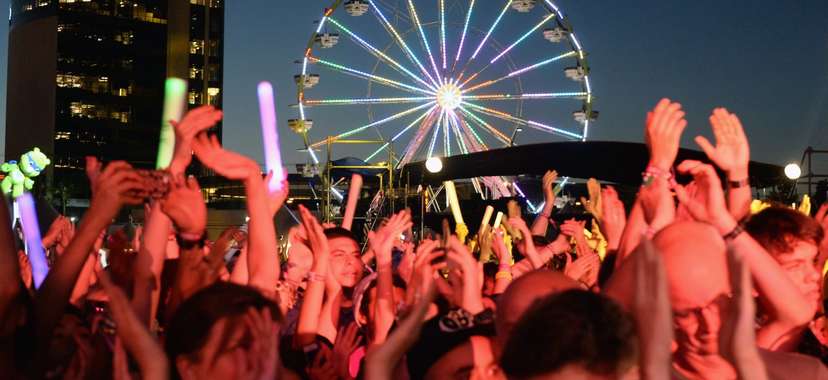 September 21-23
Downtown
The Life is Beautiful festival mixes art, food and entertainment over a three day weekend in Downtown Las Vegas. This year's headliners include The Weeknd, Arcade Fire, Florence + The Machine, and Travis Scott, but it's the comedy lineup that's getting all the attention this time around. Top names include Hannibal Buress, SNL's Pete Davidson, and Michelle Wolf, who plans to turn the entire festival into a White House Correspondents Dinner roast.
Cost:  Single day tickets begin at $135, 3-day passes begin at $295
October 5-6
West Valley
The Las Vegas Food & Wine Festival is switching up venues. The two-day booze and bites event will get underway at Tivoli Village at 9pm (or 8pm for VIP early-bird access). The outdoor shopping plaza has plenty of Old World style and architecture, making it a great choice for an outdoor dine-around.   
Cost: Tickets begin at $100
October 5-6
Jean
The RiSE Festival is returning to the dry lake bed in Jean. The remote area in the Mojave Desert will see thousands of lanterns released into the sky after darkness falls around 8:30pm. It's one of those moments in which you'll feel miles away from the rest of the world. Just make sure you've got a reliable ride back to town.
Cost: Tickets are $129 for adults ($109 in advance) and $69 for kids 4-10
October 12
Paris Las Vegas
You know those "I Love the '90s" package tours that seem to come around every summer? Well, now the concept is being revamped into a long-term Las Vegas residency. The 90-minute show features a live DJ, vintage videos, and a rotating lineup of headline performers. The debut has Salt-N-Pepa, Rob Base, and All-4-One on the bill.  
Cost: Tickets begin at $74
October 12-14
Mandalay Bay/Delano
MGM Resorts is pulling out the big guns and throwing a weekend-long "culinary extravaganza" that doesn't seem to have an official name, but squeezes a series of events into three ridiculously busy days. Here's the rundown: a crazy six-course dinner at Rivea with plates prepared by Alain Ducasse, Charlie Palmer, Shawn McClain, Michael Mina, Hubert Keller, and Susan Feniger on October 12 at 7:30pm with a cocktail reception at Skyfall Lounge at 6:30pm… a Bloody Mary Brunch with Michael Mina at Stripsteak on October 13 at 10:30am… a four-course wine pairing lunch with Charlie Palmer at Aureole on October 12 at 11:30am… and a five-course cocktail-pairing brunch with cooking demonstration by Hubert Keller at Fleur.
Cost: Tickets range from $65 to $195, depending on the event
October 13
The Strip
As if the weekend wasn't busy enough, MGM Resorts is teaming up with USA Today for a Wine & Food Experience at the Las Vegas Festival Grounds 1-4pm. Indulge in an afternoon of booze and bites with Martha Stewart (best known these days as Snoop Dog's buddy and TV co-host) as the guest of honor. The outdoor dine-around will feature some of the Strip's best restaurants, including Harvest, Rivea, Heritage Steak, and much more.
Cost: Tickets begin at $100 (or $85 in advance)
October 13
Luxor
The James Beard Foundation Celebrity Chef Tour traveling dinner series arrives at the Luxor with a reception at 6pm and dinner afterwards. Dinner will be presented by six JBF Award-winning chefs from around the country.
Cost: $200
October 20
Downtown
The largest craft beer event of the season is Motley Brews' Downtown Brew Festival, which has more than 200 beers from 60 breweries -- with a focus on local and regional brands. Hang out on the grass while bands perform on a center stage inside the Clark County Government Amphitheater. A variety of restaurants will serve plenty of food to balance out the booze.
Cost: General Admission begins at $35
October 26-27, November 2-17 (select dates)
The Palms
It's time to party like it's 2003 all over again. After cancelling a few summer dates for health issues with drummer Travis Barker, blink-182 resumes their Las Vegas residency at the recently renovated Pearl Theater -- where every seat is a good one. The show is tight, and even casual fans may be surprised at how many songs they recognize.
Cost: $35-155
October 27
Hard Rock Hotel & Casino
The Fetish and Fantasy Halloween Ball has been one of the wildest parties in Vegas for more than two decades. The idea is to wear your wildest costume possible. The more risqué, the better -- as long as there's no nudity. (Rules are rules.) The late-night party begins at 10pm and doors don't close until after 3am. There's even an adult-oriented expo that will be overflowing with chains, whips, latex, leather and anything you can -- or can't -- imagine.
Cost: Tickets begin at $75
November 2-4
North Las Vegas
Do you think Dia De Los Muertos weekend would be better with a lot more tacos? The Great Las Vegas Taco Festival has you covered. Some of the best food trucks and restaurants in Las Vegas invade Craig Ranch Park for two straight days with mariachi music, DJs, and cover bands. Wash down all those tacos with a margarita bar, samples from a tequila expo, and a nonstop supply of micheladas. Stay entertained with carnival rides, lucha libre wrestling, and a taco eating competition.
Cost: General admission begins at $10
November 3
East Valley
Sunset Park will welcome more than 30 food trucks for Sunset Park'd, a food festival that's perfect if you have a hard time deciding what to eat. If that wasn't enough, there's also a vegan food court, microbrews, and margaritas. Hang out in the park 12-8pm.
Cost: To be announced.
November 6
Downtown
Head downtown to the Fremont East district, where Therapy will serve up some funky Nachos Locos for National Nachos Day -- your new favorite holiday. Blue corn tortilla chips come topped with braised chicken thighs, tomatillo salsa, white cheddar cheese sauce, Fresno chili peppers, avocado, and sour cream.
Cost: $13.95
Sign up here for our daily Vegas email and be the first to get all the food/drink/fun in town.