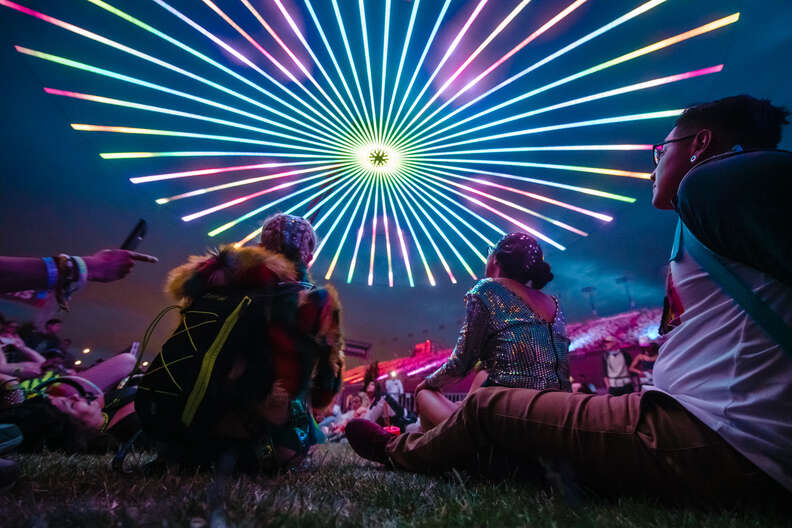 Everything You Absolutely Must Do in Las Vegas This Spring
Spring is the busiest time of year for Las Vegas, but it's also a season of change for 2020. The NFL Draft is coming to the Strip, UNLVino is taking on a new name, and 1OAK is closing its doors after eight years of nightclubbin'. Vegas Uncork'd, traditionally the largest culinary festival of the year, is also saying goodbye. (Maybe it was getting hard to organize all those celebrity chefs in one place.) No worries, Vegas UnStripped is more than happy to help pick up the slack. Meanwhile, music fans will overdose on a new wave of residencies and we haven't even brought up EDC yet. Bottom line: Spring will be a crazy season in an already landscape-shifting year. Things are so hectic, you'll need a scorecard to keep track of everything that's coming and going. Well, you're in luck, because these are the best things to do this spring all in one place.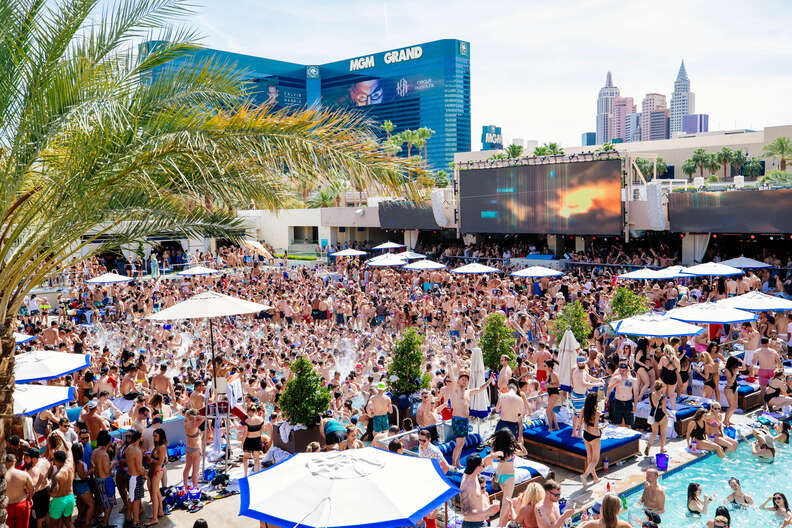 Wet Republic

| Courtesy of Wolf Productions
Take a deep dive into a Las Vegas dayclub
Friday, March 6
The Strip
You know spring is here when pool party season officially gets underway.
Liquid
,
Jemaa
,
Marquee
,
Daylight
, and the newly renovated
Wet Republic
are all opening for the season on the same weekend, so pick out your swim gear, book a cabana, and get ready to dance and splash around -- regardless of how warm the weather really is at this point.
Cost:
Tickets begin at $10
Wednesday, March 11 - Friday, March 13
Park MGM
Fans of 311 are so passionate, they're coming to Vegas to celebrate the band's 30-year history with three straight days of concerts at the Park Theater -- starting on March 11 (duh). Each show will have a different setlist and all three were initially sold together as a bundle that sold out. Individual tickets are showing up on resale sites, so feel free to try your luck. Even if you can't make it inside the Park Theater, the casino floor of the Park MGM will have
official parties
before and after the shows at On the Record, Mama Rabbit and other venues, featuring drink deals, guest performances, and more.
Cost:
Ticket packages began at $199.50; casino parties are free
Courtesy of Celtic Feis
Celebrate the Irish for five straight days
Friday, March 13 - Tuesday, March 17
Multiple locations
St. Patrick's Day falls on a Tuesday this year, which is a great excuse for
New York-New York
to extend its annual Celtic Feis celebration to five days. The event includes at least two parades through
The Park
and specials by
Nine Fine Irishmen
. Most of the fun is outdoors on the plaza near the Brooklyn Bridge replica. Some of our other favorite Irish pubs -- like
Ri Ra
,
Three Angry Wives
, and
McMullans
will have plenty going on as well. If that's not enough, go on a Downtown holiday cocktail crawl with the
Explore DTLV
app. All weekend long, users who buy St. Paddy's Day-themed drinks at
Gold Spike
,
Inspire
, and
Corduroy
will earn a free green beer at Gold Spike.
Cost:
Celtic Feis tickets begin at $15; admission is free to Irish pubs; new users of Explore DTLV will receive $10 credit for the first purchase of $15 or more upon download
Saturday, March 14
Sunset Park
The Water Lantern Festival at Sunset Park is one of those events that's built on spectacle, but comes with a healthy degree of calm and serenity. Gates open at 4:30pm with food trucks, activities, and live entertainment. Guests will take a moment to assemble and decorate their own eco-friendly LED lanterns (included with the price of admission) and launch them on the water between 8:30 and 9:30 after dusk settles in.
Cost:
Admission ranges from $25 to $55 depending on date of purchase
Sunday, March 15
The Strat
PT's, a locals bar with zillions of locations throughout the valley, is finally coming to the Strip as Blvd & Main changes its name to PT's Wings & Sports at the Strat. The bar and restaurant (which only opened about a year ago) will look the same, although the menu is expected to get a slight revamp. The move comes in time for a special St. Patrick's Day menu with 2-for-1 draft beers on March 17 and "College Hoops" viewing parties March 19-20.
Cost:
Prices vary
Monday, March 16 - Sunday, March 29
The Cosmopolitan
Jose Andres' China Poblano is hosting a Tequila Mezcal Festival with a special menu of agave spirits paired with dishes made with traditional Mayan ingredients. Chow down on tableside pumpkin seed salsa, blue corn tostadas, and more. Expect a unique mix of flavors that will even stand out in a restaurant known for mixing Mexican and Asian cuisine.
Cost:
Prices vary per dish and drink
Wednesday, March 18 - Sunday, March 22
Downtown
March Madness is a busy time for Vegas, as basketball fans fill out their brackets, place bets at sports books, and watch the action unfold at some of the
best sports bars
in town. The D is making the games especially fun with free viewing parties in the 12th floor ballroom. Rent a private man-cave, which includes four 70-inch high-def television screens, comfy seating, and food and drink delivered by a private server. If the games get dull, head downstairs to check out Beers at
BarCanada
, a new spot for hockey fans with plenty of beer and a Canadian theme.
Cost:
Free admission (man caves are $300 per person for six hours, $500 per person for 12 hours)
Wednesday, March 18 - Saturday, March 28
The Mirage
After a run of more than eight years, 1OAK nightclub is shutting its doors with a final Saturday night performance from
DJ Crooked
. You may also want to stop by a few days earlier on Wednesday, which is actually the bigger night. Nightlife industry peeps (dating back to the club's days as Jet) will be partying well into the night for a farewell bash with music by
DJ Drama
and Jack Harlow. Either way, it's one more chance to take advantage of the
two-hour open bar deal
.
Cost:
Tickets begin at $20
Saturday, March 28
Boulder City
If you need a good excuse for a
weekend road trip
to Boulder City, make sure there's plenty of craft beer at the end of your journey. The 8th annual Boulder City Brew Fest returns to Wilbur Square Park near the historic district.
Boulder Dam Brewing
is the official host, but guests will be able to sip on samples from nearly 40 different tents, while browsing specialty vendors, and eating food from 10 food trucks.
Cost:
Festival is free to explore, but beer is served to those with wristbands (which begin at $35 and include a glass)
Wednesday, April 1 - Saturday, April 18
Park MGM
The average age of the Jonas Brothers is 30, which might seem a little young to debut a Vegas residency, especially when touring behind a hit album. But spring and summer are peak wedding seasons, making April a prime month for bachelorette parties -- and a perfect time for a girls' trip to Vegas to see the Jonas Brothers. The family band is playing nine shows throughout the month. Don't be surprised if this becomes an annual thing.
Cost:
Tickets begin at $69
Wednesday, April 1
Planet Hollywood
The Jonas Brothers have some competition. Miss Independent herself, Kelly Clarkson, is kicking off her residency at Zappos Theater inside Planet Hollywood. The original
American Idol
has sporadic shows scheduled through at least September and will somehow find time for these performances in between hosting her own daytime talk show and being a judge on The Voice. (Hmmm… Joe Jonas is a judge on The Voice, too. We sense a rivalry here.)
Cost:
Tickets begin at $59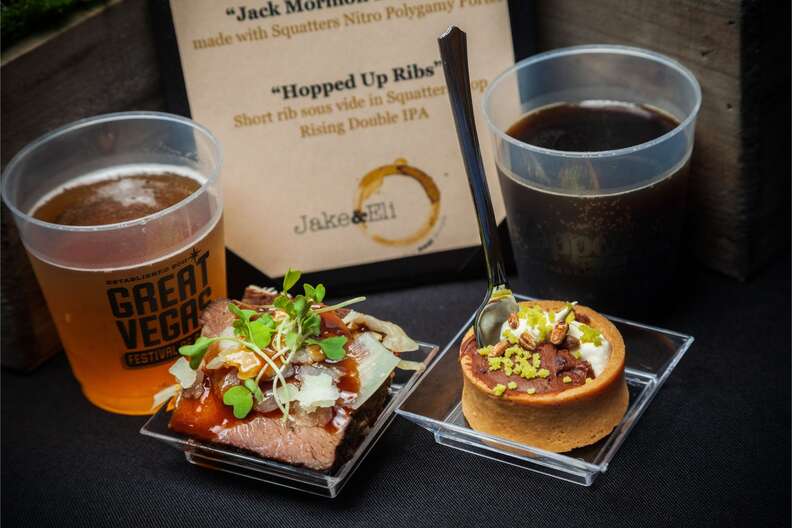 Great Vegas Festival of Beer

| Courtesy of Fred Morledge
Friday, April 3 - Saturday, April 4
Downtown
How much beer can you handle in one weekend? The annual Great Vegas Festival of Beer is divided into two parts at the Downtown Las Vegas Events Center. Come by on Friday for the Mad Craft Experience, a food and drink competition featuring beer, cocktails, and dishes prepared by local chefs using beer as an ingredient. Saturday is the main event -- the Grand Tasting with more than 500 beers served by more than 100 producers with an emphasis and local and regional craft brew.
Cost:
Tickets begin at $40
Courtesy of Neon Museum
Saturday, April 4
Downtown
The Neon Museum, which preserves and restores classic neon signs, is hosting "Stars and Stardust" -- an evening of sidewalk astronomy with half hour sessions available between 7:30 and 10pm. The lights of the Neon Boneyard will dim as the Las Vegas Astronomical Society and College of Southern Nevada Planetarium help guests use professional equipment to get a good look at stars, planets, and whatever else happens to be floating around up there.
Cost:
Free, but
register in advance
Courtesy of Delilah Las Vegas
Wednesday, April 13
Wynn Las Vegas
We see a trend developing here. Delilah, a supper club that
became a hit with celebrities in West Hollywood
, arrives in Vegas, taking over the old Chairman's Lounge at the Wynn. Expect the restaurant to have a retro feel, centralized stage with live entertainment, classic American cuisine, stiff cocktails, a secluded bar area, and an energy that gradually increases throughout the evening until the vibe eventually starts to feel like a nightclub. If that sounds a lot like the new
Mayfair Supper Club
at the Bellagio, you wouldn't be off the mark, but the pattern is a nice change of pace and promising to add some spice and character to the Vegas party scene.
Cost:
Prices vary
Saturday, April 18
Caesars Forum
After 45 years as a fundraiser for UNLV students in the hospitality program, the UNLVino food and wine festival is changing its name to Evolution. The event also has a new location -- the just-built Caesars Forum near the High Roller wheel at The LINQ. Despite the change of branding and venue, guests will still enjoy endless samples of food, wine, spirits, champagne, and more. Bobby Flay is the guest of honor. Come check out the new digs and prepare to leave very full.
Cost:
$150
Saturday, April 18 - Saturday, April 25
Venetian
The last time Adam Lambert played Las Vegas, the singer joined Queen for a series of sold-out shows at the Park Theater. Now he's back with a mini-residency at the more intimate Venetian Theater with five shows in the space of a week. Lambert has only grown as a showman in recent years and his pipes remain as strong as ever. Freddie Mercury would be proud.
Cost:
Tickets begin at $52.95
Thursday, April 23 - Saturday April 25
The Strip
As if there wasn't enough
cool stuff coming to Vegas in 2020
, the NFL Draft is taking over the Strip for three straight days. Things kick off Thursday with a floating red carpet at the Bellagio fountains to welcome pro-football prospects. The fun continues at the new Caesars Forum, which hosts the draft itself as well as nightly performances by national acts. The NFL Draft Experience is a three-day festival with autograph sessions, interactive games, and exhibits. Think of it as a mini-theme park for football fans. The whole thing precedes the arrival of the Raiders and the grand opening of Allegiant Stadium later this year. The only way Vegas could get even more consumed by football is by hosting the Super Bowl, although the earliest that could happen is 2025.
Cost:
Free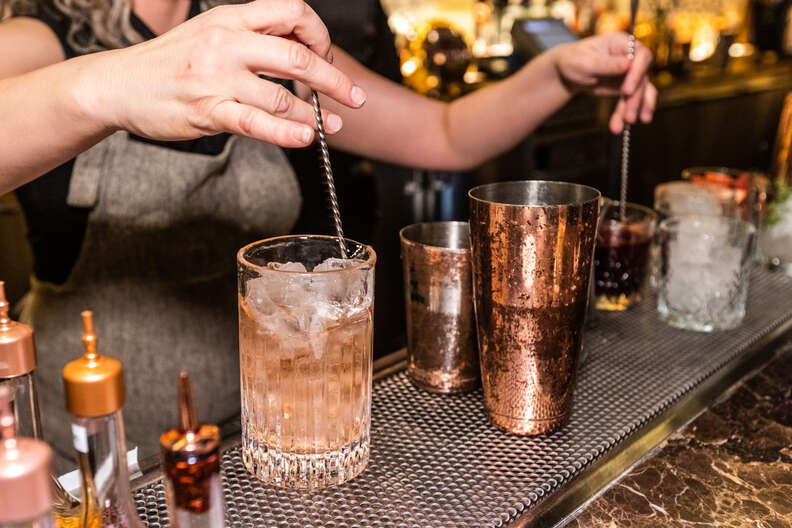 Courtesy of Dorsey Sessions
Tuesday, April 28
Venetian
The latest edition of the Dorsey Sessions features a lineup of cocktails by Joe Schofield of the new Schofield's Bar in Manchester, England. The guy knows his stuff. He's the first mixologist to win both International Bartender of the Year at the Tales of the Cocktail Spirited Awards and Bartender's Bartender at the World's 50 Best Bars. The menu will be available 9-11pm at The Dorsey, one of the
top cocktail bars in Las Vegas
.
Cost:
Prices vary
Saturday, May 2
Tivoli Village
Come hungry. "Margaritas & Tacos: The Experience" takes place outdoors at Tivoli Village from 7-10pm. Drink bottomless margarita samples, feast on unlimited tacos, and listen to live mariachi music. At some point, you can take part in a limbo competition and ride a mechanical bull. (It's probably best to do both of those things
before
you wolf down too many tacos.)
Cost:
$45 in advance, $65 day of the event
Saturday, May 2
Downtown
Vegas UnStripped started as a reaction to the
long run of Vegas Uncork'd
(a celebrity chef-heavy culinary festival that's not returning in 2020). The goal: to shift focus to the growing neighborhood dining scene and the chefs directly carrying out their own visions in the kitchen year-round and not just flying in to check on their restaurants every few months. Expect the event, now in its third year, to be bigger than ever with Vegas' best serving dishes and drinks to hundreds of ticket holders in the Arts District. There's definitely a sense of friendly competition, with chefs and bartenders often trying to out-do each other with creative recipes.
Cost:
Prices to be announced
Electric Daisy Carnival

| Courtesy of Marc Van der Aa/Insomniac Events
Friday, May 15 - Sunday, May 16
Las Vegas Motor Speedway
The Electric Daisy Carnival is
celebrating a decade in Las Vegas
with its biggest event yet, taking up even more space than usual inside the Las Vegas Motor Speedway. More than 250 electronic dance music performers -- including big names like the Chainsmokers, Tiesto, David Guetta, and Martin Garrix -- will be heard from nine different stages for three straight nights. In between sets, fans can check out carnival rides, marvel at immersive art installations, and even get married at an on-site wedding chapel. Don't want to deal with the traffic nightmares outside? Book an air-conditioned ShiftPod at
Camp EDC
and stick around for the whole weekend.
Cost:
Ticket packages began at $339 and sold out in less than 48 hours (scope out the resale market for passes or
sign up for the wait list
)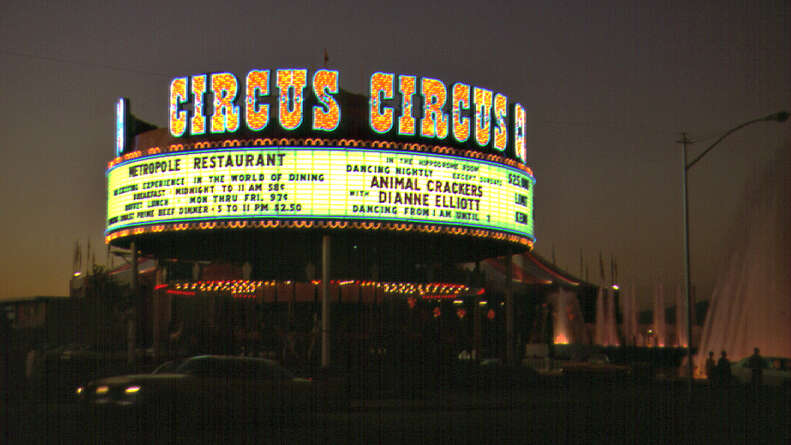 Courtesy of YESCO
Thursday, May 28 - Sunday, August 9
Off the Strip
YESCO, the company responsible for most of the neon signs and marquees synonymous with Las Vegas, is marking its 100th anniversary this year. To celebrate, it's teaming up with the Las Vegas News Bureau and Neon Museum to stage a photo exhibit, illustrating not only classic signage, but how dramatically Vegas has changed over the past century. Similar displays are scheduled for the Foley Courthouse (October 4-December 15), Pearson Community Center (August 10-October 3), U.S. Courthouse (August 11-December 15) and the Nevada Humanities Gallery (February 5, 2021-March 24, 2021).
Cost:
Free
Sign up here for our daily Vegas email and be the first to get all the food/drink/fun in town.
Rob Kachelriess has been writing about Las Vegas for Thrillist for five years. His work has also appeared in
Travel + Leisure
,
Leafly,
Supercall,
Modern Luxury
, and Luxury Estates International's seasonal publication. He's happy winter's over. Follow him on Twitter @rkachelriess.