Take a Spin on These Thrilling Las Vegas Roller Coasters
Sin City has something for every type of thrill seeker, from Vegas roller coasters to on-the-Strip amusement parks.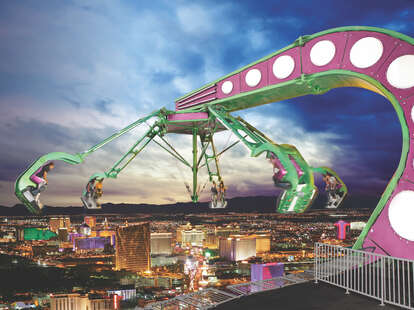 Insanity Thrill Ride

| Photo courtesy of Golden Entertainment, Inc.
Insanity Thrill Ride

| Photo courtesy of Golden Entertainment, Inc.
You could easily argue that the entirety of the Las Vegas Strip is an amusement park in its own right, and you wouldn't be wrong. But one thing that Sin City technically doesn't have is a traditional amusement park—the kind that sprawls out across 100 acres with multiple different themed sections and dozens of rides and dedicated resorts and all of that. And aside from the more obvious "that's not the Vegas brand" reasons, there are also the practical considerations why such a thing doesn't exist here, such as it being a-hundred-and-hell outside for a good chunk of the year.
Still, that doesn't mean the city doesn't have its own versions of amusement park rides, roller coasters and attractions. They're just dispersed throughout the Strip and surrounding areas. For amusement park enthusiasts and thrill-seekers alike, these are the top rides and roller coasters in Vegas.
One of the most iconic buildings in the Las Vegas skyline, the STRAT—the 1,149-foot observation tower formerly known as the Stratosphere—is the tallest building in Las Vegas (and, not for nothing, the tallest freestanding observation tower in the US). And at some point, someone decided it would be awesome to add some thrill rides to the observation deck levels some ~900 feet in the air, taking classic amusement park thrill rides to whole new heights.
There are three thrill rides at the top of the STRAT: Insanity, X-Scream, and The Big Shot. By far the best of the bunch, and the only one you can see in action from the ground a mile away, is Insanity, which features a mechanical arm that extends 64 feet out from the side of the tower and dangles riders 866 feet above the ground at a 70-degree angle while spinning in the open air at speeds up to 65 miles per hour, creating forces of 3 G's. This one's definitely not for the faint of heart, but it is fun!
The Big Shot starts at 921 feet above the ground and then shoots riders straight up into the air another 160 feet at 45 miles per hour in a matter of seconds. You can retrieve your stomach when you come back down, right before you're shot back up again. X-Scream is like a roller coaster teeter-totter that propels riders head-first 27 feet over the edge of the STRAT at 866 feet in the air, dangling weightlessly before being pulled back to do it all again a few times over. And if all of that STILL isn't enough for your thrill-seeking, adrenaline-seeker heart, there's always the SkyJump, a freefall bungee jump from 829 feet above the ground that holds the Guinness World Record as the highest commercial decelerator descent facility.
Cost: Single thrill ride tickets start at $20 and include access to the SkyPod observation deck. Multi-ride and single-day unlimited ride packages are available. SkyJump is a separate ticket and starts at $129.99.
Circus Circus, the historic Las Vegas hotel and casino that's been trying to make family-friendly Sin City happen for 55 years now, is home to the Adventuredome, a 5-acre indoor amusement park featuring 25 rides and attractions. Mostly aimed at kids, the Adventuredome has activities like laser tag, rock climbing, bungee jumping, and minigolf, as well as an arcade, midway games, and VR games. But if you like thrill rides, this tucked-away amusement park does not disappoint.
The showpiece here is El Loco, a steel coaster that packs a powerful punch in a small space featuring a 90-degree drop and two inversions among numerous other twists and turns and drops during which riders will experience a 1.5 vertical-G. The other indoor coaster is the Canyon Blaster, the world's only indoor double-loop, double-corkscrew roller coaster featuring back-to-back vertical loops and corkscrews with a double helix finale inside of a pitch-black "mountain." Both of these coasters offer all the thrills of some of the top-rated coasters at the best theme parks in the country, and it all happens under a glass dome with views of the iconic Las Vegas Strip whipping by as you loop and bank and corkscrew. Adventuredome is also home to several smaller amusement park-style thrill rides—the "spinny" kind if you will—including the Inverter, Chaos, and Disk'O.
Cost: Ride-all-day wristbands are $60 for anyone tall enough to ride the above rides.
AREA 15, the 200,000-square-foot psychedelic immersive art and entertainment complex where it's EDC all year round and where Universal Parks has announced it will build a new year-round "horror experience," already has a few thrills of its own. Visitors can take flight on Haley's Comet, a zipline that travels around the interior perimeter of AREA 15. On this ride, you'll "hang glide" down The Spine, the "nerve center" of AREA 15, soaring over the 23-foot-tall digital maple tree with 5,000 individually programmed LED lights that is the centerpiece of Oddwood Bar; past the otherworldly supermarket Omega Mart; and over the bamboo canopy of the Sanctuary Lounge. This is a great way to get a bird's-eye-view of this sensory-overload space and see all the artwork inside from a different perspective.
Just outside the main entry to AREA 15, you'll find LIFTOFF, a towering metal sculpture that doubles as a slow-moving observation tower-style ride. It's one of the newer attractions at AREA 15. This "open-air balloon ride"—there is a balloon, yes, but the ride is all mechanical—takes riders over 130 up into the air and rotates several times for 360-degree views of the Strip and the surrounding Las Vegas Valley. There's also a bar and outdoor lounge at the base of the ride, and you can bring your drinks on board with you, which will come in handy as liquid courage for those moments when your feet are dangling 130 above the ground. Or, maybe just don't look down.
Cost: Tickets for both rides start at $10.00 for adults. A variety of Experience Passes, including rides and entry to different attractions, are also available.
Soar, swoop, dive, and glide over some of the most breathtaking vistas in the world at FlyOver Las Vegas, a fully immersive, multi-sensory thrill ride that uses state-of-the-art video technology to simulate flight. This two-tier motion ride utilizes a 52.5-foot spherical screen to immerse riders in a near-virtual-reality simulation of flight over the American Southwest, the Canadian Rockies, and the highlands of Iceland. Riders will experience the sensation of flying over mountains, canyons, cliffs, waterfalls, lakes, volcanos, deserts, and more, made all the more immersive with location-specific mists, wind, and scents. The flight-motion seats that leave legs dangling furthers the sensation of flying. Come hang out in the lobby beforehand and enjoy a drink at the Lost Cactus bar. Also, their gift shop is quite possibly one of the best in Las Vegas, so if you ever need some legitimately cool Vegas souvenirs (their Vegas T-shirts are ones you'd actually want to wear), this is the place to go.
Cost: $36 for a single adult ride; double ride and drink packages available.
The Big Apple Coaster is a steel hypercoaster that wraps around the entire New York-New York Hotel & Casino. It has become an iconic visual on the Las Vegas Strip, but as an aesthetic design element, the coaster experience is hardly an afterthought: the ride hits speeds of 67 mph, and it is the world's first coaster to feature a 180-degree "heartline" twist-and-dive maneuver. The 4,777-foot track features a 180-foot lift hill and a 76-foot first drop with another hill and a 144-foot drop after that. The ride also has two inversions: a standard vertical loop and a dive loop. Adding to the New York City of it all, the cars are all painted to look like yellow cabs. Entrance to the ride is located within the Big Apple Arcade, which has all the latest video and arcade games as well as classics like Skee-Ball and air hockey.
Cost: Tickets start at $19.
The High Roller has become another iconic piece of the Las Vegas skyline, a 550-foot-tall observation wheel—the largest in North America—with enclosed, climate-controlled cabins lit with LED lights at night. This ride is leisurely, taking about 30 minutes to complete a full rotation and offering 360-degree views of the Strip and the surrounding Las Vegas Valley and mountains. Cabins are available to rent for private parties, complete with private bars, or you can opt for the Happy Half Hour ride open to the public, which includes an open bar for guests 21+. If you want a bit more wind in your hair, Fly LINQ, the only zipline on the Strip, launches riders from atop a 12-story tower to soar 1,121 feet along the LINQ Promenade toward the High Roller at speeds up to 35 mph.
Cost: Adult tickets for the High Roller start at $23.50; Happy Half Hour rides are $60. Tickets for Fly LINQ start at $40.
SlotZilla is slots of fun! This 11-story zipline attraction is also the world's largest slot machine that takes riders on a zipline tour beneath the Viva Vision canopy of the Fremont Street Experience. It features two separate ziplines: the lower Zip-Zilla, which launches from a platform 77 feet in the air with flyers in a seated position riding for two blocks, and the higher Zoomline, a 5-block-long zipline that launches riders out superhero-style from 114 feet up to soar 1,750 feet along the Fremont Street Experience at speeds up to 40 mph.
Cost: Tickets start at $54.
Every good amusement park has go-karts, but there are regular go-karts, and then there are high-speed racing go-karts. Located at Speed Vegas, the world's largest motorsports park, Vegas Superkarts puts you in one of these shockingly fast "superkarts," all equipped with a 4-stroke gas engine, rollbar, and 4-point harness seatbelt. The 1,600-foot outdoor track features a rapid acceleration straightaway with 10 turns, including 90-degree corners and hairpin turns. Don't let the idea of a "go-kart" fool you. With their low weight and downforce, these cars go extremely fast. Some models can get up to 155 mph, hence the roll bar. The models here feature a new F1-style nassau panel, and with the F1 Grand Prix headed to Vegas this year, this is just another fun way to get pumped up for the race in November. This is a go-kart experience for serious speed demons and thrill-seekers!
Cost: A single race is $35; multi-race packages are available.
Nicole Rupersburg is a freelance writer covering food, travel, arts, culture, and what-have-you. She winters in Las Vegas and summers in Detroit, as does anybody who's anybody. Her favorite activities include drinking beer and quoting Fight Club.