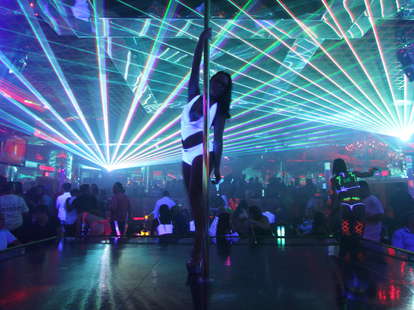 Courtesy of Crazy Horse III
If you're looking for naked women, Las Vegas is a pretty good place to be. There's a swarm of strip clubs in town with hundreds of talented performers ready to take your money. We talked to Ca$hmere -- a dancer from a few different clubs, including Crazy Horse III -- who has a dollar sign in her name because she knows a few things about (a) keeping customers happy, and (b) making money. She offered a little advice on the mistakes guys should avoid making while visiting one of Sin City's finer establishments.
Being rude
An easy way to keep a dancer away from you is being smelly, gross, mean, or just plain strange.
"When the guys are socially awkward, that makes it kind of tough," says Ca$hmere. "If they are making weird noises or grunting -- for the most part, we don't want people to treat us in that awkward way."
Also, inappropriate groping can quickly turn into a huge problem.
"The worst case was definitely a bachelor party," recalls Ca$hmere about a group that came in a few months ago. "It was their first night in town so obviously, they had pre-gamed pretty hard. The bachelor was just really aggressive.
"If the touching is inappropriate, security will step in immediately."
Most guys, though, are cool about following the rules and don't misbehave. Ca$hmere notes, "It doesn't happen as frequently as you might think."
Bringing wives, girlfriends... or co-workers
No matter how cool your girlfriend or wife may be, don't assume she'll be fine with joining you at a strip club. Most don't want to see their man with another woman, even if it's just for a three-minute lap dance. And don't even think about bringing a female co-worker or "just a friend" -- that, too, may also be a bad idea. Plus it's just weird.
"Sometimes guys bring in female friends that are either uncomfortable or judgmental and that brings down the morale of the group." Ca$hmere tells us.
Of course, let's not assume all women hate strip clubs. Many actually have a good time and enjoy the attention of the dancers just as much as the men do. Ca$hmere recalls a combined bachelor and bachelorette party that came in recently without any problems:
"They had an area towards the back with a ton of space and had quite a few girls rotating through the entire night just to accommodate all the people in the party. They had a really awesome time."
Taking a cab to the club
If you hop in a cab and say, "Take me to the best strip club in Vegas," you may not actually end up at the best strip club in Vegas. That's because taxi drivers receive payouts from some clubs as an incentive. Then, to recoup that money, each passenger is charged more at the door than they would be otherwise. That can be a big shock to the customer and start the night off on the wrong foot.
"A cabbie can make or break an experience from the very beginning," says Ca$hmere.
Some of the better strip clubs in Vegas actually offer free limo service without a cover charge. It's a great way to avoid an added cost. Plus, there's no catch or hidden fee when you arrive.
"If you have a huge party, you can always get one of the big party buses. Sometimes it comes with girls! So that's a cool element if you're celebrating a big bachelor party."
Not looking for discounts in advance
Social media is your friend. Crazy Horse III offers a mobile app that makes it easy to book limos and find deals, and most clubs have websites or Twitter accounts advertising the latest discounts. (To boot, many even have additional perks for locals, but shhh.)
You may also come out ahead by calling first. Depending on the night, you can save a few bucks on cover or bottles by booking a table in advance.
Forgetting to bring cash
Paying for bottles with a credit card is fine, but the performers prefer cash. It's also better to tip throughout the night (with actual money) between lap dances rather than at the end. In fact, Ca$hmere says it encourages the performers to work harder, too.
Of course, every good strip club has at least one ATM you could use, but the fees can be much higher than usual. So making sure you have plenty of cash in a variety of bills avoids that extra cost and allows you to easily tip everyone in the building, from the doormen to the cocktail servers to, of course, the strippers.
"If you want to make it rain on girls, you're not running around the club trying to find cash from an ATM or having girls break bills for you."
Saving all your money for lap dances
You don't want to seem cheap by not spreading a little love throughout the club. Word gets around quickly, and it'll only make the strippers less likely to gravitate towards you.
"Make sure you're taking care of everybody because we'll notice if you're not tipping out the waitresses or being rude and things like that. As a staff, we all work together to help each other out when it comes to reading people and [making] money."
Wearing the wrong clothing
"If they are wearing random things that are scratchy, it's harder to give a lap dance." So leave the chain wallet at home (and don't even think about wearing those pants that come with a million zippers in the front).
The color you wear is also important for another reason.
"There is a lot of spray-tan going on," warns Ca$hmere. "I've seen guys who have worn lighter pants or white pants and you can see [clear evidence] they received a lap dance. You don't want to explain that self-tanner spray on your lap when you get home."
Not buying drinks for the stripper
The girls are usually allowed to drink while on the job. They probably won't get too crazy with you, but they'll stick around longer if you share a bottle of champagne.
"I am personally not a heavy drinker," says Ca$hmere. "So I wouldn't want to necessarily take shots or do mixed drinks, but a bottle of champagne is always a great idea because we want to loosen up a little bit and have a great time."
Thinking a girl will date you
She won't. At least 99.99% of the time. And even in that rare case, it's not going to be you.
"There has definitely been some proposals and guys asking for dinner dates," admits Ca$hmere. "At the end of the day, we are here to work. It's a job."
Then there are stories of rich some guys who believe if they start talking about private jets and throw a ton of cash around, it can translate into a relationship outside the club. Guess again.
"There are always guys who will flaunt money and say we can go to Dubai and do all these awesome things. That is a pretty frequent occurrence, especially when they're drunk. They probably don't even have as much money as they are making it out to be, but of course they want to seem cool. Sometimes you just have to stroke the egos a little."
That goes for both men and women. Even couples. Some will try and set up threesomes with a stripper (and be very persistent about it). But again, it won't happen. Though Ca$hmere appreciates the effort. "I commend them," she says with a laugh. "They want to keep their relationship spicy. That's okay. I'll let them be them."
Translation: nice attempt, but it's not going to happen.
Your credit card gets declined
It usually happens for one of two reasons: either you spent more money than you realized (while drinking perhaps) and reached your limit, or you may just be traveling from out of state. Banks will often put a hold on your card as a precautionary measure if it's being used for high-dollar amounts in an unfamiliar location. So before you plan a vacation, call your bank first. You don't have to tell them you're hitting a strip club; just let them know you're planning to spend some money in Vegas.
Saying the same stuff as every other guy
Guys think they're being original with dumb pickup lines, but these girls have heard them all hundreds of times over -- especially the compliments about their eyes.
"It's so dark," Ca$hmere points out. "How can you really notice my eyes? We don't need to be coy here. I know what you're really looking at."
Talking about where you're from or what you do is also nothing new. It won't impress the girl. And while you're at it, stop asking for her real name. She's not going to give it to you.
Taking photos
It's cool if you use your phone to send a quick text or two, but whatever you do, please don't use it to snap a photo inside the strip club.
"That's such a huge thing," says Ca$hmere. "It makes us uncomfortable, especially in my particular situation because I do have a normal day job and a family. Taking photos is just a no-no."
(And don't be one of those guys who act like they're texting but then try to sneak in a photo. Just don't.)
Bottom line: if you get caught, you'll probably get a warning first. But beyond that, you're getting kicked out.
"We're not dumb. And if you're so drunk that you're not even smart enough to turn your flash off before you do that… Really?"
Sign up here for our daily Vegas email and be the first to get all the food/drink/fun in town.
Rob Kachelriess has been writing for Thrillist for nearly three years. He's never worn white pants to a strip club. Follow him on Twitter @rkachelriess.