It's impossible to ignore the influence and contributions of the Latino community in Las Vegas. At last check, Hispanics accounted for 32 percent of Clark County's population -- a statistic that will likely increase once the results of this year's census are reported. Latino communities are especially strong east of the Strip and in North Las Vegas, yet housing, jobs, and other opportunities are plentiful throughout the valley for those looking to build a brighter future for themselves and their families.
"Nevada has been a business-friendly state for a long time," says Peter Guzman of the Latin Chamber of Commerce. "Low taxes and affordable real estate -- subsidized by tourism. It's a very good environment for small businesses."
These are just a fraction of the professional and social services that have proven to be a valuable part of Southern Nevada.
Nonprofits and other organizations
The future of the Latino community lies in the success of younger generations. "The parents are pretty involved, even though they're from a lower socioeconomic [status]," says Wendy Reyes, counselor at Whitney Elementary School, where 80 percent of the student body is without reliable housing. "They're always willing to volunteer. They're always the first ones cooking tacos for a fundraiser, donating pizza, or donating their time."
Fortunately, Las Vegas has resources, including charities and volunteers, ready to provide additional help. Organizers know the youngsters that benefit today will go on to be the Latino business leaders of tomorrow.
Association of Latino Professionals for America (ALPFA) Las Vegas
Online/Valleywide
ALPFA nurtures leadership and career building among Latino communities throughout the country with a chapter in Las Vegas. The organization offers job fairs, employment listings, and volunteer opportunities.
How to support: Sign up for a membership.
Dream Big Nevada
Downtown
Dream Big Nevada provides direct assistance to immigrant communities. Resources are available to undocumented immigrants and Dreamers applying for DACA.
How to support: Make a donation.
Help of Southern Nevada
Eastside
Help of Southern Nevada offers social services and provides job seekers with opportunities in the Work Opportunities Readiness Center (WORC). The nonprofit invests heavily in support systems for students and families in need, including the Shannon West Homeless Youth Center.
How to support: Make a donation.
Immigrant Home Foundation/Fundación Casa del Inmigrante (IHF)
Downtown
The IHF provides legal services for immigrants. Specialties include applications for U.S. citizenship, green cards, work permits, and DACA. A team of experts is also experienced in family petitions and helping victims of domestic abuse and other violent crimes.
How to support: Sign up for services or email for further information.
Latin Chamber of Commerce, Las Vegas
Downtown
The organization is a primary resource for Latino business owners in Las Vegas. It also regularly updates classified ads for job seekers.
How to support: Sign up for a membership.
Nevada Partnership for Homeless Youth
Eastside
The Nevada Partnership for Homeless Youth raises money and awareness while providing supplies, housing, and employment for younger populations (age 12-20) without a steady or reliable place to live.
How to support: Donate online or share the organization's hotline (866-U-ARE-SAFE or 866-827-3723) with someone in need of immediate assistance.
Make the Road Nevada
Downtown/North Las Vegas
Make the Road Nevada is dedicated to community organizing. Resources include the Dream Fund for supporting DACA renewals, the Time to Care program for workers' rights, and the Youth Power Project to involve and educate the local student community.
How to support: Make a donation to the Dream Fund or contact by email for volunteer inquiries.
Mi Familia Vota
Downtown
Mi Familia Vota knows the best way to realize change on a local level is through voting. The organization recruits volunteers to encourage voter registration within the Hispanic community and spread information during election cycles.
How to support: Sign up to volunteer.
Puentes
Downtown/North Las Vegas
Puentes provides social services for under-represented populations, including MiDoctor, a virtual wellness program for low-cost, accessible primary healthcare. Puentes is also actively involved in the COVID-19 Patient Resource Center in collaboration with the UNLV School of Medicine.
How to support: Reach out by email for the latest information and volunteer opportunities.
Three Square Food Bank
North Las Vegas
The largest food bank in Southern Nevada provides meals and nutritional programs to families not just in the Latino community, but throughout Las Vegas. Three Square coordinates with business partners to distribute food from its warehouse and host charity events.
How to support: Sign up to volunteer or make a monetary donation, which is easier to effectively utilize than a food donation.
Valley Center Opportunity Zone
Downtown/North Las Vegas
The nonprofit organization helps secure funding and other assistance for small minority businesses. Opportunities are focused on "the zone," which includes struggling areas north, east, and within Downtown -- encouraging growth and economic prosperity in neglected neighborhoods.
How to support: Share the fund application with an interested business owner.
Village of Hope
Eastside
Village of Hope helps children and families in the Whitney Elementary School community, whose population is nearly 50% Hispanic. Staff and volunteers coordinate donations, which often include bagged grocery packages to take home over the weekend.
How to support: Make a monetary donation to Village of Hope or learn more about food and clothing donations with Whitney Elementary.
Restaurants and bars
Las Vegas represents untapped potential for restaurateurs across the valley -- with cuisine from a variety of regions to enjoy. Javier Anaya of Pinches Tacos believes there's no need to sacrifice authenticity to meet perceived mainstream tastes. "Why would you dumbify Mexican food for anyone?" he asks. "Mexican food's amazing. Vegas is a very cultured place and (its people are) yearning for culture. It's a great opportunity for people of any ethnicity."
La Catrina
Northwest
This bar is all about watching sports on the big screen with a prominent Hispanic clientele. The later the night goes, the more the margaritas flow. Balance out the booze with a greasy appetizer platter.
How to support: Come by and stay a while -- book a reservation via text.
Chica
The Venetian
Lorena Garcia became the first Latina celebrity chef to have a Strip restaurant when Chica opened at the Venetian. The day-to-day operations are in the hands of Sous Chef Carlos Rosette with a menu that draws on Garcia's Venezuelan heritage while mixing in other regions of Central and South America.
How to support: The energy picks up during light-night hours, but the happy hour menu is available in the lounge Monday-Friday 8am-6pm.
China Latina
Eastside
Chef Beni Valazquez's China Latina serves up a unique take on Latin-Asian fusion. Begin with the ramen. End with the flan.
How to support: The restaurant does strong pickup and delivery business.
Doña Maria's
Downtown & Summerlin
This longtime locals favorite has been around for 40 years. It's all about the tamales and margaritas -- a killer combo.
How to support: Gift cards for either the Downtown or Summerlin location make a great holiday or birthday present.
El Dorado Cantina
Valleywide
This stylish Mexican spot leans toward elevated recipes with organic ingredients. The original location is next door to Sapphire Gentlemen's Club. A second is in Tivoli Village with an upscale lounge ready to launch in the near future. A third is scheduled for the southwest later this year.
How to support: Any day is good to visit, but Tuesday offers $7 Don Julio 1942 shots all day long.
The Garden
The Garden is a new bar in the Downtown Arts District tailored to an LGBT audience, but everyone is welcome. Owner Eduardo Cordova wanted to give gay nightlife a fresh makeover in a beautoful space and is now introducing a weekend brunch for some healthy day drinking.
How to support: Be ready for a $40 per-person minimum due to limited seating during the COVID-19 crisis, but you'll drink your way through it in no time.
Herbs & Rye
Off the Strip
On the west side of town, Nectaly Mendoza made Herbs & Rye not only one of the most acclaimed speakeasy-style cocktail bars in Las Vegas, but the entire country -- and followed up with Cleaver steakhouse east of the Strip.
How to support: The happy hours (with half-off steaks) are legendary from 5-8pm and midnight-3am (with reservations available online).
Javier's
Aria
Possibly the closest you'll come to Mexican fine dining on the Strip. Javier's is a casino restaurant that blends Latin flavors with a high-end atmosphere. The concept was originally founded by Javier Sosa in Laguna Beach.
How to support: Book a reservation online (and ask about the stylish private dining room for larger parties).
Lindo Michoacan
Eastside & West Valley
The longtime locals favorite proudly displays its expertise in Michoacan cuisine -- with artful presentations and a strong emphasis on seafood.
How to support: Visit one of two locations -- on opposite ends of the valley for convenience.
Los Tacos
Off the Strip & Downtown
There's beauty in simplicity at Los Tacos. The two locations -- west of the Strip and Downtown -- each take no-frills approach to tacos, burritos, and other inexpensive dishes.
How to support: No reservations ando delivery -- just show up.
Kitchen Table
Henderson
Javier Chavez owns and operates Kitchen Table in Henderson (and a sequel of sorts, Kitchen Table Squared, temporarily closed at the Gramercy near Summerlin). Both have an especially strong breakfast menu.
How to support: Come early -- breakfast and lunch run from Thursday through Monday, 8am-3pm.
Makers & Finders
Downtown & Summerlin
This Latino-owned coffee shop built its reputation in the Arts District with a weekend Latin brunch and attes prepared with house-made syrups. A second location is now open in Downtown Summerlin.
How to support: Turn your friends on to the joint with a gift voucher.
Oiga Mire Vea
West Valley
The place is ultra-casual -- with food ordered at the counter and served in styrofoam containers. Whether you dine-in or take your meal to go, you're receiving some of the most authentic Colombian food available in Las Vegas.
How to support: Lunch and dinner specials are frequent, but don't hesitate to take recommendations from the staff.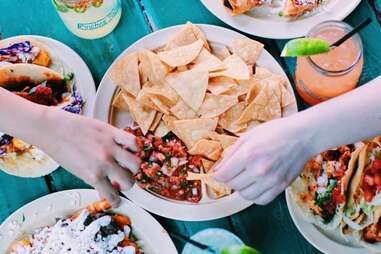 Pinches Tacos
Valleywide
The SoCal import made its Vegas debut at the Downtown Container Park before adding locations in Henderson and at the Gramercy. No franchises here. The entire operation is run by a group of brothers, based on their mother's Mexican recipes.
How to support: Just hang out, order a few tacos, and soak in the atmosphere (or go big with catering for large parties).
Planet Protein Snack Bar
Eastside/North Las Vegas
Want healthy food with a subtle south-of-the-border influence? Everything from the tacos to the almond pancakes are given a protein-heavy keto-friendly spin.
How to support: Order in advance at the location on Charleston or Simmons (with free delivery on orders of $20 and over).
Las Pupusas
Valleywide
The cuisine of El Salvador is on full display with a diverse menu that offers a new twist on the same old tacos, burritos, and fajitas. Las Pupusas is a local chain with six locations to choose from.
How to support: Try something new -- begin with the namesake pupusa dish, a grilled stuffed tortilla with vinegar and tomato sauce.
El Rincon de Los Remedios
North Las Vegas
A true dive bar experience, combing stiff drinks with greasy, high-calorie bar food.
How to support: It's hard to beat Monday Michelads.
Rooster Boy Cafe
Desert Shores
Take your time with the eclectic breakfast and lunch menu at the cozy Rooster Boy Cafe. The dishes are influenced by Chef Sonia El-Nawal's long history in Mexico City restaurants.
How to support: Dine on the patio and take a bag of El-Nawal's signature granola home with you.
Salud
West Valley
This Mexican restaurant has a fun brunch and more than 100 options of tequila and mezcal at the bar.
How to support: Why have Taco Tuesdays when you can have Margarita Mondays (with bottomless deals on both tacos and margaritas)?
Sambalatte
Boca Park and Spring Valley
A taste of Latin culture is enjoyed in every sip of coffee at Sambalatte. Owner Luiz Oliveria journeys to Central and South American, taking a hands-on approach to sourcing the best beans possible and roasting them back home in Las Vegas.
How to support: Sign up for the Coffee Club -- and have a bag of beans show up in your mailbox every month
The Stove
Henderson
Antonio Nunez runs the kitchen at The Stove with Hell's Kitchen winner Scott Commings. A playful take on breakfast favorites with tea service on standby.
How to support: Book a reservation in advance (by phone only) -- the place gets busy on weekends.
Taco Y Taco
East Valley
With two locations east of the Strip, Taco Y Taco aims to give a fresh take on a familiar concept. Begin by choosing your protein -- beef tongue, beef brains, or whatever sounds adventurous. Build your dish from there.
How to support: An individual meal is fine, but Taco Y Taco does some awesome catering for large parties.
Tacos El Gordo
Valleywide
Tacos El Gordo is all about Tijuana-style street food, often with an intriguing selection of meats. Its Las Vegas Boulevard location saw long lines out the door while most of the Strip was shut down earlier this year.
How to support: Just walk up to the counter and order -- whether you stay or take the food to go depends on your mood.
Tres Cazuelas
Chinatown
Tres Cavuelas is an eclectic mix of flavors, following a Spanish-style tapas format with a mix of Latin American recipes and a quiet location on the edge of Chinatown.
How to support: Dine in or order for quick pickup.
Viva Las Arepas
Downtown and West Valley
Originally a cart in a parking lot, Viva Las Arepas grew to have two full-fledged restaurants in Las Vegas. Either location provides an authentic menu of Venezuelan arepas -- sandwiches made with a thick maize dough.
How to support: Order online for quick and easy pickup.
Retail and other businesses
When patronizing Latino businesses, it's easy to pick up on the commitment to community and shared prosperity among employees."I believe that diversity in the workplace is vital to a healthy culture," says hair stylist and business owner Kelly Cardenas. "Diversity in mindset, belief system, background, and upbringing will help you as an organization to alleviate blind spots." Much of that diversity is felt in the shops, boutiques and markets throughout the valley.
ApronTie
Downtown/Online
Cooking at home is one of the best things you can do to practice social distancing. When in the kitchen, try an ApronTie -- a new invention by Puerto Rican chef (and Strip veteran) Jean Paul Labadie that makes it more comfortable to wear an apron.
How to support: Online orders begin at $13
La Bonita
Valleywide
The largest homegrown Hispanic grocery chain in Las Vegas has seven stores across the valley, including a new one in Henderson. Each location has an in-house butcher shop, bakery, and juice bar, plus a taqueria for meals to go.
How to support: Visit in store or shop online with the option of curbside pickup.
Boutique Aztlan
Town Square
Antonia "Toni" Alicia moved from San Diego to Las Vegas to open a boutique where everything is imported from Mexico -- leather bags, leather sandals, clothing, accessories, home items, and more.
How to support: Shop online, buy a gift card, or come in and browse during your next visit to Town Square.
Broadacres Marketplace
North Las Vegas
This large outdoor flea market has its own unique energy. Between the local Hispanic vendors, lively entertainment, and busy food stalls, it's probably the most authentic shopping experience for the Mexican-American community in Las Vegas.
How to support: Visit Friday night or Saturday/Sunday all day long (entrance fee is $1-2).
Buttercup Baby Co.
Town Square
This charming shop for parents sells clothes and supplies for newborns. Everything from clothes to car seats and cribs -- all with a touch of modern design.
How to support: Shop in person, buy online, or set up a gift registry.
Cardenas Market
Valleywide
This California grocery chain has a strong Vegas presence. The kitchen department offers a wide variety of meals to go, from tamales and ceviche to birria stew and tripas (intestines for the adventurers).
How to support: Look up the specials in the local circular and shop at one of four Las Vegas locations.
Flor de Liz Guior
Spring Valley
Flor de Liz Guior runs a self-titled fashion brand with husband Jack Guior. The duo specializes in unique custom designed evening wear for an enviable one-of-a-kind look.
How to support: Browse the latest collection or book a one-hour consultation for $100 (applied toward the final order).
Gama Bakery & Cakes
Silverado Ranch
One of the top Mexican bakeries in town has a little bit of everything: colorfully decorated cakes, pan dulce (Mexican pastries), and even a few savory items like tamales and toasts. Whatever you buy, add on a doughnut.
How to support: Choose a pastry or cake from the display case, but give plenty of advance time for custom requests.
Garden Infusions
Silverado Ranch
To reap the benefits of cannabis with minimal THC, venture to Garden Infusions near Henderson, where Rosario Pegueros is known to have some of the best organic CBD formulations in all of Las Vegas.
How to support: Browse online to order oils, extracts, soaps, and other products -- or contact the shop directly to request a custom infusion.

Grail Storm
Town Square
The quirky specialty shop sells sneakers, athletic wear -- and just to mix things up a bit -- toy collectibles. This is your place for high-demand items like Jordans and Yeezys.
How to support: Shop in person, browse items online, or inquire about a consignment agreement.

Juan Muniz
Valleywide/Online
Juan Muniz is an illustrator and toy designer. He's most notable work is drafting the "Golden Misfits" caricatures for the Vegas Golden Knights and collaborating with Gwen Stefani on a mural for her charity work with Cure 4 The Kids Foundation.
How to support: Follow Muniz on Instagram for the latest on his projects.
Justin Favela
Valleywide/Online
Justin Favela is a local artist and host of the Latinos Who Lunch podcast. His work is often influenced by Latino and LGBTQ culture with exhibits and installations commissioned throughout the country.
How to support: Keep up to date on Instagram, buy the Latinos Who Lunch coloring book for $15, or if you need a break from Vegas, visit Favela's Puente Nuevo exhibit at the Amon Carter Museum of American Art in Fort Worth, Texas.
Kelly Cardenas Salon
West Valley
Kelly Cardenas started his own eponymous hair salon in Las Vegas before opening others in Chicago and Carlsbad. In building a national brand, he's become a podcast host, author, and self-help expert.
How to support: Stop in for a haircut or pick up a copy of 6 Indicators for Business and Life for $24.99.
Keshot
Southwest
Need a GIF photo booth for your next wedding reception or company Christmas party? Keshot is a Vegas-headquartered tech company that's all about making photos fun. Founder and CEO Juan Benavides turned Keshot into an internationally recognized service used by the likes of Coca-Cola, BMW, and Nike.
How to support: Request a quote or inquire about pricing.

Mariana's
Valleywide
This Vegas-born, Hispanic-focused grocery chain has five locations to cover nearly every corner of the valley. Meats, produce, juices -- even a cremeria. It's all covered.
How to support: If you're short on time, order online with curbside pickup.

Panaderia La Estrella
North Las Vegas
The family-owned Mexican bakery has been a familiar destination for Hispanic families for more than four decades. Its extravagant and elegantly decorated cakes are popular for weddings, birthdays, and quinceaneras.
How to support: Use an online coupon to place a custom order or request delivery via Postmates.
Premium Produce
Valleywide
Priscilla Vilchis was the first Latina and youngest minority to be awarded a Nevada license to cultivate marijuana. Her Reina brand is a top seller in Nevada dispensaries, successfully marketing itself as a female-friendly product.
How to support: Ask for Reina at Planet 13 and other top dispensaries in Las Vegas.
Sun in Pisces
Valleywide/Online
This local artisan business specializes in gemstones, bath salts, sage bundles, and other whimsical items. Much of it is sold at weekend markets or online.
How to support: Shop on Etsy.
El Super
Valleywide
This California grocery chain dominates East Los Angeles, but has three Vegas locations geared toward Hispanic families.
How to support: Browse the online individual store ads before paying a visit.
La Tapatia
Southern Highlands
This grocery store has a popular meat department -- worth a visit for the carne asada alone. The produce is also among the freshest of the Mexican grocery stores.
How to support: Come by on weekends for the best specials.
El Tricolor
Northwest
Stop by for Hispanic pastries and coffee at this quiet family-owned bakery that almost goes unnoticed in a strip mall dominated by the Smart & Final next door.
How to support: The bakery isn't big on social media. Just wander in and browse the latest items fresh out of the oven.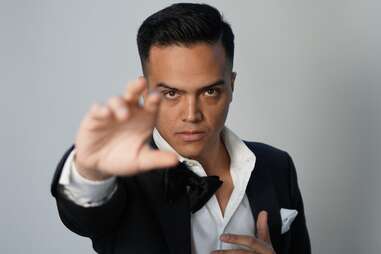 Entertainment and recreation
For a town that welcomes so much diversity in its tourist population, Las Vegas has a noticeable under-representation of Spanish-speaking entertainment in the tourist corridor. "There's an enormous difference and gap between the Hispanic community and what tourists get to see and experience on the Strip," says performer Santiago Michel. "Even the local Hispanics -- many that work on the Strip don't even visit the Strip unless they have family from out of town."
With that in mind, Latino entertainment can range from busy nightclubs to family-oriented movies and parks. For the greatest diversity, look beyond the bright lights of the Strip and Downtown.
Craig Ranch Regional Park
North Las Vegas
Formerly a golf course, the 170-acre park is a vibrant gathering place, full of green grass for baseball parks, volleyball courts, a skatepark, three dog parks, an amphitheater, and much more. You can even reserve a plot of land in the community garden. Keep in mind, some amenities are closed during the pandemic, so check in for the latest information.
How to support: Some on-site facilities can be reserved in advance
Cuba Café
Eastside
This Cuban restaurant has live entertainment on Saturdays with salsa and merengue dancing. Happy hour runs 3-6pm with 2-for-1 mojitos.
How to support: Contact the restaurant to book a reservation or order food for delivery.
East Las Vegas Center
East Las Vegas
The clean and comfortable community center has ballrooms, classrooms, and event spaces for visitors of all ages. In the past, it was a busy place for after-school activities. Lately, it's been used as a donation distribution center.
How to support: Participate in the latest community center events.

Embassy
Off the Strip
Between the Strip and Chinatown, Embassy nightclub caters to a Hispanic clientele with a focus on Latin dance music. It remains closed (like most clubs in Vegas), but is ready to pick back up with drinks, dancing, and hookah.
How to support: Stay up to date with any reopening plans (the entrance fee usually includes a free drink)
Great Las Vegas Taco Festival
North Las Vegas
The Great Las Vegas Taco Festival is scheduled for October 24-25, although no tickets are currently available, suggesting this year's edition is tentatively pushed back until 2021. The event at Craig Ranch Regional Park traditionally follows a loose Dia de los Muertos theme with food trucks and restaurants serving up their best tacos along with a margarita bar, live music, and more.
How to support: Follow Project Taco on Facebook and Instagram for the latest updates.
Havana Grill
East Valley
This charming, authentic Cuban restaurant is known for live music as much as the slow-roasted pork. Grab a seat on the patio for maximum social distancing.
How to support: Make a reservation on Fridays and Saturdays to enjoy live performances.
La Hacienda
North Las Vegas
Think of La Hacienda as a nightclub and sports bar rolled up in one. The menu of casual Mexican food is deep, but it's the late-night social scene that attracts patrons.
How to support: Spend money on food, bottle service, and hookah (with a door charge likely).
La Jolla
Eastside
The high energy restaurant, nightclub, and hookah lounge is back open after closing during the onset of the pandemic. La Jolla is known for DJs mixing in Latin, Banda, Tropical, and even Cuban Salsa.
How to support: Stop by and spend money Wednesday-Sunday (or contribute to the GoFundMe page for employee assistance).
Maya Cinemas
North Las Vegas
Maya Cinemas is a small family-owned movie theater chain specifically geared toward the Latino community. Its North Las Vegas location is the only one outside California. First-run films are presented with the latest technology and comfortable recliner seats with trays for food.
How to support: Reserve tickets in advance.
Santiago Michel
The Strip/Valleywide
Santiago Michel is a mentalist who blends mind-reading with improv and comedy before Spanish-speaking audiences. Based in Las Vegas at least 45 weeks a year, he's enjoyed extended runs at the Paris and Planet Hollywood casinos -- and hopes to be back onstage once the coronavirus outbreak dies down.
How to support: Contact directly for private bookings.
Tacos & Tamales Festival
West Valley
The annual event grew so big, it was moved from Sunset Park on the eastside to Desert Breeze Park. However, due to the pandemic, it's been postponed until 2021. The festival features food vendors, carnival rides, mariachi bands, and lucha libre pro wrestling.
How to support: Buy tickets when they go on sale
Sign up here for our daily Vegas email and be the first to get all the food/drink/fun in town.
Rob Kachelriess has been writing about Las Vegas in Thrillist for more than six years. His work has also appeared in Travel + Leisure, Trivago Magazine, Sophisticated Living, Modern Luxury, Leafly, Las Vegas Magazine, and other publications. Follow him on Twitter @rkachelriess.