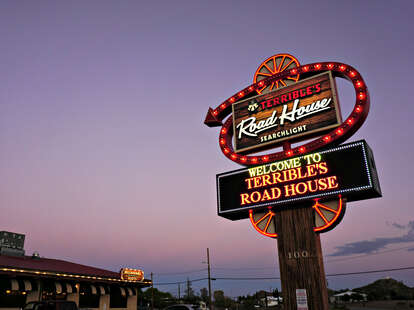 There's more to Las Vegas than just the Strip and Fremont Street: some of the oldest casinos in Southern Nevada can be found in areas where there are barely any tourists at all. Some of these spots are filled with gritty remnants of Vegas history, like Bonnie and Clyde's getaway car, while others just offer views of some truly delirious wallpaper, and a killer deal or two -- like super-amazing ribs, dirt-cheap accommodations, and $1 beers -- that are well worth a wander off the beaten path.
Henderson
This splash of neon yellow in the middle of Water St -- marked by a tall, thin marquee with a bright yellow star on top -- might be a surprising must-try, but the casino's restaurant, Mary's Diner, really is totally worth exploring. It's straight out of the '50s, with prices that seem similarly of the era ($2.50 for a breakfast special with two eggs, bacon, hash browns, and toast! $5.50 shrimp cocktail!). Plus there's a classic video arcade, as in the non-gambling kind -- stick with those, and you're likely to lose a lot less money in the long run. Opened in 1961, this spot was originally known as The Wheel, but closed quickly before Paul Perry and Joe Crowley re-opened it the following year, and brought Bill Boyd (of Boyd Gaming Corporation) on as their attorney, who eventually took control of the property.
Henderson
Opened in 1931, Railroad Pass was the fourth casino in Nevada history to be given a gaming license, and it's the oldest casino in the entire country that's still active. Originally built for the workers at the Hoover Dam, it remains the closest casino to the populated area of Boulder City -- one of the few cities in Nevada where gambling is technically illegal. This place is a favorite of locals and travelers, and for good reason -- the $12 prime rib dinner is locally famous, and the $15 buffet includes all-you-can-eat king crab legs. Most intriguingly, there's a safe surrounded by about a foot of concrete that was once used to pay the Union Pacific Railroad. Nobody has the key or the combination. Not any of the former owners. Nobody. So, who knows what's inside?
North Las Vegas
Opened in 1964 by two guys named Jerry (which Jerry's name is on the marquee is anyone's guess), Jerry's Nugget was first known as the Town House Bar, but expanded in size with the purchase of the neighboring Bonanza Club in 1968. The casino, which is located across the street from two strip clubs, is known among pro gamblers for its playing cards from the 1970s. Due to a chemical finish that's now illegal and an extra-thin paper stock, these decks were perfect for card sharks and sleight-of-hand artists. They were only sold in the gift shop here, but due to their extraordinary feel, they remained hot items on the second-hand market before disappearing altogether about 15 years ago. However, while you can't purchase terrifying, chemically treated playing cards here, you can still score treats from the truly excellent bakery on the premises. If you need a wedding cake for under $300, or just want a good pie for $15, Uncle Angelo's Bakery makes this spot worth a visit, despite the fact that this part of town isn't exactly as nice as it used to be.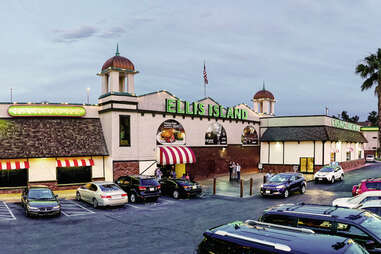 Off the Strip
This casino comes with its own excellent brewery, offering a light, amber, IPA, weiss, stout, and seasonal specials. There's even house-brewed root beer, if you're one of the brave souls who avoids alcohol in a city like Vegas. Not only are the beers here great, they're also cheap as hell -- just $2.25 for a 20oz imperial pint, any time of day. The dinner is an equally solid bet. It's worth showing up just to snack on some of the best ribs in Vegas, and with a player's card, you can also get the 10oz top sirloin steak dinner with a soup or salad, green beans, and a potato for $8 (with $5 of slot play). While the decor could use an upgrade -- this place has been open since 1967, and doesn't appear to have changed much since -- this casino is just a few blocks away from the Strip, and has an understandably loyal following of local customers. It's also a top stop for karaoke lovers, so, you know -- invite your friends/be forewarned, depending on how you feel about that.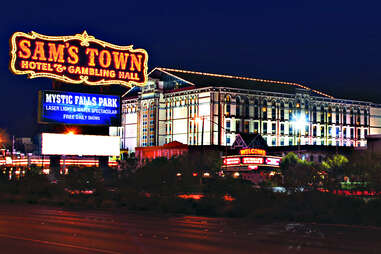 East Valley
Definitely your best bet among the casinos on Boulder Highway -- not to mention a fun piece of living Nevada history -- this spot was the first casino to open on Boulder Highway, and was often credited as one of the first to target locals. The property opened in 1979 with a country & western theme and dance hall that was a big hit due to the 1980 release of Urban Cowboy, and the space has expanded dramatically over the years. Stop by to check out Mystic Falls, an indoor park that includes a waterfall, trees, and a laser light show five times a day, and swing by The Angry Butcher, a new steakhouse that features a 4-6pm happy hour special including prime rib dip sliders for $9 and house-made corn dogs for $8. And in case you were wondering, yes, "Sam's Town" by The Killers was named after this joint -- the casino will host the album's 10th anniversary celebration this year.
On the Strip
Hidden in the shadow of the neighboring Stratosphere tower, this tiny casino has been around since 1957 as a motel under a number of different names, including the Sunshine. It was dubbed the Aztec Inn when gambling was added in 1991, though there's been some trouble along the way: at one point, the Stratosphere tried to seize the parking lot in the name of eminent domain, and in 2000, a car crashed into the building, destroying the casino and tossing slot machines and coins across the floor. No one was seriously harmed, however, and the casino was back open within months. The most remarkable aspect of the Aztec Inn is that you can book a furnished studio apartment for 28 days for a mere $400 (and a $200 deposit), utilities and basic cable included… although we're not sure when the carpet was last changed.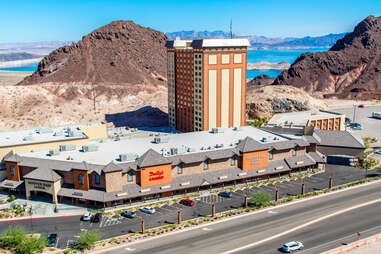 Boulder City
This property -- which features a gorgeous view overlooking Lake Mead -- was originally a mining parcel that was somehow overlooked when the federal government moved in to develop the Lake Mead Recreational Area and Hoover Dam. The land was known as Sullivan's Gulch, and eventually became the Gold Strike Inn, the casino opening in 1958. At one point, the space was renamed Fort Lucinda, and had a frontier ghost town theme, before the Gold Strike name made its comeback. The resort was destroyed by a fire in 1998, reopened as the Hacienda, and made a comeback just last year as the Hoover Dam Lodge, due to being just a few miles away from you-know-where. The first casino you'll come across after crossing the border from Arizona on US 93, this spot's worth a stop if you have a Nevada ID or driver's license. You can enjoy a discount at the nearby Bootleg Canyon zipline attraction.
Searchlight
Bud, Coors Light, and select shots are just a $1 at this charming spot that's been open since 1979 -- although its age is less apparent than you'd think, thanks to its new carpet and wallpaper. This cozy place, which features a central fireplace(?!), makes for a good pit stop if you're driving by on US 95 between Las Vegas and Laughlin or Lake Havasu. Long known as the Searchlight Nugget, the property was sold last year to JETT Gaming, and remodeled as Terrible's Road House. The former owner, Verlie Doing, who was a prominent figure in Searchlight, died about six months after the sale.
Primm
This casino opened in the late '70s, but the legend of Whiskey Pete goes back to the early part of the century. Whiskey Pete was allegedly a gas station owner who got into the bootlegging business, and whose grave was accidentally, ahem, discovered while a bridge was being built on the property. Where he's buried now is anyone's guess, but his namesake casino is near the California state line, which means this spot is your last chance for Nevada gas prices (and Starbucks) before heading into California. If you cross over to the other side of Interstate 15, you'll find the Lotto Store, which at literal steps from the state line is the closest place for people in Las Vegas to buy lottery tickets like Powerball (illegal in Nevada). You can check out the bullet-riddled car in which Bonnie & Clyde were killed in the lobby (morbid but worth a look), and it's worth booking a room here if you're seeing a show at the nearby Star of the Desert Arena.
North Las Vegas
This casino first opened in 1974 as Bunny's Bar, drawing service members from Nellis Air Force Base, and expanded under the Poker Palace moniker after adopting a castle theme. This casino really is geared strictly towards locals -- there's even a free bingo session for regulars on Tuesdays and Saturdays at 9am. If you're visiting Vegas and want a casino that resembles a king's residence, there's a little place called the Excalibur that you may prefer.
North Las Vegas
This relic from the old days of Las Vegas has managed to stick around in part due to its reputation as a low-rent location for boxing, concerts, and other events. It has its own 24-lane bowling alley, available at the extremely reasonable rate of $1 per game. Plus, one of the regular specials at its Hometown Kitchen is $5 all-you-can-eat popcorn shrimp and fries. However, in recent months, two people were shot and killed in the parking lot and one of their own security guards beat another employee to death before getting shot by police, so we'd recommend you probably drive past this one for now… unless you really, really love popcorn shrimp. Like, really love them.
Sign up here for our daily Vegas email and be the first to get all the food/drink/fun in town.
Rob Kachelriess has been writing for Thrillist for nearly three years. He doesn't gamble -- or bowl -- in North Las Vegas. Follow him on Twitter @rkachelriess.