Las Vegas is all about enthusiasm, whether it's pumping your fist at a nightclub or arguing in a sports bar about why the Golden Knights is a lousy name for a hockey team. In fact, Las Vegans are generally a pretty passionate bunch... and there are more than a few things to get all worked up about.
Getting away from the Strip
Some locals are familiar with every new club and restaurant on the Strip, while others won't hesitate to say "I never go there!" Either way, anyone who lives here knows there's much more to Vegas than the tourist corridor, and will waste no time planning a trip to Red Rock Canyon, Mount Charleston, Valley of Fire, or Lake Mead to enjoy the natural beauty of Southern Nevada... and escape the neon glow of Sin City.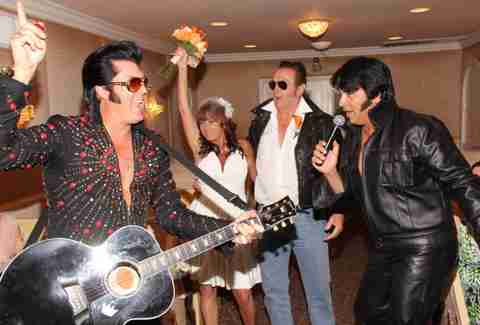 Elvis
Las Vegas has a weird fixation with Elvis Presley. Maybe it's because he set a record for sold-out shows at the International Hotel… which became the Hilton…. which became the LVH…. which finally became the Westgate… but still has a statue of Elvis out front. The singer's image is synonymous with Vegas. Weirdly, we don't have time for the young, cool Elvis, but we eat up the fat, aging, unhealthy, late-'70s version who comes packaged for your convenience in a jumpsuit. But the true legacy of Elvis isn't found in the countless impersonators up and down the Strip (although they are actually becoming less common these days). It's found every time Britney Spears, Jennifer Lopez, or Rod Stewart takes the stage. Elvis set the standard for how to increase your brand value with long-running casino residencies. Why go on tour when you can just have all your fans come to you?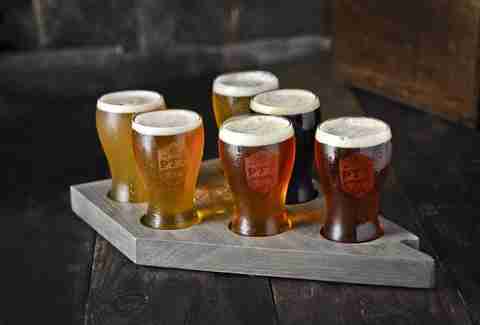 Beer
You thought wine lovers were pretentious? Las Vegas is full of beer snobs, and with good reason. The craft beer industry is booming right now, and local breweries like Tenaya Creek, Bad Beat, and Joseph James are leading the pack. It's gotten to the point where any hot restaurant on the Strip needs to have at least a few locally brewed beers on draft. Which ones are the best? That's a fierce debate. Maybe you can decide for yourself when Motley Brews' Downtown Brew Festival returns this fall to offer a couple hundred tastings.      
Parking
One of the great things about Las Vegas is that all of the big hotels on the Strip have free parking… except that changed earlier this year, when MGM Resorts International made the garages at most of its properties on the Strip pay-to-park. That includes places like the Mirage, MGM Grand, Luxor, ARIA, and Mandalay Bay. Circus Circus is exempt because sometimes it feels like Circus Circus should pay you to be there -- not the other way around. You can skip the charge if you have a local ID (at least until the end of the year). But expect a wave of fury if and when that policy expires.
Electronic dance music
There is no city in the United States more obsessed with DJs than Las Vegas. Their faces are on billboards, in magazines, and on stage at the top nightclubs in the biggest resorts on the Strip. It's almost like they're musicians or something. The biggest names earn crazy amounts of money, and more than a few celebrities are getting in on the act to make a few extra bucks. Some fans are so passionate, they'll wedge themselves against the front of the stage on a packed, sweaty dance floor and nod their head to every electro-beat. They'll also pack the Motor Speedway for the Electronic Daisy Carnival each summer, which is the biggest EDM event in country, with nearly 400,000 in attendance over a three-day weekend. On the flip side, there are people who hate this kind of music with just as much fervor, and long for the days when every kid dreamed of playing guitar... instead of playing a laptop.  
The name of the new NHL team
Las Vegas is finally going to have a major league team. After a massive publicity campaign that generated an impressive show of public support (and season ticket commitments), the NHL awarded an expansion team to Sin City. We already know they'll play in the brand new T-Mobile Arena, but one burning questions remains: what will the team be called? Team owner Bill Foley had discussed the Black Knights as a possibility, which most people found weird. Then a name with "hawk" in it was floated, which was just confusing, since the league already has the Chicago Blackhawks. But now, the whole issue has been settled. Almost. Maybe. Foley has gone back to his original idea, saying the team will be called the Desert, Golden, or Silver Knights. Whatever the name, the debate over it has stirred up fierce discussions in sports bars across Las Vegas. And we haven't even started to think about the logo yet.
Gambling
Not everyone in Las Vegas gambles, but it's a big reason why a lot of people come here -- either to live or visit. However, the casino business is the top industry in the state of Nevada, and everything seems to revolve around it. Every penny counts, and that's why you'll not only see slot machines in fancy hotel lobbies, but also in supermarkets, convenience stores, and the airport. The people who love to gamble really love to gamble. That's why they'll do it pretty much anytime and anyplace -- often for hours at a time.
Old Vegas vs. New Vegas
You hear it a lot. People say Vegas was better when it was run by the mob. But is that really true? Maybe; the legend of Vegas was built on shady casino operators, gangsters, and a reputation for being a place where rules didn't apply. We now live in a new era where most big casinos are part of publicly traded corporate empires and there is no margin for error. A prime example: The Cromwell hotel was originally going to be called the Gansevoort, until Caesars Entertainment cut ties with the original investors when it was revealed they might be connected to the Russian mob. While Vegas celebrates its criminal past as part of its history, we're living in a new, squeaky-clean era. Regardless, money and profits rule everything… so maybe things haven't really changed that much after all.
Waiting
We're busy, we have things to do, and we're spoiled by convenience. Compared to other hot destinations around the country, Las Vegas is ridiculously convenient: the airport is right next to the Strip, and while the public transportation system isn't perfect, it's pretty easy to get yourself around. That's why even the slightest traffic delay can get us frustrated, and we have no patience for slow drivers with California license plates who aren't quite sure where to turn. And waiting outside a club? That's for out-of-towners. Let me talk to the doorman.  
The new football stadium
We couldn't be happy with just a hockey team. Now that Pandora's box has been opened, we begged for a football team as well. Investors (including Sheldon Adelson's Sands Corporation) and lawmakers are in the process of fast-tracking a new NFL-worthy stadium to attract the Oakland Raiders. Sports fans are giddy just thinking about the idea, but others are worried about the cost. The plan is to increase the hotel room tax and make out-of-towners pay for it… which sounds good in theory, but between the parking charges, resort fees, and new taxes, those tourists may decide to not visit as frequently as they used to.
Smut peddlers
They're the people hired to hand out cards on the Strip with ads for strip clubs and escort services, and they don't like to take no for an answer. The only things more infuriating than their persistence is the trash they leave behind.
Homegrown rock bands
Elvis Presley and Frank Sinatra may be synonymous with Las Vegas, but they're outsiders. The Killers, Imagine Dragons, and Panic! at the Disco are actually from Las Vegas and have loyal fans who may or may not have been there from the beginning. Regardless, these bands appreciate their Vegas roots, returning to headline music festivals and even film the occasional music video here. The Killers were also the first act to headline the new T-Mobile Arena and even named one of their albums after a locals-oriented casino.   
Implosions
Until that hockey team shows up, watching old casinos get demolished will continue to be our favorite spectator sport. There's nothing quite like watching an implosion in person, and everyone makes a point to do it at least once. Vegas is so busy, it generally doesn't have time to appreciate its own history. So once a casino gets a little too old, it needs to be completely destroyed to clear room for a brand-new, shiny replacement. In recent years, implosions have been done in the middle of the night as a way to minimize crowds and gawkers, but people still make a point to set their alarm clocks and check 'em out. The most recent example was the Riviera hotel; its towers were actually brought down in two separate demolitions -- spaced weeks apart -- over the summer.
The school district
Most of Southern Nevada falls under the Clark County School District -- making it the fifth-largest school district in the nation. This means every problem and policy in the classroom is under one giant umbrella of bureaucracy and (mis-)management. Public meetings with parents can get pretty contentious, which is among the reasons the school district is currently taking steps to break up into smaller precincts. It's a step in the right direction, and something every parent of a public school student would love to talk with you about.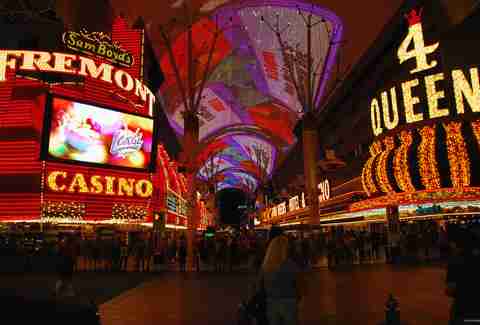 The merits of Downtown
The City of Las Vegas has led a movement to make Downtown a happy place once again. Overall, the area's resurgence has been a success, with an influx of new bars, restaurants, hotels, condos, business, tech startups, and a healthy dose of beautification here and there -- not to mention cool events like the Life is Beautiful festival. The most dramatic move was luring online retail giant Zappos to Downtown, where their headquarters sits inside the old City Hall building. The company and its CEO Tony Hsieh have made a point to be fully involved and have recycled hundreds of millions of dollars back into the community. Their influence has led to the formation of the Downtown Project, a group of business owners and investors who've transformed the area. Some argue their influence is too strong (with a tight grip on the tenants at the Downtown Container Park, for example), while others say we can finally take pride in Downtown again -- and show that it's about much more than Fremont Street.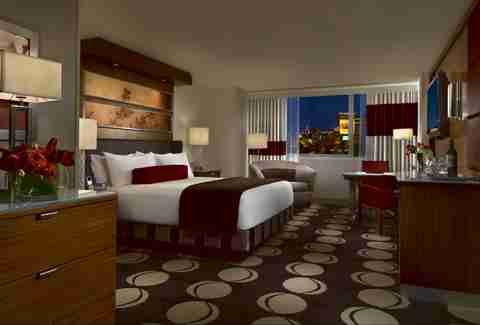 Resort fees
Sometimes you think you've scored a great deal when booking your hotel room online -- until you show up at the check-in desk and are handed an extra charge of about 20-30 bucks. That's on top of the original price, taxes, doggie fee, and that $20 you're hoping to slip over the counter for an upgrade. It's called a "resort fee," and it's supposed to cover stuff like the workout room, Wi-Fi, and the air your breathe. You know… all the things the regular hotel charge used to cover in one price. So call it for what it is: a surprise fee that's just one of the ways Las Vegas hotels are trying to screw its guests. Even though it affects tourists the most, locals resent it too -- since it makes our town look bad -- and maybe, just maybe, we like to enjoy a staycation on the Strip every now and then too.
Sign up here for our daily Vegas email and be the first to get all the food/drink/fun in town.