Photo courtesy of Queen Las Vegas
Photo courtesy of Queen Las Vegas
Between Liberace and Siegfried & Roy, Las Vegas has never been shy about welcoming gay entertainers to its Strip showrooms. Even drag shows date back to the early 1950s, when Lynne Carter had a regular gig at the El Cortez, setting the stage for Frank Marino, RuPaul's Drag Race Live, and other resident performers. However, gay culture and nightlife have long been relegated to the outskirts of the Strip, with bars and other businesses in weathered shopping plazas like Commercial Center and a district dubbed the Fruit Loop near the airport.
"When I came to Vegas in 2008, there wasn't anything big for gay representation on the Strip," Q Hospitality Group CEO Eduardo Cordova says. "Everything was on the sides and in dark alleys … We have a beautiful community, but we didn't have something centrally located."
Cordova is hoping that will change with Queen, which operates on a stretch of Las Vegas Boulevard where the Strip merges with Downtown. The venue promises to be a bar, restaurant, nightclub, and hotel in one, following a slow-motion takeover of the Thunderbird, a retro boutique motor lodge that dates back to 1948.
Photo courtesy of Queen Las Vegas
Photo courtesy of Queen Las Vegas
Judging by the drag brunches that draw packed crowds on weekends, the concept is already off to a good start. Tickets include an entree, such as a chicken and waffle sandwich, avocado toast with beet hummus, or red salsa chilaquiles, and bottomless mimosas, while drag performers work the room and lip-sync hits by Taylor Swift, Whitney Houston, and other entertainment icons. Bring plenty of singles. Tipping is part of the fun. So is singing, dancing, snapping hand fans, and interacting with Kimora Blac, the raunchy host who keeps the show moving.
Queen kicks off brunch at noon on weekends in the former Thunderbird Lounge, now reimagined as a lively, colorful space with rainbow flags, pink lights, and an illuminated corridor leading to a world of endless possibilities—and a digital photo station. A DJ works the room from a booth that resembles the bottom half of a disco ball—a decoration worthy of any queendom.
On the other side of that hallway, a nightclub welcomes the general public on Friday and Saturday nights with 30-foot-tall ceilings, 50,000 LED lights, lasers, CO2 confetti cannons, and a stripper pole for good measure. The music leans toward Top-40 and pop remixes with every beat felt over a booming sound system. The club is available the rest of the week for private bookings and special events, although Cordova would eventually like to have a residency show—"ideally something gay that will feed into what I'm doing here," he says.
The Thunderbird's wedding chapel is being split up. Part of it will be the first and only gay wedding chapel in Las Vegas, with Lance Bass, a certified officiant, already offering his celebrity services, while the rest will be reconfigured as a lounge for Latin music.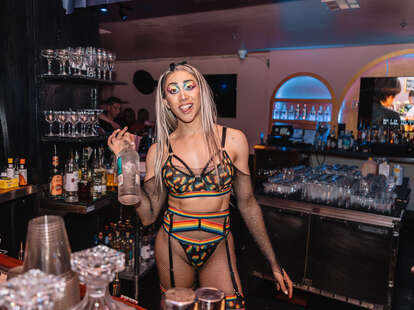 Photo courtesy of Queen Las Vegas
Photo courtesy of Queen Las Vegas
This is just the beginning of what Corvoda hopes will be a new definitive LGBTQ+ neighborhood in the spirit of West Hollywood and Chicago's BoysTown. He's been in contact with the mayor and other city officials to encourage business incentives and development–plus a rainbow-colored crosswalk across Las Vegas Boulevard. It's a gritty part of Vegas, known for bail bond services, adult shops, old motels, and vintage wedding chapels. Yet it's ripe for a resurgence with a location sandwiched between other up-and-coming neighborhoods like the Gateway District, Huntridge, and Beverly Green.
"I love a challenge, Cordova says, describing the area as "a little gem that could be polished … We're already seeing a change in the demographic. We're excited."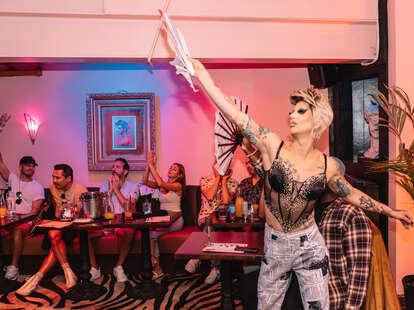 Photo courtesy of Queen Las Vegas
Photo courtesy of Queen Las Vegas
The early success of Queen reflects a growing acceptance of LGBTQ+ culture in Las Vegas. Krave, once the gay community's most high-profile nightclub, survived at Planet Hollywood for eight years—technically on the Strip, but around the corner with an entrance on Harmon Avenue—and fizzled out after moving Downtown in 2013. Since then, the Las Vegas Pride Festival & Parade has gradually grown in stature, drag shows are thriving in tourist spots like the Neonopolis and Treasure Island, and The Center (formerly the Gay & Lesbian Community Center of Southern Nevada) renamed itself while expanding services. Temptation Sundays, a concept led by Cordova, just celebrated 13 years at the Luxor as the longest-running LGBTQ+ pool party in Vegas. The Sahara introduced a similar concept, Elevate, for Saturdays last year.
Before Queen came along, Cordova struck gold with the Garden, giving the gay community a cocktail lounge in the booming Downtown Arts District. Opening in a difficult time during the pandemic in 2020, the venue was unapologetic about its identity yet blended effortlessly with its surroundings while drawing a diverse audience.
"We've gotten a lot more traffic because the area itself has become busier," Managing Partner Edith Castillo says, citing a synergistic effect between new developments like the English Hotel and events like First Friday. "Yes, we are an LGBTQ+ bar and lounge, but everyone that comes in here feels welcome, whether they're part of the community or just happen to stumble upon us."
Castillo helped open the Garden, left the operation, and is now back in the fold, leading efforts to update the weekend brunch menu, shift the dinner into a tapas format, and bring in new entertainment, from an expanded schedule of drag performances to a growing lineup of international DJs. As the Garden operates under new management, Cordova remains a now-silent majority owner while negotiating a buyout. Regardless of how things turn out, Queen "is my baby," he says.
Castillo believes there's room for both the Garden and Queen—as well as new businesses to come—in the local LGBTQ+ scene. "The more places that we have to offer the community, the better," she says. "I think it's a win-win for everyone."
Photo courtesy of Queen Las Vegas
Photo courtesy of Queen Las Vegas
Queen is off to a rousing start, but some challenges have emerged along the way. An early September grand opening was delayed due to equipment damage during a rainstorm, and a dedicated parking lot across the street is still in development after Cordova was hoping to have it ready by Las Vegas Pride Month in October. Guests are currently welcome to park in the hotel lot or next door at the Viva Las Vegas wedding chapel.
In the months ahead, Queen will develop a series of themed hotel suites at the Thunderbird with plans to rebrand the entire hotel within two years. Queen is now open daily until 5 am, and Cordova plans to make it a 24-hour destination with 15 gaming machines in the bar once a license is finalized. Dinner follows a supper club format with sporadic pop-up atmosphere performances between 8 and 10 pm.
Expect to see more special events and themed evenings. Cordova brought in national drag act Fantasia Royale Gaga as a resident performer, stealing the show during the weekend brunch and headlining Girls Nights on Mondays with a drag king and Trans Nights on Thursdays. Kataluna Enriquez, the first trans woman crowned Miss Nevada in 2021, will also make appearances.
Cordova has a grand vision for Queen, with great things to come as other LGBTQ-friendly businesses emerge around it. "I just love having that sense of community," he says, describing a neighborhood where, "you walk your dog, bring your mom. It's not so dark and hidden."
Rob Kachelriess
is a full-time freelance writer who covers travel, dining, entertainment, and other fun stuff for Thrillist. He's based in Las Vegas but enjoys exploring destinations throughout the world, especially in the Southwest United States. Otherwise, he's happy to hang out at home with his wife Mary and their family of doggies. Follow him on Twitter
@rkachelriess
.