All the Stereotypes You'll See in Las Vegas
Las Vegas is a place for new and exciting things -- although we often see the same people over and over... just with slightly different faces. We call 'em stereotypes, and chances are good you'll come across some of them on your next visit to Sin City... or maybe be one yourself.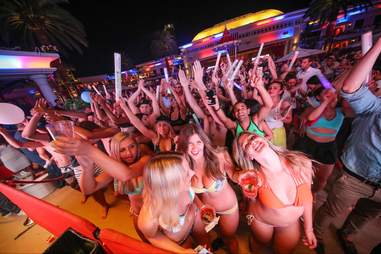 Encore Beach Club
California Weekender
They can't behave themselves, and they sure as hell can't drive the speed limit. We call them Californians. They consider Vegas to be an LA suburb and come here to party on the weekends. They love the dayclubs and hate driving back on Sundays -- when the traffic on the I-15 to SoCal really is the worst.
The Hustler
They come in a variety of forms. Sometimes they're on the sidewalk handing out cards advertising strip clubs or "women to your room." Maybe it's a sweet girl at the mall trying her hardest to give away a sample of cologne. Or it could be that dude in the casino lobby handing out passes to a nightclub. Don't forget about the street performers -- dressed up as Spider-Man, a showgirl, or the snowman from Frozen -- eager to pose for a photo. Each one of them is working hard to give you something. Maybe for free? Maybe not.
Wynn/Barbara Kraft
The Newlywed Couple
Yes, Vegas is the wedding capital of the world, and with all the ceremonies going on, it's hard to go 10 minutes without seeing a happy couple who just tied the knot. At least... we assume they're happy. Things may change after they see their hotel bill. For now, though, they're marching through a casino as the bride tries her best to keep her gown from dragging on the ground.
The Novice Gambler
This person will start at the Ellen DeGeneres slot machine and then work up enough courage to play a few hands at blackjack. Then it's time for something new. Perhaps craps? Perhaps baccarat? Perhaps a trip back to the Ellen Degeneres slot machine? They swore they would only spend $40 as "play money," but lost it quickly and are willing to put up with the ridiculous withdrawal fee at the ATM to get some more cash.
Angry Doorman
This gent can be found at the entrance to a nightclub, strip club, dayclub, or anywhere else people are hoping to get rowdy and have a little bit of fun. He'll give you a dirty look, let you know your name isn't on the list, and deliver an uncomfortably aggressive frisk and pat down. He may also take too much time checking your girlfriend's purse. Tip him a $20.
The Loud Bachelorette Party
One of the top reasons that people come to Vegas is to be vulgar, dance, and slurp down alcoholic beverages from straws shaped in a passing resemblance of the male anatomy. Of course, we're talking about bachelorette parties. They're a friendly bunch, even a little quiet at first, while settling into their seats for the Chippendales or Thunder From Down Under. But as the night goes on, the drinks go down... and this crew gets rowdier and rowdier.   
The Old Couple
This husband and wife duo loves Vegas for the way Vegas was meant to be: that means spending hours at the slot machine -- far away from the non-smoking area -- while complaining about how those complimentary drinks don't come around as often as they used to. They enjoy a good show, as long as it doesn't cost too much and doesn't go too long, and are happy to skip all those fancy new restaurants for Buca di Beppo at the Excalibur or the Outback Steakhouse at Casino Royale.
The Frustrated Sports Better
Picked the Cleveland Indians.
The Food Snob
This person has tried every restaurant on the Strip -- and thinks they're all crap. He or she would rather tell you about the next hole-in-the-wall joint or food truck that's doing everything right. Of course, they're telling you this while in the bar of some restaurant on the Strip.
Brooklyn Bowl
The European Tourist
They love to visit Vegas because -- somehow -- they have a lot more vacation days to use up than we Americans. The European tourist can be easily spotted in sports bars (or sportsbooks) watching football... er, soccer... sorry, football. Irishmen with money to burn are regularly cageside at the MGM Grand or T-Mobile Arena to see Conor McGregor's next UFC title fight. However, these dudes aren't always good with modern technology -- especially cameras.
The American Tourist
Still standing in line at the Welcome to Fabulous Las Vegas sign.
The Downtown Hipster
You may find this fellow grumbling about how the Life is Beautiful festival has gotten "too corporate," and chugging a microbrew at the Griffin or checking out a band on the outdoor stage at Beauty Bar. He thinks Fremont East is getting a little too tourist-friendly these days (why does everyone bring their relatives to the Container Park?) and has been spending more time in the Arts District of late. Hey, we're not mad -- slurping down cocktails at the Velveteen Rabbit isn't the worst thing you can do.
The Bro Squad
This group of three to 12 dudes is ready to hit the clubs... and hit on women, usually not in the politest manner imaginable. They may need a little courage at first -- and it usually comes in the form of alcohol. Some will talk to every girl possible. Others will just stare from the sidelines while holding a bottle of beer to their chest. All of them will fist pump to the music at least once.
Convention Attendees
They can be quickly identified by the giant laminate hanging around their neck. If they're not racking up a huge bill at dinner on a corporate account, they're doing this whole thing wrong. All business by day, but on a mission to have fun at night -- no matter what it takes. This is Vegas, after all. These are the dudes who frequent Chinatown massage parlors 3am if they land on a "Plan Z" for wrapping up their night.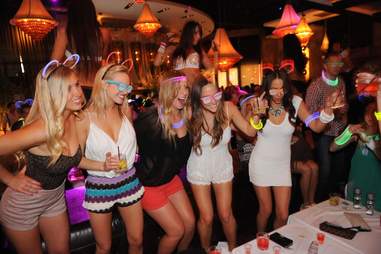 Lavo
The Club Girls
There's nothing a tube dress can't fix. These party girls are ready to hit the Strip for the time of their lives. They'll spend about six hours on hair and makeup in the hotel room and skip the line at the club 65% of the time. If they're stuck waiting outside for more than 10 minutes, something went wrong and it's time for some internal reflection... or maybe it's time to hang out with cuter friends? Regardless of how the night goes, each of these girls will leave the club the same way: with their shoes in hand, a buzz on the brain, and their phone full of a hundred new selfies.
The Poker Professional
This card shark is all business -- with sunglasses on and a baseball cap pulled down low to not give anything away. They'll think nothing of buying into the World Series of Poker or staying up late for hours at their favorite casino. Sometimes sleep isn't an option -- unless it's in the middle of the afternoon. If they did well, the money will be spent on hotel suites, booze, and other forms of fun that won't be discussed upon returning to the poker table.
The Anti-Strip Warrior
This person hikes at Red Red Canyon, skies on Mt. Charleston, boats at Lake Mead, and drinks craft beer at a neighborhood sports bar. They know how to have fun -- anywhere and everywhere that's not on the Strip.
Sign up here for our daily Vegas email and be the first to get all the food/drink/fun in town.
Rob Kachelriess is a former television news producer who has been writing about Las Vegas in Thrillist for more than three years. He was Managing Editor for Vegas2LA Magazine and his work has recently appeared in Vegas Seven and Vegas Magazine. He stays away from the casino ATMs. Follow him on Twitter @rkachelriess.