The 22 Commandments You Must Follow in Las Vegas
Courtesy of Las Vegas News Bureau
And lo, Mayor Goodman descended from Mount Charleston upon the sinners of Sin City with two tablets in hand to guide both locals and tourists on how to live their lives full of debauchery, excess, and whenever possible, free parking. The tablets read: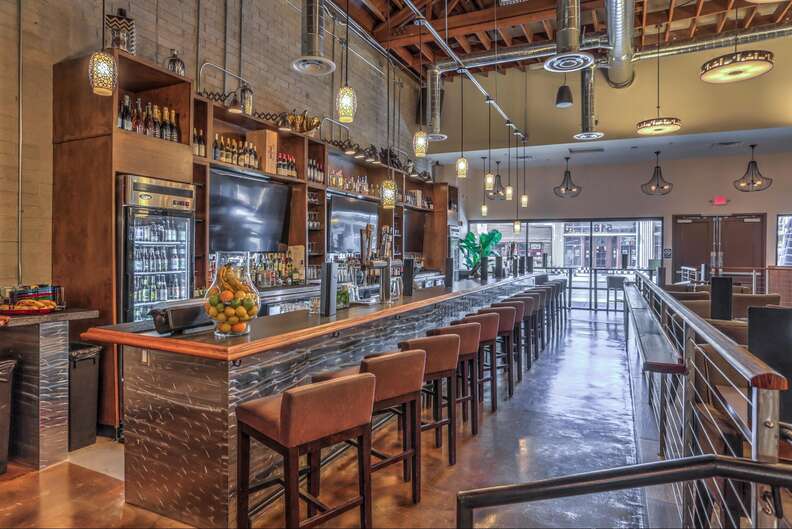 THOU SHALT...
1. Visit Downtown for the restaurants
While the Strip is packed with fine dining spots from big name celebrity chefs, Downtown has been slowly growing into a culinary destination in its own right in recent months and years. Restaurants like Carson Kitchen, Therapy, Itsy Bitsy, and PublicUs are proving that the area has more to offer than bars and street performers trying to shake you down for tips.

2. Learn to master the side streets along the Strip
You can spend an extra 15 minutes stuck in traffic on Las Vegas Boulevard, or you can make the most of Google Maps and figure out some alternative routes. That means taking Frank Sinatra Dr to the rear entrance of Caesars Palace, Koval Ln to the parking lots for The LINQ or the Venetian, and Dean Martin Dr to properties west of the Strip, like the Palms and the Rio.
3. Spend at least one night blowing an obscene amount of money on food
Let's face it: most of the best restaurants on the Strip are expensive. If you're in town to blow some money at the tables, you might as well do so on tables that hold great food and not feel (too) guilty about it. Therefore, hit up the tasting menus at places like Bazaar Meat and Restaurant Guy Savoy.
4. Slip $20 to the person behind the check-in desk
It's a virtual guarantee you'll get some sort of room upgrade. Don't feel shady about it. It happens all the time and there is nothing wrong with it. Just play it cool, and make sure you don't skimp on
tipping anyone else in Vegas
, either.
5. Appreciate Las Vegas history
Vegas always looks for what's new and what's next. That's why classic casinos
get demolished
without hesitation. But you can still check out some of the old-school marquees at the Neon Museum, or get schooled on Vegas history at places like the Mob Museum (to learn about gangsters) and the National Atomic Testing Museum (to learn about Nevada's old habit of setting off nuclear bombs in the desert).
6. Choose a brunch based on the Bloody Mary
There's a zillion great Bloody Marys in
Las Vegas
. (Well, OK, there's
at least 18
.) And if the Bloody Mary is good, you can bet that it's probably part of a great brunch. Places like Morels on the Strip and Hearthstone near Summerlin are good places to start your search.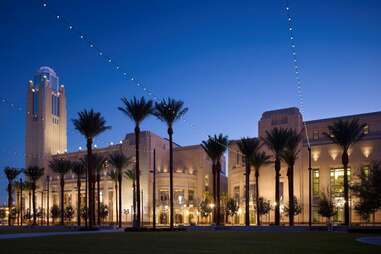 7. Get a little culture at the Smith Center
Broadway shows, the Las Vegas Philharmonic, and intimate jazz performances are just a few reasons to check out the venue that finally gave Las Vegas some elegance and culture when it opened a few years ago. Another reason is to marvel at the architecture of the coolest building in the Downtown area.
8. Attend Vegas Uncork'd
In a town full of food and wine festivals, Vegas Uncork'd is the king of them all. It's four days of culinary events
in the spring
, featuring huge names like Gordon Ramsay and Emeril Lagasse. In fact, the Grand Tasting by the pool at Caesars could be the best collection of bites you'll find in one place from the most respected restaurants in Vegas.
9. Drink water at the Electric Daisy Carnival
The biggest electronic dance music festival in the United States takes place every summer at the Motor Speedway, and makes a point to keep free water bottle-filling stations throughout the venue. Use them. It's important to stay hydrated if you've been dancing, if you've been out in the sun all day, or if you've been partaking in any, um, "supplements." We don't judge. Just drink lots of water.
10. View Las Vegas from the sky
The Las Vegas Strip offers one of the most iconic skylines in the world. And the neon glow looks even better from the sky. So check it out from a bar like Skyfall, at the top of the Delano hotel; on a helicopter ride that will hover near the top of the Stratosphere; or, if you are daring enough, on the VooDoo ZipLine that dangles between the two hotel towers of the Rio resort.
11. Pregame before hitting the club
It can be in a hotel room, at your apartment, or
inside a dive bar
. If you're making it a mission to drink, don't blow all your money on drinks at the club. Even if you avoid bottle service, a simple round of Jack & Cokes can add up a lot quicker than you realize.
THOU SHALT NOT...
12. Rely on a "VIP host" you met in a hotel lobby to get in the club
This also applies to hosts you'll come across on Facebook, Instagram, or any other social media site. They work on commission based on how many people turn in their passes or sign up for their guest list. It's really not much of a VIP hookup at all, and you could find yourself waiting outside the front door longer than expected.

13. Drive behind a car with California license plates
Unless you want to drive 10mph under the speed limit while stopping early at every red light.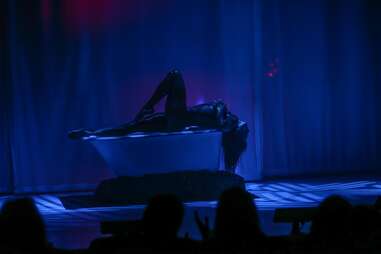 14. Try to tip the performers at topless shows
These dancers may be nude from the waist up, but they are not strippers. If you wave some singles around, you're probably getting kicked out.

15. Pay for sex
Prostitution is not legal in Vegas. (Repeat: prostitution is not legal in Las Vegas.) The brothels are at least an hour out of town, so if a girl in the hotel lobby suddenly seems interested in going up to your room, make sure she isn't looking for a parting gift at the end of the evening.
16. Take even money on blackjack
It's to the dealer's advantage. Not yours. You've been warned.

17. Hike alone in Red Rock Canyon
People get lost. People get sunstroke. People fall off ledges. If any of these things happen to you, it's better to have a buddy around who's able to get help. Don't rely on your cell phone, either. Even if the signal works, you probably forgot to charge the thing before leaving the house.
18. Take a cab
Cabbies have a reputation for being rude, having dirty cars, and finding new ways to overcharge customers -- like long hauling, which is taking a longer route than needed when the passenger is probably a tourist who's none the wiser. It's no wonder the Taxicab Authority is pissed off that Uber is finally around.

19. Book a Vegas vacation during the winter
Yeah, Vegas is in the middle of the desert. But it actually gets cold here... and even snows on occasion. Aside from New Year's Eve, it's by far the slowest time of year. Snowbirds are better off in Miami.
20. Bet all your money on a UFC fight
Even huge stars like Conor McGregor and Ronda Rousey have lost big fights in recent months. And while calling those upsets can bring in a huge hunk of cash, UFC is the most unpredictable sport to bet on. Anything can happen. Anyone can get knocked out... or choked out. You're probably better off investing that money on a cageside seat instead.

21. Use a motorized wheelchair to get around the Strip
Unless you are truly disabled. And no, having an extra 30lbs around your gut is not "disabled." Try walking. Your aversion to physical activity is how you picked up that extra weight in the first place.
22. Pay for bottle service
That's what the company expense card is for.
Sign up here for our daily Vegas email and be the first to get all the food/drink/fun in town.
Rob Kachelriess has never paid for sex... or bottle service. Follow him on Twitter @rkachelriess.