Election Season 2016 was stressful. So stressful, in fact, that we forgot exactly how lucky we are to live in Nevada. There's beauty to be found throughout our state, and it goes far beyond the Vegas lights. You just need to look around for it and then plan a road trip for this weekend to the spots on our list of beautiful places you probably don't know about. You deserve to escape to some natural beauty and relaxation. 
Henderson
Nearly 1,000ft above the Las Vegas Valley, Ascaya is a series of landscapes and estate plots carved into the mountainside, with the purpose of building about 300 homes within one square mile. Don't worry about it. You probably can't afford the land or the house. So start making friends and figure out a way to check out the rugged terrain, mountain air, and one-of-a-kind view.
Downtown Las Vegas
In addition to being the place to get some actual culture in Vegas (performances that range from The Book of Mormon to the Las Vegas Philharmonic), the Smith Center itself is a work of art, with a 17-story bell tower and Art Deco design that was inspired in part by the the elegance of the Hoover Dam. It's built with limestone to keep things cool in the desert heat and is also the first performing arts center of its size and scope to be Gold LEED certified. Got to keep those electricity bills down somehow.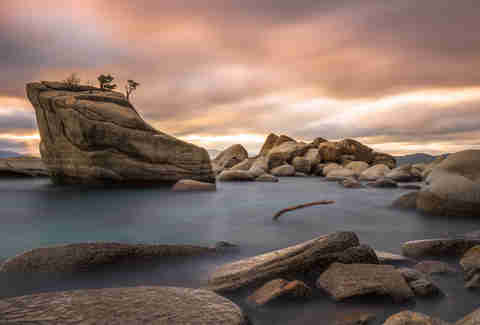 Bonsai Rock
East Lake Tahoe
This landmark is just south of Sand Harbor and is a photographer's dream: it creeps out of the water with just four petite trees on top (give or take) that will never grow large due to their barren location. It's a popular spot, and only about a five-minute walk from the main road, but isn't that easy to find. So just relax, ask for directions, and enjoy the journey. Don't forget your camera.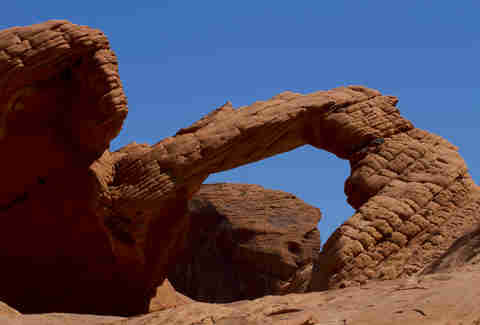 Mojave Desert
Dedicated in 1935, Valley of Fire is Nevada's oldest and largest state park. It was also a popular graffiti spot... about 3,000 years ago -- there are Native American petroglyphs that can still be seen today. The name comes from the bright-red sand dunes that appear to be on fire when hit by the sun at just the right angle, but the real beauty is in the red Aztec Sandstone formations that twist and bend into loops, arches, and "cubbyhole"-style caves.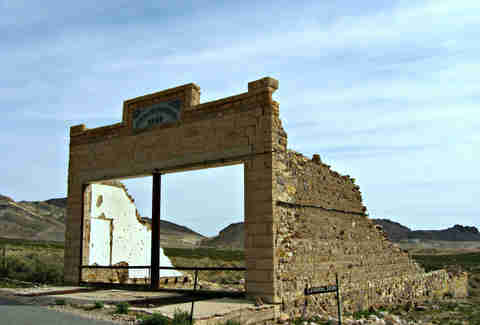 Nye County
In the early 20th century, Rhyolite was a booming mining town that was full of life, and in a sign of economic prosperity, even had its own stock exchange, and red light district. But that all changed when the market tanked in 1907: within five years the population dwindled and the electricity was shut off. More than a century later, you can still find remnants of the old town near the edge of Death Valley, including parts of the bank, jail, and train depot.
Groom Lake
Area 51
The truth is out there... and Groom Lake could be a good place to start. Just be careful of the government snipers who are guarding the top-secret area known as Area 51. Groom Lake serves as a landing strip for the Nellis Air Force Gunnery and Bombing Range and the nearest place for civilians to catch a view of it is more than 25 miles away from Tikaboo Peak. Otherwise, you may have to hop on board a UFO speeding by. Just try not to get probed.  
The Palazzo
The conservatory and botanical gardens at the Bellagio may be everyone's first choice for the best free date in Vegas, but you could be making a mistake by overlooking this more subtle art installation in the shopping area of the Palazzo. A team of gardeners spend a few hours each day maintaining hundreds of plants that are arranged in an exhibit that generally changes with the season under a massive skylight and just steps away from a two-story waterfall.
Fly Geyser
Washoe County
Originally a site for drilling oil in the 1960s, something went wrong along the way, causing minerals to dissolve and accumulate into a 5ft-high spectacle that you could say is both natural and man-made. It shoots out water that spills into dozens of surrounding pools, covering more than 70 acres. Unfortunately Fly Geyser is actually on private property and no official tours are offered, but you could get lucky if you ask around. We suggest you hit the local bar and start buying drinks.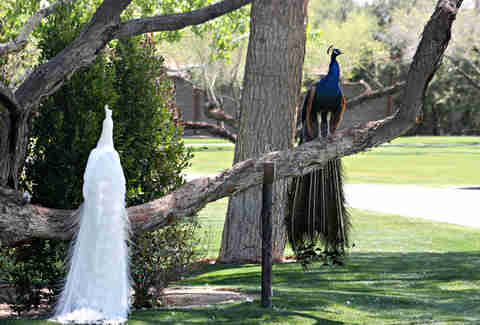 East Las Vegas Valley
Wayne Newton's former home is one of the best quick-escapes from the hustle and glowing neon of the Las Vegas Valley. The sprawling estate includes Arabian horses, exotic birds, penguins, a monkey, and Newton's old private jet, as well as -- if you can believe it -- acres of real grass. The museum also features some surprising artifacts like Franklin Roosevelt's desk, and a coffee mug from a Vietnam prisoner of war. Casa de Shenandoah recently re-opened to the public and is offering tours that will appeal far beyond those who got a kick out of Ferris Bueller lip-syncing "Danke Schoen."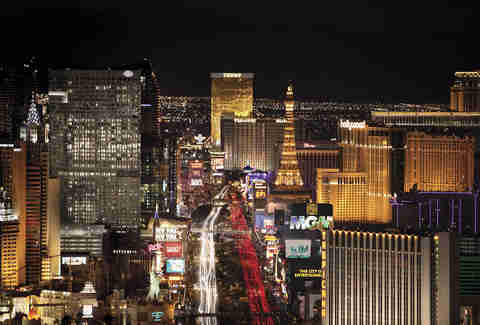 Las Vegas
It's no secret that the bright lights of the Vegas Strip are a marvel in of themselves and there's more than a few places to soak in the view. However, the best (and possibly most overlooked) spot to check it out may be from a suite at the Trump International. It's one of the tallest buildings in Vegas and is just off Las Vegas Blvd at the very spot where the road take a sharp turn, making you feel as if you are in the middle of the Strip, not just alongside it.  
Ely
They look like giant beehives, but these six odd 30ft-tall structures are actually charcoal ovens that were used back in the 1870s during a silver mining boom. They were left behind when the mines went bust, and at one point were used as hideouts for stagecoach bandits. Their existence later inspired the name for the surrounding Ward Charcoal Ovens State Historic Park.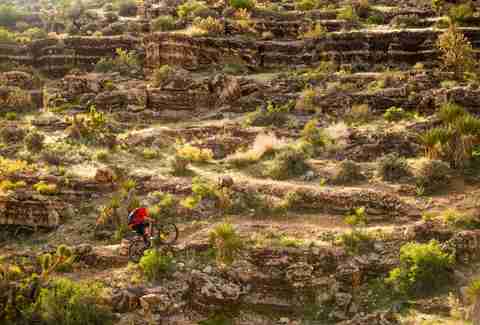 Red Rock National Conservation Area
A favorite of mountain bikers, the Cottonwood Valley Trails are believed to have been created, at least in part, by wild burros and today boast more than 120 miles of track in the Red Rock area west of Las Vegas. Pro tip: be careful about biking during the day, it gets even hotter than you might think.  
Searchlight
Head underground and you'll find the Techatticup Gold Mine, which many historians consider to be the oldest and richest gold mine in Southern Nevada. An urban legend says that $1 million in gold remains buried in the walls, but it would require $2 million in labor and machinery to extract it. However, if you step outside and walk through the Eldorado Canyon ghost town, you'll find a different kind of treasure, with old gas station pumps, vehicles, and a general store. Point your camera in any direction and you're sure to get a cool shot.  
Sign up here for our daily Vegas email and be the first to get all the food/drink/fun in town.
Rob Kachelriess really doesn't want to send a reporter out to cover your attempts to get closer to Groom Lake. Follow him on Twitter: @rkachelriess.