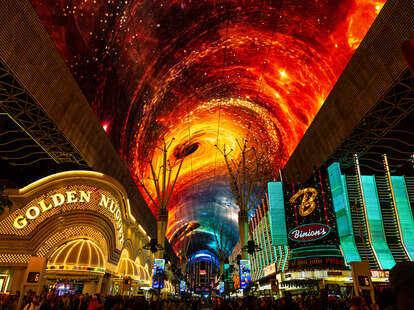 Photo courtesy of Fremont Street Experience
Photo courtesy of Fremont Street Experience
There are two kinds of Vegas tourists. Some are here for bottle service and dayclubs, and others are here to get weird. The first group rarely leaves the Strip, but the second group? Those are Fremont folk. Fremont Street is "old Vegas," or at least what people think of when they think of "old Vegas." It's historic but also somewhat seedy, and that's precisely its appeal. Even locals love Fremont for what it is—a no-frills neighborhood in downtown Las Vegas (DTLV) teeming with entertainment and dining options, bathed in blinking neon and the steady color-shifting glow of the world's largest LED screen. Where the Strip can be an unrelenting, merciless shake-down, Fremont is just fun. Bookmark this list for the next time you're looking for things to do on Fremont Street, and for more fun stuff to do anywhere in Vegas, check out our spring guide.
Most of the casino resorts on Fremont Street are charmingly dated, and while some have gone through extensive remodeling recently (Here's looking at you, El Cortez and Plaza.), only one was built from the ground up in the last 40 years. And that is Circa, Fremont's newest, flashiest, swankiest resort; a larger-than-life spectacle that could just as easily have been on the Strip but is very much at home on Fremont.
This 1.25-million-square-foot resort is home to the world's largest sportsbook, which stands three stories tall. The 78-million-pixel screen is also the largest screen in sportsbook history. In fact, prepare to have some severe screen envy at Circa. The rooftop Stadium Swim is a multi-tiered pool amphitheater with six heated pools and a 143-foot, 14-million-pixel screen bright enough for sports viewing in broad daylight, and the whole thing's open 365 days a year.
Circa's also the first-ever adults-only (21+) casino in Las Vegas history; the tallest hotel north of the Strip (at 35 stories); and is home to the longest indoor bar in Nevada (the MEGA BAR, 165-feet-long), which is all about the flair bartending. The iconic "Vegas Vickie" neon sign has been fully restored and is essentially the centerpiece and de facto mascot of the resort, which is also home to Barry's Prime, one of the best steakhouses in town, and Legacy Club, a gorgeous rooftop lounge that is randomly home to a stack of 1,000 ounces of gold proudly displayed in the main entry with an electronic ticker reporting the stack's current value (roughly around $2 million at the moment). There is much to see here, so maybe splurge for a stay in one of the 777 rooms available.
See live music every five feet, including a citywide music and art festival
They might not be state-of-the-art 5,000-seat theaters, but downtown Las Vegas has plenty of fun live music venues, many of which are on or near Fremont. If you want to keep things down and dirty, divey venues full of character(s), such as Backstage Bar & Billiards and Fremont Country Club (two venues, one building), bring in all kinds of entertainment, from death metal to reggae. The Usual Place is a relatively new spot on Maryland just south of Fremont in the same building as PublicUs; they host various events, like burlesque nights and weekly-ish underground house music parties.
Just a few blocks south of Fremont, the Downtown Las Vegas Events Center has become the premiere Las Vegas venue for EDM mini-festivals, outdoor concerts by major headlining acts, and watch parties for local sports and playoff games. Entry is free, but bottle service is available because this is still Vegas.
You can always catch a free concert on one of the three stages that are part of the Fremont Street Experience any night of the week, but the shows that are part of the Downtown Rocks! concert series are known for bringing in the big-name headliners of days past. The 2023 season hasn't been announced yet, but last year brought in the likes of Sebastian Bach, Soul Asylum, Slaughter, and Stone Temple Pilots.
Recently added to the roster of live music venues downtown, the famous Sand Dollar Lounge, a storied blues bar in Chinatown where some of the greatest blues legends of all time have played (think Muddy Waters and B.B. King), now has a second location at the Plaza Hotel. Expect more of the same rock and blues that make the original Sand Dollar location one of the best places in Vegas to see live music, plus salsa nights on Wednesdays.
And don't forget Life is Beautiful, the downtown Las Vegas music, art, and food festival that takes over 18 city blocks in DTLV (including a good stretch of Fremont). This year's headliners are The Killers, Kendrick Lamar, and Odesza. LIB is known for bringing in the biggest names in street art and the most-buzzed-about art collectives from all over the world to create new permanent murals and temporary installations throughout the festival's footprint, reshaping the look of DTLV with every passing year. With 2023 being its 10-year anniversary, this is a year not to miss.
Drink, dance, get weird
Not all Fremont bars were created equal. First, start (and/or end) your night at the Griffin, where there are several cozy stone fireplaces in the front half for your crew to gather around (it gets cold here at night), live music or DJs in the back half on weekends (could be anything from house and trap to '80s on wax and disco goth), and the drinks are always strong. Commonwealth is another excellent place for a few cocktails, whether in the swanky main room or on the lively rooftop. While it's a classy cocktail bar by day/early evening when the clock strikes 10 pm Thursdays through Saturdays, the DJs take over, and the place takes on a much different vibe with table reservations, bottle service, and a line down the block to get in.
Another favorite spot on Fremont is Corduroy, where they have mules on tap, and the walls are covered with '70s and '80s rock album art and psychedelic blacklight Lord of the Rings-tripping-balls murals. It's a vibe complete with a Lightbox room and other areas designed specifically for Instagram moments. It's a little bit vintage rock, a little bit hipster, and a little bit influencer. If tequila and mezcal are more your poison, hit up Lucky Day, where they have something going on almost every night of the week, whether it's an EDM night, Latin night, or trivia night. The décor alone is worth checking out.
If all you wanna do is dance, head over to Discopussy, where it's all house, techno, and bass all the time, and you can catch big names like Claude VonStroke and Chromeo in a venue that feels very Detroit-abandoned-warehouse-rave. There's also a "Disco Octopus" on the ceiling; take that, Omnia!
A slew of new nightclub-entertainment complexes also just opened in the last year. We All Scream is a "candy-colored clubland," sort of like the Museum of Ice Cream meets DTLV EDM nightclub, with a killer rooftop that also serves ice cream and candy-flavored cocktails. Cheapshot is a showroom and nightclub that's all about debauchery, whether it's the "Guilty Pleasures" disco, live piano tribute nights (which have featured tributes to David Bowie, ABBA, and Queen), genre- and gender-bending queer-forward dance parties, or "Spit or Swallow" trivia nights during which you will learn entirely too much about your friends.
700 Fremont was just reborn as Zai Las Vegas, a "new world fusion" restaurant concept with an open-air rooftop nightclub with influencer-bait food and cocktail presentations. Also recently reborn is Inspire Nightclub, a three-level venue that once housed a theater on the first floor until someone realized that was just a lot of non-revenue-generating square footage. It is now a nightclub with VIP tables, bottle service, and balcony cocktail lounges. There's also a second-floor wrap-around patio with more DJs.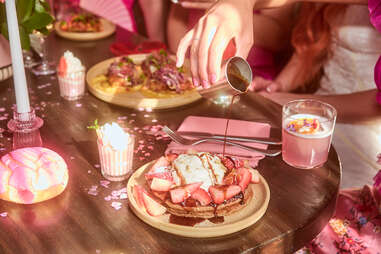 Brunch. Obviously.
On Saturdays we wear pink! The newest, and we're just going to put this out there, best brunch hotspot on the DTLV scene is located just off Fremont at the newly opened La Mona Rosa ("the pink monkey"). Think and drink pink at the new "Pink Brunch," which features rose- (or, rather, rosé) colored drinks, dishes, and décor every Saturday. Barbie girls and guests are encouraged to dress the part, and everyone receives free pink heart-shaped sunglasses and hand-held paper fans to complete their lewk. DJs turn up the heat with Latin house tracks fused with pop, disco, and new wave. It's a very fun time.
La Mona Rosa also serves non-pink brunch on Fridays and Saturdays, and the food and cocktails (whether brunch, lunch, or dinner) are really outstanding. This is elevated Mexican cuisine inspired by different states of Mexico that executive chefs Isidro Marquez-Castillo and Daniel Arias have connections with, from modern twists on family recipes to inventive interpretations of regional classics utilizing ingredients from a family farm. Put this place on your DTLV to-eat list immediately.
At Therapy, decadent items like the Lobster & Crab Grilled Cheese Sandwich and Red Velvet Waffle Sliders will cure your hangover woes while a DJ spins and bottomless mimosas flow. Unlimited sangria and well drinks are also options.
Downtown Terrace can't be beat with its bottomless mimosas served seven days a week from open to close, and the second-floor patio is a great perch for watching the crowd at Container Park. Peyote at Fergusons is another favorite downtown spot with a killer patio, killer cocktails, and killer food. The Challah French Toast on the brunch menu is a must and is available Friday through Sunday.
Farthest to the east, PublicUs is an outstanding neighborhood café that roasts its own coffee, bakes all its own breads and pastries, and serves breakfast and lunch items with a ninth island flair. Literally everything here is fantastic, but do not miss out on the pastries. The bread pudding is chef's kiss. Beer and wine are also available.
Go on a self-guided cocktail crawl down Fremont
Vegas drinking culture may be inextricably linked with alcoholic slushy machines and plastic yard glasses, and that's fair, but the days of only being able to get syrupy frozen margs with a highly sus ratio of ice to alcohol are long gone, even on Fremont Street, the Strip's even seedier sibling. Nowadays, cocktail connoisseurs can find a respectable beverage at any number of bars within stumbling distance of Fremont, which is perfect for a self-guided cocktail crawl if one wants to get Fremont-faced but make it classy.
Start at the Sand Dollar Lounge at the Plaza, the second location of the iconic Las Vegas blues bar. Not only is it one of the best spots in town to see live music, it's also one of the best craft cocktail bars in the city, and it isn't afraid to be a little playfully trashy. This is Fremont, after all! Exhibit A: The Purple Jesus, a "dumpster fire" of vodka, grape Kool-Aid syrup, and Miller High Life. They have good cocktails, too, to be clear.
While the Sand Dollar leans hard into the grungy rock-and-blues-and-Fremont of it all, the Legacy Club, perched high atop floor 60 of Circa, is all class. This elegant cocktail lounge, with one of the best rooftop bars in Las Vegas, serves exquisite cocktails with equally exquisite views. For a truly spectacular experience, book the Sunset Package. Watching the dramatic desert sunset from this vantage point should be on everyone's Vegas bucket list. The seasonal, themed parties are also a fantastic time.
After 17 years, the Downtown Cocktail Room, located on Las Vegas Boulevard just south of Fremont, is still going strong slinging drinks in one of the coolest, chillest, hippest downtown bars that, despite its longtime popularity and its proximity to Fremont, manages not to be overrun by obnoxious tourists or would-be influencers. It's just a cool spot to hang out. Mike Morey's Sip'n'Tip is a cozier, quieter bar hidden in the back.
Located just a block north of Fremont, the basement of the Mob Museum, known as The Underground, is both a working moonshine distillery and brewing exhibit and a Prohibition-themed cocktail bar, which has its own dedicated entrance, so you don't have to go to the museum itself to have a drink at the bar. Order the Bathtub Fizz or Underground Old Fashioned and enjoy the clever Prohibition-inspired presentations.
Over at Commonwealth, drinks in the main bar don't disappoint, but if you really want to up the craft cocktail ante, visit the super-secret cocktail hideaway that everyone knows about called the Laundry Room. Only 22 people are allowed inside at a time, so reserve your spot in advance to experience personal service from the "master cocktail craftsmen." No photos allowed!
Park on Fremont is a low-key oasis amid the Fremont madness with a lush back patio hideaway with Secret Garden vibes. A recent refresh has transformed this place into an upscale burger joint, but the cocktails still slap. Sip on a "Flower Garden" on the patio, or get your group to go in on a "Lemonade Stand" cocktail for four.
A little further down Fremont inside Container Park, Oak & Ivy is a top Las Vegas destination for cocktail enthusiasts and an excellent place for whiskey flights, barrel-aged cocktails, and classic and seasonal cocktails, with a great patio for people-watching. Also at Container Park, Bin 702 may be the stuff of local foodie legend for the Flamin' Hot Cheeto Grilled Cheese, but they are also a legitimately great cocktail bar, too. Try one of the Vegas-minded cocktails like the Glitter Gulch, A Nod to Tony, or Crazy Horse Too. Locals will get the references.
From here, keep going farther east down Fremont to………….
Vibe to the local Las Vegas community on East Fremont
Atomic Liquors, the infamous dive bar known for its craft beer selection, Anthony Bourdain-approved cocktails, and people watching atomic bomb tests from its roof in the 1950s, has been holding down this side of Fremont for decades and has been expanding its presence in DTLV in recent years. Here, a separate free-standing sister restaurant called Kitchen at Atomic shares the bar's corner and the expansive patio that faces Fremont, which is one of the best spots for people-watching.
Fergusons Downtown, a fully renovated and repurposed historic motel, has also brought a whole new energy to East Fremont. Fergusons is a vibrant community gathering space with various independent boutiques and specialty retailers and services, regular market events showcasing local vendors, live music and comedy nights, yoga classes on the lawn, and so much more. Mothership Coffee is a popular Wi-Fi and chill spot, the recently opened F the Bar keeps the party going as coffee transitions to cocktails, and the Latin-inspired desert-glam Peyote serves excellent food and cocktails on what is easily one of the patios in all of Las Vegas, a little bit of posh Palm Springs in DTLV against the backdrop of the Big Rig Jig.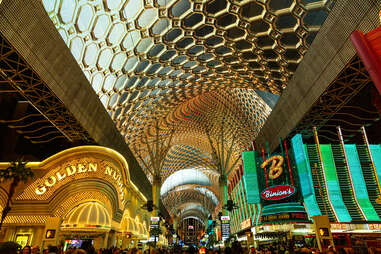 Find yourself immersed in the world's largest video screen on the world's weirdest street
The most well-known part of downtown is the Fremont Street Experience, a pedestrian walkway closed to traffic and covered by an overhead LED canopy called Viva Vision, the world's largest video screen with 49.3 million LED lights stretching 90 feet wide and 1,375 feet long. Fresh off a $32 million upgrade in 2019, Viva Vision boasts 3D graphics and a 550,000-watt concert-quality sound system that booms across three blocks and is now bright enough to be seen 24/7 for the first time in its history.
Programming runs 24 hours a day, and featured shows run nightly on the hour from 6 pm to 2 am, with music and images paying tribute to acts, such as The Chainsmokers and Steve Aoki, and Vegas-born favorites, The Killers and Imagine Dragons.
Do a shot of tequila with a scorpion in it
The scorpion is dead, and the stinger is removed, so really, you're just doing a shot with a dead bug in it, crunchy carapace and all, but those facts haven't made the Scorpion Shot at Nacho Daddy any less of a tourist draw. All kinds of national media outlets have covered the Scorpion Shot, and for many tourists, it has become a Vegas bucket list attraction with the souvenir shot glass and bragging rights to go with it.
Spend a day shopping in a shipping container (park)
Downtown Container Park in the Fremont East District is exactly what it sounds like a park made from shipping containers. One of the first and largest developments of its kind in the US, Container Park consists of nearly 40 repurposed shipping containers stacked two to three floors high. Inside you'll find dozens of locally owned and independent bars, restaurants, specialty food businesses, art studios, toy stores, gift stores, clothing stores, and more.
There's a giant play area featuring "The Treehouse" with a 33-foot-tall spiraling slide, a lawn area where you might find a band playing onstage or locals doing yoga, and weekly community events that include live art demonstrations, wine walks, and holiday activities. And let's not forget the 40-foot-tall metal praying mantis sculpture that shoots flames up to six stories high and has its own 4,000-watt surround sound system that stands guard outside the entrance.
Zipline off a slot machine, swim with sharks, and play pickleball
The best way to take in the full size and scope of the Fremont Street Experience is quite possibly from above. SlotZilla is the world's largest slot machine (naturally) at 77 feet tall. Two levels of zip lines shoot out from the upper platforms. One takes riders down two blocks of Fremont Street from seven stories above while seated, and the other has riders flying superhero-style for five blocks from 11 stories high. This is an extremely Vegas thing to do, and you absolutely should.
Over at the Golden Nugget, check out The Tank, a 200,000-gallon aquarium where five different shark species manage to get along surprisingly well with the stingrays and other exotic fish. The cool part is the waterslide that passes directly through the center of the tank, an immersive experience that's both beautiful and terrifying simultaneously.
If you're looking to get in a bit of exercise during your foray onto Fremont Street, you can play pickleball on the pool deck of the Plaza. They even offer free lessons from a pickleball pro. This is kind of weird, but also DTLV-indie-sleaze-but-make-it-sports is cool, right?
Get real weird in Neonopolis
A 250,000-square-foot, $100 million development hidden in plain sight just off Fremont (it's kind of the Las Vegas version of Diagon Alley if you want), Neonopolis is home to the popular piano bar Don't Tell Mama, the "best karaoke bar in the world" Cat's Meow (you be the judge), and the Nerd Bar, "where cosplay meets cocktails" and where you can also ride a giant mechanical dick (which they claim is the "world's largest penis," and, sure). The Nerd also has bowling lanes, hosts all kinds of grappling sports and fandom watch parties as well as live wrestling matches, has its own Iron Throne and a "hentai hideaway" (don't look that up on your work computer), and its Instagram feed looks like a mix of everyday nerd stuff and OnlyFans accounts. It's a lot of things.
Tour Fremont's famous murals by bike
Hop on one of the RTC's bikes for just $5 per day with 24-hour access at one of three stations conveniently located right on Fremont Street (or any one of the 21 stations located downtown). This bike-share program has become a huge hit, and you'll frequently see locals and tourists alike tooling around downtown on the signature blue bikes. This is a fantastic way to explore DTLV and see all the sites, including the many murals by world-famous street artists located all along Fremont and surrounding areas. Don't miss pieces by Mantra (SW corner of Fremont and 10th), D*Face (SW corner of Fremont and 9th), Shepard Fairey (south side of Fremont between 8th and 9th and NW corner of Fremont and 6th), Tristan Eaton (SW corner of Fremont and 7th), and so many more.
Nicole Rupersburg is a freelance food & travel writer who lives in Downtown Las Vegas, if that wasn't obvious.