The Things You'll Miss When You Leave Las Vegas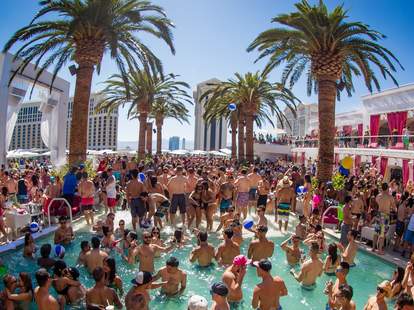 There may not be a more transient city in America than Las Vegas. After all, a big chunk of people who come here start planning their escape rather quickly -- especially after their wallet becomes empty, their bank account becomes empty, and their soul becomes... well, maybe just a little bit empty. But hey, be careful what you wish for. There's a lot you'll miss when you leave Sin City, whether your bare wallet realizes it or not.
Partying at the pool
The best city for nightclubs is also the best city for day clubs. That means girls in bikinis, loud dance music, and plenty of alcohol by the pool. Drai's takes the the whole concept up a level. Actually, 11 levels: the pool party is on the rooftop of The Cromwell resort, featuring an insane view of the Strip that you won't find anywhere else.
Starting dinner with foie gras cotton candy at Bazaar Meat
Sure, you can leave town and still find a great steak. But where else are you going to find a stick of cotton candy with a hunk of foie gras in the middle? It may not be the most expensive thing on the menu, but it sets the stage for an evening of inventive dining from chef José Andrés.
Being able to do (pretty much) anything 24/7
Want a lap dance at 4:30am? Or a cappuccino? This is your town.
Courtesy of The Luxor
Watching bats fly around in the light beam of the Luxor
The hotel and casino in the shape of a giant black pyramid features the world's strongest beam of light shooting straight out the top of it. And no matter how long you're here, there's something pretty fascinating about being able to still see it when you are miles away from the Strip.
Wikimedia
Driving down the Strip on a weeknight
The Strip is what many people first think of when they hear the words, "
Las Vegas
." And that's with good reason: the four miles of glowing neon is one of the most beautiful sights in the city, and it's
loaded
with casinos. But the best way to enjoy it is to roll down the windows for an easy drive down Las Vegas Boulevard when it's not so busy at night.
Nudity
Is there any other city that offers a better opportunity to see a nipple? Here you have a hearty lineup of
strip clubs
,
adults-only shows
, and
tops-optional swimming pools
. If you want to see some skin, then Las Vegas is your kind of town.
Skipping to the front of the line at the club
If you're showing up to one of Vegas's rowdy nightclubs, you need to have a hookup or a connection of some sort, because nothing sucks more than getting stuck waiting outside the entrance. And the longer the line, the more painful it can be.
Courtesy of Giada
The open windows at Giada
Because even though the view from The Cromwell's flagship restaurant is spectacular from any angle, it's even better with the windows wide open. No screens necessary.

The airport
No long trips to and from the airport. McCarran International is literally right next to Las Vegas Boulevard. In fact, it's so ridiculously convenient that it feels like the runways are in the middle of the Strip (which they almost are). Now, if they could only give the interior a makeover...

Noticing what tourists are doing wrong
Seriously, you can't help but shake your head when you see a group of tourists either in line outside a buffet when there's some unbelievable restaurants right next door, or putting down way too much money on blackjack.
Anthony Mair
Having a beer on the rooftop patio of Commonwealth
It's probably the best place to soak in the atmosphere of the Fremont East District Downtown. But if that's not enough, there are more than a few other bars in the area to check out.

The sound of coins from a jackpot
Sometimes it's fun to get a little something for nothing. Just don't make a habit of it.
Las Vegas News Bureau
Watching every big act come to town
It seems like a lot of celebs come to Vegas and stick around for a while, whether we're talking pop divas like Britney Spears, Jennifer Lopez, Mariah Carey, and Celine Dion, or old timers like Rod Stewart and Elton John. Even classic rock arena acts like KISS or Def Leppard have come in for short term residencies. They all face the same question: why tour from city to city when you can stay put in Vegas and let the world come to you?
Drinking wine for free
There's no shortage of food and wine events in Las Vegas,
especially
in the spring, when you can choose between Vegas Uncork'd, UNLVino, and the Epicurean Affair. But if you don't want to shell out for tickets, you can drink for free every Thursday night, courtesy of
Rock 'n Roll Wine
. Just sign up in advance on its website.
Driving to California
One of the best things about Las Vegas is actually leaving Las Vegas -- at least for a little while. LA is just a few hours away on Interstate 15. Make a day trip out of it and return late at night. Just remember to fill up on gas in Baker and chug plenty of Red Bull.
Receiving your medical marijuana card in the mail
It may have
taken a few weeks
, but now you can finally take care of that nagging pain in your back... and your insomnia... and those migraine headaches… and that anxiety.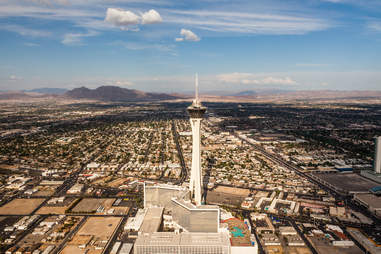 <a href="http://www.shutterstock.com/gallery-2641117p1.html?cr=00&amp;pl=edit-00">Oscity</a> / <a href="http://www.shutterstock.com/editorial?cr=00&amp;pl=edit-00">Shutterstock.com</a>
Jumping off the Stratosphere
We don't talk about it much, but Las Vegas actually has the tallest building west of the Mississippi. (Yes, the Stratosphere tower is taller than that puny Space Needle in Seattle.) You can actually jump off the thing with only a bungee cord between you and the hard reality of concrete on the sidewalk below.

Seeing snow on the Strip
It's rare, but it does happen, which is why everyone freaks out about it. If you want a more regular dose of the stuff, just head on up to Mount Charleston, where the Lee Canyon ski and snowboard resort offers plenty of, well, skiing and snowboarding.
Courtesy of MGM Grand Race & Sports Book
Betting big on sports
Whether it's the Super Bowl or a big UFC fight, everything suddenly becomes dramatically more fun when there's some money on the line. One thing: even if you fail to cash in, make sure there's some money left over for beer.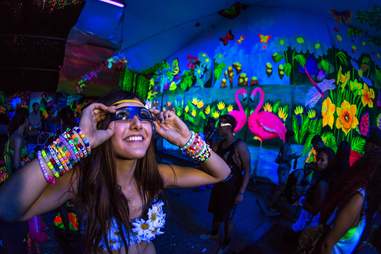 Insomniac/Electric Daisy Carnival
Figuring out what to wear at EDC
The Electric Daisy Carnival is the biggest electronic dance music event in the United States, drawing about 140,000 fans to the Motor Speedway for each night of a three-day summer festival. Part of the fun is dressing up in crazy neon outfits (that may or may not include slapping electrical tape across your nipples). You don't have to get too wild about it, but try to do something more than just a T-shirt and jeans.
Walking through the Cactus Garden at Ethel M
Every winter, the Ethel M chocolate factory in Henderson decks out its outdoor cactus garden in holiday lights. It's one of the most romantic things you can do for free during the cold winter months. Just don't forget to walk inside for a few bites of chocolate.
Bottle service
Here's how it works: you grab a group of friends and reserve a table at one of the busiest nightclubs on the Strip. Sit back and relax while a server in a skimpy dress pours glass after glass of alcohol (usually gin or vodka) topped off with a mixer (usually orange or cranberry juice) with a slice of lemon or lime. What may cost $20 to make yourself at home will cost hundreds of dollars (if not more) at the club. Sounds great! Now, who's paying for it?
Discovering new restaurants that aren't on the Strip
Sin City's reputation as a hot culinary destination goes far beyond the Strip. Other Mama in the west valley, Chada Street in Chinatown, and Kitchen Table in Henderson are all prime examples that prove location
isn't
everything.
Rolling your eyes when someone asks, "Where are you from?"
Because it's just weird when the salesperson at the mall treats you like a tourist. Some people actually
live in Las Vegas
. And they love it.
Sign up here for our daily Vegas email and be the first to get all the food/drink/fun in town.
Rob Kachelriess isn't leaving Las Vegas any time soon. Follow him on Twitter @rkachelriess.