We already know that Las Vegas is littered with casinos. Sprawling mega-resorts like Caesars Palace, the Venetian, and the Bellagio are obvious favorites with impressive architecture, pools, restaurants, nightclubs, and what feels like miles of slot machines. But let's not stop there. Instead, take a look at the casinos you may be overlooking during your time in Sin City, the underrated ones that are oftentimes forgotten. Who knows? You might get lucky.
Off the Strip
Once known as the party residence for the cast of MTV's The Real World, the Palms still retains plenty of charm despite taking a dip in popularity during the recession. It's making a comeback, however, and could get a full makeover after being recently bought up by Station Casinos. The Ditch Fridays summer pool party offers the perfect excuse to skip work, and the SOCIAL lobby bar is full of creative cocktails. If you're hungry, NOVE and Alizé rank among the best restaurants in Vegas (though if you prefer the world's largest Hooters instead, there's that, too). And should you need more of a reason to visit, the Palms can brag about having the most convenient parking garage anywhere near the Strip -- with just a few steps between your car and the lobby door.
Primm
If you're driving to Las Vegas from Southern California, the first casinos you'll come across after passing the state line are Primm Valley, Buffalo Bill's, and Whiskey Pete's -- a trio of properties collectively known as the Primm Valley Resorts. They're usually a pit stop for drivers seeking gas or Starbucks, but included in the mix are a golf course, an outlet shopping mall, and a roller coaster that actually loops through one of the casinos. There's also a 6,500-seat arena that brings national touring acts to the middle of the desert.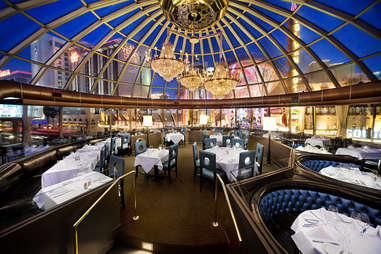 Downtown
The Downtown area is getting a lot of attention for its current upswing, but the Plaza remains an old favorite that's still worth checking out. It's located on the far west end of the Fremont Street Experience, so you're close to the action and just next door to the Main Street Station brewery. Oscar's Steakhouse honors our city's former mayor (and favorite mob lawyer), Oscar Goodman, and offers juicy steaks, dry martinis, and a distinctive circular dining room with enormous windows that overlook Fremont St. If you want to get hitched Vegas-style, this place now houses the famous wedding chapel from the soon-to-be-imploded Riviera.
North Las Vegas
A long drive from the Strip, Aliante isn't always a top destination for tourists, but is easily the most modern resort and casino for anyone in the north end of the Valley. It features a nice outdoor pool area, which serves as a regular backdrop for jazz under the stars, and a lineup of restaurants. MRKT is the obvious choice for steaks and seafood, while Bistro 57 follows close behind with a slightly more casual menu. But the real surprise is FARM. It looks (and feels) like a Denny's, but the focus on locally sourced ingredients makes every bite of otherwise ordinary dishes unexpectedly fresh.
Off the Strip
This casino is just a few blocks east of the Strip and comes with its own brewery. The ever-pouring supply of in-house brew fuels an energetic atmosphere for locals with a love for cheap gaming and rowdy karaoke nights. But the secret weapon is the food, with a simple BBQ menu that ranks among the best in Vegas, and a surprising tasty low-price steak.
Summerlin
While the Rampart Casino and neighboring JW Marriott may not share the same ownership, they both complement each other well, generating an uncommon synergy that draws in both locals looking for gambling perks and out-of-towners that prefer to steer away from the busy nonsense of the Strip and Downtown. The surrounding grass, trees, waterfalls, and long outdoor walkways are a nice change of pace, but there's always JC's Irish Sports Pub to keep things from getting too quiet.
Henderson
Boulder Highway is known for stuff like crime, sketchy motels, and an uncomfortably high number of people getting hit by cars. So that may explain why the Eastside Cannery, with its funky architecture and bright neon lights, feels like such a welcome change of pace. The casino floor itself is nothing out of the ordinary, but whoever books the entertainment handles an ambitious lineup that includes hair metal bands from the '80s, country singers that aren't big enough to play arenas, and a random assortment of acts from the '70s.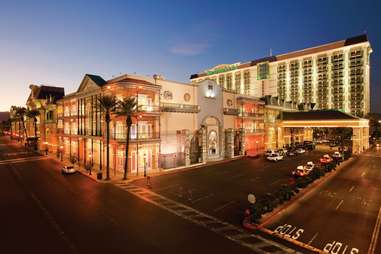 Off the Strip
The carpet still needs to be replaced, but this Mardi Gras-themed casino has recently taken a few steps in the right direction by revamping its restaurant lineup. Both the Alder & Birch steakhouse and Ondori Asian Kitchen are worth checking out if you need an affordable dinner west of the Strip. And despite losing its minor league hockey team a couple years ago, the midsize arena is still a cool spot to check out the occasional concert.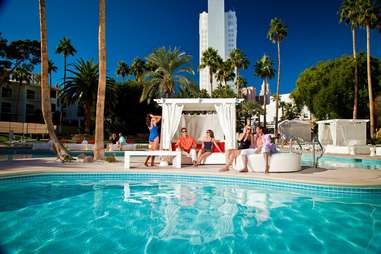 The Strip
This holdover from the classic era of Vegas can't quite catch a break, regardless of its prime location on the Strip. "Sure things" like the Mamma Mia! stage show and Nikki Beach came and went in record time. And remember those plans for a shopping plaza expansion? Probably not. Luckily, now that new ownership has taken over, things are looking up: celebrity chef Robert Irvine just announced he's opening up a new restaurant in 2017, the Laugh Factory has a steady stream of comedy headliners, and Raiding the Rock Vault -- a show featuring a supergroup of '80s rockers -- always seems to have something going on.
Henderson
A Spanish theme runs throughout the property, carrying over to fun little hangouts like Gaudi Bar and Club Madrid. There's also the Sonoma Cellar steakhouse and a sportsbook that goes out of its way to pull in the locals with educational seminars. Adding to the entertainment is the outdoor amphitheater that draws national touring acts during the summer (like the upcoming Junefest).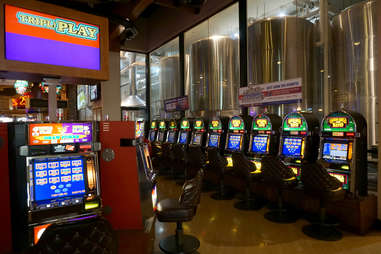 Henderson
Squeezed inside a strip mall between a movie theater and a grocery store, this neighborhood hangout makes for a cool detour while on the way home from work. No hotel, no pool, and no poker, but you DO get a sportsbook, slots, and plenty of beer, thanks to the in-house brewery. Plus, you can take a growler home with you. Just don't open it in the car.
Off the Strip
This casino was once called Terrible's. A few years ago, somebody thought it would be a good idea to change the name. The wise move came with a slew of renovations, making it a nice low-cost alternative to the Hard Rock, which sits just a block away. The casino also has a weekend Champagne brunch for just under $11. If you want to stay close to the Strip without blowing the bank, you're in good shape here.
Southwest Valley
Right off the I-15 before you hit the busy part of Vegas, the Silverton sometimes feels more like a shopping mall than a casino. Maybe that's because of the Bass Pro Shops outlet that happens to be attached, or the grab-and-go nature of some of the dining spots. Either way, don't overlook the surprisingly ambitious Asian menu at WuHu Noodle. And if you want to meet somebody new, the 117,000-gallon reef aquarium comes with its own swimming mermaids.

Sign up here for our daily Vegas email and be the first to get all the food/drink/fun in town.
Rob Kachelriess has been writing for Thrillist for nearly three years. He still needs to get around to riding a roller coaster through a casino. Follow him on Twitter @rkachelriess.