Here's How to Volunteer in Las Vegas for Earth Day
Saving the Earth starts at home.
Photo courtesy of Downtown Summerlin
Remember during lockdown last year, when smog disappeared over cities, water cleared up, and animals came out to wander formerly busy sidewalks? Well, it was probably the only cool thing about 2020—and a stark reminder that our environment can dramatically improve when humans aren't around to mess it up so much.
But instead of getting rid of humans, let's just try to be more responsible with the world around us. And that starts in our own backyard here in Las Vegas. Earth Day is coming up on Thursday, April 22 and it's still possible to volunteer and participate while social distancing. Think of these activities and initiatives as a good start—and an example to follow not only on Earth Day, but for the rest of the year.
Saturday, April 17
Springs Preserve
The Drive Electric Earth Day 2021 event takes place at Springs Preserve from 10 am–2 pm. The electric car rally meets by a photovoltaic solar panel array that tracks the sun and powers two vehicle charging stations. It's the rare chance to see at least 50 electric cars (representing more than 15 makes and models) all in one place. Owners and exhibitors will be ready to supply information and answer any questions about buying an electric vehicle and the latest technology involved. While at the Springs Preserve, take a detour to the Sustainability Gallery, which has exhibits and games dedicated to eco-friendly living.
Cost: Drive Electric Earth Day is free to attend, Springs Preserve admission begins at $5.
Monday, April 19
Online
The Humboldt-Toiyabe chapter of the Sierra Club is hosting an Earth Week Movie Night at 6 pm, screening two short films that highlight the challenges facing Nevada's public lands. Take inspiration and sign up for one of the open volunteer positions with the organization, which is dedicated to preserving the wilderness and ecosystems throughout Nevada, Lake Tahoe, and the Eastern Sierra. The chapter often organizes hiking and nature experiences in Red Rock Canyon, Valley of Fire, or anywhere else within driving distance of Las Vegas. Those events are currently on hold, but expected to resume once the pandemic is over.
Cost: Earth Week Movie Night is free with RSVP.
Ongoing until Thursday, April 22
Multiple Locations
WOW Car Wash, a Vegas-based chain that actually makes drive-thru car washes fun, saved more than 80 million gallons of water last year using a high-tech system at six locations throughout the valley. It's something to keep in mind since washing a car at home often wastes lots of water. From now until Earth Day, you can spin a virtual wheel and win a free or discounted wash at WOW to see how it all works.
Cost: Free to spin the wheel, car washes begin at $7.
Friday, April 16-Thursday, April 22
Skye Canyon
For the second year in a row, Skye Canyon is hosting Chalk For Earth, a socially distant Earth Day event. Following a theme of "Restore Our Earth," participants are invited to create chalk art on sidewalks and driveways in the master-planned community. Upload an image of your masterpiece with prizes awarded in the categories of Family, Adult Solo, and People's Choice. Free chalk is available for residents at Skye Fitness.
Cost: Free
Thursday, April 22
West Valley
A broken computer monitor clogs up a landfill more than you realize. So get rid of that stuff the right way. The Faith Lutheran Thrift Store is hosting an E-Cycle for Earth Day event (near Rainbow and Oakey) from 2–6 pm. Bring old electronic items—like computers, TVs, and batteries—and hand 'em over to Junkluggers, who will repurpose the items or dispose of them properly with minimal impact to the planet.
Cost: Free
Get inspired on the Strip
Thursday, April 22
The Strip
Both the High Roller observation wheel and Eiffel Tower will be illuminated in green throughout the evening on Earth Day. The change-of-color brings awareness to environmental activism and is a strong reminder that even in a sea of neon lights and urban sprawl, it's also possible to be a responsible steward of the planet. Newer hotels on the Strip (and large buildings like the T-Mobile Arena) take pride in LEED (Leadership in Energy & Environmental Design) certifications that recognize a commitment to sustainability via architecture and technology. It's now a common sight to see electric car chargers at all the big casinos too. They've got the best parking spaces, so you might as well take advantage of them.
Cost: Free to view
Friday, April 23
East Valley
The Sunset Squad, Get Outdoors Nevada, and Breeze Brigade are joining forces for a two-hour cleanup of Sunset Park, beginning at 9 am. Supplies will be provided, but dress appropriately for the weather, mask up, and bring water. Registration is required.
Cost: Free
Saturday, April 24
Northwest
The Movement Dance Experience Studio is inviting kids (ages 3-18) to an Earth Day Art Day event from 9–11 am. The youngsters will be guided through lessons on how to create art using recycled materials and receive a brunch of prepackaged food and drink afterwards. Email the event organizer with any questions.
Cost: $30
Saturday, April 24
Centennial Hills
The Red Rock Audubon Society promotes the enjoyment and conservation of birds and other wildlife in Southern Nevada. The organization is rounding up volunteers to plant native wildflowers, pick up trash, and remove invasive weeds at the Rainbow Owl Preserve, a sanctuary dedicated to protecting the Burrowing Owls, which are endangered due to urban sprawl. The event is 7–11 am. Volunteers are limited in number due to social distancing, so if the event fills up, don't worry. There is always plenty of work to do on other days. You can also donate to the cause online.
Cost: Free, but please register first.
Saturday, April 24
West Valley
The City of Las Vegas and Get Outdoors Nevada are leading an effort to plant trees and clean up trash at Pioneer Park. Space is limited and registration is required. No walk-ups allowed. Trash grabbers, bags, sanitizer, and other supplies will be provided. Just be ready to work from 8–10:30 am.
Cost: Free
Saturday, May 1
Spring Valley
It's never too late to pitch in. Get Outdoors Nevada is teaming up with partners and volunteers for an Earth Day-inspired cleanup of Desert Breeze Park from 8–10 am. Participants are asked to register online, with a map and other details emailed out a couple days in advance. Trash bags, shovels, gloves, and other equipment will be provided. Desert Breeze is about 240 acres. That's a lot of ground to cover.
Cost: Free
Ongoing
Red Rock National Conservation Area
Save Red Rock has been around for 20 years to preserve and protect the colorful sandstone formations west of the Las Vegas Valley. Its most high-profile campaign worked to keep housing developments at bay but currently, the organization is focused on removing invasive tamarisk (which guzzle up large amounts of water) from Lower Cottonwood Springs and constructing the paved Red Rock Legacy Trail so cyclists can safely enjoy the natural surroundings.
Cost: Whatever you're comfortable donating.
Pledge to help the planet and save local butterflies
Ongoing
Downtown Summerlin
Leading up to Earth Day, Downtown Summerlin is teaming up with Green Our Planet to install a pollinator garden that will attract Monarch Butterflies and give them a place to rest and rejuvenate while migrating from Southern California. Meanwhile, social media users are encouraged to pledge an "act of love for the planet" online and tag Downtown Summerlin. The pledges will be shared on an oversize globe mural near H&M. Green Our Planet is always accepting volunteers and donations for its efforts, which promote environmentally conscious STEM education, in-school garden and hydroponics programs, and virtual/remote learning.
Cost: Whatever donations you're comfortable giving.
Ongoing
Statewide/Online
The Nevada Conservation League is doing its best to protect parts of the Silver State that hold cultural, historical, and spiritual significance. Lately, the organization has been throwing its weight behind the "30 by 30" initiative, seeking commitments on local, state, and national levels to conserve 30% of land and water by 2030. The goal resonates deeply in Nevada, where more than 80% of the state's 111,000-square-mile area is public/federal territory. The NCL is also a supporter of State Bill 52, which seeks to protect Nevada's dark skies by limiting light pollution. The effort is not only important to Indigenous tribes, who value the pristine condition of earth and sky, but also recreational tourism, comprising visitors who merely want to experience the natural beauty Nevada has to offer.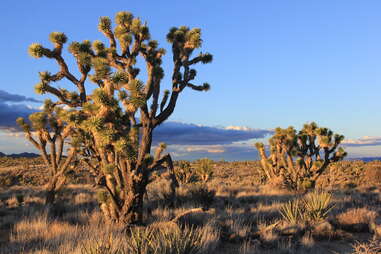 Ongoing
Laughlin
There is a movement underway to designate Avi Kwa Ame a national monument, which would federally protect more than 360,000 acres outside the quirky casino town of Laughlin. The name is Mojave for Spirit Mountain and the granite peak is an attractive destination for hikers. Sacred to Native American tribes, the land is home to the desert tortoise, a wide variety of birds (including hawks and eagles), bighorn sheep, and even the occasional gila monster. It's also on the edge of the largest Joshua Tree forest in the world, dating back more than 900 years. Sign the petition to designate Avi Kwa Ame a national monument.
Cost: Free
Ongoing
Statewide/Online
Environment Nevada (part of the Environment America national network) researches challenges facing the environment and advocates for progress via grassroots campaigns that include public events, door-to-door information sharing, letters-to-the-media, and other forms of raising awareness. There's a heavy emphasis on renewable energy, clean air and water, conservation, and global warming solutions. Environment Nevada has recently taken a strong interest in protecting the Desert National Wildlife Refuge, which covers more than 1.6 million acres north of Las Vegas. Check the latest job and internship listings.
Cost: Make a donation in any amount.
Rob Kachelriess has been writing about Las Vegas in Thrillist for more than seven years. His work has also appeared in
Travel + Leisure
,
Trivago Magazine
,
Sophisticated Living
,
Modern Luxury
,
Leafly
,
Las Vegas Magazine
, and other publications. Follow him on Twitter @rkachelriess.