How to Volunteer in Las Vegas This Holiday Season
From helping underserved communities to supporting children and animals in need, there are plenty of ways to make a difference in Vegas this holiday season and all year long.
Photo courtesy of Opportunity Village
Photo courtesy of Opportunity Village
As the year winds down, it's easy to get caught up in holiday shopping or tracking down the perfect dessert for your next office party. However, the season is also a time for reflection, thinking of others, and making the community a better place. Las Vegas has a lot of disparity between the haves and have-nots, but it's also a city with a big heart. So find a moment during the mad holiday rush to donate your time or money to a great cause. You may bring joy or much-needed assistance into somebody's life when it's needed most. Here are just a few worthy initiatives to make a difference in Las Vegas.
Support those who struggle with secure housing
Families and children throughout Las Vegas struggle with secure housing and shelter. HELP of Southern Nevada helps families and individuals overcome such barriers to become self-sufficient, but resources are stretched to the limit. So take part in a different kind of holiday shopping this season and cover a few items on the Amazon Wish List for the organization's Shannon West Homeless Youth Center. Need items range from pencils and paper plates to clothes and bedsheets.
HELP of Southern Nevada's most high-profile annual fundraiser is the 98.5 KLUC Toy Drive, in which radio personality Chet Buchanan (one of the true good guys out there) camps out on top of a 30-foot scaffold for 11 days, encouraging donations to help families celebrate the holidays. Stop by December 8-19 with an unwrapped toy, bicycle, or gift card.
The Nevada Partnership for Homeless Youth can also use your assistance this holiday season. Volunteer efforts include mentoring, cooking, restocking donation items, and much more. Reach out via email for the latest information and opportunities.
Share Village was originally founded as Veterans Village with a focus on helping struggling former service members. The mission expanded over the years and now includes multiple campuses where those in need can find assistance with housing, food, and job-seeking. Volunteers are needed for a variety of services, including help with a food pantry Tuesday and Thursday mornings or hosting a holiday meal. Share your skills, time, and talents to help give a veteran's home a makeover.
HopeLink of Southern Nevada is accepting donations and welcoming volunteers to help provide resources to the homeless and others in need. The nonprofit is also hosting a toy drive through December 8 and throwing a holiday block party December 11.
Help feed the hungry
Not having enough food is a problem that not only affects the homeless, but families across the Las Vegas Valley. Three Square is the largest food bank in Southern Nevada, coordinating distribution efforts with Catholic Charities, Salvation Army, Las Vegas Rescue Mission, TCMI Church, and dozens more. Three Square runs a top-flight operation at its North Las Vegas warehouse, stretching at least three meals out of every dollar donated. Volunteers are always welcome to pack food deliveries and meals for students. If you wish to organize a donation drive or contribute food or supplies, please contact Three Square directly first. The organization's annual Holiday Match Challenge is underway with donations doubled by participating sponsors.
Catholic Charities is encouraging donations and seeking volunteers to help with the Hands of Hope Community Food Pantry as well as remote services like youth mentoring, holiday gift packaging, and winter accessory knitting.
The Just One Project is always looking for volunteers to help feed those struggling with food insecurity at its on-site Community Market and Pop Up & Give Mobile Markets throughout the valley. You can also deliver groceries to doorsteps and take part in youth mentoring programs. All ages are welcome, making it a popular option for families to volunteer together.
Delivering with Dignity is a newer effort, founded during the early days of the pandemic, bringing together local chefs and restaurants to feed those with limited means. The cause continues throughout the valley. Volunteer to be part of the Food Hero team that helps deliver meals or contribute a monetary donation.
The United Way of Southern Nevada is celebrating 65 years of helping the community. As always, the organization is looking for volunteers and accepting donations.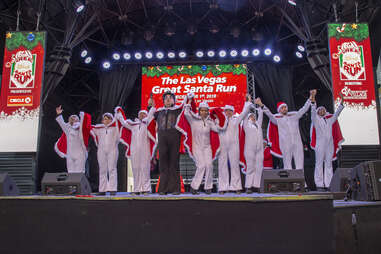 Help those who struggle with illness and disabilities
Opportunity Village is one of the most inspiring success stories in Las Vegas. The family-founded organization helps adults with disabilities find employment and personal fulfillment. The Magical Forest winter holiday park is back this year, allowing visitors to have fun while contributing to a good cause. You can also give, shop, and volunteer. Another annual fundraiser, the Las Vegas Great Santa Run, brings a crowd together to run down Fremont Street in Santa outfits, with Terry Fator and Las Vegas Aces Coach Becky Hammon as Grand Marshals. Join in person on Saturday, December 3 at 8 am or participate virtually on your own time between now and December 24. You can even get your pet involved.
New Vista is another nonprofit that helps people with intellectual and developmental disabilities. The organization is known for its beer and wine walk fundraisers, but you can also check in with the volunteer department for the latest opportunities to help.
One of the most rewarding ways to donate your time in Las Vegas is through the Nevada chapter of Best Buddies. The group arranges one-on-one mentorships and friendships between volunteers and people with disabilities. Sign up to become a buddy (or e-buddy). You can also donate, shop, or join a Friendship Walk scheduled for early next year.
The Southern Nevada chapter of Make-A-Wish has been assisting critically ill children since 1996. Through the help of valuable partners, donations, and volunteers, kids are able to take a vacation, go on an adventure, or see a personal life goal realized. Bilingual volunteers are especially helpful in offering services to a diverse local population.
Help the entertainment community make a difference
Mondays Dark is a fantastic example of Las Vegas entertainers joining together for the greater good. Founded by local performers Mark Shunock and Cheryl Daro, Mondays Dark is a bi-weekly variety show (on Monday nights, when other shows often go "dark" with a night off) of singers, dancers, musicians, comedians, actors, and others donating their time and talent to raise a goal of $10,000 for a different cause each time around. You can further support the effort by attending the annual December anniversary celebration (taking place at the Palms December 12), when charity partners for the following year are announced.
The Tyler Robinson Foundation was founded by Las Vegas' own Imagine Dragons in honor of a young fan who passed away from a rare form of cancer. The nonprofit raises money to help those suffering from pediatric cancer and other life-threatening conditions. Volunteer for various causes and events.
Help Las Vegas animals live a better life
The Animal Foundation is the largest animal shelter in Las Vegas, saving more than 20,000 dogs, cats, and other furry friends each year. Volunteers handle a wide variety of duties, from walking dogs to cleaning kennels. If you can't adopt, apply to foster a pet for a short-term period.
Other pet-friendly organizations that could use your help include the Nevada Society for the Prevention of Cruelty to Animals, Heaven Can Wait Animal Society, Those Left Behind Foundation, Second Chance Dog Rescue, A Home for Spot Animal Rescue, and Southern Nevada Beagle Rescue Foundation, which helps beagles used in lab testing (due to their docile demeanor) acclimate to a proper, deserving life. Check with any of these organizations about volunteering, donations, adopting, fostering, or sponsorship opportunities.
If you prefer something a little more grand in scale, there's always the Lion Habitat Ranch, home to dozens of lions and other large animals in Henderson. Sponsor a lion, beginning at $750 or spend a little less and purchase a painting by Ozzie the giraffe for as little as $40. Proceeds are directed toward the care and feeding of the animals on property.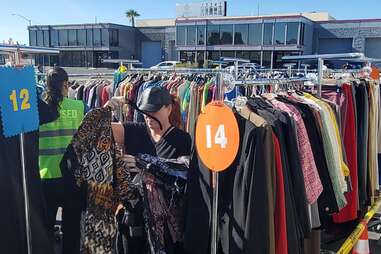 Help others dress for success
The Southern Nevada affiliate of Dress for Success provides new clothes, networking, and career development tools for lower-income women on the job hunt. Fifty bucks could cover an outfit for a day while $250 covers a week. So donate clothing or money if you can. Volunteers fill the roles of boutique assistants, image consultants, and more.
The Goodie Two Shoes Foundation has a simple mission that lives up to its name: provide disadvantaged kids with shoes and socks. Volunteers are always needed for distribution events, which traditionally happen at least twice a month.
Help keep women and children safe
The Shade Tree provides shelter and resources to women, children, and pets leaving abusive relationships—a step that's sometimes harder to take during the cold winter season. Volunteers are always welcome, but you can also check the wish list of needed items to make a donation.
SafeNest helps victims of domestic violence with shelter, counseling, and other resources, including a 24/7 crisis hotline (702-646-4981). All services are confidential. Volunteer your time or ask SafeNest about the donations needed most.
No matter what happens in this crazy world, feminine hygiene products will always be in need. Project Marilyn helps offset period poverty by encouraging sponsors to donate $10 a month. Volunteers are also needed to pack bags and distribute products to those who can use them. Reach out to learn more.
Help while shopping
Opportunities to help others are everywhere, even when shopping. Giving Machines are set up at the promenade at Downtown Summerlin through January 1. The modified "reverse vending machines" allow you to purchase and donate items like food for Ukrainian families, clothing for low-income people in need, pet food for animals in need, and more in conjunction with local and international nonprofits. Prices range from $3 to $250.
Fashion Show Las Vegas has more than 200 retailers in one place on the Las Vegas Strip. Spend at least $200 through December 24 and the shopping mall will donate $20 to Feeding America (which includes Three Square food bank in its network). Just show your receipts to the Guest Services counter by January 31, 2023.
Rob Kachelriess has been writing about Las Vegas in Thrillist for more than seven years. His work has also appeared in
Travel + Leisure
,
Trivago Magazine
,
Sophisticated Living
,
Modern Luxury
,
Leafly
,
Las Vegas Magazine
, and other publications. Follow him on Twitter @rkachelriess.