One of the best things you can do right now is stay home -- and if that means staying at home and getting high, even better. As Las Vegas makes the most of social distancing in the wake of the COVID-19 pandemic, cannabis dispensaries are joining restaurants in providing delivery services to those in self-quarantine. (And by "those," we mean everyone in non-essential jobs right now.)
Fortunately, Vegas is an easy place to score legal weed; all you really need is a valid ID to prove you're 21 or over. Most of your favorite dispensaries in town are expanding delivery services to answer growing demand, although a few like Reef decided to temporarily close altogether instead. To place an order, you need a real home address -- not "meet me on the corner" or anything like that -- that matches the one on your ID. Expect to pay cash and the closer you have to the exact amount, the better. Just have enough leftover to give your driver a nice fat tip. Be wary of advertising by sketchy third party services; one reliable exception is Blackbird, which handles delivery for a number of local dispensaries, although orders have been reaching daily limits quickly these days. To sort everything out, we've put together a guide to our city's top dispensaries and their latest delivery options.
Industrial Corridor, Downtown
These sister dispensaries have revamped operations for their own unique in-house delivery service. Email either Acres (west of the Strip) or Curaleaf (on Las Vegas Boulevard near The Strat) with a photo of your ID, a phone number, and address, and a rep will call you back within an hour. Orders can be made between 10am and 4pm for same-day delivery. A 10% delivery fee is added to all orders of $100 or less and 6% on orders of $101 and up; the total charge is being rounded up to the nearest dollar to simplify the process, and that spare change will be donated to charities helping those affected by COVID-19. Available items include Veterans Cannabis Project pre-roll packs (which helps veterans benefit from cannabis for medical use), $60 for a half-ounce, $100 for an ounce, and Select cartridges and UKU gummies.
West Valley
The Apothecarium remains open for delivery, with customers encouraged to place orders online -- and place 'em early as menus are closing quickly each day. Hours are 10am-6pm with free delivery within 10 miles of the store; delivery is available up to 19 miles away, with a $1/mile charge for distances greater than 10 miles. For the latest discounts, sign up for phone alerts by texting "apothecarium" (without quotation marks) to 411669. Expect to see deals on State Flower, including popular strains like XJ-13.
Off the Strip
At the moment, the Apothecary Shoppe is offering free next-day delivery with a minimum order of $100. Deliveries run 10am-7pm within a 10-mile radius of the dispensary. Place your order online and get rewarded with a 10% discount. The Apothecary Shoppe is known for a diverse menu that includes higher-end edibles made by a pastry chef who formerly worked at Strip hotels.
Off the Strip
For the purposes of delivery, we're referring to the Blum east of the Strip on Desert Inn and Maryland, which operates independently from the Blum on Decatur (and is completely closed right now anyway). Sign up for a profile on iheartjane.com with a photo of your ID, and a Blum rep will reach out to finalize the order. A purchase of $50 scores free delivery within 10 miles of the store, but a purchase of at least $74 is required for free delivery beyond 10 miles. Last we checked, Blum is able to keep up pace with same-day delivery. Follow the dispensary's Instagram page for the latest daily deals, which tend to be heavy on Qualcan specials. Deliveries begin early at 7am and run throughout the day.
Downtown, Spring Valley, Henderson
Essence, with three well-placed locations to cover the valley (including one Downtown on Las Vegas Boulevard that might as well be on the Strip), is open 8am-10pm for deliveries, although all orders arrive the next day. The company utilizes Blackbird for morning deliveries, beginning at 10am, although at this point, capacity is usually reached around noon. However, Essence now has a license to do its own afternoon delivery, starting at 2pm, covering the entire city (including Henderson). Current specials include $25 eighths, $19 Evergreen Organix Gummies, and five-for-$35 Special Shelf DGF pre-rolls.
Southwest
Euphoria begins taking orders at 7am daily for delivery between 8am and 11pm; however, some customers are complaining online about recent orders not arriving until well after expected. Purchases are typically made online, since the phone number disconnects after hitting "0" for a rep. You must spend at least $65 for delivery, however. Proceed at your own risk.
Off the Strip, Pahrump
The Grove is known for great customer service and being close to the airport (a detour best for those arriving, not departing). During the Vegas shutdown, the dispensary is taking online orders with free delivery on a purchase of at least $100. Spend $150 and receive a Vert edible for $1. Spend $250 and receive a Vert edible and a Kannabis eighth for $1 each. The Grove is promising delivery within three hours of ordering between 9am and midnight. Its sister location in Pahrump is asking to allow up to five hours for delivery with orders placed between 8am and 6pm. A minimum of $75 is required for delivery plus a $20 charge within a 15-mile radius. Place an order of at least $150, and you can skip the delivery charge altogether. Spend $200 in Pahrump and get a Vert edible for $1. Spend $300, and receive a Vert edible and a Kannabis eighth for $1 each.
East Valley
The minimum purchase for free delivery in Las Vegas is $75 within a 20-mile radius or $125 over 20 miles. Jardin will even bring your order to Boulder City with a minimum buy of $150. Your order can be delivered between 8am to 11:45pm, although in some cases it may take until the following day for your stash to arrive.
North Las Vegas, Henderson
Both locations -- in North Las Vegas and Henderson -- are taking orders 8am-8pm for next-day delivery. There are no minimums and no delivery fees, however, the delivery zones are limited to certain zip codes near each dispensary, so ask about availability.
Off the Strip
MedMen has a high industry profile, operating in seven states with three dispensaries in Las Vegas alone. It's doing its own delivery throughout the valley from its Paradise location, seven days a week, from 8am to 11pm. There is no delivery fee, and the minimum order is $99.
Off the Strip
NuLeaf delivers within a 15-mile radius of its east-of-the-Strip location on Twain and Paradise. A few items are priced lower than usual right now, including $20 NuLeaf disposables, a $10 Binske Dosi Woah pre-roll at 31%, and Sweeties half-ounce for $120. Flower is especially popular right now, so ask about the latest sales. A Cinnex eighth is currently $25. Delivery is free, but a $85 minimum order is required.
Downtown, Northwest
Both NuWu locations operate on Native American tribal land. Neither does its own delivery, but both have drive-thru windows that continue to operate 24 hours a day during the Nevada shutdown. NuWu strongly suggests placing an order in advance online to expedite services upon arrival.
Industrial Corridor
Oasis is bringing on new drivers to meet the growing demand of deliveries throughout Las Vegas, North Las Vegas, and Henderson. The delivery fee is $15 for orders of $50-79.99, $10 for orders of $80-119.99, $5 for orders of $120-149.99, and free for orders of $150 and up. Current deals include $39 full gram cartridges (or three full gram cartridges for $99 with the code CT3for99) from sister brand City Trees. The dispensary is also making full use of City Trees' medical-grade facility to produce 2oz containers of hand sanitizer, which are handed out free with any order over $75.
Off the Strip
Pisos accepts delivery orders between 10am and midnight in partnership with Hytiva. Some, including those to Boulder City, may not arrive until the next day, although the staff will give an ETA with each customer. The minimum for delivery can fluctuate at any given time, but $75 is typical.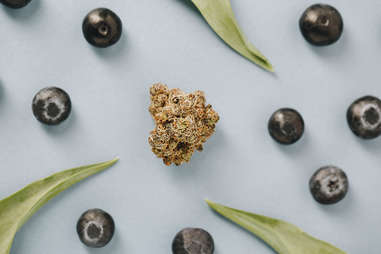 Industrial Corridor
The largest dispensary in Vegas built its reputation as the world's first "cannabis superstore." While closed to foot traffic during the shutdown, Planet 13 is keeping up the pace with an in-house delivery service operating around the clock. You may need to arrange a delivery time of up to 24 hours from finalizing a purchase. Buy online and look for a list of daily deals on the left-hand side of the menu; they tend to feature $25 eighths, 30% off select edibles and vapes, and 40% off topicals. Delivery is free with a $100 minimum. Take advantage of the locals discount by adding the code LOCAL20 to the notes section at checkout.
Off the Strip
ReLeaf is taking online orders 24 hours a day with deliveries between 9am and 11pm. According to the dispensary's phone message, a minimum of $200 is required for all delivery orders -- a little on the hefty side to be honest -- but the website says $150.
Southwest
Just outside Summerlin, ShowGrow doesn't have any discounts, but is focusing all its resources on getting all orders out as quickly as possible. Same-day delivery is available 9am-7pm in the west and south with a $150 minimum purchase, no delivery charge. ShowGrow is hoping to expand its delivery zone in the weeks ahead, so check in with the dispensary directly for the latest info. You can also place orders and take advantage of a rewards program with the dispensary's app for iPhone and Android.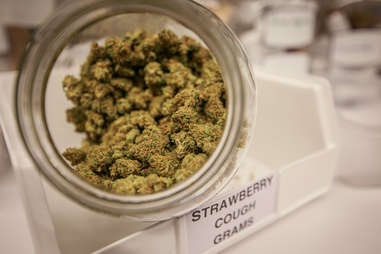 West Valley, Henderson
The+Source already has delivery through Blackbird, but recently launched its own in-house service to meet demand. Most orders are dropped off the following day, but customers can score deals on in-house brands like Camp and 8 Fold. Deliveries are free within a five-mile delivery radius from either one of the dispensary's two locations. Purchases have a $75 minimum and arrive between 10am and 7pm.
Downtown, North Las Vegas, West Valley
The largest independently owned cannabis dispensary in Vegas has seen its delivery orders jump from 30-40 a day to hundreds a day. To help pick up the slack, Thrive is adding more trucks for same-day delivery, operating 24/7 with orders typically arriving within four hours or less. Minimum is $75 with a flat $5 delivery fee. However, delivery charges are waived with an order of $100 or more. Thrive has locations in Downtown, North Las Vegas, and west of the Strip, but is delivering throughout all of Las Vegas and Henderson.
Sign up here for our daily Vegas email and be the first to get all the food/drink/fun in town.
Rob Kachelriess has been writing about Las Vegas in Thrillist for more than six years. His work has also appeared in
Travel + Leisure
, Modern Luxury, Leafly, and Luxury Estates International's seasonal publication. He's ready to puff, even if he can't pass. Follow him on Twitter @rkachelriess.