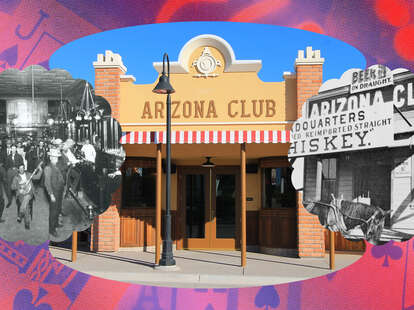 Photos courtesy of the University of Nevada, Las Vegas Special Collection and Archives | Design by Maitane Romagosa for Thrillist
Photos courtesy of the University of Nevada, Las Vegas Special Collection and Archives | Design by Maitane Romagosa for Thrillist
Long before the Sin City tag came around, Las Vegas laid the foundation for a legacy of bad behavior with Block 16, a red light district for saloons, brothels, and games of chance. It was there from the start when a railroad company founded Las Vegas in 1905 as a rest and supply stop between Salt Lake City and Los Angeles. There were 40 blocks on 110 acres with Fremont Street as the main drag. Block 16 was just one of two blocks (along with Block 17, which became segregated) that initially allowed alcohol and gambling—a combination that may or may not have contributed to occasional gunfire.
"The railroad company was very intentional about where they placed things," according to Claire White, director of education for the Mob Museum. "They wanted a town that made sense, even if it wasn't literally a company town. They wanted railroad workers to live in a certain area and civilian workers to live in a certain area—and they wanted to be able to manage vice, but still provide it."
By the time Las Vegas was incorporated as a city in 1911, prostitutes began to show up. Laws were evolving, and hotels were given an exemption to serve alcohol, which had unexpected consequences. "We ended up with hardware stores with hotel rooms—anything to sell booze," jokes Michael Green, associate professor of history at the University of Nevada, Las Vegas. "Block 16 had to compete. They did that by putting cribs or rooms behind the bars, and it became a red light district."
The most appealing saloon, the Arizona Club, was billed as the "Queen of Block 16" with a brothel on the second level. The Red Onion, Arcade, Gem, and Nevada Club (a favorite for draft beer, a novelty at the time) also helped draw customers to the district. "Most of the establishments began as tents with wooden facades," White says. "They looked like a Hollywood set for a Western movie."
As the money began to flow, the businesses evolved into full wood and brick structures. The cowboy culture and Western motifs continued, even through the district's waning days in the early 1940s. "You would not say to yourself, 'Oh, this is clearly the Old West,' but it was reminiscent of the Old West," Green says. "There were various saloon fronts, some looking nicer than others, and you could go down an alley, make a turn, and find commercial affection."
The environment and atmosphere were loose and mostly stayed that way as laws came and went over the years. Nevada actually banned booze before the US did in the Prohibition era, but enforcement was rare and usually only something the feds cared about. "Even during Prohibition, Block 16 was about as dry as the Pacific Ocean," Green adds. Sometimes, gambling was legal, and sometimes it wasn't. It continued anyway.
Las Vegas grew rapidly and developed a reputation as an adult playground in the 1930s, but Block 16 wasn't marketed to tourists. It was a place that mostly welcomed workers from the railroads, mines, casinos, and Hoover Dam. "That's certainly not to say there weren't out-of-towners who participated in the sexual trafficking on Block 16, but it wasn't the primary driver by any means," White says.
The demise of Block 16 is blamed on a few things—and the importance of each depends on who you talk to. The Las Vegas Army Airfield, which later evolved into Nellis Air Force Base, came around in 1941, and the military brass, who had an interest in keeping recruits away from tempting distractions, pressured the city to crack down on the Las Vegas red light district. There's also evidence a developer promised to revitalize the block if it shut down but never followed through.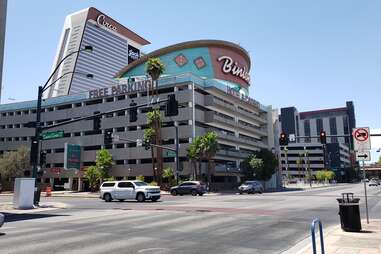 Either way, Vegas was growing, not only in the original city (or "Downtown" today) but on Highway 91, which would eventually become Las Vegas Boulevard, setting the stage for the Strip. There were more options than ever for drinking and gambling, leaving Block 16 to hang its reputation on prostitution, especially when alcohol and casino licenses were revoked. As local leaders worked to clean up appearances, the brothels were pushed out to Four Mile on Boulder Highway, an area named after its location four miles from Main and Fremont.
The organized crime syndicates that infamously shaped modern Las Vegas actually had little to do with Block 16. The mob came in to run their own casinos as the Las Vegas red light district was already on its way out.
So, what's left of Block 16? Well, nothing much. "Unfortunately, the stereotype of Las Vegas tearing down or imploding all its history applies to Block 16," White says. "These buildings weren't built to last and after being condemned in the '40s and '50s, were all torn down."
The Block 16 site, between Stewart & Ogden and First & Casino Center, isn't glamorous or exciting. The land is little more than parking space, including a garage for Binion's Gambling Hall. Other nearby casinos, including the Golden Gate, Fremont, California, and Four Queens, have history and retro charm but are, for the most part, descendants from a different era. Even Fremont Street is nothing like it used to be, now reimagined as a pedestrian mall for tourists.
However, you can head over to the old courthouse, which is now the Mob Museum, and walk through an Arizona Club exhibit featuring a replica of the signage with items from Block 16 on display, including photos and bar tokens. A larger-scale recreation of the Arizona Club is part of the Boomtown 1905 streetscape at Spring Preserve, featuring a bar, piano, and roulette wheel patterned after the Block 16 heyday.
Legal brothels are entirely gone from the land once known as Four Mile and are outlawed in not just Las Vegas but all of Clark County. The closest ones operate in the Nye County communities of Pahrump and Amargosa Valley.
For those on the Las Vegas Strip, visiting the Block 16 Urban Food Hall at the Cosmopolitan is a more convenient way to feed an appetite, even if the tribute to the old Las Vegas red light district is in name only. Still, a nod to history is always welcome—even if it reminds us that everything is constantly changing in Las Vegas, including the vices.
Rob Kachelriess
is a full-time freelance writer who covers travel, dining, entertainment, and other fun stuff for Thrillist. He's based in Las Vegas but enjoys exploring destinations throughout the world, especially in the Southwest United States. Otherwise, he's happy to hang out at home with his wife Mary and their family of doggies. Follow him on Twitter
@rkachelriess
.