Rosie Cohe for Showtime Sports
Rosie Cohe for Showtime Sports
Yep, this crazy fight is actually going to happen. We're about to find out who will win when a UFC Champion, who's never participated in a professional boxing match, takes on an undefeated guy many consider to be the greatest of his generation. The showdown between Conor McGregor and Floyd Mayweather Jr. is coming up tonight at 6pm and, of course, it's taking place in Las Vegas -- the fight capital of the world.
The hype is in full swing thanks to their multiple press conferences, the hundreds of millions both fighters stand to make, a pre-fight scuffle between the competitors and their entourages, and the massive amounts of betting taking place. Naturally, there's plenty of excitement, events, and deals surrounding the Sin City slugfest, so you'll have ample opportunities to watch and bet on it, if you don't feel like staying home at watching on Showtime PPV. Here are the best places and ways to enjoy Mayweather vs. McGregor in Las Vegas.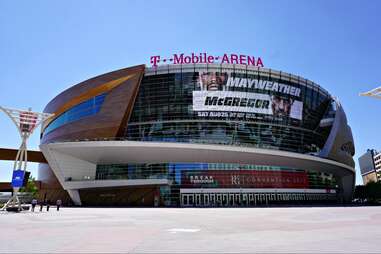 Got some extra cash? Watch the spectacle in person.
The fight is taking place at the T-Mobile Arena on the Strip. It may be a surprise that tickets have been available just days ahead of the event, but keep in mind, the least expensive seats in the nosebleed section have a list price of $3,500. So, wait it out -- you might get a good deal when nervous resellers slash prices in the final hours (and even minutes) leading up to the event. Nothing beats the atmosphere of a big fight in person, and you can even reserve parking in advance.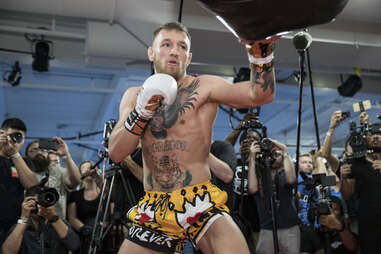 Closed-circuit locations
MGM Resorts International is providing a number of closed-circuit viewing locations for those who can't find (or afford) a seat inside the arena. They include the Grand Ballroom at the Bellagio; the Events Center at the Mirage; TAP Sports Bar and Marquee Ballroom at MGM Grand; Garden Grill Ballroom at Circus Circus; Zumanity Theater at New York-New York; Mandalay Bay Theatre and Light Nightclub at Mandalay Bay; Park Theater, Diablo's Cantina, and Double Barrel Roadhouse at Monte Carlo; and Criss Angel Theater at Luxor.
Need an Irish pub to cheer on McGregor? Check out Rí Rá inside the Shoppes at Mandalay Place or Nine Fine Irishmen at New York-New York. Need someplace totally weird to cheer on Mayweather? Head to the Tournament of Kings Arena at Excalibur.
Each closed-circuit location is charging $150 for admission, not including fees, taxes, or even food and drink. Call ahead to confirm the info, as prices and deals are subject to change. However, Nine Fine Irishmen does have a cool Fight Night menu of food from the old country.
Viewing parties
You can watch the event in high-def at home on pay-per-view for $99.99 -- but if you'd rather be surrounded by rowdy fight fans, check out the following party spots:
Restaurants/bars: Your choices include The Still at the Mirage ($300, including a $150 food/beverage credit); Tom's Urban at New York-New York ($327, including all you can eat and drink); Twin Peaks in Henderson ($30 cover but tables need to be reserved in person); the Foundation Room at Mandalay Bay ($300 per person, including a $150 food and beverage credit with table seating no general admission); 7th & Carson ($100 cover to reserve a seat); Dave and Busters in Downtown Summerlin ($53 with food and soft drinks or $65 with food, soft drinks and two "premium" drink tickets); Miller's Ale House in Henderson ($50 cover with reservations taken in advance for parties of six or more); Hooters Eastern ($50 cover, with a $20 gift card to use during the following two weeks); and Rosati's Pizza on Durango (a modest $10 cover, first come, first serve, starting at 5pm).
Strip clubs: Visit Crazy Horse III to watch the fight and enjoy the scenery for $100, payable both in advance online and at the door. There will also be a post-fight party with DJ E11V3N. Other strip clubs showing the bout include Sapphire ($150 in advance), The Legends Room ($150 with Jesse Jane and other porn stars hosting), Sophia's ($100, includes buffet and $30 drink credit or $300, includes table, buffet, and drinks during the fight), Deja Vu ($100), Larry Flynt's Hustler Club ($200 admission but only $50 for locals with an extra $100 for a chair), and, finally, The Spearmint Rhino ($140, but you can get a deal for $100 if you sign up now for a ride in its limo, which is a real thing that exists).
Want to party with Mayweather? The boxing great opened his own strip club -- Girl Collection -- earlier this year and he's promised to be there every night through Monday. So party, hang out, and ask him whatever you want. Just make sure to bring some extra cash. Three-minute floor dances are $40 while 30 minutes in the VIP room is $500.
Hit the clubs
A big fight weekend is always a busy time for Vegas nightclubs, with high rollers looking to blow some cash on bottle service in addition to ringside tickets. Big names being brought in over the weekend include DJ Snake and The Chainsmokers at XS inside the Wynn; J. Cole and Jamie Foxx at Jewel inside Aria; Calvin Harris and Kaskade at Omnia inside Caesars Palace; Steve Aoki and Travis Scott at Hakkasan inside the MGM Grand; and 50 Cent and Chris Brown at Drai's on the rooftop of The Cromwell.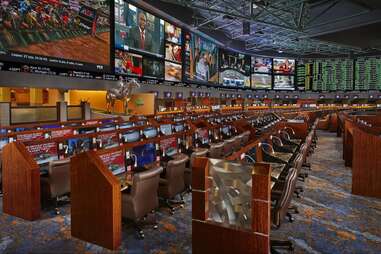 Make a wager
You're in Las Vegas. It's time to bet -- and bet big. There are plenty of sports books to choose from, but the biggest one is the SuperBook at the Westgate, which features the largest wagering menu in Nevada. Have fun with your money and check out the goofy prop bets that can be made between totally different sports. For example, will the total number of soccer goals between Manchester United and Leicester City be more or less than the number of official knockdowns in the Mayweather-McGregor fight? You can throw down some money on that!
Toast your favorite fighter
The Cosmopolitan is serving up a series of "Money Fight" craft cocktails from August 25-27 at The Chandelier, Vesper, Race & Sports Book, and Bond. They include the Mystic Mac (Jameson, lime, cardamom, and ginger beer), the Pretty Boy (Ciroc pineapple, lemon, and tropical Red Bull), Glass Jaw (a margarita with Patrón reposado, lime, orange, and tamarind ginger) and Bob & Weave (Patrón Silver, lime, lemongrass, lychee and cucumber soda). Each one is $16 -- a lot less than a ticket at the T-Mobile Arena.
Caesars Palace has some cocktails of its own in honor of the boxing showdown -- offered at Alto Bar, Lobby Bar, and Montecristo Cigar Bar from through August 27. Take your pick of the Bee Sting (Gentleman Jack, Bénédictine, falernum, and lime juice), Pretender or Contender (Jameson Black Barrel, Luxardo Maraschino, St.-Germain, lemon juice, and Angostura bitters), Punch Drunk (Rémy Martin 1738 Royale Cognac, Cointreau, lemon juice, and egg white, with cinnamon-sugar rim) and He's a Ginga (a Moscow Mule made with Jameson Irish whiskey) -- all for $16 each.
The best bargain on fight drinks may be at Therapy downtown. The Mayweather Margarita is a sparkling tequila cocktail with orange juice and gold flakes on the rim, costing just $10. Meanwhile, the Irish Knockout is a $5 shot of crème de menthe, Baileys, and Grand Marnier.
Preload before the show
Before the action unfolds in the arena, stop by Sake Rok at The Park outdoor promenade next door, where you can have all the food and booze you want for a mere $405. This pre-fight party for PrimeSport lasts from 3-7pm and includes a premium open bar, passed bites, and a buffet. It's a great way to feel like a high roller (and keep your belly full) before the bout gets underway.
Drink for free after the show
MB Steak at the Hard Rock is throwing a post-fight party -- and handing out a complimentary drink, depending on who wins the fight. If McGregor is victorious, guests can enjoy the Irish Fist, a sweet-and-sour whiskey cocktail made with peach schnapps. If Mayweather comes out on top, the free drink will be the 49/26, made with bourbon, agave nectar, and lemon juice. Or you can always spend money on the loser's drink.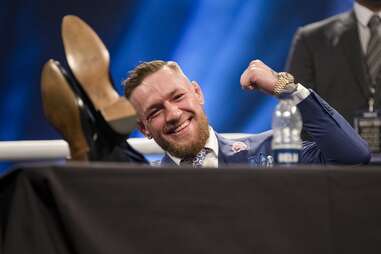 Ain't no party like the after-party
Win or lose, Conor McGregor will be up all night partying. The UFC Champ will host a post-fight bash inside Encore Beach Club, where guests can enjoy the open-air poolside. It's actually the first of four guaranteed dates for McGregor under an exclusive two-year hosting gig with Wynn Resorts because now even a fighter can have a residency in Vegas.
Remember The Greatest
The Bellagio Gallery of Fine Art is currently hosting I Am The Greatest: Muhammad Ali, an exhibit of photos that showcase the boxing legend's life and career. In conjunction with Fight Week, admission will be 50% off through August 27. Check it out and learn about the only guy who could hype a fight better than Mayweather or McGregor.
Make your bet pay off
Get something extra out of your bet -- win or lose -- at The LINQ Hotel & Casino. On the day of the fight, bring a McGregor sportsbook wager to O'Sheas and receive a special $4 shot with any beer or cocktail. Other specials include $3 Jell-O Shots and the $12 Fighting Irish Handcuff (a pint of Guinness with a shot of Jameson). On the same day, bring a Mayweather sportsbook wager to TAG Sports Bar for a $4 shot with any beer or cocktail. Miller Lite and Coors Light pitchers will also be offered for $20.
Sign up here for our daily Vegas email and be the first to get all the food/drink/fun in town.
Staying home instead? Planning your own viewing party? Here's our guide to hunting down the PPV live stream , and check out our other watch guides for Boston, Chicago, Dallas, LA, Miami, NYC, San Diego, San Francisco, and Washington, DC.
Rob Kachelriess has been writing about Las Vegas for Thrillist for nearly four years. His work has also recently appeared in
Travel + Leisure
,
Vegas Seven
,
David Magazine
,
Vegas Magazine
, and Luxury Estates International's seasonal publication. He might suck it up and place a bet on McGregor. Follow him on Twitter @rkachelriess.