The Best Camping Escapes From London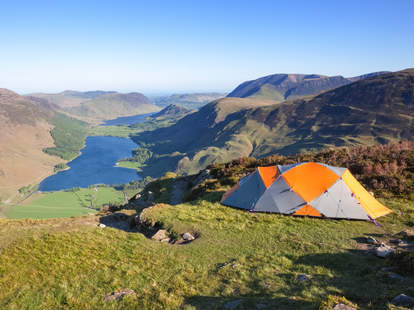 While there are many campsites available in England -- almost as many as there are beautiful walking trails -- many of them feel so developed with paved roads and amenities that you might as well stay in the city. The trick is to find the campsites that feel close to the real deal, with birdsong, grass, and probably a few bugs trying to nibble your toes. Or, let us do that part of the work for you -- that works, too.
Sussex
Only a two-hour drive from London, this 150-acre campsite is ideal for gathering a mega crew and rolling deep. It has plenty of space, with several semi-permanent structures for gathering, and likes to organize nightly events, from pizza-baking to basket-weaving, plus free camping to musicians who want to take part in the fireside singalongs. This space has lots of meadows to happily get lost in, plus several luxurious shepherds' huts and teepees… so there's enough room to find your own bit of the wild.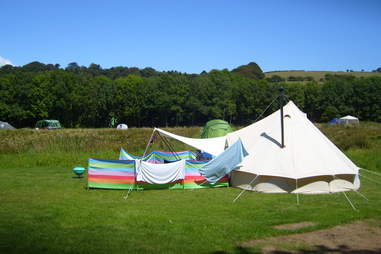 Courtesy of The Meadows
Cornwall
If you want to get a bit of grass under your feet without the soundtrack of children's voices -- and bring your dog along -- head to Cornwall. At The Meadows, there are two vintage caravans (named Lottie and Mabel) on-site to rent, as well as plenty of room to pitch up, with secluded areas and more structured space covering whatever experience you're after. There's even a Wi-Fi area and 27 electrical hookups for anyone who can't quite bear the thought of disconnecting. The Pentewan Valley trail runs just by The Meadows, so if you want to take a jaunt through the surrounding area, you can always find your way home.
Robin Hood's Bay
Although it's unknown how this particular bit of land came by the name we most associate with the masked man in tights, the gentle hills overlooking this bay are steeped in shady, super-entertaining history, full of smuggling and intrigue. These days, the family-run campsite draws a regular population of campers who want to get away without being too far from local pubs… which are only a five-minute walk away. The super-enthusiastic owners really want to go that extra bit to make sure you're comfortable, so this is a good spot for campers still using training wheels, so to speak.
Cornwall
Filled with charming meadows, shallow streams, small lakes, and shaded fields, this rural campsite is great for groups who want to feel the call of the great outdoors. The surrounding area is teeming with wildlife, plus there's plenty of space for walks, paddleboats, and discovering secret rope swings, so you'll always find ways to be entertained. The facilities are basic, but part of why you came out here was to get away from all that, right?
Lewes
This working farm, located in South Downs National Park, offers spacious fields for campers to unwind and relax while gathering around campfires and enjoying the surrounding soft, rolling hills. While it does have pretty modern facilities, this is really for true campers -- no caravans allowed, and no electrical hookups available. If you just can't live without some of the little comforts of city life, it does have (still very basic) huts and camping pods you can rent as well.
Southwaite
Open only from March through November (when the weather is slightly more predictable), this super-secluded farm is way out there -- we're talking no phone service, one road in, and miles of gorgeous, desolate space, with very little to get in the way of some serious personal recharge vibes. Of course, this kind of isolation isn't for everyone, but when you really want to get away, it's perfect. There are showers tucked away, but they're a pound a go for 45 minutes of hot, steamy bliss after a long day of walking through hills, dales, and streams.
Sussex
This tents-only campground is perfect for couples' retreats. No groups allowed, and the pitches are nicely separated by trees, giving you the feeling of seclusion where you can create your own little world. Each pitch comes with its own fire pit and is only accessed via a trail from the main house. You're even given a wheelbarrow to transport your belongings for your stay. The owner chooses to landscape with lots of edible plants, so keep an eye out for fruit, berries, and shrubs ripe for the tasting.
Cornwall
Perched on the edge on the Treen cliffs, this fifth-generation dairy farm and campsite was used in WWII as a communications post for the armed forces. Although the facilities have been updated, this spot still maintains its rustic feel; it has super-close access to two gorgeous beaches, a small but convenient shop filled with local meat, fish, and produce, and is not far from Logan Rock... just in case you want to tick a touristy box.
Dartmoor
The only place in England that you can legally wild-camp, this national park is a gorgeous backdrop for really getting in touch with your inner caveman... only with a tent or bivvy bag instead of a hole in the cliff face. Best way to do it? Pack a bag with everything you need for a while, pick a direction, and just start walking. Within an hour, you'll feel completely cut off from civilization and blissfully detached, wandering the mature woodlands and open moorlands, with the tors offering breathtaking views of the expansive lands around.
Sign up here for our daily London email and be the first to get all the food/drink/fun in the capital.
Haley Forest is a food & drinks writer who still can't believe that s'mores are not really a thing in England, as they were her favourite part of camping. Luckily, she has now discovered whiskey. Follow her adventures at @HCForest.