London Is a Pub. What Is Each Neighbourhood Doing and Drinking?
Inspired by our American cousins and their proclivity for both drinking & anthropomorphizing things, we thought we'd ask the question: if London were a pub, and all the neighbourhoods were its patrons, what would each of them be doing & drinking? Well, you're about to find out...
Notting Hill has just asked the barman whether they have any "tinnies of Red Stripe," and looks slightly relieved when he's told that they don't. "I'll have a Hendrick's and tonic then, please," he says, opening a tab on his father's Coutts Card.
Chelsea has just been on holiday. You can tell that Chelsea's just been on holiday because she's always just been on holiday. That, and she keeps showing a bored-looking suitor some pictures of a middling tropical house DJ that she claimed she shared a line with at a pool party.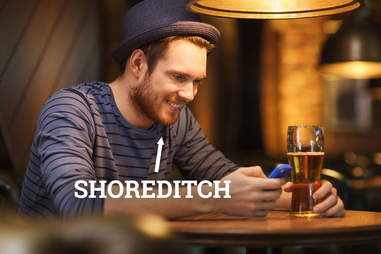 SHUTTERSTOCK (EDITED)
Shoreditch is wearing a new hat. He's also drawing up a seed-round pitch deck for a new startup concept they're calling "Uber for horses," tentatively dubbed Hoof.
Dalston is assuring his friends that he's actually, really, genuinely still a pretty dangerous person to hang out with, before putting up posters for a new knitting club in the gents' toilet.
Greenwich is arguing with the barman, claiming that his call for last orders was premature by precisely one minute, 47 seconds, and six picoseconds. 
Stratford is wearing the sensible red fleece that he was given when he was a "Games Maker" at the 2012 Olympics and is telling everyone how good the Yo! Sushi is at Westfield.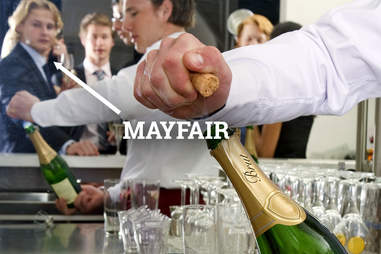 SHUTTERSTOCK (EDITED)
Mayfair pops the keys to his velvet-covered Ferrari into the top pocket of a passing altar boy that he's mistaken for a valet before ordering a magnum of Dom and pretending to look bored while his friends photograph him with it.
Despite being perhaps the wealthiest one here, Westminster hasn't had to buy himself a drink all night. Very soon, Westminster will book a private cab for the half-mile journey home. It will cost £892, and everyone else will end up paying for it.
Soho is pestering the manager for the Wi-Fi details so that he can show some girls the 360 viral media strategy that he helped architect for a dog food company at his pop-up agency "Marigold," formerly known as "VOID," formerly known as "Dance, Monkey."
Covent Garden is out in the beer garden, trying desperately to entertain a coach-load of Spanish schoolchildren with a semi-improvised magic show.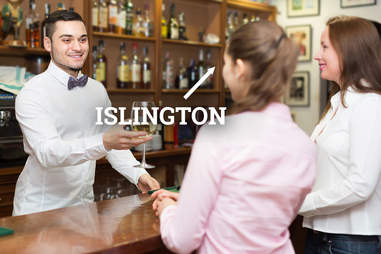 SHUTTERSTOCK (EDITED)
Islington is drinking a small ("oh go on then, medium") glass of sauvingon blanc at her sister's 28th birthday drinks before catching the bus home with her boyfriend of seven years and not forgetting to let the cat out.
Clad in a cyber-punk headdress and some cowboy boots, Camden has just put this "super-cool band" called The Strokes on the jukebox and, despite the fact that he's in his late 30s, is asking some teenage girls if they'd like to come back to his studio flat and smoke some Moroccan hash.  
In order to make the impending evening with his group of Japanese clients halfway bearable, The City is racking up half a gram of what he swears is allergy medication -- fresh from the glove compartment of his dealer's Mercedes C Class -- on the cistern in the gents' toilets, while wondering if Jeremy in mergers & acquisitions still knows any decent escorts. 
If Clapham isn't chanting topless near some indifferent girls or drinking a bottle of port through a straw, he's reminiscing tearfully about a BUCS semi-final victory over Exeter in 2008.
Putney didn't make it to the pub: he's stuck on the District line.
Brixton has only been at the pub for five minutes, but is already saying loudly to anyone who'll listen what a shame it is that all these newcomers have come along and ruined the atmosphere of the place. Very soon, Brixton's wondering what a decent loft conversion would add to the value of the building.
Bermondsey is wearing straight-cut jeans while sipping a craft beer and not particularly enjoying the whole experience.
Tower Hamlets sits in eerie silence in the corner, rolling a cigarette and waiting for the right moment to burn this mother down.
SHUTTERSTOCK (EDITED)
Every five minutes, Richmond asks the barman if he can put the rugby on. Every five minutes, the barman says no.
"This place is OK," says Peckham, "but it'd be better if it was a multi-story car park, right guys? Guys??"
As the last of the evening sun flickers in the pub garden, and his cherubic children frolic about him with the family's aging gun dog, Barnes takes a sip from his half pint of nut-brown Cornish porter and makes a mental note to track down a stronger tarpaulin for next week's swingers party.
Wimbledon is clutching giddily at a pitcher of Pimm's and crying "Come on Andy!" intermittently at a pair of bemused darts players.
Sign up here for our daily London email and be the first to get all the food/drink/fun in the capital.
Joe Bullmore is a London writer and a pretty big deal. Follow him on Twitter to see why.