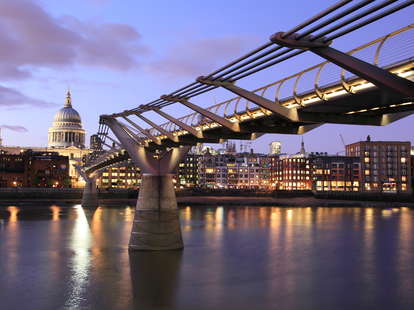 <a href="http://www.shutterstock.com/gallery-382963p1.html?cr=00&pl=edit-00">mary416</a> / <a href="http://www.shutterstock.com/editorial?cr=00&pl=edit-00">Shutterstock.com</a>
<a href="http://www.shutterstock.com/gallery-382963p1.html?cr=00&pl=edit-00">mary416</a> / <a href="http://www.shutterstock.com/editorial?cr=00&pl=edit-00">Shutterstock.com</a>
For a city predominantly made out of concrete, tarmac, and hilariously shaped skyscrapers, London can be pretty easy on the eyes. In fact, in the right place, and at the right time, it can look downright incredible. Here's where (and when) it looks best: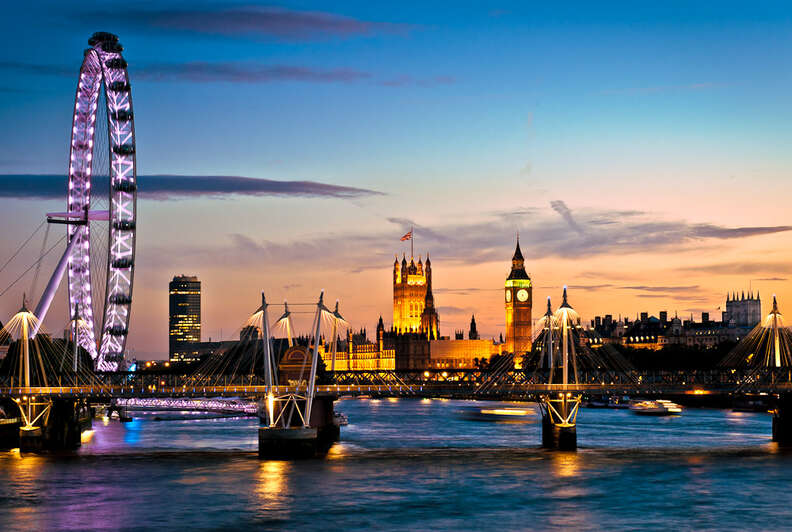 Sunset from Waterloo Bridge
Waterloo
Yes, The Kinks were right. With views of Southbank, the Eye, Westminster, Canary Wharf, and the city it's a perfect spot to remember just how glorious this city can be. Sunset in particular can be spectacular -- some might even call it paradise.
Little Venice
Paddington
There is something ridiculously picturesque about a bunch of cool narrow boats all neatly moored all together. North of Paddington, the Regent's & Grand Union canals meet up and form an intersection where loads of colorful canal boats converge, rotating everyone two weeks. While most of these boats are still residencies, many of them have been transformed into cafes, galleries, and even bookshops.
St. Paul's
The dome of St. Paul's is almost as recognizable as Big Ben or the Eye, and is passed by millions with only the briefest acknowledgement. Well we're here to remind you to stop and actually look. Christopher Wren, apart from designing this and 52 (!!) other churches in London, also put together Hampton Court Palace, Monument, The Royal Greenwich Observatory, Kensington Palace, and a dozen other places that could easily fill this list. And architecture was just a side gig to his passion, astronomy.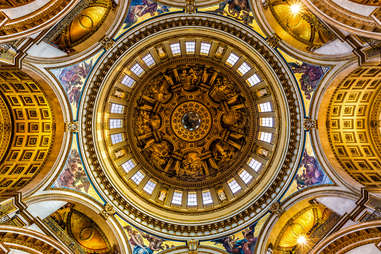 ... and inside
St. Paul's
The outside, in all it's classic glory, has become a symbol of London, but it's really the interior that's the showstopper filled with gold arches, stunning murals, and gorgeous metal & wood details. Look at the ceiling, and prepare to feel some awe.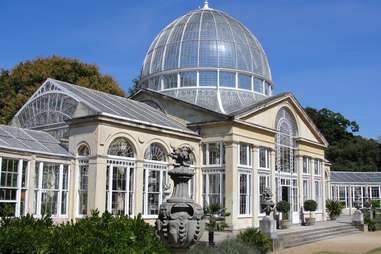 Syon Park
Built in the 1760s, this 200-acre park and its grand house (with its huge conservatory) feels like something out of a period film. Which actually isn't surprising considering it's used for filming some of the classics like Emma, Gosford Park and The Golden Bowl. With it's proximity to the Thames, and a specific tidal meadow that gets routinely flooded, there are hundreds of crazy rare trees and beautiful grounds.
London Bridge
Don't get us wrong, The Shard is fine looking, but really -- it's about the view, however you get there, be it drinks at Gong, dinner at Oblix, or even The View. As this is the tallest building in London, you can really see everything from it, making it a breathtaking sight by day or by night.
Richmond
While it may feel like an absolute mission to get there, we swear you're still in London out here. With sweeping fields, bountiful forests, and herds of deer wandering though the expansive wilderness, Richmond park is like a portal to another time and place.
Bloomsbury
Containing around 8 million pieces of work, the British Museum is certainly awe-inspiring. However, it's the Great Court that really sticks with people. It covers two acres, and is covered in over 3,000 unique panels of glass creating a illusion effect where it's constantly shifting depending on where you look at it from. It's haunting, calming, and outright beautiful all at the same time.
Kings Cross
It's hard to pass through the Kings Cross area and not be instantly drawn to the massive Victorian building sitting next door to the national rail station. With majestic arches on the inside, full of the romantic possibility of adventure, plus the imposing grandeur of the red brick and prominent clock tower speaking of another area of travel, this public space draws eyes constantly.
Forest Hill
Over a hundred years old, this museum has a ton going for it. With astounding views of the city and central London, it has collections relating to cultural anthropology, natural history, and musical instruments, plus an aquarium and massive collection of stuffed animals (seriously). The conservatory and bandstand has a bit of extra love put into them in 2011 and are simply stunning.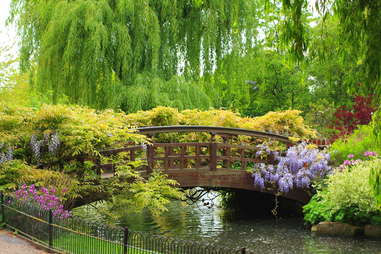 Regents Park
With nearly 12,000 roses in eighty-five single verity beds complete with their own unique names, this area hums with life when in full bloom. Holding onto a peaceful vibe, there are benches underneath crawling with roses all along the boarders, which are pretty much perfect for literally stopping to smell the roses.
Sign up here for our daily London email and be the first to get all the food/drink/fun in the capital.
Haley Forest is a London writer who thinks any pub with a £3 pint should also be on this list. Follow her at @HCForest.