While London can easily keep you entertained with a never-ending supply of gigs, art exhibits, theatre, amazing food, and a litany of perpetually opening bars, it is not exactly a city that's easy on the bank account. So when your wallet contains naught but a cartoon fluttering moth, it can be easy to think that there's no answer but to stay home. Fortunately, there really are fun times to be had out there without spending a fortune -- all of the items on our list cost less than £20, and most are under £10.
Kick ass with your mind
Various
Price: £15 per Team
A few times a month, the crew over at Geeks Inc throw one of their pretty impressive quiz nights. These guys understand what's really important: they ditch the usual lame questions about nonsense like "history" and "literature" in favor of the best shows, games, and movies. If you've invested (it's an investment of sorts, right?) enough hours to become strangely encyclopedic about a piece of pop culture, this might be for you. Parks and Recreation, Arrested Development, Fallout, Marvel, Back to the Future.

Recommended Video
The Most Overlooked Mediterranean Paradise in Europe
Learn how to become a luchador (yes, really)
Bethnal Green
Price: £20
We're talking the whole bit: masks, serious bruising, and a whole lot of latex. The guys over at Lucha Britannia host classes three nights a week, where you can learn the tricks of the trade -- as well as take in completely over-the-top shows with burlesque, circus, and theatre, with some very real bodies slamming in the ring.
Dalston
Price: £5
Yeah, talking about rooftops right now is just torture, but think of it as something to look forward to. Come early May, get a summer-long membership to this community garden/chill space/pop-up heaven/roof cinema/party central for a fiver and hang out with the cool cats of Dalston all day long.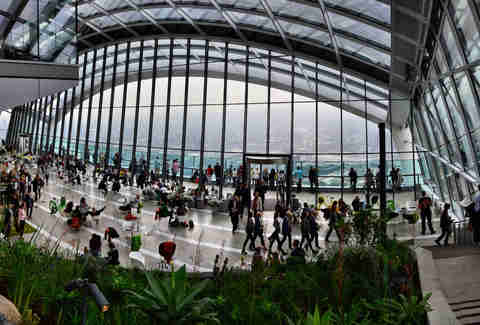 Take in an amazing view (and grab a cocktail while you're at it)
The City
Price: Free
London is full of parks but one of the best is riding high at 35 levels up. The Sky Garden has one of the top views in town and for the shiny price of free, you can put those well earned pennies towards grabbing a drink at the Sky Pod Bar, while you pick your jaw up off the floor at the 365 degree view.
Catch a film and a pint
Whitechapel
Price: £4.50 - £8.50
Ditch the insanity of cinemas in Leicester Square (unless you're like, really into pain and frustration), and head east to Genesis Cinema, where you can catch both first-run and cult classic films. Here are the perks: they have a way better environment, you can drink booze in the cinema, and they're a fraction of the price. That's a serious win/win/win. Tickets normally cost £8 (although you can upgrade to the extra comfy Studio 5 experience for 50p more), but on Mondays, they cut the cost in half. Win/win/win/win?
Sail above it all
Greenwich & Canning Town
Price: £4.50
Built for the Summer 2012 Olympics, the Emirates Air Line is far from the, um, most practical mode of transport. It excels at being totally gorgeous, however, with a stunning view of the river and the O2.
Take in a concert at lunchtime
Piccadilly Circus
Price: suggested donation £3.50
On Mondays, Wednesdays, and Fridays, you can usually catch just under an hour of tunes -- often played by award-winning musicians -- at St. James Church. We can't promise you'll get out of this experience without some remorse, though: Wednesdays are part of the Park Lane Group Young Artists Series, so be ready to gawk at these accomplished youngsters in awe as you regret your misspent youth.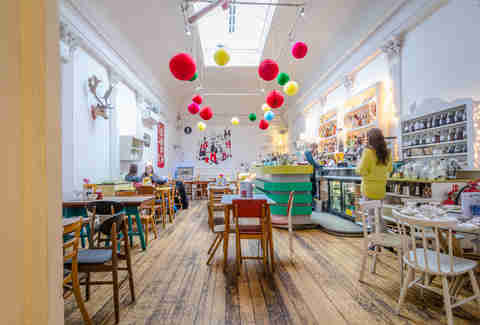 Kings Cross
Price: £1-£15
These guys kind of do everything and all of it well: quiz night for a quid, two-hour bottomless brunch for £15, musical bingo for £12, comic book making classes for under £8... the list just kind of goes on and on. This places primarily functions as a cafe by day, so it's a good one to note for dragging out the laptop and adulting like a boss.
Get your culture on
Southbank
Price: £15
The National Theatre likes to make sure everyone can get their fill of Shakespeare, experimental musicals, and world premiere shows with £15 tickets for every performance. The seats aren't up front and centre, but there really aren't any bad seats here, so sit back and enjoy.

Enjoy a lunch designed by Angela Hartnett
Covent Garden
Price: £16.50
Chef Angela Hartnett honed her craft under the watchful eye of Gordon Ramsay before taking over the restaurant at The Connaught, and then opening her own little empire of modern European spots -- and bagging a Michelin Star in the process. A two-course meal at her Cafe Murano in Covent Garden will set you back less than 20 quid, and you can take a stroll through the market to window shop after.

Write the next great British novel
Various
Price: £5.00
If you're the one who always has a million stories that leave your friends envious of your insanely awesome life, start putting it all down to paper with a little help from the London Writers' Cafe. They meet every other week to give feedback and offer sessions with publishers, editors, and agents.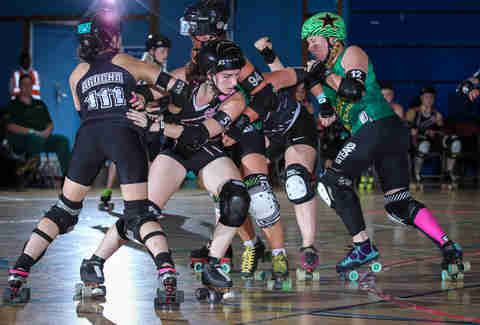 Earn a dose of adrenaline on wheels
Various
Price: £5.00
Grab a helmet, some knee pads -- and be sure to get a mouth guard, especially if you haven't been on skates in a while. The Roller Girls, London's premier Roller Derby crew, have a recreational league for those that aren't quite ready to give blood to the sport. It's one of the best cardio workouts you'll find this side of Tough Mudder (and way more fun).
Sign up here for our daily London email and be the first to get all the food/drink/fun in the capital.
Haley Forest is a writer, but if she was a Luchador, her fighting name would be Lola Fuego. Follow her on Twitter & Instagram at @HCForest