How to Make a Difference in LA by Volunteering This Season
Here's how and where to lend a hand in LA over the holidays and all year long.
It's easy to get wrapped up in travel and family, gifts and food, and all of the chaos of the holiday season. But it is also a good time to think about others and to give what we are able—time, effort, objects, money, whatever—to help our fellow humans in the best way we can. The hardships and loss incurred in the pandemic are both staggering and ongoing, and if we are able to mitigate some of that struggle we should do our best to help.
There are countless organizations doing great work across LA, and in fact there are so many that it makes the act of choosing when and how to get involved a barrier to entry. To help you through that, we've compiled a list of some of our favorite organizations, grouped by type of action, with links directly to their volunteer pages.
For the justice minded
The arc of the moral universe may bend towards justice, but it doesn't bend that way on its own—we need people to pull as hard as they can. Give it a nudge this season by getting involved with Survived & Punished, an organization dedicated to advocacy and freedom for currently incarcerated survivors of domestic and sexual abuse. Their Letter Writing Action is a great way to help break down the barrier of emotional isolation, and you can also sign their petitions and calls for clemency. APLA Health provides needed healthcare, support services, and HIV-specific care to the LGBTQ+ community, and volunteering at their food pantry is a great place to make a difference, helping to provide groceries and hygiene products to people in need. Habitat for Humanity is a fantastic organization where your volunteer work affects change in an immediate, tactile way—building and restoring homes for families who would otherwise have very limited paths to ownership. The San Gabriel Valley chapter is a particularly good one.
For the outdoors person (and climate protector)
Planting a micro garden and educating friends about the dangers of microplastic have become normal hobbies as of late. If you find yourself in that camp, TreePeople relies on volunteers to plant trees to renew depleted landscapes lacking protection from climate change. Donations to its emergency fund help keep programs, like DIY greening projects, going during the coronavirus outbreak, too. If you're more of a beach person, join one of Heal the Bay's monthly beach cleanups or volunteer at their aquarium to care for animals and educate the public about marine life and conservation. If you can't volunteer, consider donating to support its programs like the webinar Knowledge Drops, which provides science lessons for the million-plus LA children now learning at home. You can also "aquadopt" a marine animal and donate toward its care—take that, pet-free apartment buildings.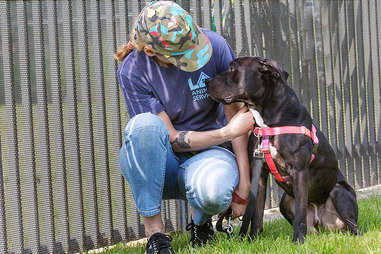 For the animal lover
If you were the kid trying to adopt every stray you found, channel that animal love into providing TLC to dogs, cats, rabbits, and other creatures at LA Animal Services, where volunteers socialize animals to get them adoption-ready. You can also help out at home by fostering an animal or making a donation. If pups and coffee are your two weaknesses, The Dog Cafe combines drinking lattes and helping rescues find their forever homes. Volunteers can walk dogs, plan activities, take photos, foster, and fundraise. If you'd rather live out a childhood fantasy, there's a horse for that: Dream Catcher of LA provides horse therapy to city residents dealing with cognitive, physical, and emotional issues. From providing lessons, to caring for the horses, to fundraising, there are plenty of ways to get involved or you can donate; proceeds keep services affordable for clients.
For the creative who wants to give back
LA is full of opportunities to use the right side of your brain for the greater good. Writers should consider volunteering as a teacher for InsideOUT Writers, which provides creative writing classes to current and formerly incarcerated youth, or donate to help fund their free classes and support groups. 826LA is part of a national organization dedicated to fostering creative writing skills for kids ages six to 18, through tutoring, workshops, and English Language Skills; volunteers can lead workshops, help publish student books, tutor children, and work with young journalists, among other things. Art fanatics can help out assisting guests, carrying out daily operations, and directing visitors to events and programs. The musically inclined can donate their skills to the Cedars-Sinai Music for Healing Program, comforting patients and their loved ones.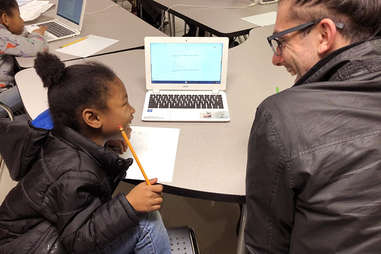 For those who want to support youth through mentorship
Plenty of social causes to fight for means there are lots of programs looking for mentors. Volunteer at the Los Angeles LGBT Center in their "Resistance Squad" to take direct action on protecting LGBT rights by writing to representatives, joining marches and rallies, and participating in phone banks. You can also mentor LGBT youth as one of their LifeWorks mentors. If you can't volunteer in person, consider donating to the center. If you're one of those people who could have stayed in school forever, School on Wheels provides free online and in-person tutoring and mentoring to children from kindergarten through 12th grade. Other ways to help include hosting a backpack or school supply drive to get kids much-needed supplies.
For the person whose love language is food
Eating in LA is always an adventure—and so is giving back through food institutions. Get involved in the kitchen at The Midnight Mission, which serves thousands of meals to the homeless every day. Crop Swap LA started as a local produce trading meet-up and has grown into an organization dedicated to growing food on unused spaces, and distributing excess produce to food-insecure communities; volunteers get to get their hands dirty picking and processing produce, watering, and maintaining gardens and farms, and they also help harvest unused or unreachable fruit from private trees. If you love hanging out at farmers markets and reducing food waste, check out Food Forward. The organization sends volunteers to farmers markets across LA and Ventura counties to rescue unsold produce and deliver it to agencies helping food-insecure families.
For the hobbyist
Do you spend hours juggling a soccer ball? Do you love to bake? Are you super crafty? Whatever your talent, there's likely a spot for you at Coach Art, which relies on volunteers to provide sports and art lessons to kids with chronic illnesses. And since it is SoCal, of course there is a volunteer opportunity that has to do with surfing and spending time on the beach. One More Wave provides wounded and disabled veterans with surf lessons and customized surfing equipment to accommodate their needs.
Ben Mesirow is an Echo Park native who writes TV, fiction, food, and sports. At one time or another, his writing has appeared in The LA Times, Litro, McSweeney's Internet Tendency, Los Angeles Magazine, and scratched into dozens of desks at Walter Reed Middle School.