17 Los Angeles Resolutions You Can Actually Keep in 2017
For many Angelenos, the end of 2016 was a bitter pill to swallow, which is why -- at the beginning of 2017 -- it's important to resolve to make this year, y'know, better. And since you're not going to wake up 20lbs lighter, here are a bunch of other things you can do to make this year better, ranging from fun stuff to serious stuff.
1. We resolve to take the Metro as much as possible, and to not complain (er, attempt to not complain) when construction of new stations leads to traffic on the streets.
2. We resolve to go to more comedy -- whether it's at a classic theater or, like, in some dude's backyard.
3. We resolve to not sit through the fourth song if the first three are bad, and the show was free.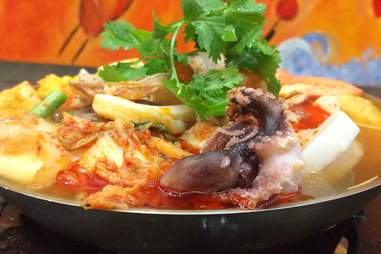 Chinese food in the San Gabriel Valley

| Tony Chen/Thrillist
4. We resolve to eat Chinese food in San Gabriel Valley, Armenian food in Glendale, and Indian food in Artesia.
5. We resolve to go to Mariachi Plaza, because Mariachi is totally awesome.
6. We resolve to get more involved. No matter what your politics are, you can volunteer for charities, get involved in local government, or sign up for Every Day Project, a platform that, from now until Inauguration Day, will send you one simple daily action to get more involved on the national level.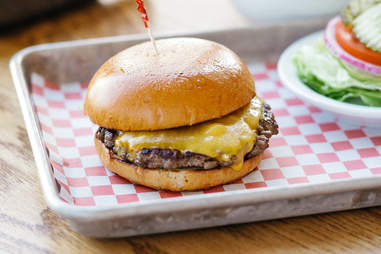 Cassel's

| Courtesy of Cassel's
7. We resolve to eat every one of the best burgers in LA. Again.
8. We resolve to spend more weekends in Palm Springs, San Diego, Santa Barbara, Big Bear, Catalina, and Vegas, and less on our couch talking about how easy it'd be to get to Palm Springs, San Diego, Santa Barbara, Big Bear, Catalina, or Vegas.
9. We resolve to stop staring at that guy sitting across from us at Factory Kitchen, even though we totally know he was in that one movie where he plays that one guy who's trying to kill the other guy, we think with a sword? God, why is this so hard to Google.
Top of the World, Laguna Beach

| Flickr/Chris Kuga
10. We resolve to enjoy the outdoors, and go on a hike at least once a month. Or so.
11. We resolve to travel -- i.e., drive east of Lincoln (if we're in Santa Monica) and west of Highland (if we're on the Eastside), or, you know, not just walk somewhere if we're in WeHo or by the Grove.
12. We resolve to tell the a-hole surfing next to us on Venice that it's our wave too, bra.
13. We resolve to drink coffee only from Blue Bottle. And Verve. And, timidly since they were bought by Peet's, Intelligentsia. But no more mega-mega chains. Unless we're really, really tired.
14. We resolve to visit the Broad and see more than just that room with all the lights and reflections.
15. We resolve to go to the Peterson and see more than just the Batmobile.
Here's Looking at You

| Dylan + Jeni
16. We resolve to eat at all of our Best New Restaurants of 2016 again in 2017.
17. We resolve to argue, passionately, with anyone who doesn't love LA. Because this city is amazing.
Sign up here for our daily LA email and be the first to get all the food/drink/fun Los Angeles has to offer.