The Disneyland Bucket List: 40 Things You Need to Do Before You Die
You might think you've done Disneyland/California Adventure as well as anyone could possibly do it, from main gate to backstage -- but, well, you'd be wrong. It would take a lifetime, a heap of cash, and a slew of special friends with most excellent access to do everything worth doing before you finally take that proverbial bite of Snow White's poison apple. Good news is, though, you've still got time, and we've got the bucket list you need to work through, arranged entirely in order of difficulty.
If you're able to pull off the last one without becoming a cast member, you might just deserve your own animated classic.
1. Embroider your nickname on a set of ears
You probably tossed out your childhood yarmulke-with-orbs years ago. Replace it, and stick with classic black. Mad Hatter haberdashers used to be finicky about stitching any name but your given one onto the back. Now, for a little extra, you can get them to sign almost anything.

2. Go on your birthday
Get the button with your name scribbled on it -- sure, maybe it sounds silly, but having every cast member wish you happy birthday every damn time they notice your badge actually feels pretty great.

3. Get an annual pass
Obviously. There's no logical (let alone feasible) means of checking off even half of this list without one.
4. Gulp down a Dole Whip in the Enchanted Tiki Room
Everyone forgets the Tiki Room -- the little old-school jewel adjacent to the Jungle Cruise, but it's still kitschy '60s fun simmered in outdated showmanship and un-PC ethnic stereotypes. The thing is, it's also a great place to cool down for 15 minutes while eating a pineapple Dole Whip, which you can only buy right through the Tiki Room turnstile. Trust.

5. Ride in the nose of the Monorail
For years they stopped allowing people to get this captain's-eye view of the resort, citing security reasons. That seems to have eased up now. Other than from atop the Fun Wheel, there's no better way to take in the entirety of Disneyland all at once.

6. Be a true mountaineer
Not the hardest trick to pull off, but it ought to be done once: ride the Matterhorn plus Space, Splash, and Big Thunder Mountains all in a row. Toughen the challenge (but potentially bore yourself to death) by attempting it on a holiday and waiting in endless lines. Bonus points for Christmas, New Year's Eve, or the Fourth of July.
7. Do the "goat trick" on Big Thunder
As you reach the second hill (the one with the snakes), spot the billy goat, visible on your right. Stare him down. Don't let your eyes pull away. The result should be a more dizzying and disorienting feeling than this fun-but-could-be-crazier coaster generally produces.

8. Make out in the Main Street Cinema
Until the mid-'80s, the best place to steal kisses was deep within the pitch blackness of Adventures Thru Inner Space, where passengers were asked to imagine themselves being shrunk to microscopic size, but hopped on mostly to cop a feel. Star Tours opened in its place in '87, leaving the Doom Buggies of the Haunted Mansion as your best option for hickeys and crotch grabs. But that's amateur hour: the best make-out spot is the almost-always-empty theater not far from the main entrance, where Steamboat Willie and other early Disney cartoons are screened continuously. Obviously there's still security, so it's unwise to bear skin or, uh, "attempt positions," but a little tongue action's always fun, too.

9. Drink a Mickey's Fun Wheel before riding the Fun Wheel
Tucked behind Ariel's Grotto in California Adventure is the Cove Bar, where you can get everyday zombies and piña coladas... or this concoction, Disney's version of an AMF: vodka, gin, tequila, rum, and blue Curacao, plus lemonade and a few other splashes. The slow loop on DCA's Ferris wheel will be all the sloshier. Keep from getting too lightheaded by tacking on some lobster nachos or tri-tip sliders.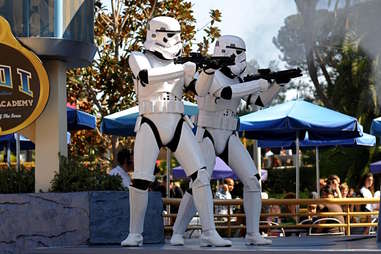 It could be four or five years before Star Wars Land becomes a reality. So satiate your fevered anticipation by indulging in all the preview hype, including the first-ever West Coast incarnation of mega-popular weekend events like this that regularly occur in Orlando. Expected extras include a "Hyperspace Mountain" overlay for what's still the best roller coaster on site, a Star Wars-themed fireworks display with a score by John Williams, and a pop-up restaurant, the Galactic Grill.

11. Doll up for Dapper Days
Twice a year, generally in mid-spring and again in late summer, the cool kids go retro in their best pinup and bow-tie gear for soirées and expos that tend to culminate in afterparties upstairs at Ralph Brennan's Jazz Kitchen. Don't be a drag, daddy-o. Suit up and strut.

12. Devour a Monte Cristo at the Blue Bayou
Yes, you can scarf one down like a ravenous vampire (let the jelly drip out from the corners of your mouth) across the way at Café Orleans. But why do that when you could do the same while watching the launches at Pirates of the Caribbean?
13. Loudly sing the theme from Gilligan's Island before the first fall on Pirates
Because why not? If you don't do something silly at D-land, you're missing the point. Gotta do something once you've inched to the edge of the ride's sole big plunge... and then wait. And inch. And wait. Pass the time by battling back incessant rounds of "Yo ho, yo ho, a pirate's life for me" (no one knows the rest of the words anyway) and redirect your boatload with that ditty about a three-hour tour. Which is how long that wait can feel.

14. Glimpse DTLA from Tower of Terror
You have to be in just the right cart at just the right time on just the right day to see the skyline. But you'll get a cross-county view like no other if you can swing it.

15. Go to hell
After checking off all the other original Fantasyland rides (Snow White, Pinocchio), make Mr. Toad's Wild Ride the last stop, where you will get hit by a train while breaking out of prison and wind up in Satan's Playground, the end. It's not only one of the few remaining attractions from the 1955 opening but it's now only found at Disneyland -- the one in FL was closed in 1998 to make way for Winnie the Pooh.
16. Get a death certificate at Haunted Mansion
Ask a cast member guiding you into the foyer for one. If you're lucky and happen upon someone who knows what you're talking about, they might tell you to come back to the front afterward -- and a certificate will be waiting for you. It's the ultimate bucket list souvenir. Get it? Do you?

17. See the Candlelight Processional
This December gathering is basically a mass cast-member choir parading down Main Street, faux-candles in hands, making their way to the circular center, where hymns follow and a celebrity -- whether Disney related (Dick Van Dyke, Kurt Russell) or not (Gary Sinise, Molly Ringwald) -- retells the story of Christmas. A lovely tradition, even for nonbelievers, that dates back to 1958. But be warned: sometimes it rains -- and if that happens, it isn't rescheduled.

18. Upgrade your train trip around the park
There are two ways: 1) ask the conductor nicely and you'll possibly get to ride alongside him in the tender seat (bring a friend, it fits two), or 2) have tea on the Lilly Belle, Mrs. Walt Disney's private car for entertaining guests back in the day. The latter was shut down for a while, after being vandalized, and as of late last year is active once again.
19. Steer the Mark Twain Riverboat
Again, if you ask the right cast member, you could get escorted to the wheelhouse of this iconic ship, where you'll be allowed to "steer" the boat (it's on a track) and blow its mighty whistle. Don't forget to add your name to the guest book, which lists thousands of other honorary drivers dating back to when the park opened.

20. Locate Eeyore in the Temple of the Forbidden Eye
The always interminably long line for the Indiana Jones Adventure ride, as well as the crash course itself, resides over part of what used to be the parking lot closest to the main entrance. In order to retain some remnants from yesteryear, and maintain a longstanding method of tucking away Easter eggs throughout the park (see Hidden Mickeys later in this list), Disney engineers kept one of the signs from the original Eeyore lot visible as you shuffle through the movie-room portion of the queue.

21. Spot Buff, Max, and Melvin in Winnie the Pooh's nightmare
Another timepiece from the glory of old Disneyland. These mounted pun-droppers -- a bison, buck, and bull moose, respectively -- were MCs of the Country Bear Jamboree in Frontierland that ran from '72 until two days before 9/11. The toddler-friendly Many Adventures of Winnie the Pooh ride took its place, but this animatronic trio survived. Look for 'em as you leave the Heffalumps & Woozles honey room.
22. Get snapped at every ride photo-op in a single day
Don't actually buy the photo, unless it's just that amazing. Take pics of the pics and stow 'em away. Do it again the next year, and the next year, and the next year. Eventually Shutterfly that shit.

23. Spring for the deluxe World of Color experience
Secure a primo spot for what's surely the most inspired sight at Disney West by going all out and doing the pricey dinner thing. It won't be the chateaubriand of your dreams, but it won't suck, either. And the show is undeniably spectacular.

The Disneyland Hotel may be more iconic, but it's far from posh. Hit up this lodge-like sprawl instead (typically $379 a night), if only because it has an exit that spills into California Adventure, making it the surest means of scoring a FASTPASS for Radiator Springs (unless you enjoy waiting hours for a 20-second race). Plan your stay well in advance so you can reserve a spot at the chef's counter at the hotel's Napa Rose, the best restaurant on Disney property.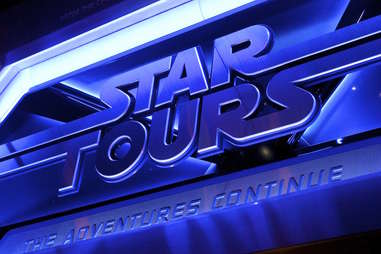 25. Arrive at all Star Tours destinations
Conceivably you could do this within a half-dozen trips inside those hi-def simulators (our pick for the best ride at Disneyland, FWIW), although doesn't it always seem like the Wookiee Planet is on auto-repeat and Hoth never turns up? There are, in fact, 11 sequences with 54 possible combinations. But you have more work cut out for you later this year, when a new mission, derived from December's Episode VII release, The Force Awakens, will be added. Cap this entry by at least once hearing a page for "Egroeg Sacul" (read it backwards) while waiting in line.

26. Hear all the hidden sounds
There are other audible oddities worth hunting down. On the right side of Main St, go into the alley where the ice cream stand is, and if you listen carefully, you can hear unusual conversations -- and the sound of a dentist drilling his patient. A voodoo priestess continuously curses the restrooms near the New Orleans Square train station. Also near there, you can hear the dot-dash-dot of Morse code relaying the opening lines of Walt Disney's speech at Disneyland's opening day.

27. Go on your favorite Fantasyland ride dressed as a character from it
Harder to pull off than you might think, mainly because adults-as-characters is as verboten as selfie sticks inside the Happiest Place on Earth. They likely won't let you past bag check if you turn up clad as Captain Hook. But keep your gear bundled, change in the bathroom before getting in line... and you just might manage it.
28. Unlock the secret point-spikers in Toy Story Midway Mania
Ever wonder how the high scores for the month on this 3D shoot/smash/toss-'em-up jerk-off contest are always in the hundreds of thousands, even millions, yet you can't crack 50k? That's because those shooters/smashers/tossers know all the spots to blast to make higher point values appear. Like popping the rising balloon comets three times during Rex & Trixie's Dino Darts portion, which will cause more comets to zip in from the sides and explode in the middle.

29. Bar crawl the entire resort
There will never be alcohol openly served inside the Magic Kingdom, per Walt's orders; only in Club 33 can you get a proper drink. But there are more than two dozen other places to imbibe on Disney property, from the Alfresco Tasting Terrace in California Adventure to the Uva Bar in the heart of Downtown Disney. Might be difficult to hit all of them in a single day, given the exclusivity of a few (see: 1901 Lounge), but try to hit at least 10 of them, and then...

30. Survive Space Mountain after achieving #29
A trip through space like you've never dreamt. Vomiting optional.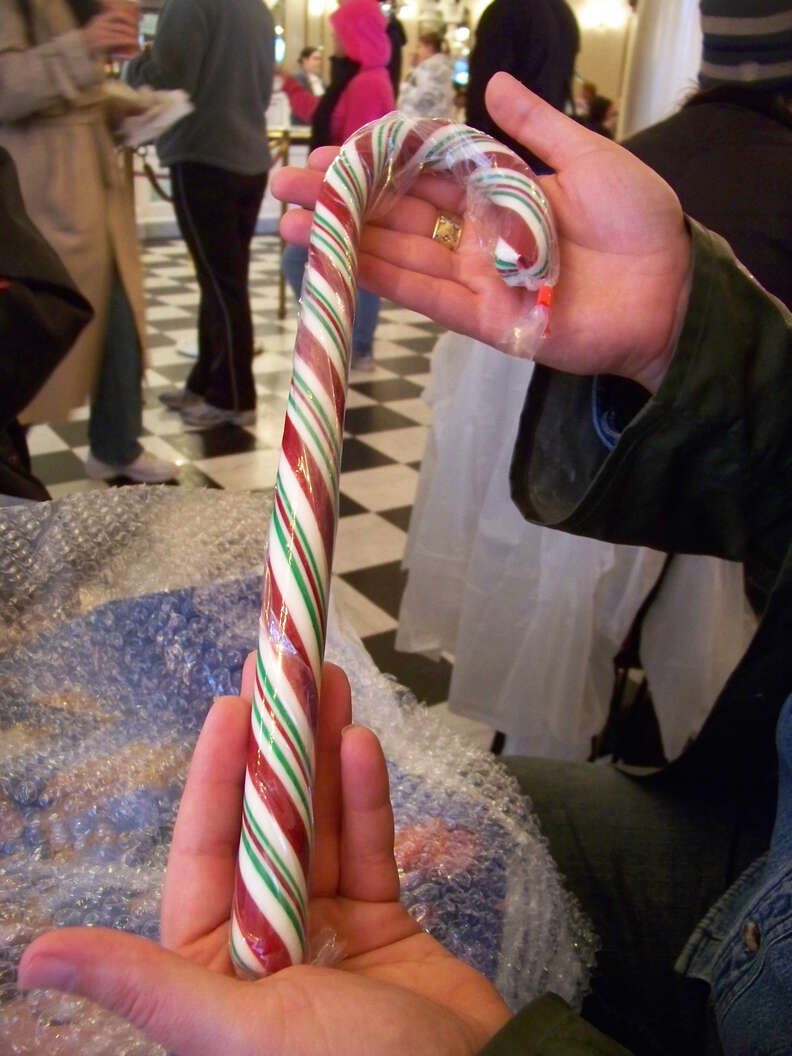 31. Wrap your lips around a candy cane
Not as easy as it sounds. Only so many of these striped giants (typically $13 a pop) are handcrafted each yuletide season, and they disappear faster than they're made at Candy Palace (on Main St) and Trolley Treats (on Buena Vista St in DCA). Keep an eye out for release dates each year, then line up before the park opens to get a wristband (seriously, a wristband) to purchase. Limit per person: one.

32. Hire a VIP tour guide
It'll cost you (and up to nine friends) about $500 an hour. But the insider insight, preferred seating for shows and parades, and front-of-line ride access will be worth it. Once.

33. Earn a Disney Coast to Coast medal
Takes major time and money investment and some serious training if you aren't already a runner. But if you complete the half-marathons at both Disneyland and Disney World in the same year, you earn a special "Partners" medal. At the very least, do a 5K or 10K walk inside and outside the park; whatever the route, you'll still see sides of the place you didn't know existed.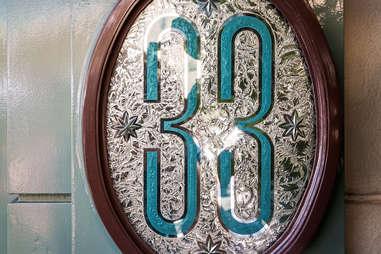 34. Dine at Club 33
It's almost become a cliché to boast about having eaten here, but for almost a half-century this has been THE finest way to lord your Disney elitism over envious friends -- in large part because it costs upwards of $25,000 a year to be a member. The food is very good, not exactly great. Crashing the exclusivity of it all, including movie props and costumes only located inside, is what makes it a must.

35. Relax in 1901
If you can find someone to take you to Club 33, use that person again to get you into this exclusive lounge inside the Carthay Circle Theatre, after you've sampled treats from the restaurant downstairs. This leather-chair space, named after the year Walt Disney was born and affixed with animated cels from the studio's early days, is intended to give off an animators' club vibe -- a secret respite amid the bustle of California Adventure.

36. Spend a night in the Dream Suite
One more gotta-know-someone experience, but perhaps the ultimate, um, dream to achieve. Back when Walt was alive, he, his wife Lilly and Gone with the Wind set designer Dorothea Redmond started building a luxury pad atop Pirates of the Caribbean as a VIP space to entertain guests. For nearly two decades after Disney's death in '66, it languished uselessly, then functioned as an art gallery for two more decades, starting in '87. In 2008, the original plan was resurrected, complete with two master bedrooms -- one in Frontierland style, the other Adventureland -- a trove of special effects in each room, and a massive bathtub adorned by a giant stained-glass window. Staying here also gets you access to the balcony overlooking New Orleans Square (best seats in the house for Fantasmic!) plus a nighttime walking tour. In your jammies, if you wish.
37. Find all the Hidden Mickeys
There are more than 100 of them hidden throughout the park, from manhole covers in Toontown to a silhouette of one in the Big Ben clock tower on Peter Pan's Flight. You've got the rest of your life to find the rest.

38. Step inside Walt's apartment
Again: good luck. Disney's private home away from home looks down upon the Main St roundabout from atop the nearby fire station (the light is always left on, in tribute). It's typically only seen via V-VIP tours -- and even then it isn't always included, or approached for more than a glimpse. Still something of a mecca for those who think the innovator might someday be cryogenically unfrozen and reside here once more.

39. Do Disneyland and Disney World in the same day
This'll cost ya, obviously, and it's a rather dubious honor, but still, how cool would it be to say you rode BOTH Space Mountains in less than double-digit hours? Answer: VERY COOL. It's also entirely possible: start when Orlando opens, catch a timely flight, and you could make it to Anaheim well before fireworks. Abet such madness by purchasing a bicoastal annual pass for just over a grand.
40. Play basketball inside the Matterhorn
Listen: you very likely will never accomplish this. There's only one conceivable way to get to what's referred to as "the fifth floor," upon which there is indeed a small court, where years ago mountain climbers took breaks to shoot hoops. That way is to actually work at the Matterhorn. And at a high-enough clearance level that you won't get fired for entering this minimalist man cave. Pulling off that feat is equivalent to checking off the rest of this list combined.
Sign up here for our daily LA email and be the first to get all the food/drink/fun Los Angeles has to offer.
Ben Wener, who still has more than half of this list to complete, is the former pop music critic at The Orange County Register and also has written for The Hollywood Reporter, Consequence of Sound, and more. Find him (and not much else) on Twitter and Instagram.